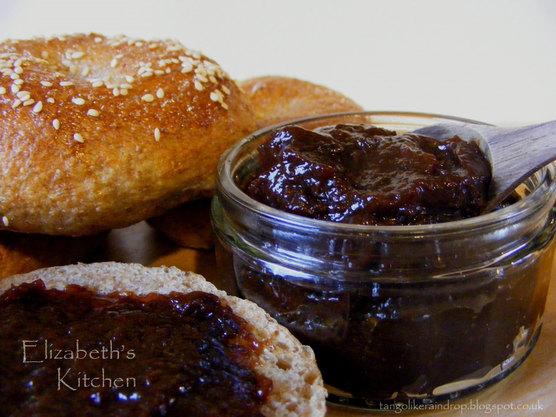 New Years' Resolution #1: I am not going to eat so many sweet, fattening things in 2013. I'm not. Which is why, when browsing the internet for recipes to use up the leftover half bag of prunes from Christmas' Jule Ribbe with Prunes & Apples I avoided the recipes such as prune & chocolate torte and even prune and lemon filled doughnuts (which sound rather appealing and slightly unpleasant at the same time). I just know I'd end up eating most of it and well, I just don't want that kind of calorie consumption at the start of a new year. So, I was ever so virtuous and opted for scaling down the recipe for this lemon prune honey butter From Karen's Kitchen, which will get spread on toasted homemade bread and bagels over the next few weeks. This can also be used as a butter replacement in baked goods – I do believe a banana bread will be on the books sometime soon to try it out.
I am submitting this recipe to Lavender & Lovage's monthly Tea Time Treats round-up (alternately hosted by What Kate Baked) for the month of January 2013. The theme is citrus – we're challenged to come up with a recipe involving citrus for a zingy start to the new year, and this is a perfect recipe for that, as it's good for you too (for all of you with healthy New Years' Resolutions and all)!
Lemon Prune Honey Butter
A sweet, delicious, nutritious fruity spread.
Ingredients
168 grams dried prunes
150 ml water, divided
zest and juice of 1 lemon
113 grams runny honey
1/4 tsp cinnamon
pinch cloves
pinch allspice
1 tbsp brandy (optional)
Instructions
1. Combine the prunes, 125ml water, lemon zest and juice in a medium stainless steel saucepan.
2. Bring the mixture to a boil and then reduce the heat, cover, and gently simmer for about 15 minutes, until the prunes are tender.
3. Remove from heat, cool slightly, transfer to a food processor and pulse until uniform in consistency, but not liquefied.
4. Return to a clean pan and add the remaining 25ml water, honey and the spices.
5. Stir well and bring to the boil, stirring constantly. Boil hard for 1 minute then remove from the heat.
6. Stir in the brandy. Bottle in a sterilised glass jar.
Details
Prep time: Cook time: Total time: Yield: 1 cup