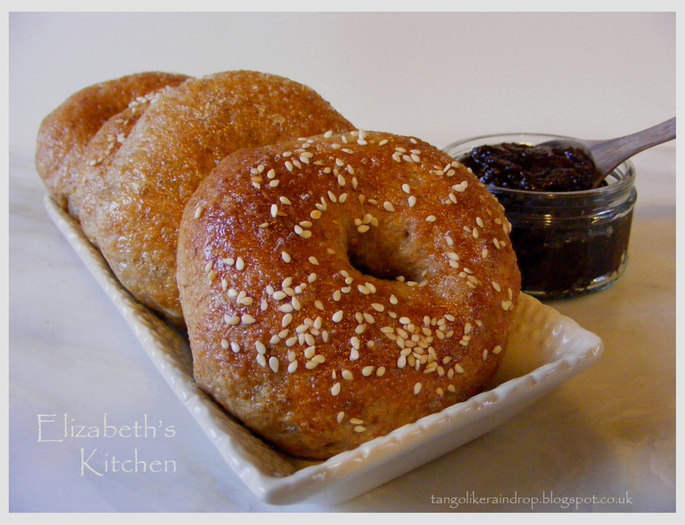 It wasn't until I was in my very late teens/early 20s that I discovered the wonderful world of bagels. I was working in a small family-owned shop in Halifax, Nova Scotia and just down the road from the shop was a fabulously quaint coffee shop called Mr. Bean's Cafe. They sold all sorts of specialty teas and coffees and best of all bagels. Giant, homemade bagels loaded with at least of inch of cream cheese flavoured with assorted herbs and seasonings. Oh my goodness gracious me they were delicious and they made the most perfect lunch.
Shetland doesn't do bagels. There's nowhere on this little island in the North Sea that makes them and the ones available in the supermarkets are utterly dreadful. So, if I want bagels I've got to take matters into my own hands, so to speak, and make my own.
This half wholemeal half white bagel recipe from Spark Recipes has a lovely chewy bagel texture and wholesome wholemeal flavour, without being overpowering. It's perfect toasted and liberally spread with cream cheese (the way the children are fond of) or with lemon prune honey butter (my preference).
Happy baking!
Honey Wheat Bagels
A delicious, wholesome bagel recipe. You'll never buy shop-bought again!
Ingredients
2 1/4 tsp active dried yeast
1 1/2 cups strong wholemeal bread flour
1 1/2 cups strong white bread flour
1 1/2 tsp salt
2 tbsp honey
1 1/4 cup warm water
2 tbsp caster sugar
1 tbsp cornmeal
1 egg white, beaten
2 tbsp sesame seeds or poppy seeds (optional)
Instructions
1. To prepare dough using your bread maker add the yeast, flours, salt, honey and water in the manufacturer's recommended order and run through the dough cycle.
2. To prepare by hand, mix flours and salt together in a large bowl.
3. Stir the honey into the warm water and stir in the yeast. Leave for 10 minutes until frothy.
4. Stir the yeast mixture into the flours with a wooden spoon until combined and then turn out onto a floured surface and knead for 10 minutes.
5. Place in a lightly oiled bowl, cover and leave to rise in a warm place for 1 to 1 1/2 hours.
6. When the dough has risen/completed the dough cycle, divide into 10 even pieces.
7. Form each piece into a ball and make a hole in the centre, stretching the dough to form a bagel shape.
8. Place on a lightly greased baking tray and leave to rise for a further 20 minutes.
9. Bring a large pot of water to the boil. Add the sugar and stir to dissolve.
10. Cook the bagels, two at a time, for a minute on each side. Transfer to a wire rack with a slotted spoon to drain.
11. Preheat oven to 190 C.
12. Sprinkle an ungreased baking tray with cornmeal and arrange the bagels on the tray.
13. Brush the bagels with beaten egg white. Sprinkle with poppy seeds or sesame seeds if desired.
14. Bake for 20-25 minutes, until golden. Transfer to a wire rack to cool.
Details
Prep time: Cook time: Total time: Yield: 12 bagels