Sun, sea, sand and a summer fruits loaded picnic cake!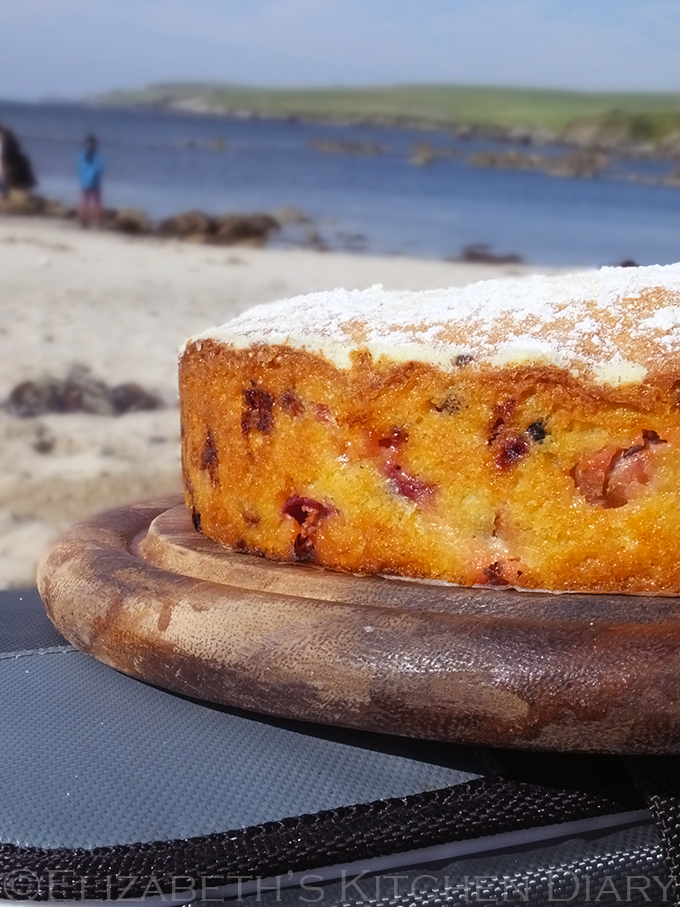 It's really not been much of a summer to speak of, here in Shetland. Saying that, I don't think the UK mainland has been particularly blessed with an abundance of rays this season either.
We've had a couple of good weekends – see our camping adventures at the Nesbister Bod and that glorious day I went kayaking in Ronas Voe – and then gales and Autumn weather descended on us like a lump of wet porridge. This whole last week included grey dreary skies and high winds, warm winds, but high winds nonetheless. We'd resigned ourselves for poor weather again until March.
And then we had two full days of sun! Still windy, but sunny!
Adventuring was needing to be had.
We packed a picnic lunch and went to meet some friends at St. Ninian's beach for a BBQ lunch. Because of the wind our usual cave location was inhabitable – whirlwinds of sand were flung at high velocity into ones face and eyes. Instead, we set up base on the sheltered side of the beach and sat and basked in the glorious, wonderful rays.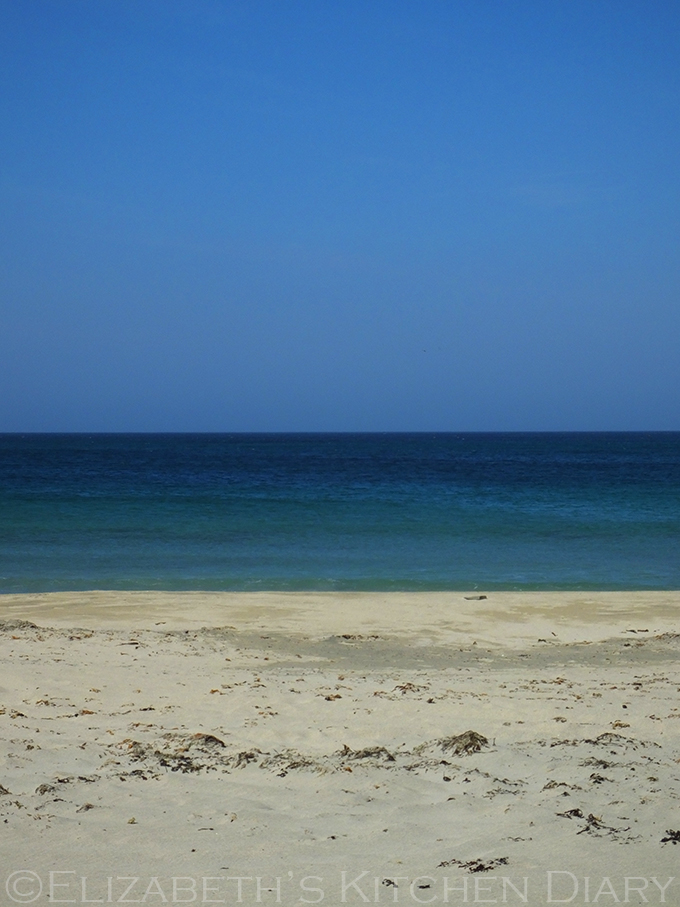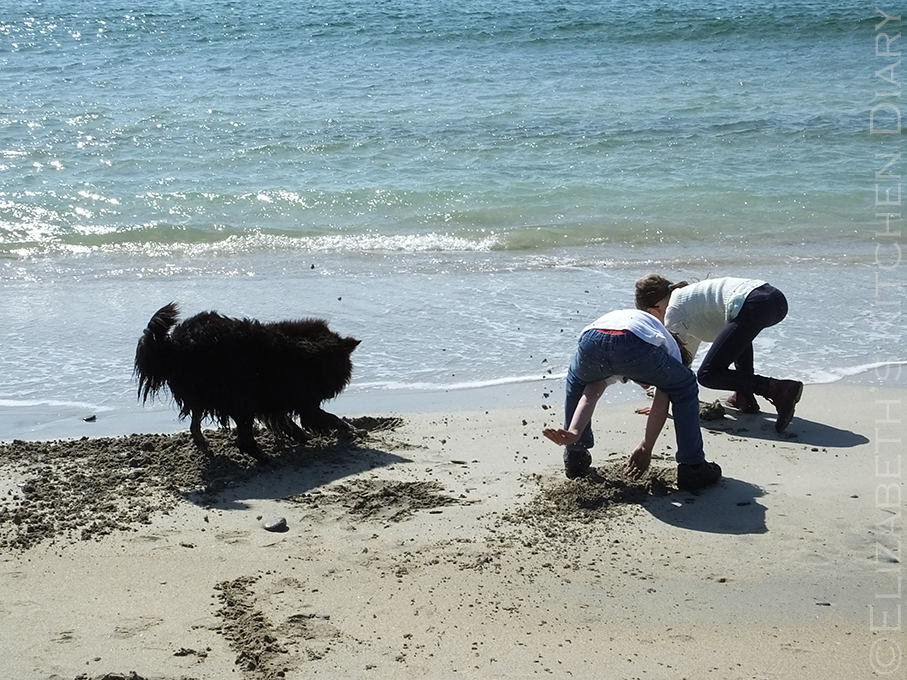 The sea was still a bit too cold for some of us to go for a swim (ie: me!), but quite a few of our group donned wet suits and splashed about. It was a great opportunity for DD to play with her new Nerf Rebelle Agent bow sent to us recently from House of Fraser. Those arrows can certainly fly!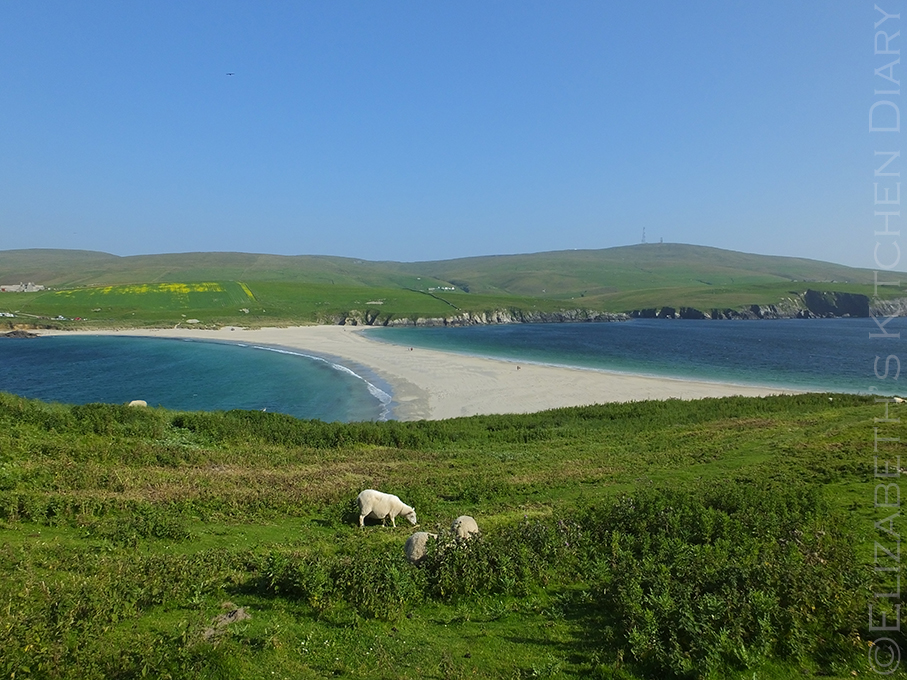 I'm never one to pass up the opportunity to bake and share a cake, so my offering for the picnic was a summer fruits cake based on this recipe by Nigel Slater. I used up some free range Shetland duck eggs that were loitering in my fridge, the tail ends of three different bags of sugar (the last of two packets of golden caster and regular caster sugars, topped up with granulated), and the beautiful berries my children (ie: mostly, quite possibly entirely, DD) picked from a neighbour's fruit garden. There were loads of red currants, black currants and gooseberries with a few raspberries thrown in for good measure.
I also made a pretty awesome lower calorie potato salad using some Shetlandeli Spiggie Courgette Relish. This recipe will be shared at a later date, once I take some better photographs. Do I need to take better photographs? Maybe I'll just share the recipe with what I have… what do you think?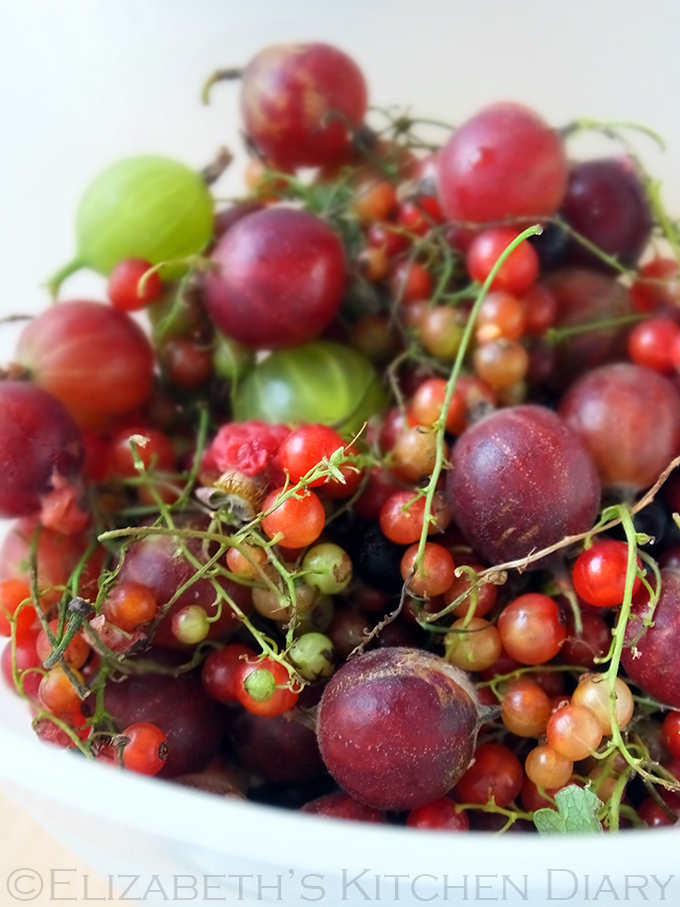 I have to confess to having not tried my own cake creation. I'm calorie counting in an attempt to shed the 3 kg I seemed to gain over the summer holidays, so no more cake for me for a little while! The nods, compliments and noises of approval from everyone who ate the cake, and the fact I returned home with only the tiniest of slivers attests to how lovely it must have been.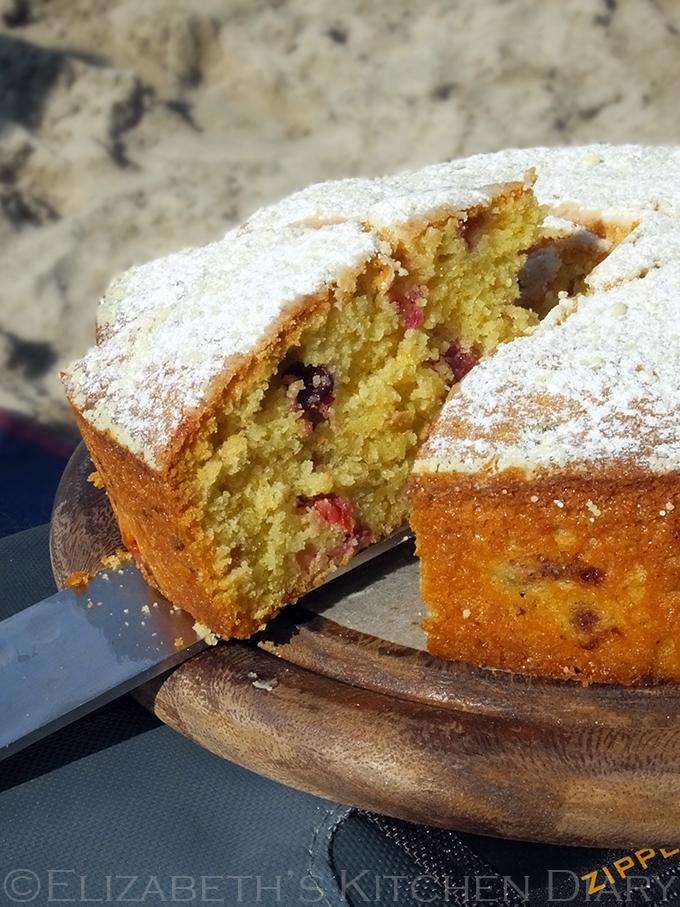 We sat on the beach and soaked in the sun for hours and hours. It was perfect! Afterwards, because the evening sun was still bright we took a detour on the way home and went on another grand adventure… this will soon be described in another blog post. 🙂
What's your favourite picnic recipe? Do you have a signature dish you bring to outdoor gatherings? Share it with me in the comments below!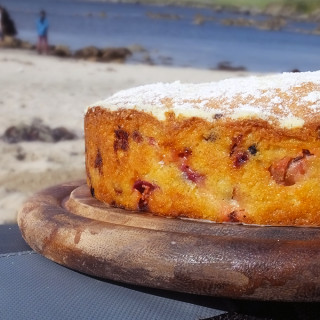 Summer Fruits Picnic Cake
A lovely, almond flavoured cake dotted with beautiful summer fruits.
Print
Rate
Affiliate Links
This recipe card may contain affiliate ingredient and equipment links. As an Amazon Associate I earn from qualifying purchases.
Instructions
Preheat oven to 180 C/ 160 C fan and grease and line a 20 cm round cake tin.

Cream together the butter and sugar until light and fluffy.

Add the eggs, one at a time, beating well between additions. Add the vanilla.

Sift in the flour, and add the ground almonds. Combine well. The mixture will be thick.

Fold in the fruit and spoon into the prepared tin, leveling the top with a spatula.

Bake for 60 minutes, or until a skewer, inserted in the middle, comes out clean and the top of the cake is lovely and golden.

Leave to cool in the tin for 10 minutes before transferring to a wire rack to cool completely.

Dust with plenty of icing sugar and serve!
Environmental Information
LINKING UP WITH A FEW FOOD BLOGGING CHALLENGES
Love Cake by Jibber Jabber UK
Simply Eggcellent by Belleau Kitchen
Recipe of the Week by A Mummy Too
OTHER SUMMER FRUIT CAKE RECIPES YOU MIGHT LIKE
Healthier Berry Summer Slice by Hungry Healthy Happy
Blueberry Loaf Cake with Lime Drizzle by Tinned Tomatoes
Strawberry Rhubarb Upside Down Cake by Cook Sister
Lemon Cardamom Courgette Cake by Recipes from a Pantry
Poppy Seed & Plum Cake by Ren Behan Food
Plum Berry Upside Down Skillet Cobbler by Kellie's Food to Glow
Strawberry Banchocolate Muffins by Fab Food 4 All
Cherry Cheesecake Cupcakes by The Veg Space
Strawberry Black Pepper Muffins by The Hedgecombers
Raspberry White Chocolate Friands by Tin & Thyme
Summer Fruit Cake Tray Bake by Sew White
Apple Cinnamon Cake by My Little Sunny Kitchen

If you want to be kept up to date on my recipes, occasional craft tutorials, adventure stories and giveaways then please subscribe to my weekly newsletter; it gets sent out every Monday morning if there is new content. Your email address won't be passed on to anyone, you will never be spammed and you are free to unsubscribe at any time, no questions asked. Make sure you confirm your subscription or you won't receive the newsletter – if it hasn't arrived check your junk mail folder.
[wysija_form id="1″]
Elizabeth's Kitchen Diary was sent a House of Fraser toy in exchange for a feature in a blog post. All thoughts and opinions expressed are our own. This is not a paid post.