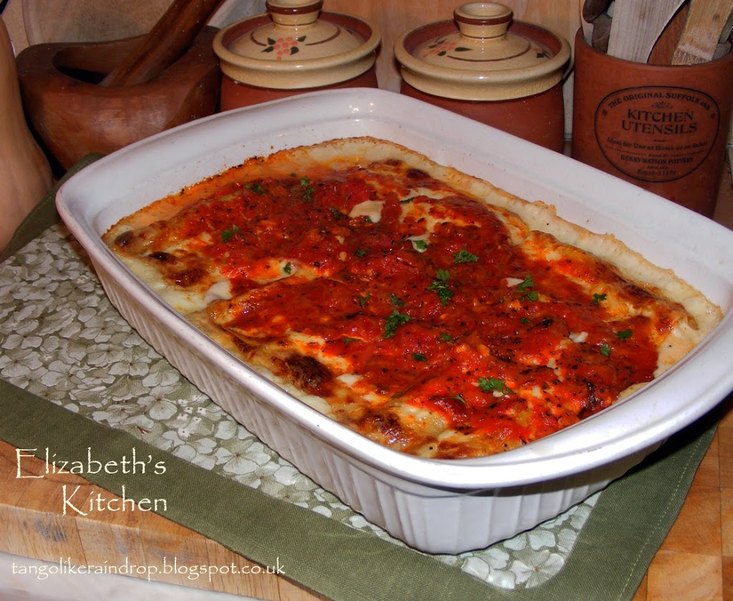 This cannelloni recipe is a regular in our household. It's one of the few meals I make which all the children will eat without complaining! There's usually at least one of them that need prompting to finish up their meal, but not with this recipe. Leftovers freeze really well. I often double the napoli sauce recipe and freeze the other half for quick use in other pasta dishes. Although fresh spinach works best for this recipe, tinned and frozen spinach can also be used when fresh isn't available.
Serves 4
Preheat oven to 190 C.
Napoli Sauce:
1 tbsp extra virgin olive oil
1/2 large carrot, chopped finely
1 stick of celery, finely chopped
a few sprigs of parsley
400g tin of chopped tomatoes
handful of basil leaves
1 large garlic clove, crushed
Heat olive oil and quickly cook garlic. Add carrot, celery and parsley and fry until brown. Add tin of tomatoes and one half a cup of water. Simmer for 20 minutes.
Bechemel Sauce:
150 g butter
1 clove garlic, halved
60 g plain flour
600ml full fat milk
generous grating of fresh nutmeg
1 tbsp parmesan cheese, grated
Gently melt the butter over medium heat. Add the garlic and when the butter is hot add the flour. Stir constantly to make a roux. Add milk and stir constantly until thickened. Remove from heat, remove garlic, add parmesan and mixed spice. Set aside.
Cannelloni Filling
200g fresh spinach
250 g ricotta cheese
1 egg, beaten
2 tbsp parmesan
salt and pepper to taste
12 cannelloni tubes
Thoroughly wash spinach and place into a large saucepan with the lid on. Heat over a medium heat until wilted, stirring occasionally. Transfer to a strainer and leave to drain and cool, pressing out any liquid. You can freeze this liquid for soup stocks, if desired. Mix spinach, ricotta, egg and parmesan and fill the canneloni tubes. I use a piping bag fitted with a large nozzle for this as it is so much quicker.
Arrange canneloni in an oven-proof dish. Pour over Bechemel sauce and then pour the napoli sauce down the centre. Sprinkle with some more parmesan and parsley flakes, if desired. Bake for 30-40 minutes.