A celebration cake made in honour of Henry and Meghan's Royal Wedding. A swiss roll sponge is filled with sharp lemon curd and decorated with an elderflower scented whipped cream frosting and crumbled meringue pieces.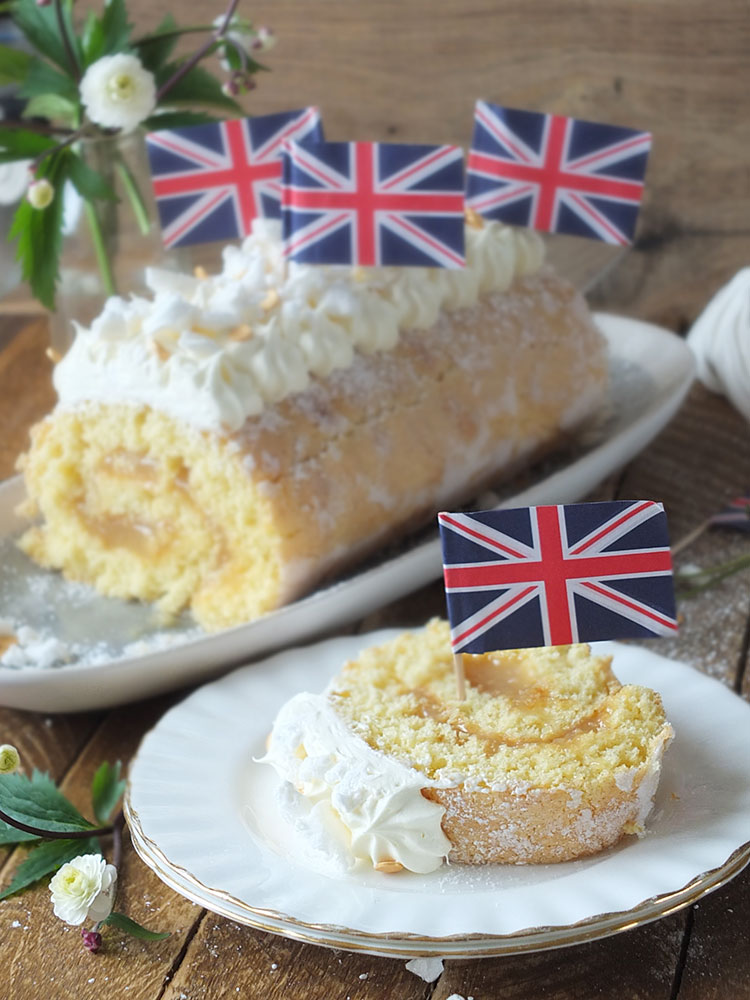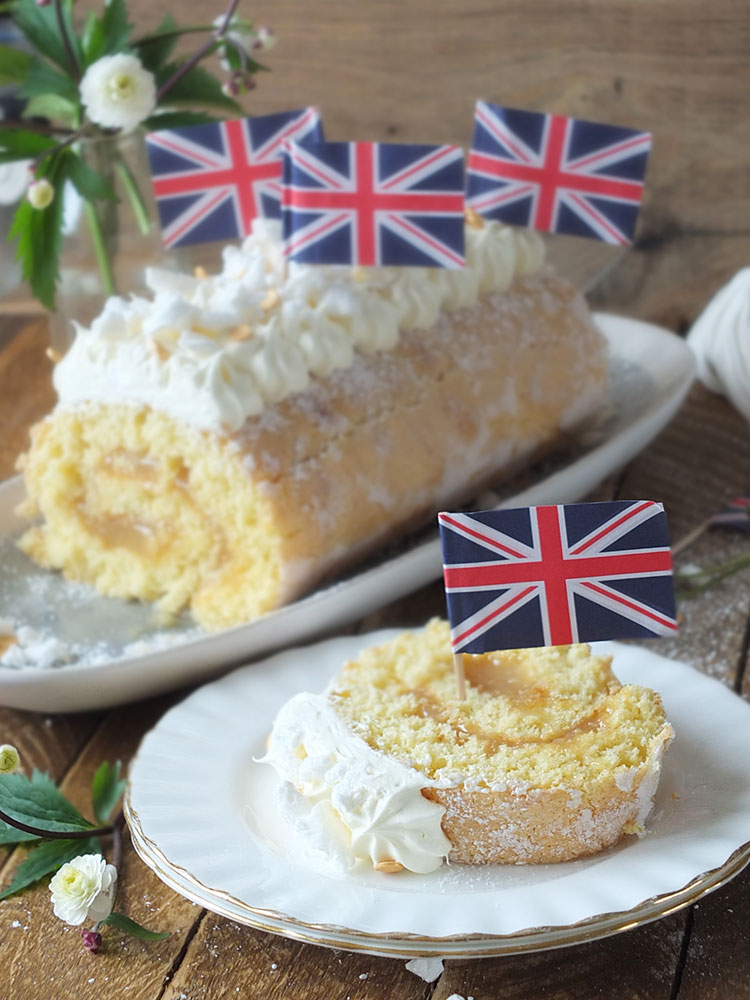 I confess, I really wasn't that fussed about the Royal Wedding up until this week. Celebrity and Royal goings-ons are really none of my business (unless one of them visits Shetland and I'll definitely show up hoping for a glimpse! I have seen HRH the Prince of Wales in real life once when he visited Shetland; my only real-life sighting of a Royal.) but this week I've been resting and recovering after surgery, watching a ridiculous amount of trashy daytime tv and I sort of got swept up in the excitement. Loose Women, I'm blaming you.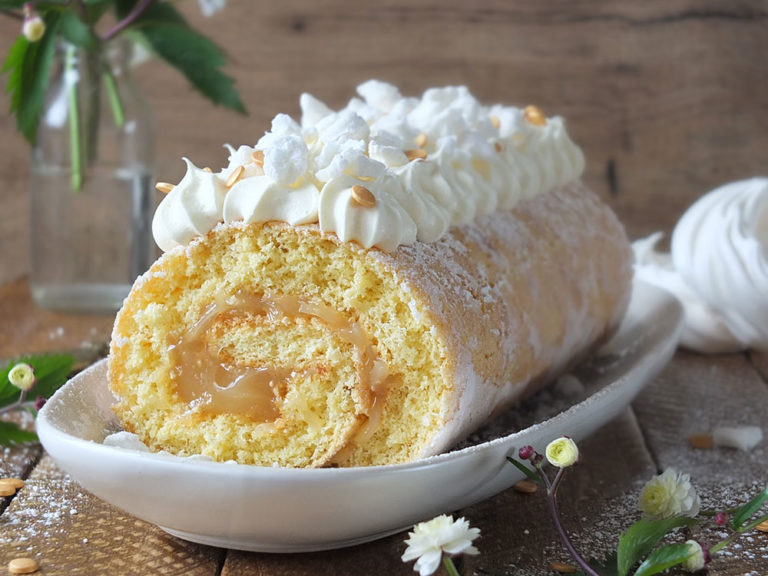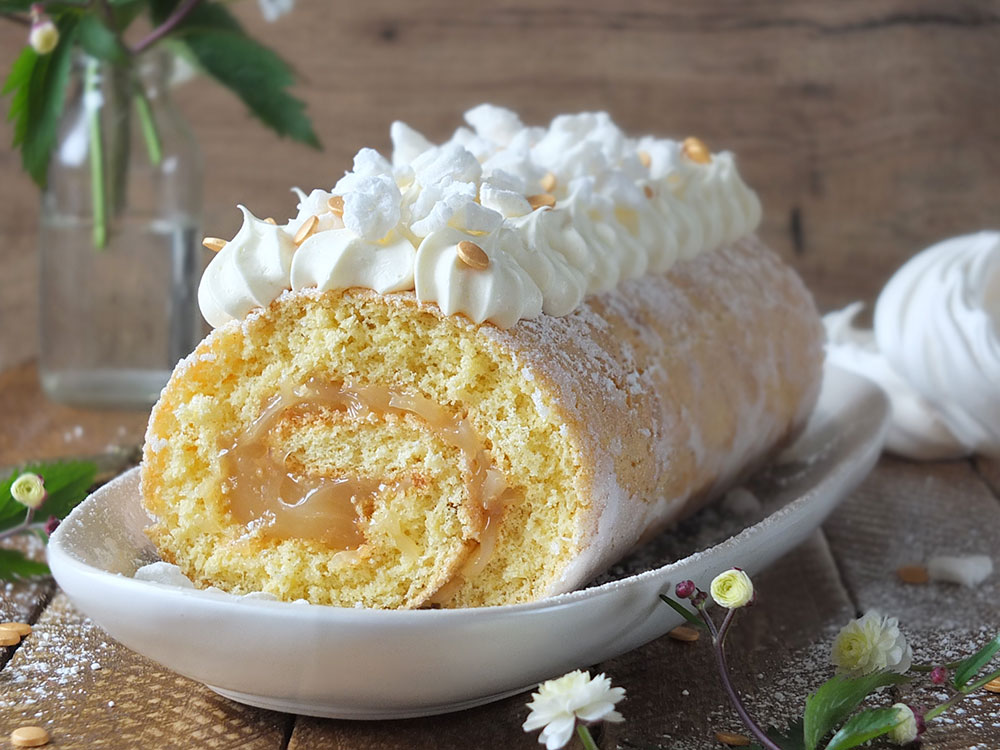 Surgery, you ask? Yes, last Tuesday I had a two-hour surgery under a general anaesthetic to remove a fairly large tumour that had grown rapidly over the last six months. I'm currently waiting for the final pathology report (fingers crossed I won't need further treatment), but it was a suspected pleomorphic adenoma in a minor salivary gland in my cheek that had grown into the accessory parotid space. A very rare presentation of a rather rare neoplasm.
The surgery itself went well, and I'm currently laying on the couch on the mend with a mouthful of stitches (they operated from the inside of my mouth) – 15 stitches, truth be told, which feel like little spider legs, plus two internal stitches holding my relocated Stenson's duct in place. Modern medicine, eh? I'm very grateful to be alive in this century – if this was 200 years ago I'd not be here now.
I ended up spending last weekend in hospital on iv antibiotics as I developed a post-surgical infection and my face swelled up beyond recognition. It was quite frightening, to be honest. There was even talk of air-evacuating me to Aberdeen, but thankfully the drugs worked quickly and the swelling subsided. I was unable to eat for a week, subsisting off liquid food consumed through a straw, but thankfully I'm beginning to be able to chew soft foods again as I heal. Onwards and upwards!
There's very little to do while in hospital, so I spent a lot of time scrolling through Twitter and Facebook admiring the many beautiful recipes I saw (that I frustratingly couldn't eat!). I was inspired to create a lemon meringue swiss roll when I felt better and my energy returned, and thus this Royal Wedding Lemon & Elderflower Meringue Swiss Roll Recipe was born. A British classic, reinvented.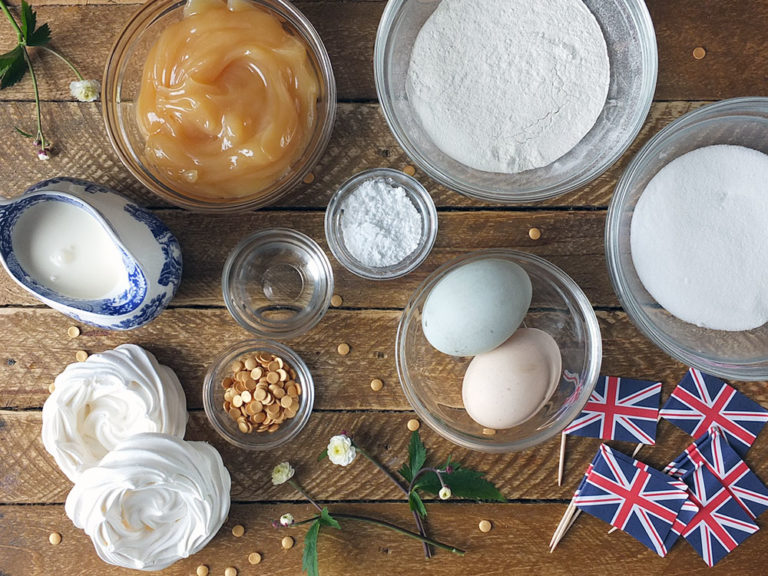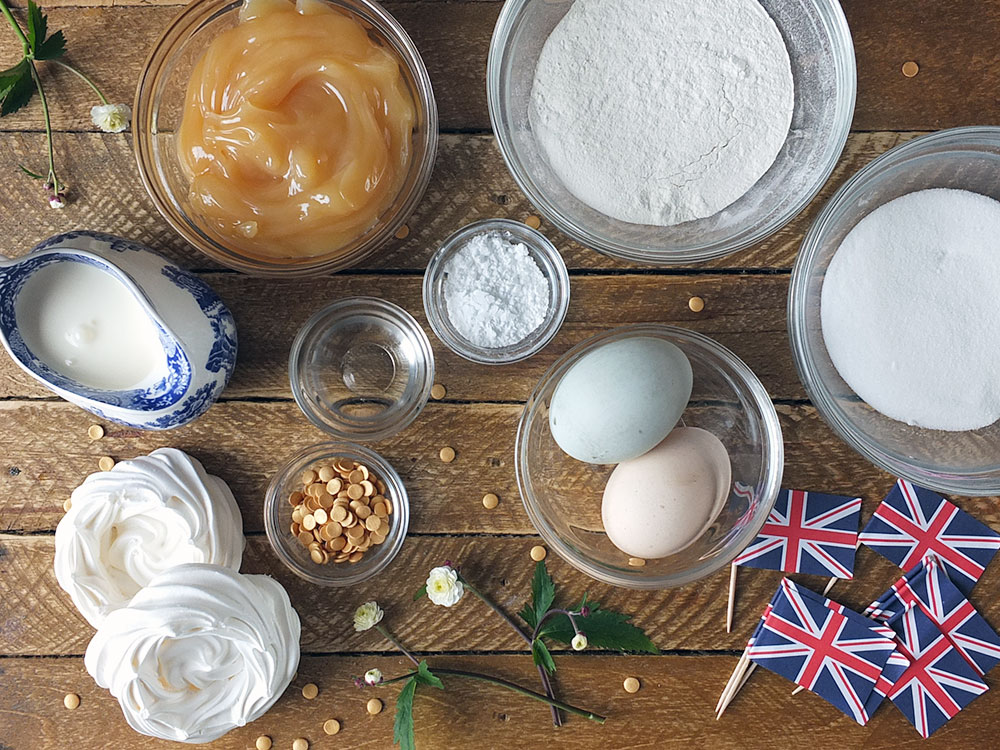 INGREDIENTS NEEDED TO MAKE THIS SWISS ROLL RECIPE
caster sugar
eggs – I used one hen's egg and one duck egg because that's all I had in the fridge
self-raising flour
good quality lemon curd – either shop bought (I used MacKay's) or homemade
double cream
icing sugar
elderflower cordial
meringue nest – crumbled into small pieces to decorate
gold confetti sprinkles or other gold sprinkles
British flag decorations, optional
swiss roll tin – I use the OXO Non-Stick Pro Swiss Roll Tray
[amazon_link asins='B01EWVL0RY,B005EELCEK,B003CJC3IS,B01CSZSSL2,B01BLFMGNQ,B002E2LQ46,B015CQZI3U,B01EA5FT1A' template='ProductCarousel' store='elizskitcdiar-21′ marketplace='UK' link_id='7ad5b4f4-5b2a-11e8-ab86-a79f3930b6ff']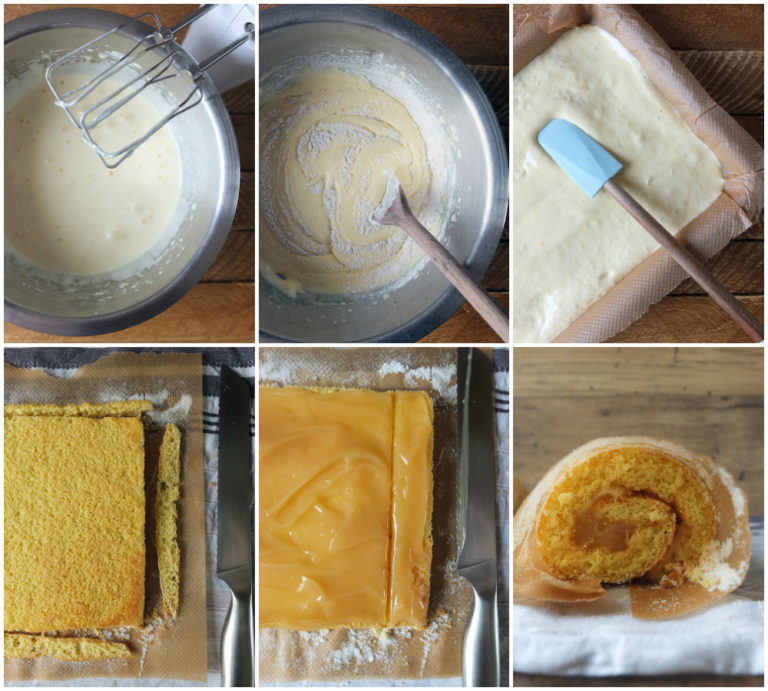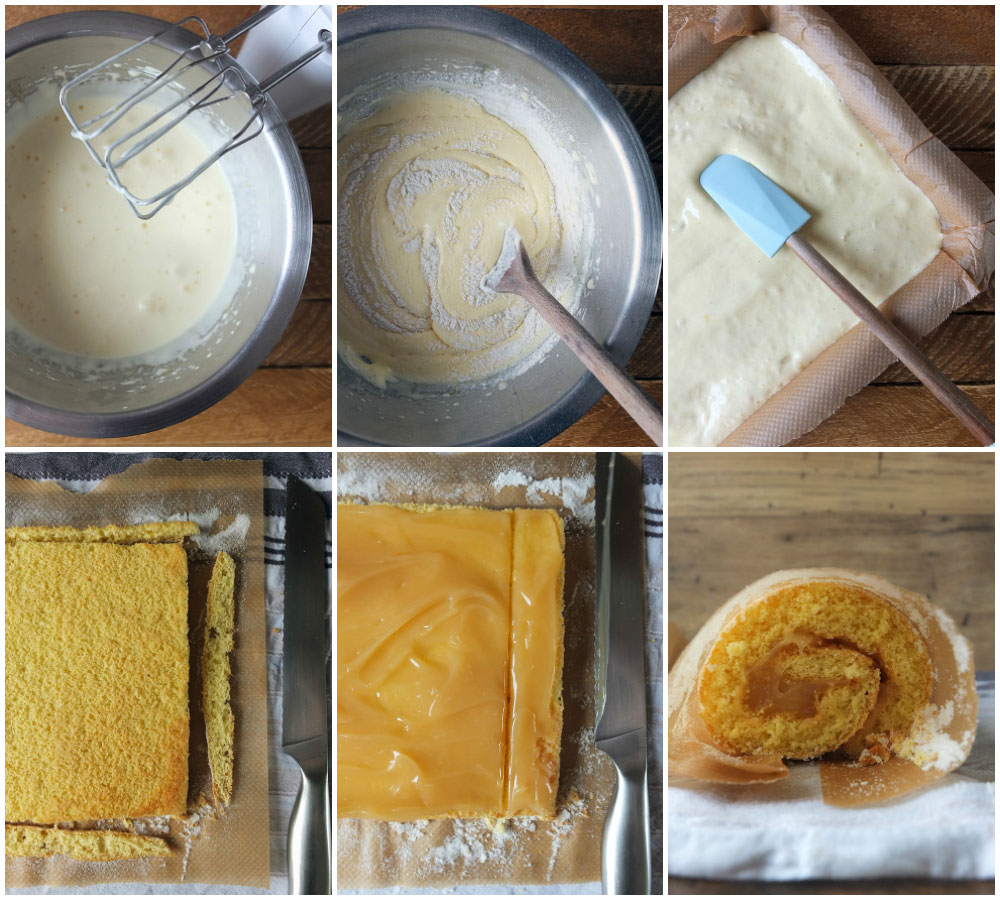 HOW TO MAKE A SWISS ROLL – STEP-BY-STEP INSTRUCTIONS
Step 1: Beat sugar and eggs together for several minutes until thick, pale and foamy.
Step 2: Sift over the self-raising flour and gently fold into the batter.
Step 3: Carefully spoon into a prepared greased and lined swiss roll tin and bake.
Step 4: Turn the cake out onto a piece of baking paper on a damp tea towel that has been sprinkled with extra caster sugar and trim all four edges. Cover with another damp tea towel for a few minutes to cool.
Step 5: Spread with lemon curd and cut an incision 2.5 cm from the edge of the cake to help with rolling.
Step 6: Use the baking paper to help roll the cake into the classic swiss roll shape. Leave to cool completely and then decorate.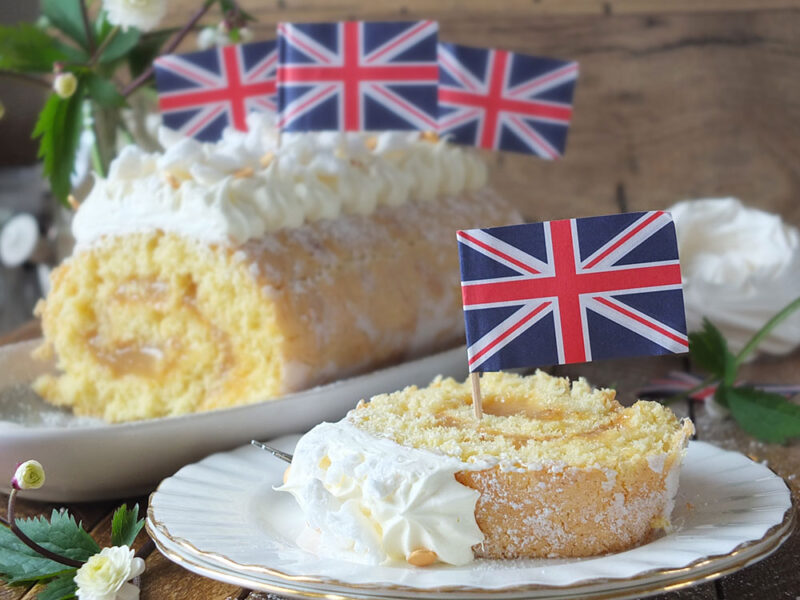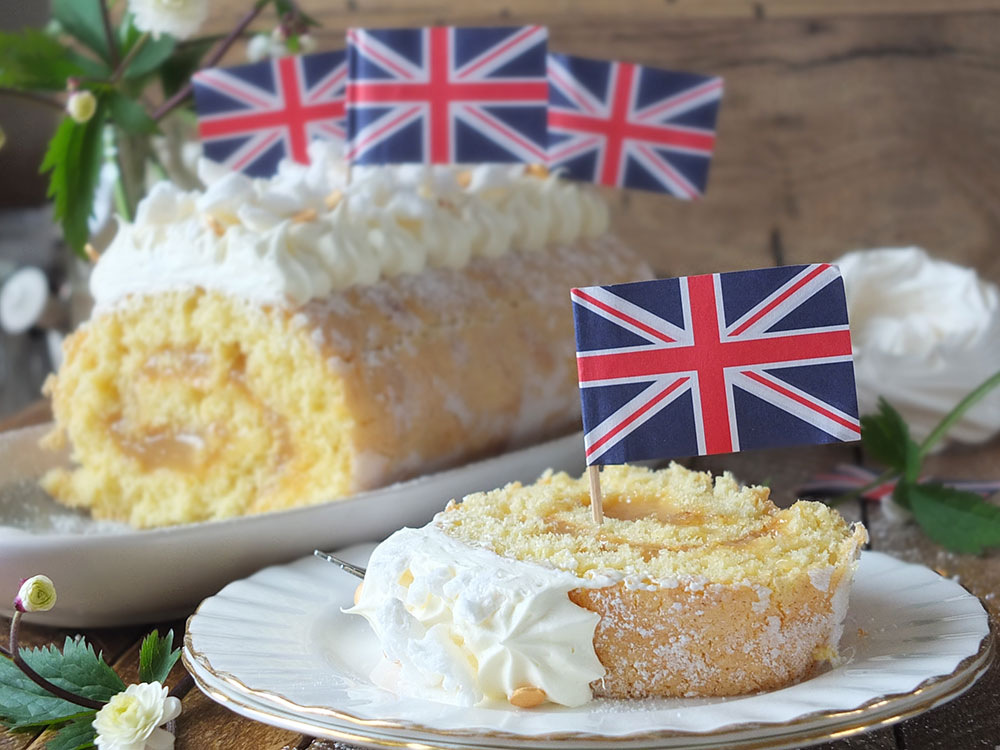 Truth be told, this is the very first ever swiss roll I've ever made.
I had the idea while in the hospital to make a lemon meringue themed swiss roll recipe, and with all the hype leading up to the Royal Wedding, I thought I'd add a hint of elderflower to the whipped cream topping to match the official wedding cake flavours.
It was very much a 'make do and mend' cake, as I used my last remaining hen's egg and a small duck egg given to my husband by one of his customers (thank you!) to make the sponge. To decorate, I crumbled a meringue nest and finished it off with some gold confetti sprinkles I'd found in the back of the cupboard.
The final cheesy British touch was the Union Flag cupcake toppers I'd picked up in our village shop about four years ago – I've been saving them for a special occasion!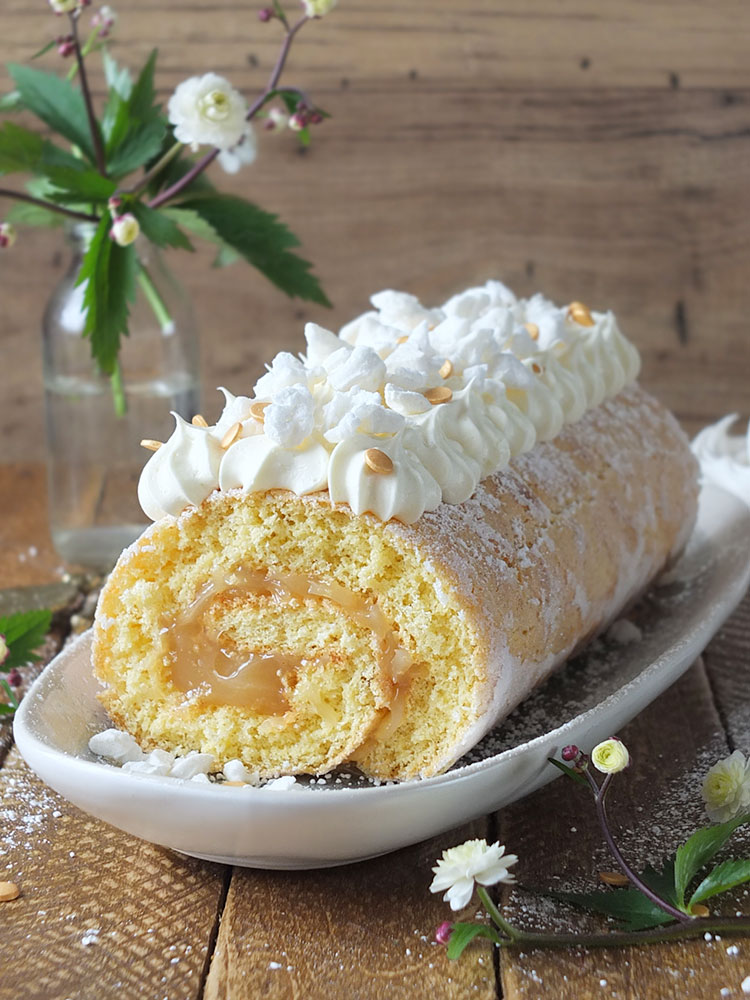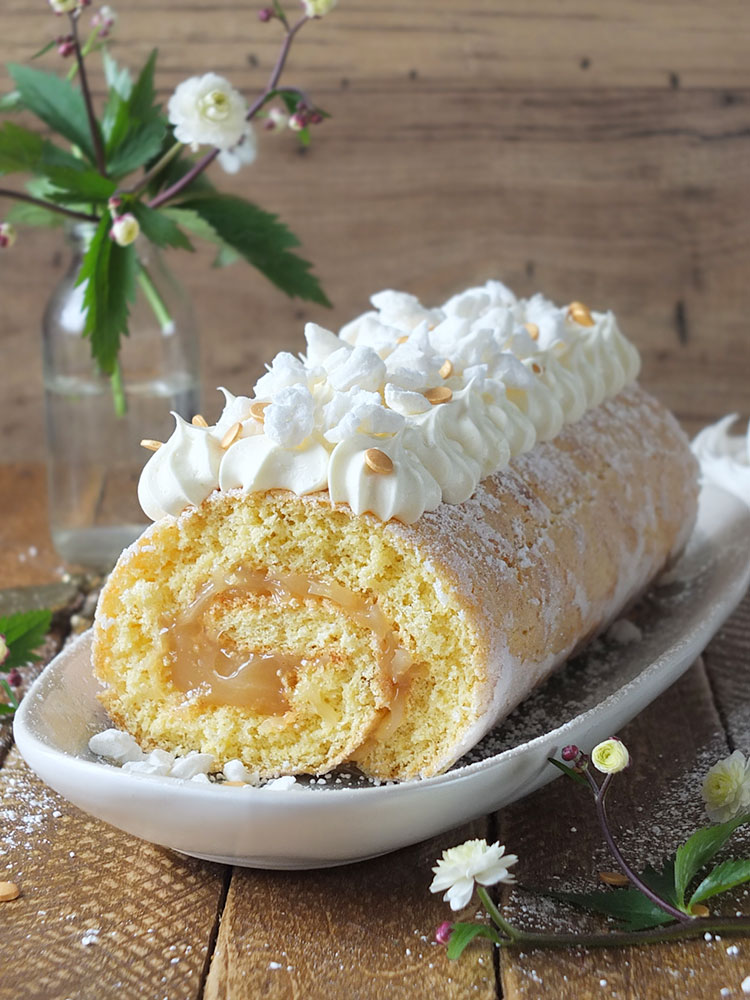 I don't know where my original swiss roll sponge recipe came from as it's been jotted down in my notebook for a good ten years. There are plenty of recipes out there, but all you really need is sugar, eggs and self-raising flour. Just three ingredients.
The trick is to beat the sugar and eggs together for a good five minutes or so with an electric mixer so that they are thick, pale and foamy. Sift in the flour carefully, taking care to keep the mixture aerated.
Technique-wise, I followed Delia Smith's method – she recommends trimming a little bit off each side to make rolling easier and presentation nicer. She also uses a damp tea towel to keep everything supple as the cake cools, preventing cracking.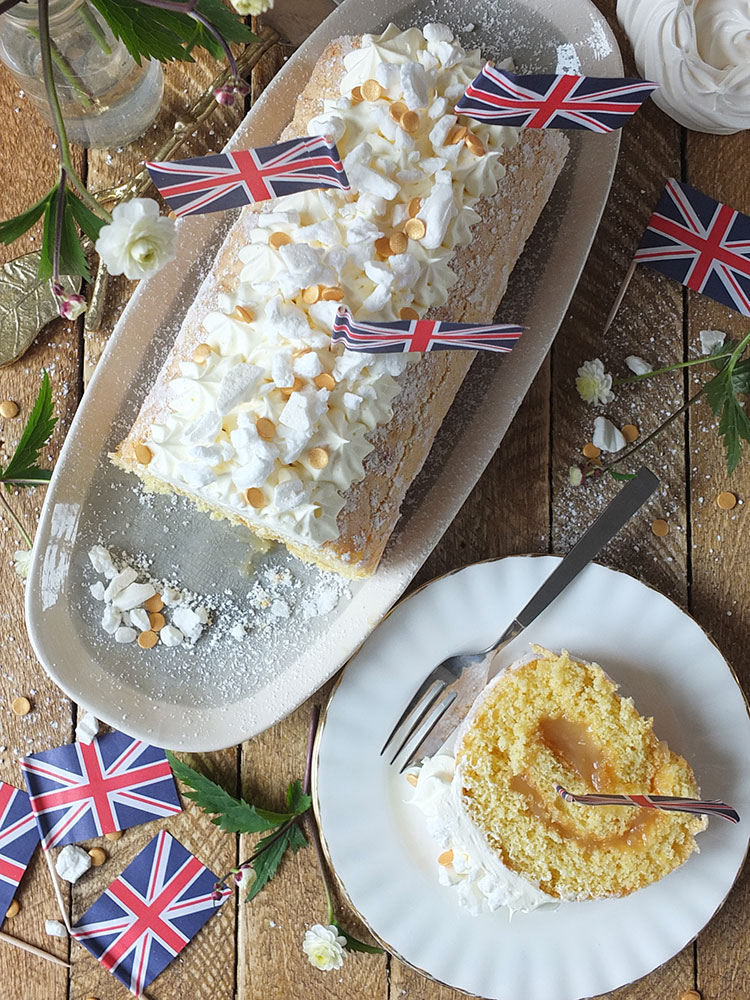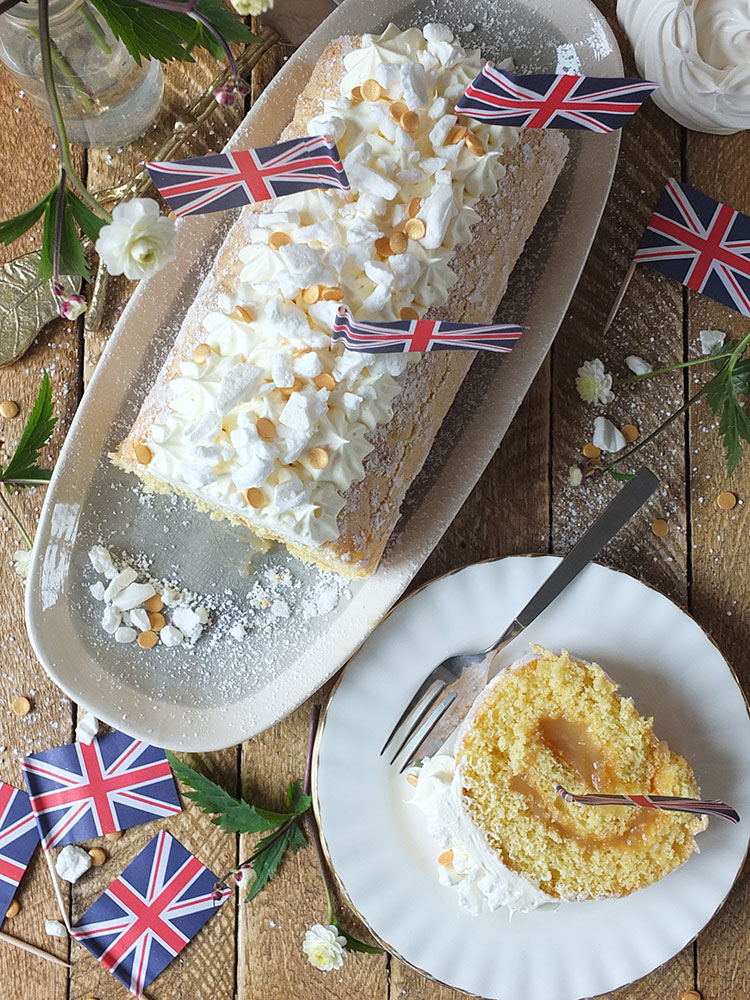 I'm really pleased how well my first ever swiss roll turned out. The cake didn't last very long, (there's no cake for today, the Royal Wedding day itself!) as my family devoured the entire thing yesterday when I made it.
At this moment, I'm lying on the couch happily blogging this recipe with BBC One Scotland airing a special Breakfast program about the wedding. Prince Harry and Meghan Markle's titles have just been confirmed as the Duke and Duchess of Sussex. ((My maternal grandmother was from Sussex (Worthing), random fact.)) I've put up some bunting on the mantlepiece, the sun's shining through the window and I'm toying with the idea of crafting some garish wedding hats for my daughter and me to wear as we watch the wedding itself later on this morning.
All in all, I could think of worse ways to be lying resting and recuperating from surgery.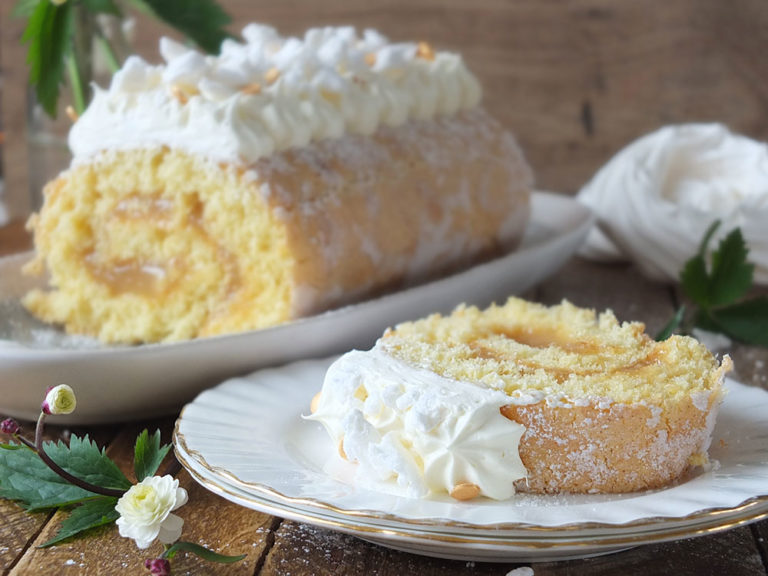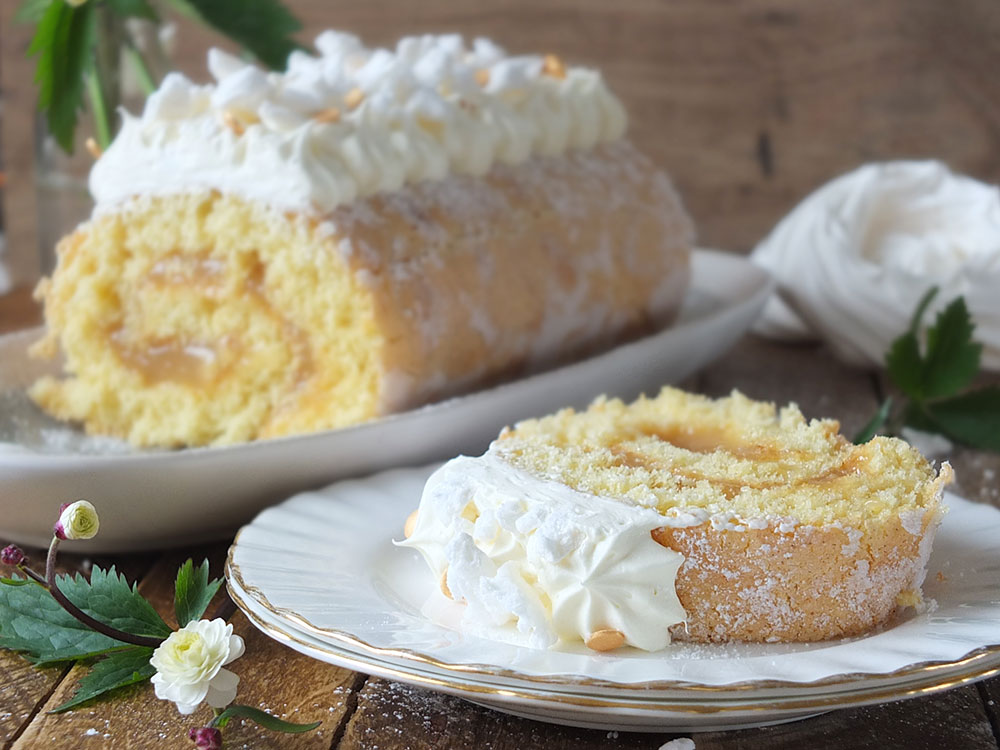 I'm not the only UK food blogger who has been rustling up Royal Wedding celebration bakes lately – Helen at Casa Costello has made some Red, White and Blue Mini Strawberry Shortcakes, Claire from Foodie Quine has made some Lemon & Elderflower Drizzle Muffins and Sisley from Sew White has whipped up a batch of Royal Wedding Lemon & Ginger Flapjacks. If you're looking for something a bit grander, Lucy from Supergolden Bakes has shared her recipe for a Lemon & Elderflower Wedding Cake.
Did you tune in to the wedding? Better yet, were you in Windsor hoping for a glimpse? Let me know in the comments!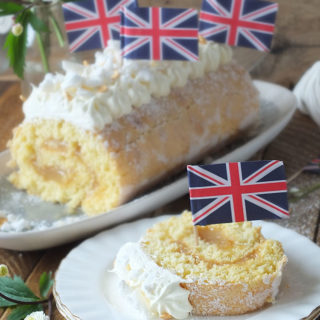 Royal Wedding Lemon & Elderflower Meringue Swiss Roll
A celebration cake made in honour of Henry and Meghan's Royal Wedding. A swiss roll sponge is filled with sharp lemon curd and decorated with an elderflower scented whipped cream frosting and crumbled meringue pieces.
Print
Rate
Affiliate Links
This recipe card may contain affiliate ingredient and equipment links. As an Amazon Associate I earn from qualifying purchases.
Instructions
for the swill roll cake
Preheat oven to 190C/ 170C. Grease and line a swiss roll tin with non-stick baking paper.

Beat together the caster sugar and eggs with an electric mixer for a good five minutes until the mixture is thick, pale and foamy.

Sift over the self-raising flour and carefully fold it into the batter.

Spoon into the prepared swiss roll tin and bake in the centre of the oven for 10-12 minutes, until golden and springy. Take care not to overbake.

While the cake is baking, lay out a damp teatowel on your work surface and cover with a piece of non-stick baking paper. Sprinkle the remaining 2 tbsp of caster sugar over the baking paper and dampen a second tea towel.

When the cake has baked, carefully turn it out onto the caster sugar sprinkled baking paper. Carefully remove the baking paper from the cake and trim a few millimetres off each side of the cake with a bread knife.

Cover the cake with the second dampened tea towel for a few minutes to cool down slightly.

Spread the lemon curd all over the bottom of the cake and, with a bread knife, cut a 5mm deep incision about 2.5 cm from the bottom of one of the short sides.

Using the sugar sprinkled piece of baking paper to help you, carefully fold over the 2.5 piece of cake and roll the swiss roll up. Leave the baking paper on the cake for a few minutes so that it sets, and then transfer to a wire rack to cool completely.
to decorate
Beat the chilled double cream in a chilled bowl with chilled beaters. When foamy, add the sifted icing sugar and the elderflower cordial and continue to beat until thick like frosting.

Decorate as desired and sprinkle with crumbled meringue pieces and gold confetti sprinkles.
Environmental Information
[amazon_link asins='B015CQZI3U,B06XHGVM11′ template='ProductCarousel' store='elizskitcdiar-21′ marketplace='UK' link_id='3323c13c-5b2c-11e8-8b18-fb1894466f8b']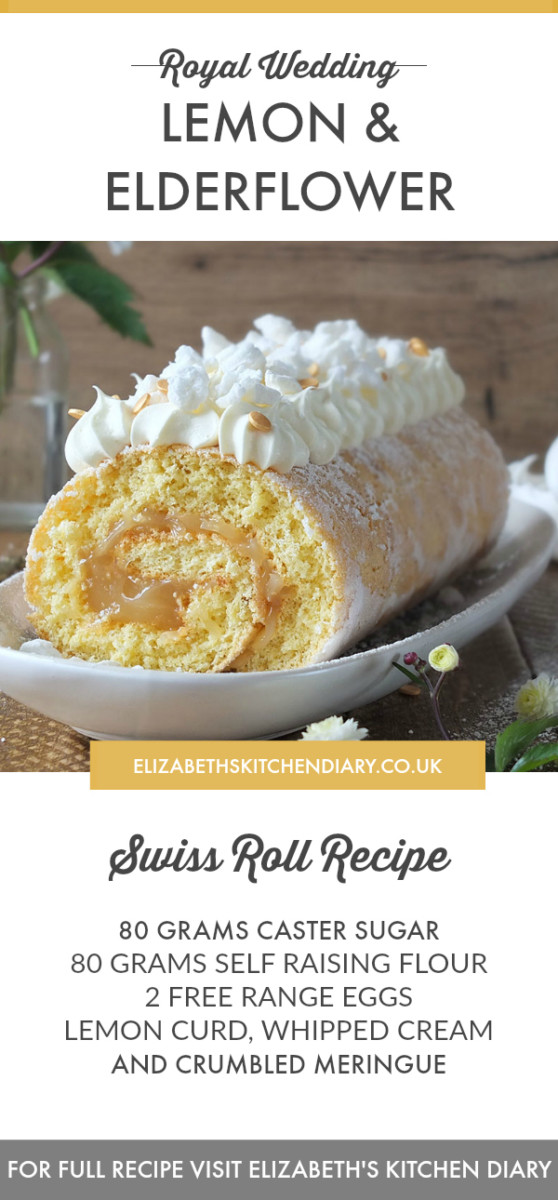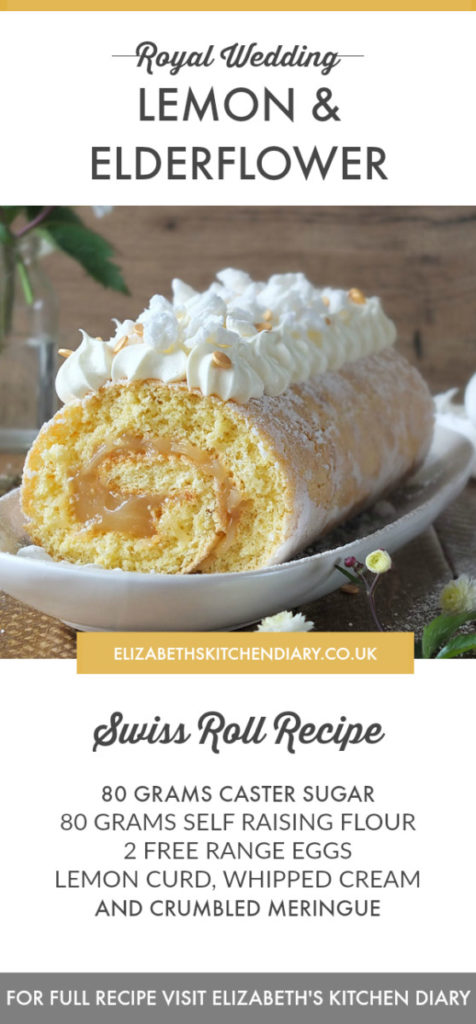 [color-box]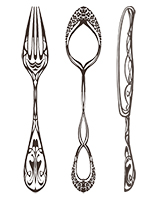 Have you made this recipe?
Take a photo and tag @tangoraindrop or use the hashtag #elizabethskitchendiary and share on Instagram and Twitter. It would make my day to see your creations!
[/color-box]