This hamper is an excellent food gift for Father's Day! A well balanced Californian Zinfandel is partnered with an assortment of mouthwatering indulgent sweet and savoury food treats, all presented in a beautiful wicker basket. This Father's Day Hamper is available exclusively from Hamper.com.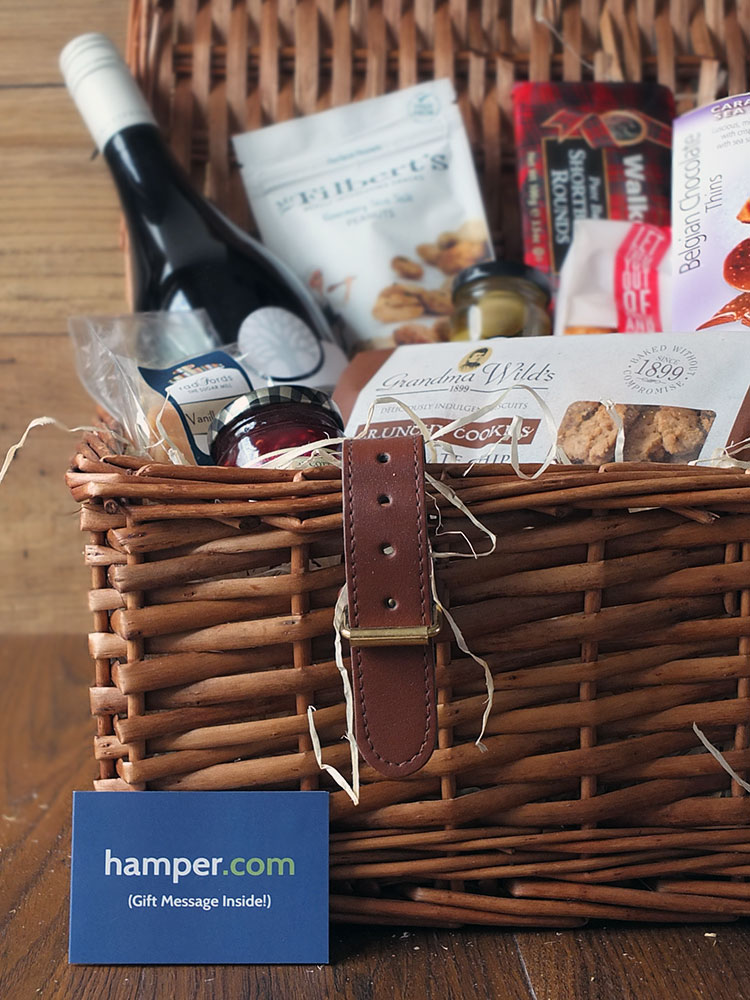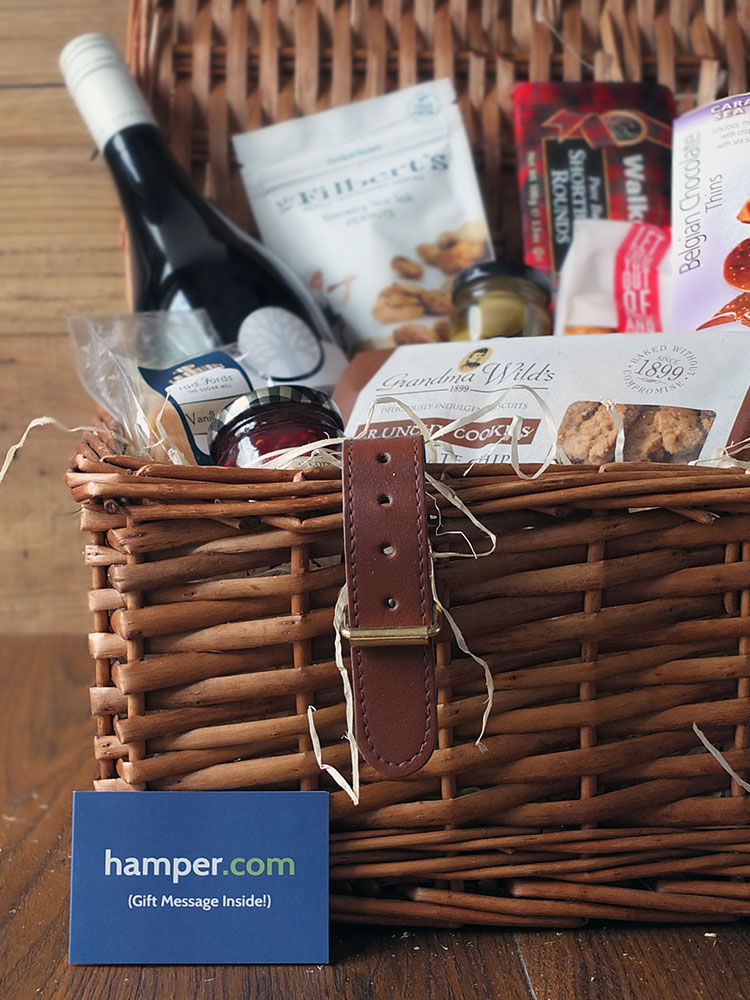 My husband has been an absolute star these last couple of weeks. Truth be told, he's been holding more than his fair share of the household & family responsibility weight these last six months. Recently though, he's been single parenting it while I've been going through and recovering from surgery, and so I thought he deserved a little treat – my way of saying thank you.
When Hamper.com contacted me and asked if I'd like to receive one of their Father's Day gift hampers in exchange for a blog post, I agreed. I let my husband choose which hamper he wanted, and he opted for The Luxury Collection Food Hamper worth £60.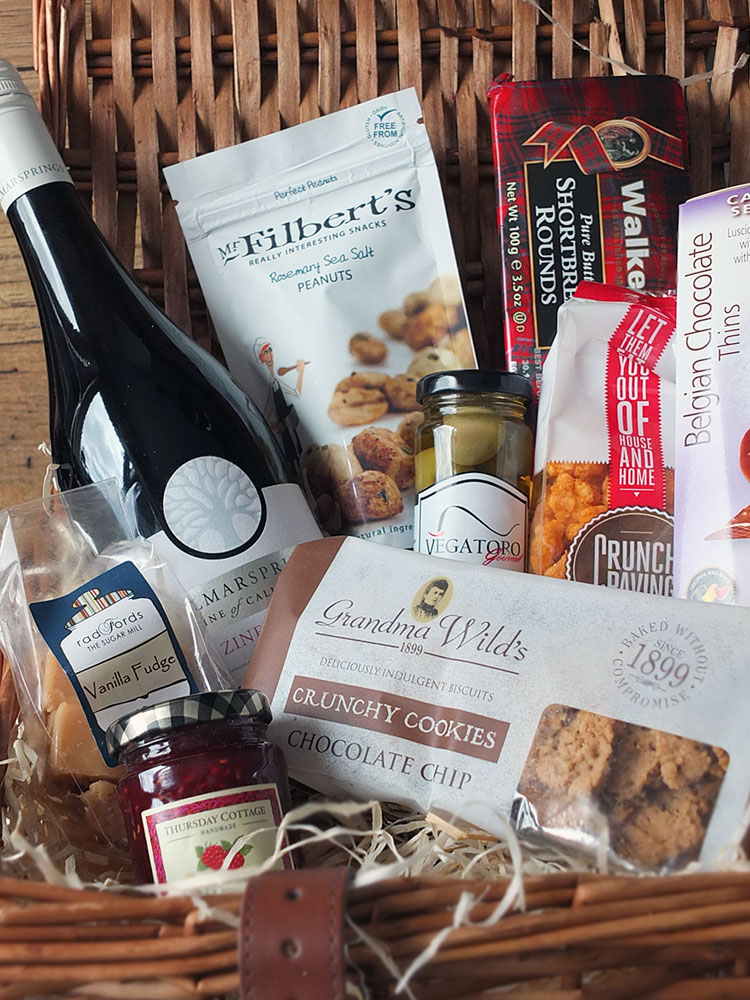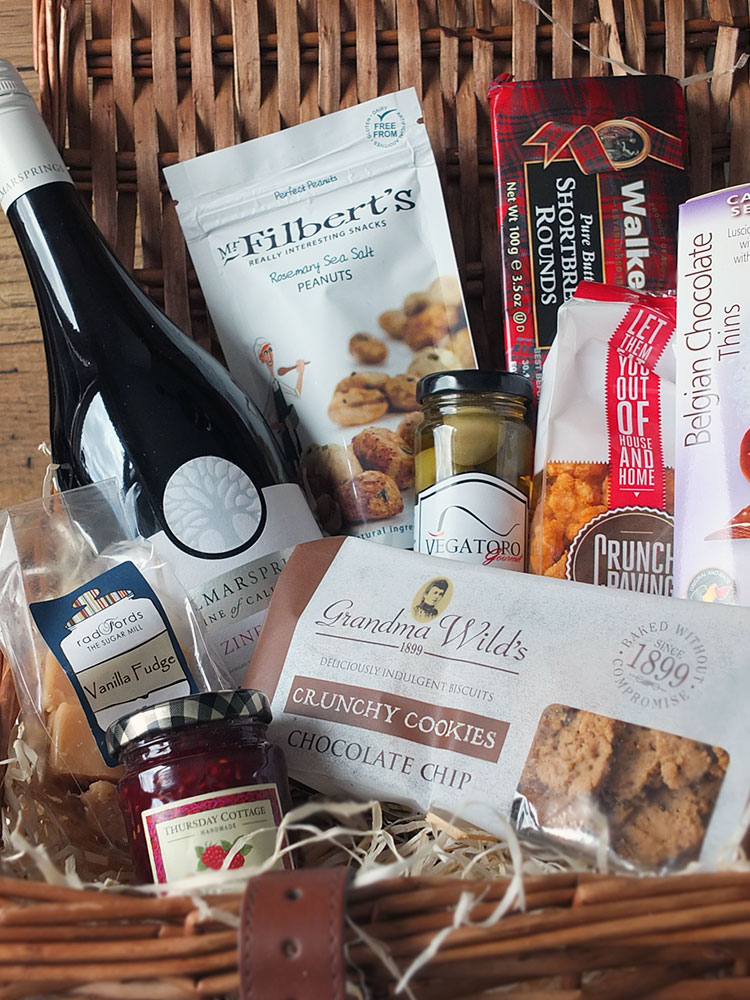 WHAT'S IN THE LUXURY COLLECTION FOOD HAMPER FROM HAMPER.COM
a wicker basket – sturdy enough to be reused
75cl Hilmar Springs Zinfandel Red 2015
100 grams Walkers shortbread thistle rounds
200 grams Grandma Wild's Chocolate Chip Crunch Cookies
120 grams Mr Filbert's Rosemary Sea Salt Peanuts
85 grams Radford's Vanilla Fudge
80 grams Belgian Chocolate Caramel Sea Salt Thins
80 grams Crunch Craving Chilli Rice Crackers
112 grams Thursday Cottage Raspberry Jam
150 grams Vegatora Whole Manzanilla Olives
card with a 20% off code on further Hamper.com purchases
Hilmar Springs Zinfandel Red 2015 – Ripe berry fruit nose with some herbal tones. Good mouthfeel with fresh fruit tones and juicy tannins, smooth access to the palate. Well structured, fine background, rounded, subtle oak notes. Serve this Californian wine at 16-18°C and enjoy with grilled meats and seasoned cheese.
Walker's Shortbread Thistle Rounds – a true Scottish classic, and not just for Christmas. This fine buttery, melt-in-the-mouth shortbread is a real comforter.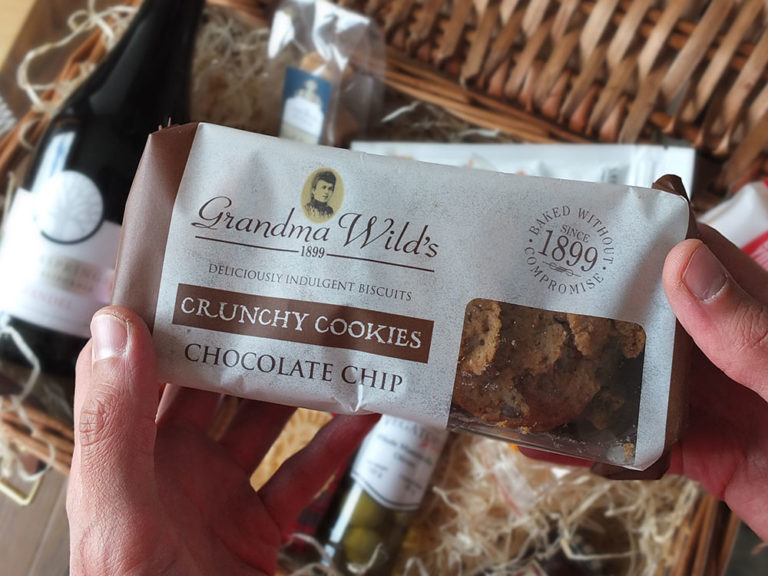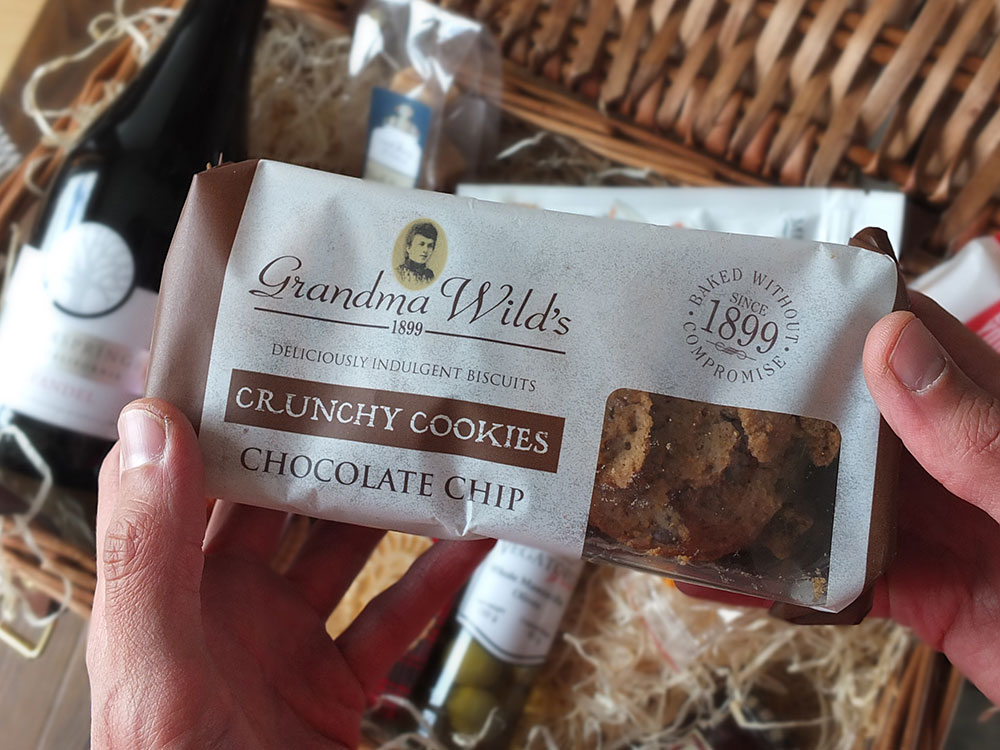 Grandma Wild's Crunchy Chocolate Chip Cookies – Made in England using only the finest ingredients these delicious Crunchy Cookies will delight any biscuit lover. These cookies are made to the highest standards in their modern bakery, using the methods handed down through four generations of the Grandma Wild's family.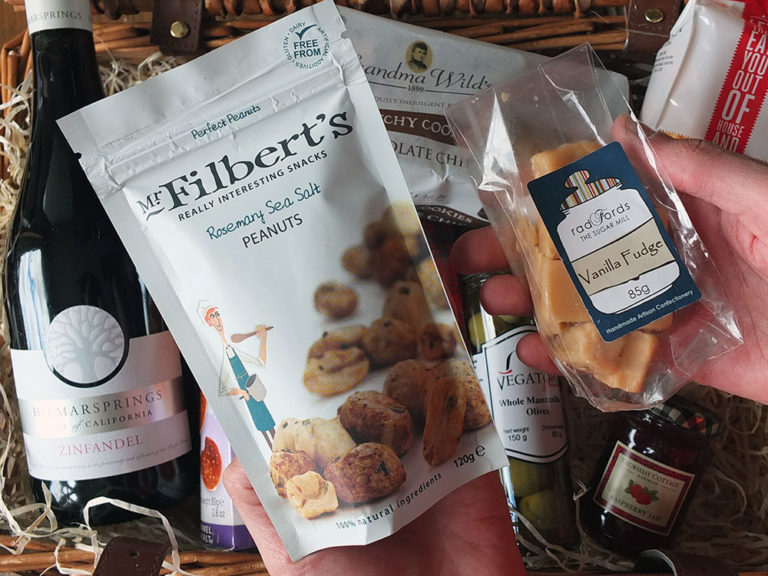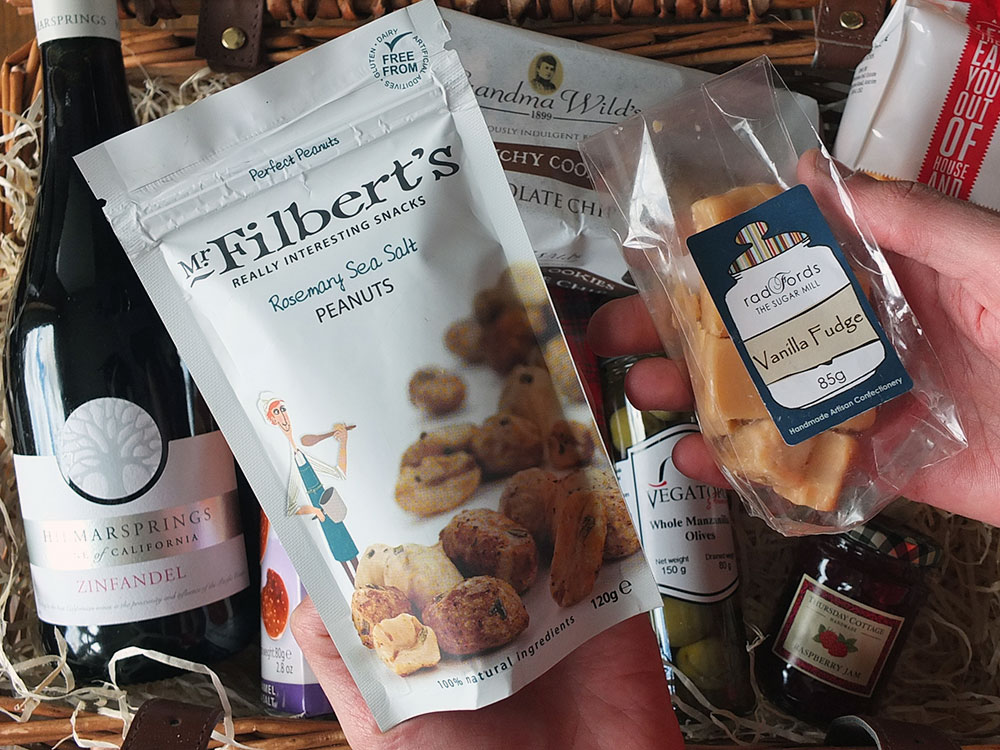 Mr Filbert's Rosemary & Sea Salt Peanuts – These rosemary sea salt peanuts contain only the finest pure and natural ingredients in a unique way to produce a light aromatic snack.
Radford's Vanilla Fudge – Radford's have been making fudge since the 1950s. Their creamy vanilla fudge is made in small batches using responsibly sourced palm oil. A perfect treat for those with a sweet tooth.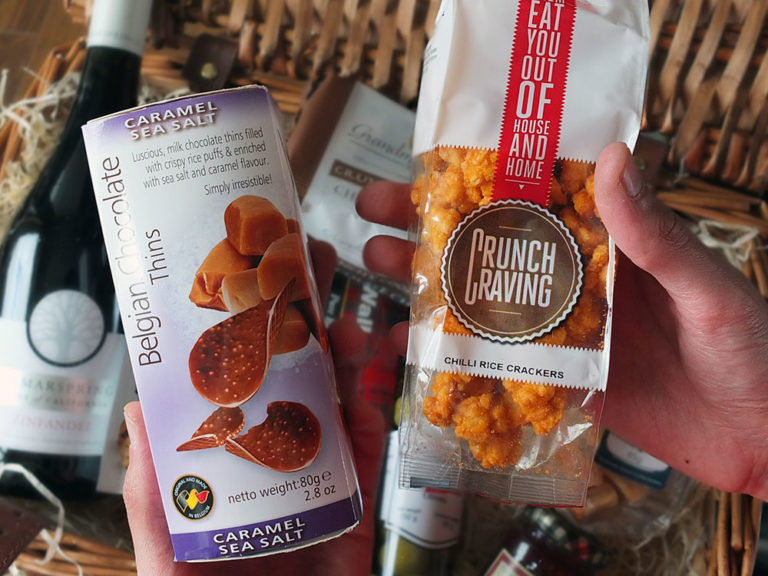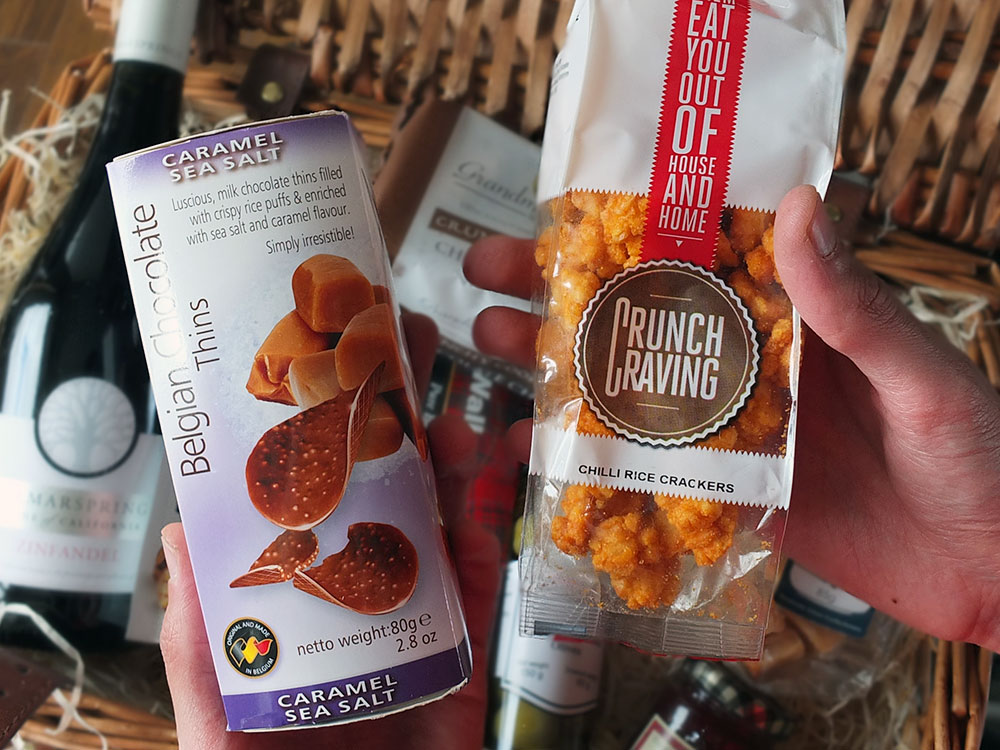 Caramel Sea Salt Belgian Chocolate Thins – Wafer thin Belgian chocolate curls studded with sea salted caramel rice pieces.
Crunch Craving Chilli Rice Crackers – A spicy, sweet, salty snack perfect for nibbling while watching Netflix.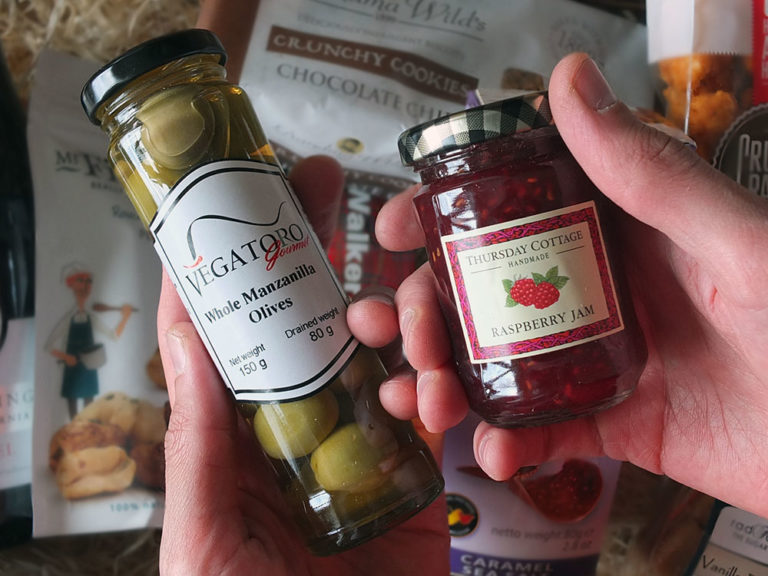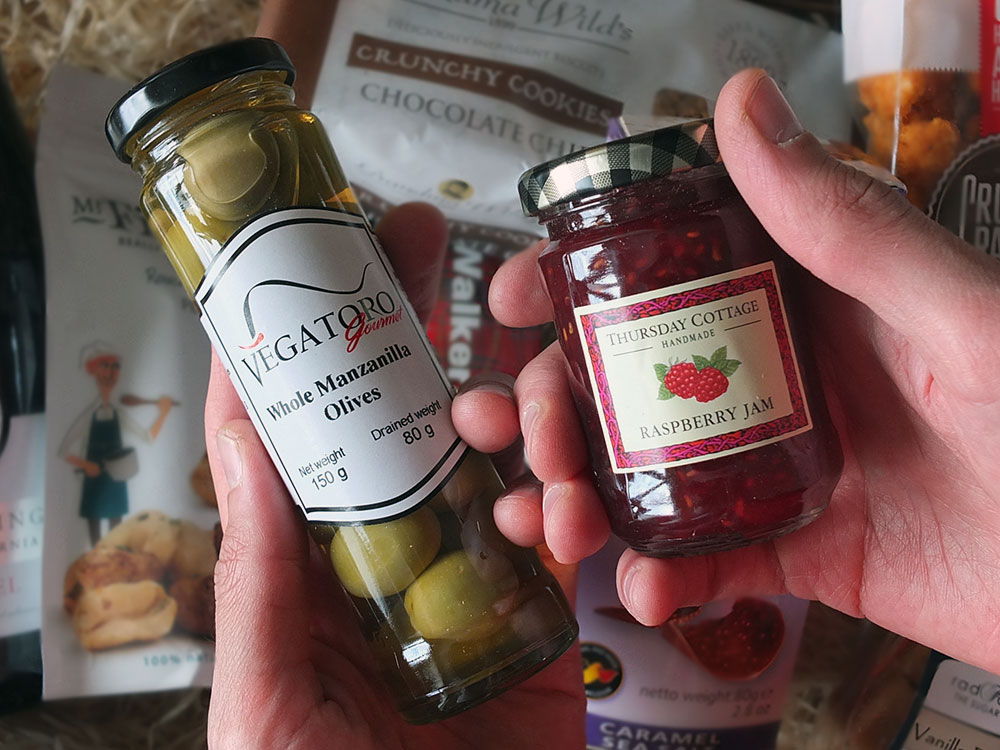 Vegatoro Whole Manzanilla Olives – An abundant green olive originating in Spain, these gems are plump and meaty and ideal for snacking or party food.
Thursday Cottage Handmade Raspberry Jam – A traditional Thursday Cottage recipe made with organic raspberries.
PERSONAL THOUGHTS ON THIS HAMPER
I think food hampers make for a rather fantastic gift idea. I like the idea of ordering something that's already prepared which takes out all the time consuming (and sometimes difficult) task of shopping (I don't like shopping). Saying that I don't think the contents of the hamper could really be described as a luxury – they're a nice treat, absolutely, but not in my own personal luxury category.
Unpacking it was good fun, although there was a lot of (rather messy) filling, and we like the reusable hamper itself. Again, the wicker hamper isn't as good quality as I would expect from a luxury hamper, but I do like the colour, and it will come into good use even though it isn't as sturdy as other wicker hampers I've been sent.
Also, as the bargain hunter in our family, I don't think there is £60 worth of products in this hamper. The wine itself retails for around £8, and the most expensive snack around £2, but you're paying for a service here – the price includes delivery (and the hamper is fairly large) as well as the labour involved in assembling it, taking out the hassle of having to do it yourself.
What did my husband think?
This is a lovely treat for a father. It makes you want to close the lid, run away to hide and eat the lot yourself. I would recommend it as a convenient gift, but keep it away from your kids or they'll eat the lot.
FATHER'S DAY HAMPERS FROM HAMPER.COM
Father's Day in the UK falls on Sunday the 17th of June this year – will you be treating your father/husband to a gift hamper? Hamper.com have 45 different Father's Day themed beer, wine, sweets, chocolate and cheese hampers available for every taste, budget and Dad – from the new dads celebrating their first Father's Day to older dads with grown-up children. There's even hamper gift selections for Dads with a preference for alcohol-free gifts. You could, if you fancied, even create your own!
Hamper prices include UK-wide delivery (even to Shetland!), and you can upgrade to next-day delivery if you live on the mainland.
Visit Hamper.com to find out more!
This is not a paid post. Elizabeth's Kitchen Diary received a complimentary hamper in exchange for this honest review. All thoughts and opinions expressed are our own.