With only six ingredients, this roasted strawberry and ANGOSTURA® orange bitters ice cream recipe features the incredible flavour of sweet roasted strawberries paired with the subtly complex aromatics of ANGOSTURA® orange bitters.
This post has been written in collaboration with ANGOSTURA® bitters, although all thoughts and opinions expressed are our own. Thank you for supporting the brands who make it possible for me to do what I love: mess up our kitchen and share recipe stories.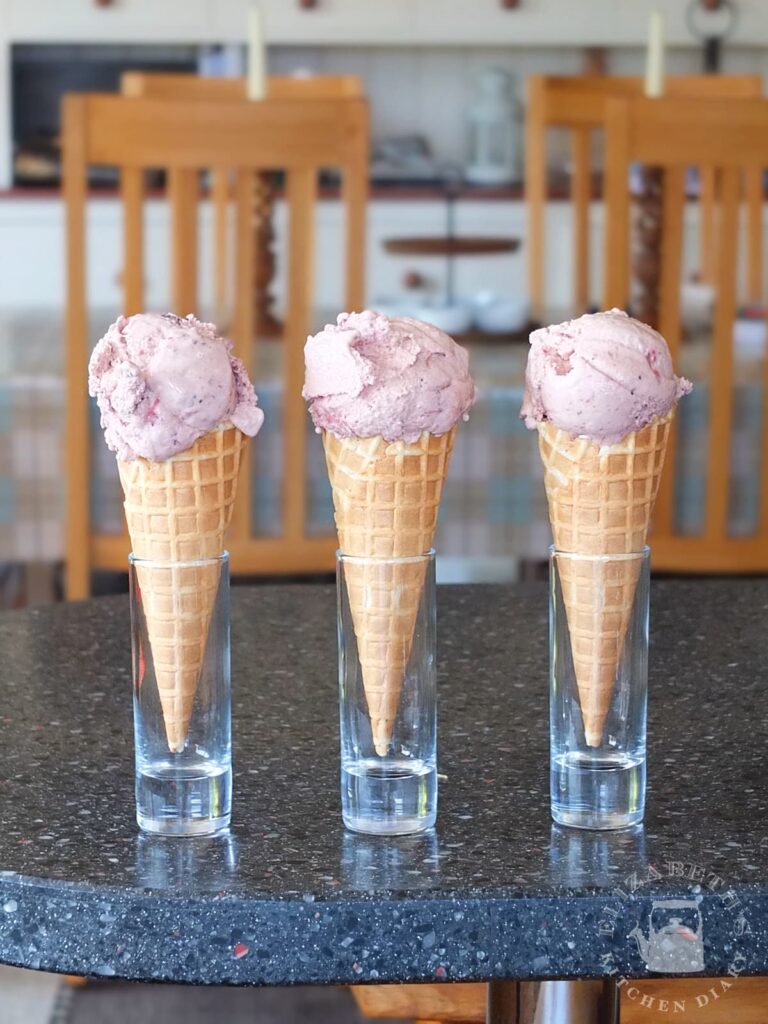 Needing to cool down during the heatwave?
Come on mainland UK, what's this I hear about you guys having a heatwave? Quit hogging the summer, will you!
I jest. Slightly.
We in Shetland are quite content with our natural air-con, up full whack, year-round. Really, we are. With the added bonus of summer fog. It's like living inside a frosted 25 W lightbulb.
We did have that one really sunny Sunday day recently, where the sun came out for an entire afternoon and evening. The weather app said 18 °C! To cool down, I'd made a batch of some rather delicious roasted strawberry and ANGOSTURA® orange bitters ice cream to enjoy in the garden.
Basking, proper like. Well, I was. He was busy trimming the hedges while I lounged.
It was lovely.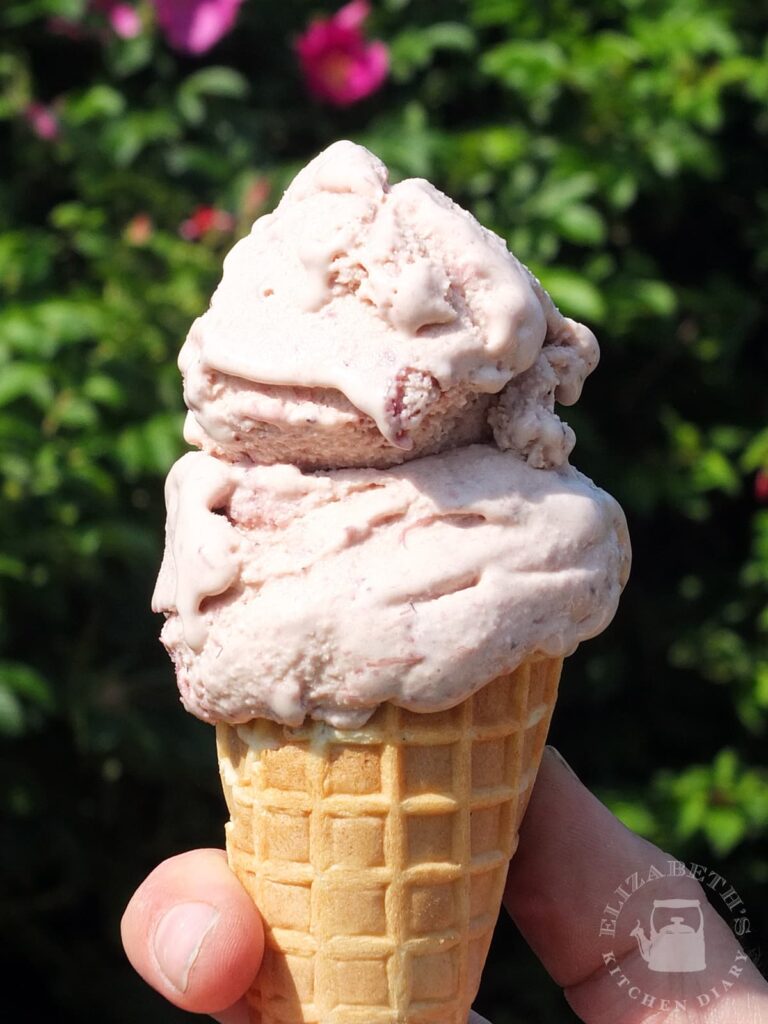 Roasted strawberry ice cream
The idea for this came about during a bbq recently. For dessert, I'd served some strawberries, cream and meringues with a drizzle of balsamic vinegar and good twist of black pepper.
This dessert initiated a discussion about unusual food pairings. For example, you might not think to pair strawberries with black pepper and vinegar, but it really does work. Throw some avocado in the mix there and you've got an epic summer salad too.
This led to a discussion on the merits of roasting strawberries. The idea of making ice cream with roasted strawberries sprang to mind.
It became something I needed to do.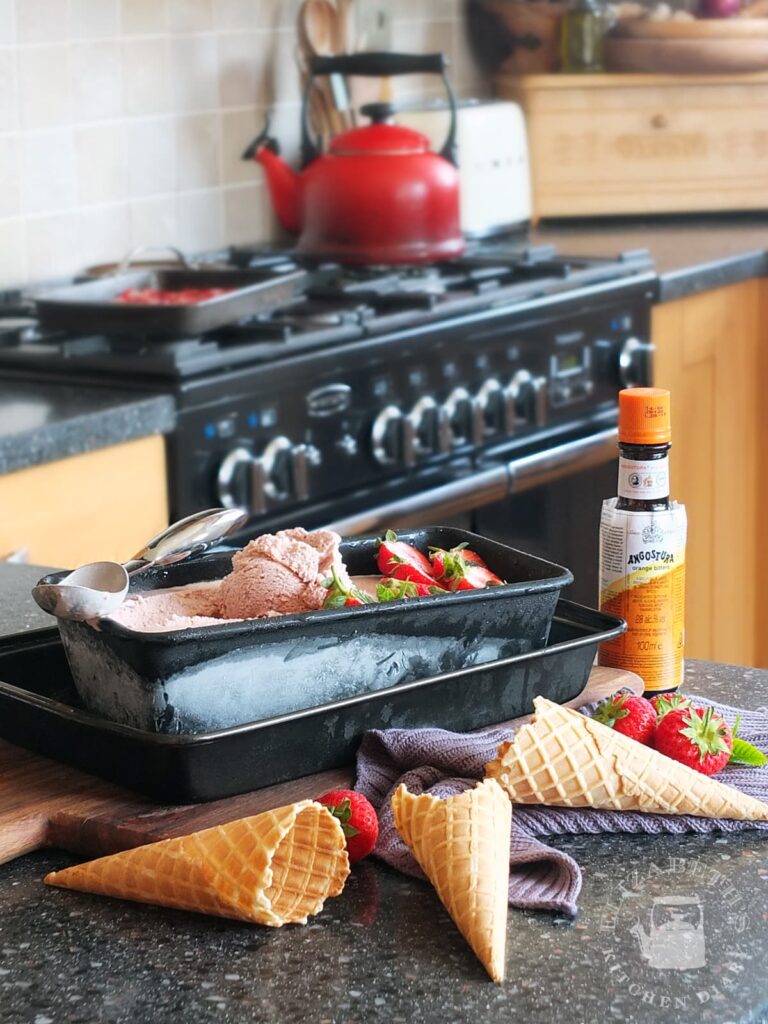 ANGOSTURA® orange bitters
Like balsamic vinegar, ANGOSTURA® bitters is a well-known ingredient found in many cupboards. Did you know that it is a versatile culinary ingredient and can be used in more things than just your favourite martini or Old Fashioned ice cream?
In 2007, ANGOSTURA® expanded its bitters range to include ANGOSTURA® orange bitters. In this formula, citrus oils from hand-selected oranges, carefully blended herbs and spices are combined with nearly 200 years of knowledge to bring a unique orange flavour to any recipe they are used in.
Use ANGOSTURA® orange bitters as a substitute for orange zest in all food and drink recipes, including ice cream.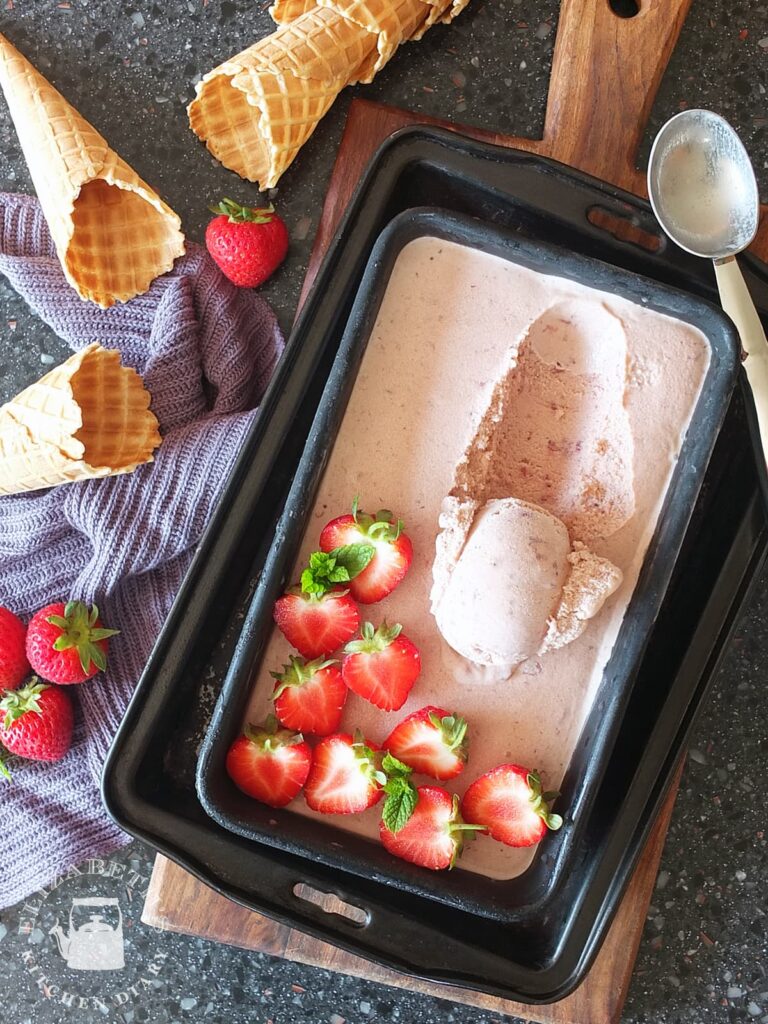 Why you should roast strawberries
Roasting strawberries brings out the flavour of the strawberries, resulting in a deeper, richer strawberry experience. It's like making strawberry compote, effortlessly, in your oven.
Roasting the strawberries before making this strawberry ice cream gives the finished dessert a more intense strawberry flavour. This is enhanced even further with the addition of ANGOSTURA® orange bitters.
Mash your strawberries in the pan you roasted them in, incorporating all the delicious strawberry juices into your ice cream.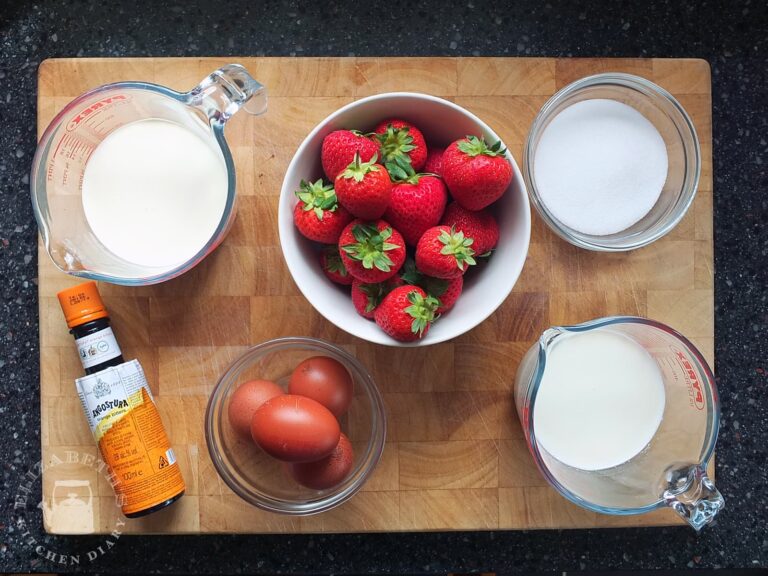 What you need…
(click here for the full, printable recipe)
300 ml full fat milk – milk fat adds a creamy richness to the recipe, so don't be tempted to substitute this with skimmed. Full fat all the way.
4 egg yolks – these are used for thickening the custard base and they give the finished ice cream a rich, creamy consistency.
100-150 grams caster sugar – if your strawberries are already super sweet, use a lower amount of sugar. There's a little sugar on the roasted strawberries too.
300 ml double cream – the high fat content in the cream coats the ice crystals in the ice cream, resulting in a smooth creamy textured dessert.
How to make a custard ice cream base
How to roast strawberries
Watch the recipe video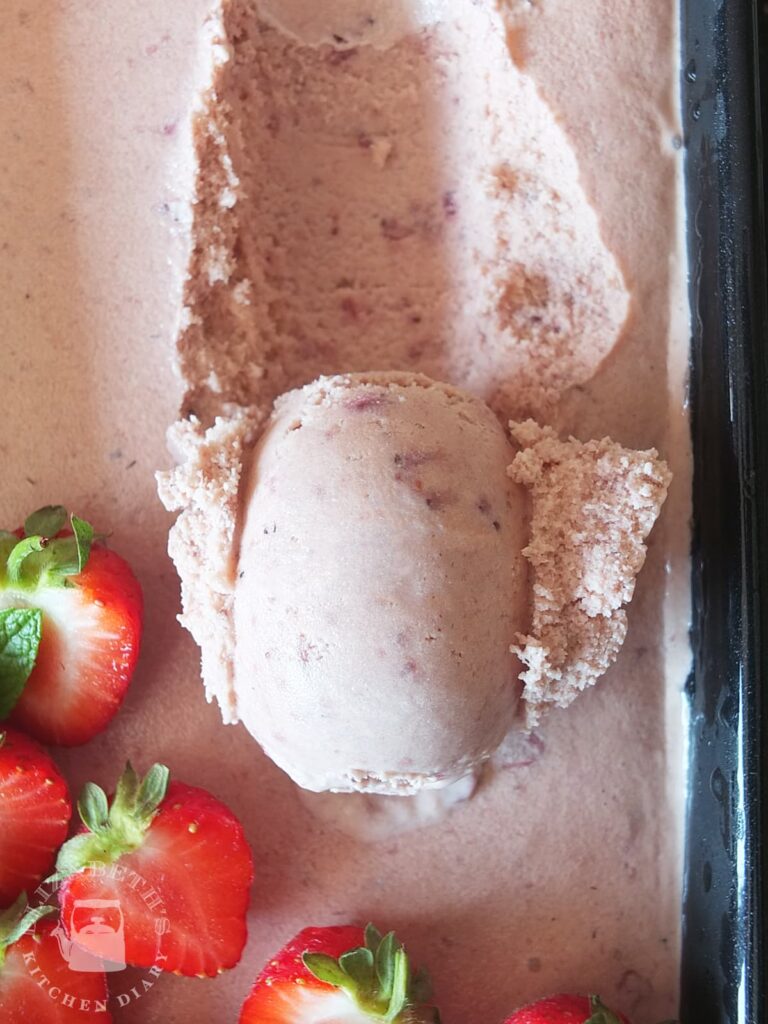 What else can I do with roasted strawberries?
Use these roasted strawberries to top yoghurt, pancakes, porridge, ice cream or cheesecake!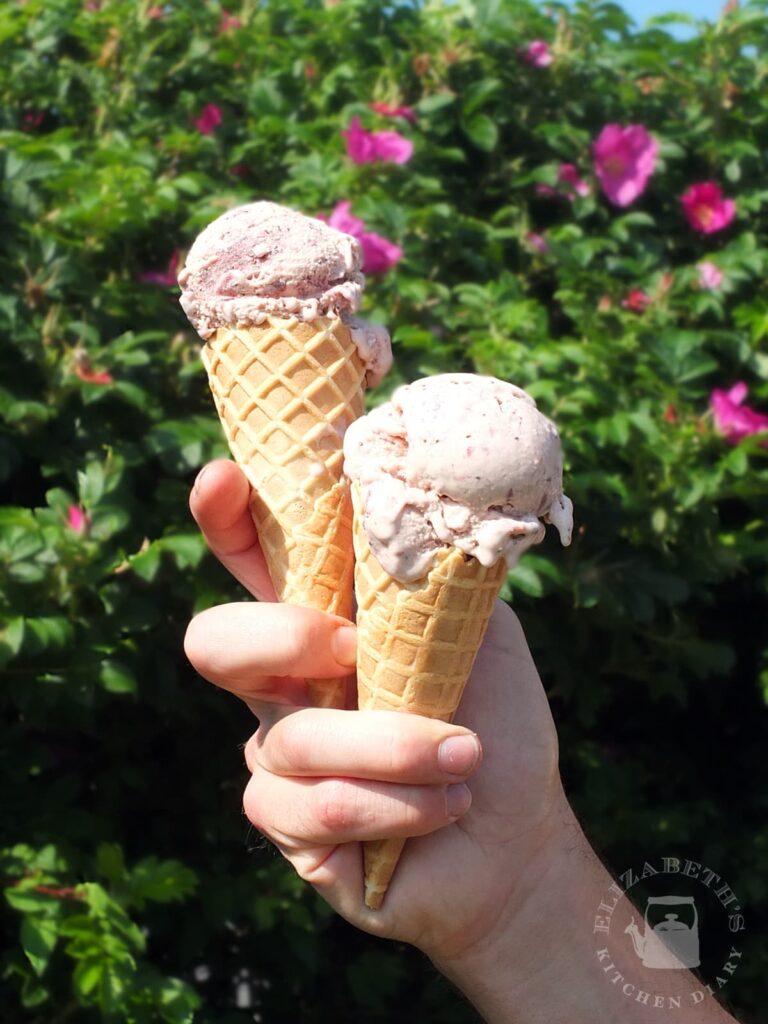 Where do I find ANGOSTURA® orange bitters?
ANGOSTURA® orange bitters are stocked in all good wine shops. Here in Shetland, you can find them in The Wine Shop. You can also find them online on Amazon.
Don't forget to follow ANGOSTURA® on Facebook, Twitter and Instagram for more recipe inspiration!
Happy ice cream making!

Roasted strawberry and ANGOSTURA® orange bitters ice cream recipe
With only six ingredients, this roasted strawberry and ANGOSTURA® orange bitters ice cream recipe features the incredible flavour of sweet roasted strawberries paired with the subtly complex aromatics of ANGOSTURA® orange bitters.
Print
Rate
Affiliate Links
This recipe card may contain affiliate ingredient and equipment links. As an Amazon Associate I earn from qualifying purchases.
Instructions
Pour the milk into a small saucepan and heat gently over medium-low heat.

Meanwhile, whisk the egg yolks and caster sugar together until they are light and drop like ribbons from the whisk.

4 egg yolks,

100 grams caster sugar

Remove the milk from the heat when the temperature reaches 180-185°F (82-85°C).

While whisking, pour the hot milk over the top of the egg yolks and sugar.

Return the custard mix to the saucepan and heat over medium-low until it reaches 170°F/72°C. The custard will coat the back of a spoon when it is ready, and a finger drawn down the back will leave a line.

Transfer to a measuring jug and leave to cool in the refrigerator for two hours before adding the double cream.

Preheat your oven to 350°F/180°C/160°C fan.

Trim your strawberries and cut them in halves or quarters, depending on their size. Arrange in a baking tin, cut side up.

Sprinkle the strawberries with the remaining caster sugar.

Roast the strawberries in the oven for 30 minutes.

Allow to cool before mashing the strawberries with a potato masher.

Stir in the ANGOSTURA® orange bitters and mix with the custard mix.

Churn in your ice cream maker as per the manufacturer's instructions.

Transfer the soft-serve ice cream to a freezerproof container and freeze until hard.
Nutrition
Sodium:
28
mg
|
Calcium:
71
mg
|
Vitamin C:
30
mg
|
Vitamin A:
599
IU
|
Sugar:
14
g
|
Fiber:
1
g
|
Potassium:
147
mg
|
Cholesterol:
122
mg
|
Calories:
207
kcal
|
Monounsaturated Fat:
4
g
|
Polyunsaturated Fat:
1
g
|
Saturated Fat:
8
g
|
Fat:
14
g
|
Protein:
3
g
|
Carbohydrates:
17
g
|
Iron:
1
mg
Environmental Information
Other ANGOSTURA® Bitters Ice Cream Recipes
Give your summer dessert a sophisticated twist with this delicious, boozy old fashioned bourbon and ANGOSTURA® orange bitters ice cream recipe. This rich, creamy ice cream features the subtly complex aromatics of ANGOSTURA® orange bitters, while ripples of bourbon and orange pack a flavoursome punch.
Photo Credit: www.lamag.com
Hold onto summer with this bitters-tinged ice cream by Danielle Crouch of Caña Rum Bar.
Photo Credit: www.gastronomblog.com
Alcoholic ice cream based on a classic Old Fashioned Cocktail!
Pin this recipe for later