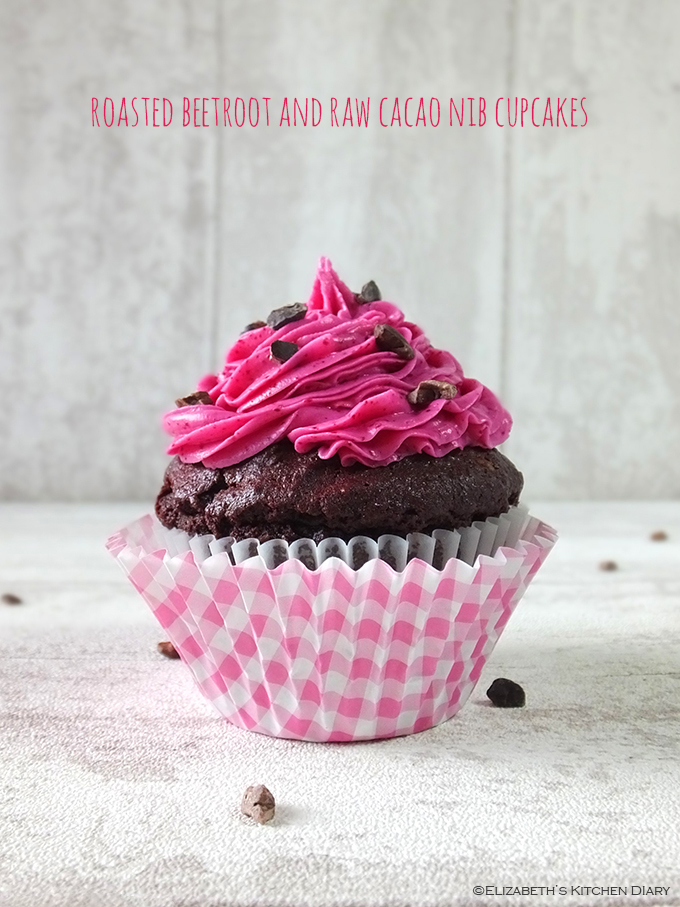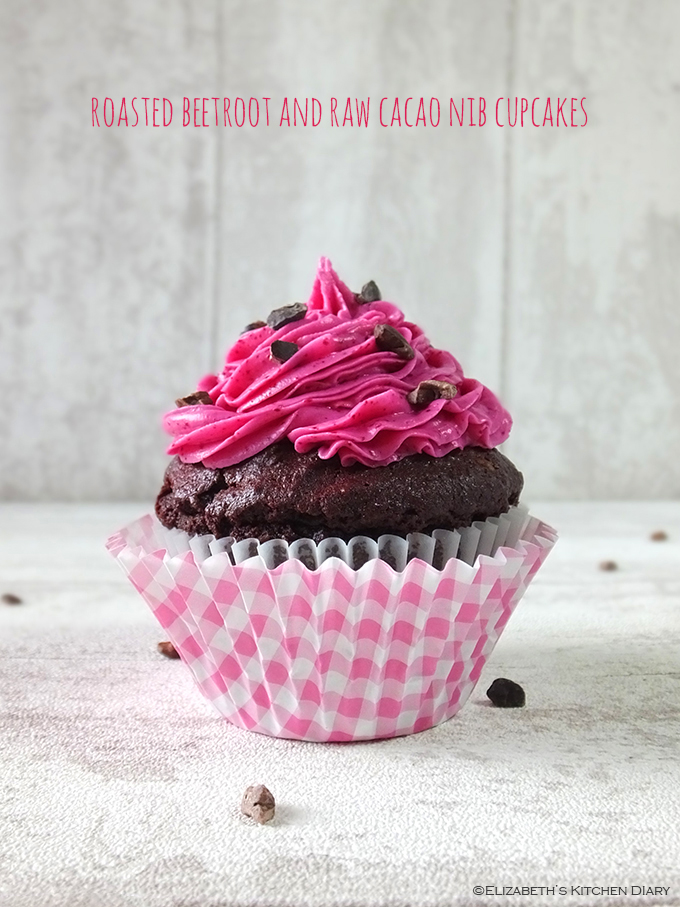 Before I started receiving a weekly organic vegetable box the only beetroot I'd ever really tried was the pickled variety from the supermarket. Occasionally I would pick up a pack of boiled, ready to eat, shrink-wrapped beetroot to make the chocolate beetroot cake recipe from the Green & Black's Chocolate Recipes book (2003). It made a rather nice cake, but it was somewhat dry. I got around that problem by serving it with a great bowlful of vanilla ice cream or lashings of double cream.
I'd never tasted raw beetroot before my veg box. True story!
This has changed now, with winter varieties arriving in our veg box in the early spring (I still have a blog post in the drafts folder from back then I should share with you soon!) and it's beetroot season just now.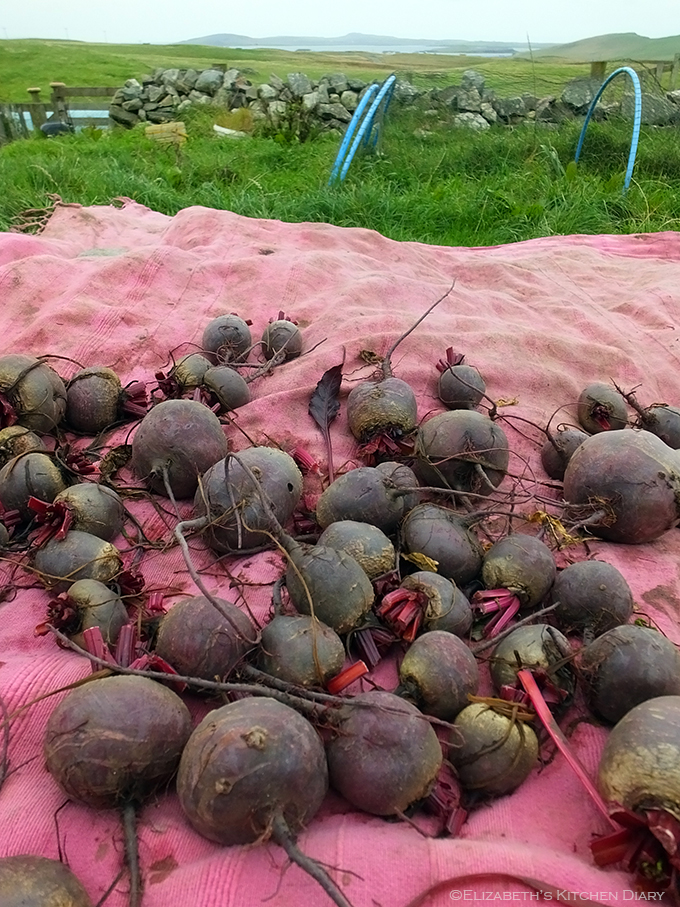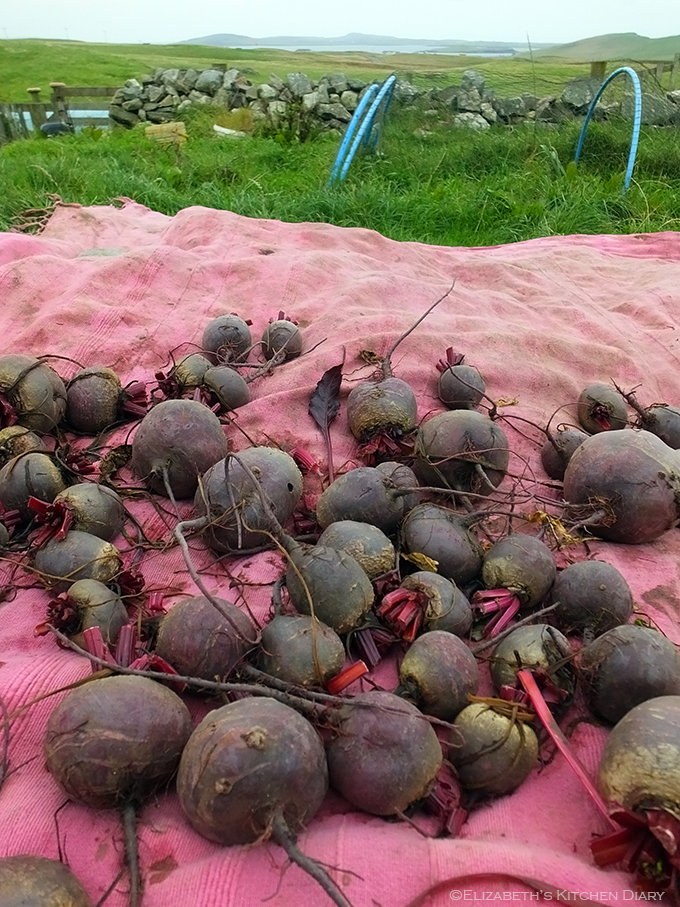 See all these lovely organic beauties? I photographed these while on a Shetland-wide foodie tour a few weeks ago. These were all destined for the lucky folk who receive their vegetable box.
I've been roasting a lot of the beetroot in a baking tray with assorted white, yellow and orange carrots, fennel, onion and garlic and was I taken with how sweet and simply gorgeous the flavour of roasted beetroot is.
Recently, my youngest son asked me where chocolate comes from. I love the inquisitive minds of my children, I do. So I brought out the aforementioned Green & Black's cookbook and showed him images of the cocoa bean, the white fluff of the interior and the cacao nibs from where we get our real chocolate.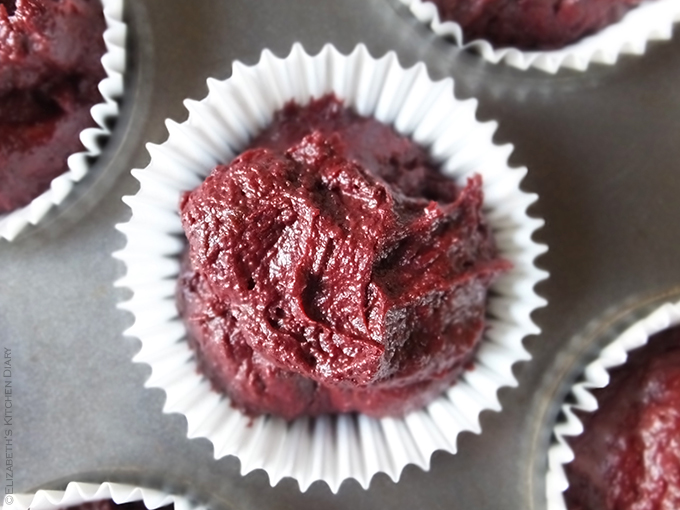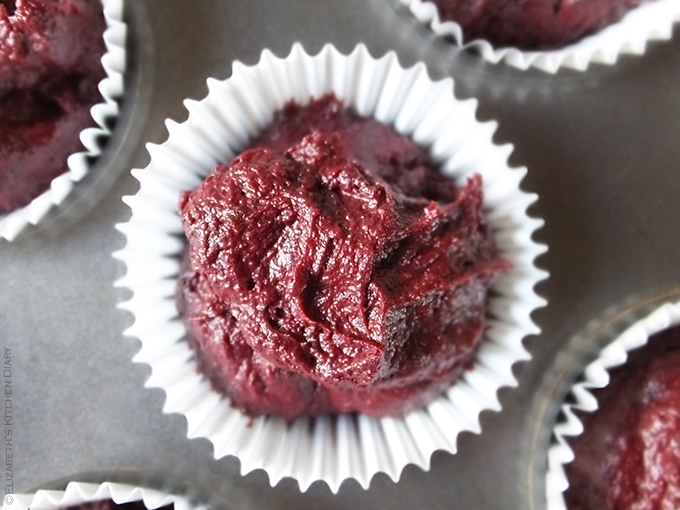 Shortly after that, I was doing a small shop in our local whole foods store when I spotted a bag of organic raw cacao nibs on the 'new in' shelf. I bought them for the sole purpose of educating my youngest about real chocolate. He was over the moon, especially when I turned the cacao nibs into cupcakes with bright pink frosting!
Using my Froothie Optimum 9400 blender I pulverised the raw cacao nibs into powder in a matter of seconds and incorporated pureed roasted beetroot into the recipe for its remarkably sweet flavour. I loved the colour of the batter – a rich velvety wine colour. This colour was retained for a while after baking, but it faded to a dark chocolate colour after a day.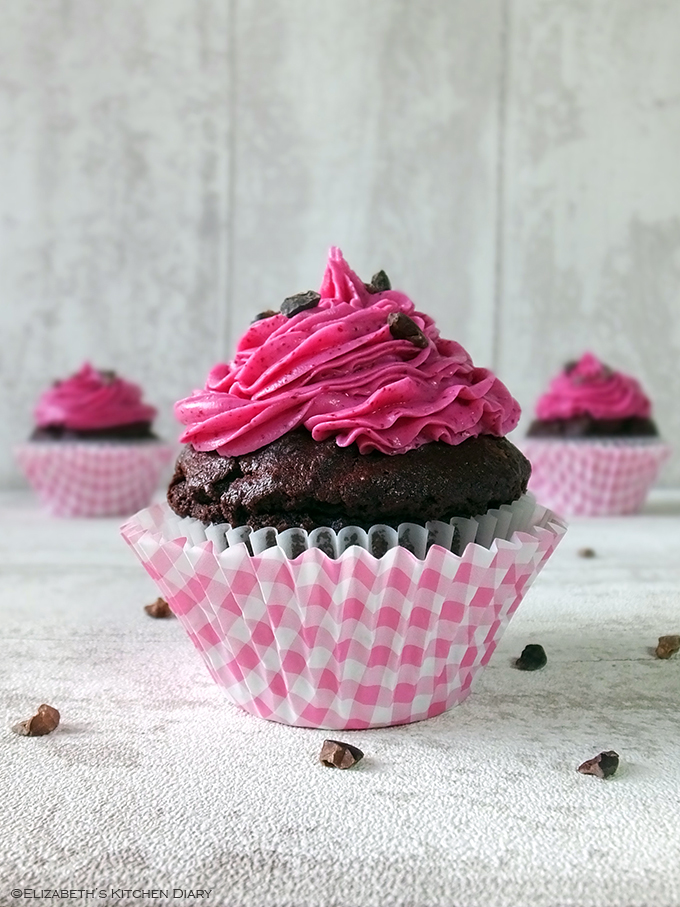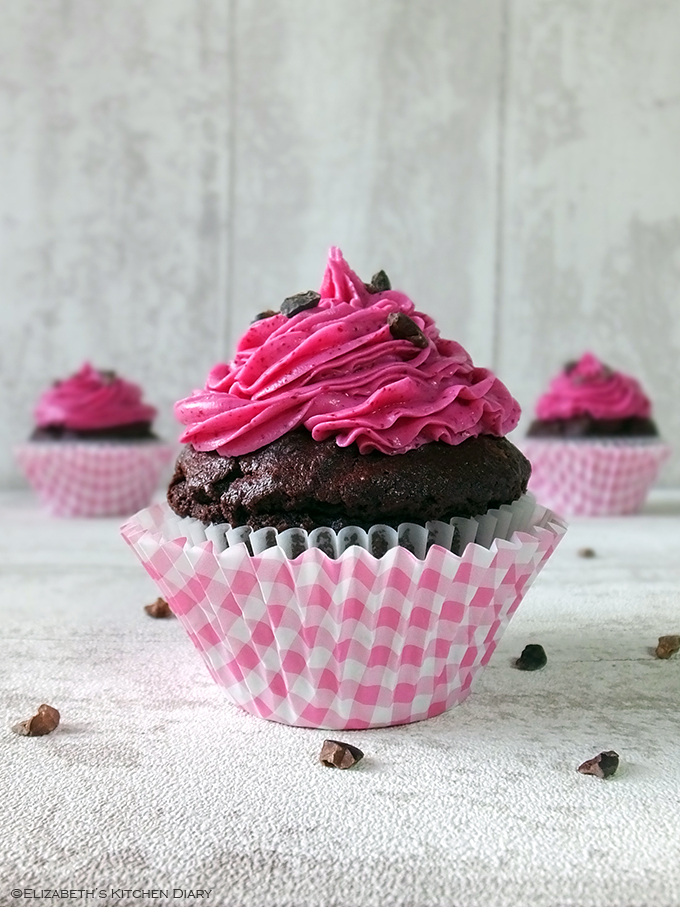 Unlike chocolate beetroot cakes made with boiled beetroot, the roasted beetroot flavour is noticeable in these cupcakes, especially as I use a tablespoonful of the puree to colour the frosting. Look at how wonderfully vibrant that colour is! The little flecks of beetroot really appeal to me, for some reason. My children had two of their veggie phobic friends visiting when these were being photographed. I let them each try one and the eldest remarked that they were the best cupcakes he'd ever, ever eaten in his entire life.
I should open a cake shop, he suggested, scoffing a large mouthful of chocolate cupcake.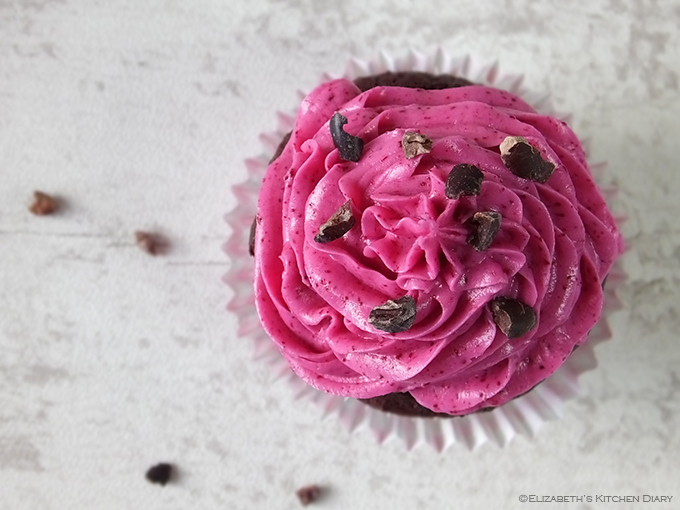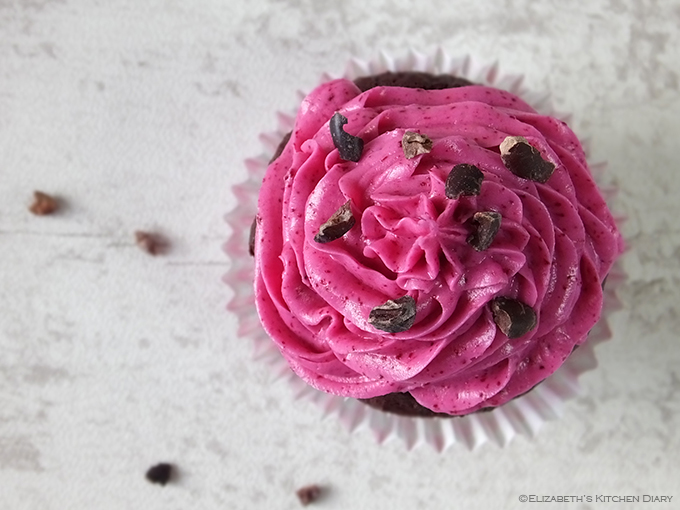 I've tried making this recipe both with butter and sunflower oil in an attempt to make a non-dairy recipe for my non-dairy readers. Truth be told I prefer the texture of the cakes made with butter, but the sunflower oil ones do work as well. My vegan cake-making skills are not good enough to attempt to make this 3 egg mixture animal free, but any suggestions would be gratefully received.
I did try a gluten-free sugar-free version too – these ended up in the bin. <shudder>
So, yes, I am now a convert to the wonderful world of combining roasted beetroot and raw chocolate. I loved the texture of the cacao nibs I used to decorate the top too, a wonderful hard contrast to the soft, sweet frosting and rich chocolate cake. One almost feels virtuous tucking into one of these with all the health-giving properties of raw cacao and slowly roasted beetroot. Vegetable cakes are going to be a regular thing in our house now.
Failing access to (or the budget for) cacao nibs and raw chocolate, replace the nibs with cocoa powder, omit the bicarbonate of soda and use a good quality dark chocolate (at least 70% cocoa solids).
Top tip: Do you use the same reusable piping bag over and over? Has it been sitting in your drawer for years? Go and give it a sniff. It's pretty rank, isn't it! I'd never before had the notion to go sniff my piping bag until I was advised to by the lovely cake-baking ladies in a local village shop. I now use plastic disposable piping bags!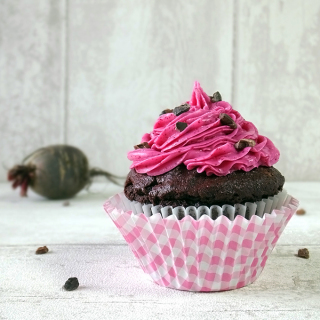 Roasted Beetroot & Raw Cacao Nib Cupcakes
Roasted beetroot imparts a gorgeous depth of flavour to these real chocolate cupcakes.
Print
Rate
Affiliate Links
This recipe card may contain affiliate ingredient and equipment links. As an Amazon Associate I earn from qualifying purchases.
Instructions
Preheat oven to 200 C/ 425 F

Wash the beetroots thoroughly under cold water to remove any traces of dirt. Leave at 2-3 cm of stalk at the top and the root tail intact.

Place the beetroot on a baking tray and drizzle with the sunflower oil.

Roast for 90 minutes, turning every 20-30 minutes, until the beetroot is tender. A knife will slide in and out of the beetroot easily when it is ready.

Remove from the oven and allow to cool completely.

When cooled, the skin will slip off. Discard the skin, top and bottom, and place the whole beetroot in a blender. Puree. You will likely need to use the blender tamper to keep things moving.

Preheat oven to 180 C/ 350 F. Line a 12-hole cupcake tin with large paper cupcake cases.

Blend the cacao nibs in your high powered blender until they form a powder.

Sift the flour, ground cacao nibs and bicarbonate of soda into a large bowl. You may have some cacao which won't fit through the sieve, just chuck it in the bowl along with the rest and stir in the sugar.

Break the dark chocolate into small pieces in a heat proof bowl and suspend over a pan of barely simmering water. Usually I boil the kettle, pour it into a pan, place the bowl on top and leave it off the heat, stirring once or twice, until it has melted.

If using the butter, add the butter along with the chocolate to melt. If using oil, add the oil along with the eggs after the chocolate has melted.

Stir 250 grams of room temperature roasted beetroot into the dry ingredients along with the chocolate mixture. Stir until just combined.

Spoon into the paper cupcake cases. They will be full, but rest assured it will be ok.

Bake for 25-30 minutes in the centre of the oven until a skewer, inserted into the centre of a cake comes out clean.

Transfer to a wire rack to cool completely.

To make the frosting, sift the icing sugar into a bowl and beat with the softened butter, milk and beetroot puree until it reaches the desired consistency. I use a food processor for this.

Using a plastic disposable piping bag, pipe swirls of frosting on the top of the cupcakes. Decorate with cocoa nibs.

Store in an airtight container. Cupcakes will keep lovely for a few days.
Notes
Recipe adapted from the chocolate beetroot cake recipe found in the Green & Black's Chocolate Recipes book (2003).
Environmental Information
OTHER CHOCOLATE BEETROOT RECIPES YOU MIGHT LIKE
Chocolate Beetroot Fudge/Truffles are used in Sarah's Chocolate Aubergine Cake
Beet Nut Butter Cups by Kate
Red Velvet Raw Vegan Beetroot Bounty Bars by Shaheen
[color-box]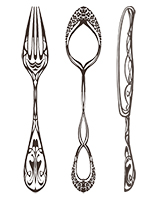 Have you made this recipe?
Take a photo and tag @tangoraindrop or use the hashtag #elizabethskitchendiary and share on Instagram and Twitter. It would make my day to see your creations!
[/color-box]