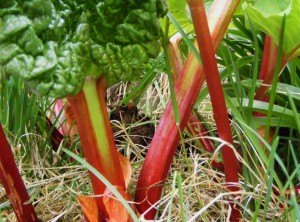 Springtime means rhubarb! When those little tender ruby stalks force themselves out of the cold winter earth you know the weather has finally turned and Spring has arrived. I've always had rhubarb in my garden. Nearly every house I've lived in has had a rhubarb patch and I've always lovely the tart flavour. As a child I would break stalks off and nibble them away while playing outdoors. These days I prefer to add a little sugar.
My new favourite pudding these days seems to be ice cream. Ice cream with a digestive biscuit or oat biscuit crumbled over the top is even better, wouldn't you agree? I love the whole cold creamy ice cream and crumbly biscuit combination with regards to both texture and flavour, so, when Vanesther over at Bangers & Mash shared this month's Recipes for Life Challenge ingredients: rhubarb, lemon and spice, I got thinking my thinking cap on.
The Recipes for Life challenge was started by Vanesther in February of this year to help gather recipe ideas for the Swallow organization: a charity based in Somerset supporting adults with learning difficulties. As part of their Fit for Life programme they run cookery courses, teaching people how to make simple, inexpensive and nutritious meals. They will be publishing a cookery book later on in the year and selected recipes from the Recipes for Life challenge will be included. Each month the challenge focuses on three main readily available ingredients.
So, after some pondering about how I could combine the ingredients rhubarb, lemon and spice into an ice cream with a biscuit topping I came up with the following recipe. The hazelnut cluster recipe is adapted from a recipe for walnut granola clusters by The Roasted Root. Don't be daunted by the list of ingredients – there really is very little work involved. The hazelnut crunch involves plonking the dry ingredients into a food processor, stirring in the wet ingredients and then baking for twenty minutes. The ice cream is as simple as whisking the ingredients together and freezing. If you don't have an ice cream maker you can do it the old fashioned way by pouring the cream mixture into a freezer-proof container and stirring every 20 minutes or so. The rhubarb compote is quick to make and can be left to cool while you get on with the rest of the recipe components.
You could also save a little time by just serving the rhubarb compote spooned over the top of the ice cream. Alternatively (and I speak from experience here!) this rhubarb compote stirred into some natural yogurt and topped with hazelnut clusters makes a wicked awesome breakfast.
The whole family loved this dessert. The younger children kept sneaking into the kitchen and stealing the hazelnut clusters off the baking tray as they were cooling. Yes, it's a very nice recipe indeed and perfect for folk, like me, who like a bit of crunch with their ice cream.
I have entered this made from scratch recipe into Javelin Warrior's Made with Love Mondays recipe round-up.