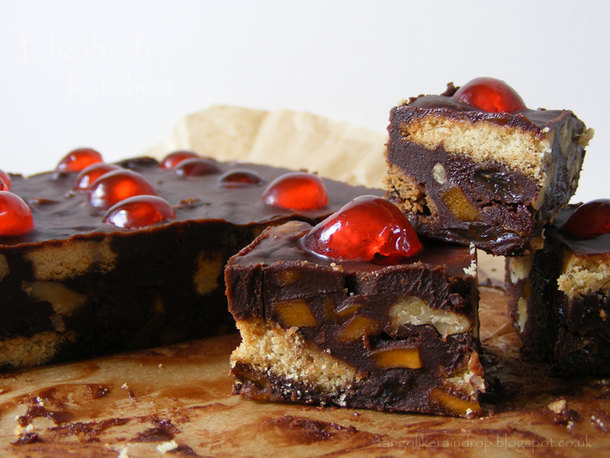 Be warned. This recipe is far too tasty. It's so good that I'm not going to check the calorie content because I don't want to be put off making/eating it! I don't make this chocolate biscuit cake very often, just for special gatherings like Reader's Group or Craft Group (or my son's Junior Youth Club, like today) and it never fails to impress.
I prefer to make this chocolate biscuit cake using a good quality chocolate containing at least 80% cocoa solids, which makes a more dense, solid square, but if I am making it for children I'll opt for the 50% cocoa solids chocolate, to appeal more to their tastes. Either way it's fantastic.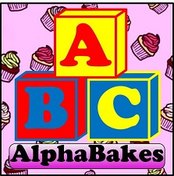 The original recipe for this Konditor & Cook Chocolate Biscuit Cake comes from the Green & Black's Chocolate Recipes book (2003). The Green & Black's cookery book staff used to go to Konditor & Cook for their lunch each day and could barely resist the luxurious treat of the Konditor & Cook biscuit cake.  I've adapted chef Gerhard Jenne's recipe slightly over the years, preferring to cut the cake into small squares instead of slices as it is so incredibly rich. His recipe calls for 50 grams of glace cherries, most of which are supposed to end up in the cake with a few reserved to decorate the top. I like to include the full 50 grams in the cake and halve a further 50 grams, arranging them on the top of the cake so that every square will have half a shining ruby red cherry on top.
As this recipe is based on one beginning with the letter 'K' I am including it in May 2013's Alphabakes challenge, hosted this month by Caroline Makes (alternately hosted by The More Than Occasional Baker). Alphabakes is a monthly food blogging challenge which asks us to bake something containing an ingredient or entitled with a word starting with a certain letter. This month the letter is K.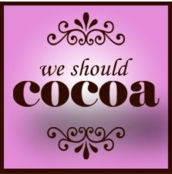 This is a versatile recipe which you can adapt by adding small quantities other dried fruits. For this particular recipe I've added 50 grams of dried mango which adds some extra chew and some magnificent mango flavour to each square.
This month Choclette and Chocolate Teapot's We Should Cocoa challenge is hosted by Shaheen from Allotment 2 Kitchen. This monthly challenge asks us to cook something combining chocolate with a special food ingredient and this month the ingredient is mango. I think the two flavours combine splendidly.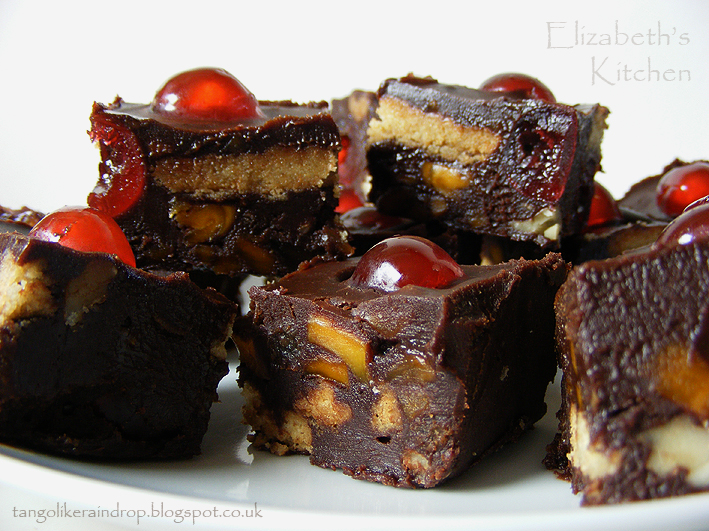 Chocolate Biscuit Cake
A rich chocolate biscuit cake.
Ingredients
125 grams unsalted butter
75 grams golden syrup
200 grams dark chocolate
1 egg
50 grams digestive biscuits
50 grams whole walnuts
50 grams sultanas
50 grams dried mango, finely chopped
100 grams glace cherries
Instructions
1. Line a 2 lb loaf tin with greaseproof paper.
2. Melt butter and golden syrup together over a low heat until melted and it begins to boil.
3. Break the chocolate and melt in a bowl suspended over a pan of barely simmering water.
4. Mix the chocolate with the butter and golden syrup.
5. Slowly beat in the egg until well combined.
6. Mix the biscuits, walnuts, sultanas and half the glace cherries together in a large bowl, taking care not to break the biscuits up too much.
7. Stir in the chocolate mixture until well combined (some biscuits will break) and spoon into the prepared loaf tin.
8. Halve the remaining glace cherries and arrange over the top of the cake in rows.
9. Chill overnight for best results.
Details
Prep time: Cook time: Total time: Yield: Makes 18 squares