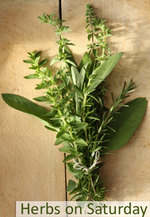 I simply adore garlic, onions and roast chicken and this French-inspired recipe is a most delicious way to combine all three ingredients. This roast chicken goes particularly well with quinoa with fried onions or Persian rice and it is my favourite way to cook a whole chicken. It takes very little effort to prepare and comes out perfect every time.
There is something very satisfying about using fresh herbs, especially if you've grown them yourself. I have a very small herb garden and it's so lovely to wander out, gather the herbs from the earth, and immediately cook with them. In the winter when fresh herbs are scarce, dried herbs will suffice.
I always make chicken stock from the carcass and the stock and remaining meat are frozen for use later in soup and chicken pie, another family favourite. It's a very frugal way to make one large chicken feed a family of five for at least three dinners!
I entered this recipe, adapted from one found on Epicurious, into The New May Herbs on Saturday Blog Challenge hosted by the lovely Karen at Lavender and Lovage in May 2012, and I am delighted to say that I won the prize that month, a fantastic copy of The Cook's Herb Garden (2010) by Jeff Cox and Marie-Pierre Moine.
I've republished this post (again!) in May 2013 to include nicer photographs and a printable recipe for your convenience. Since this roast chicken dinner is made entirely from scratch I am entering it into Javelin Warrior's Made with Love Mondays recipe round-up.