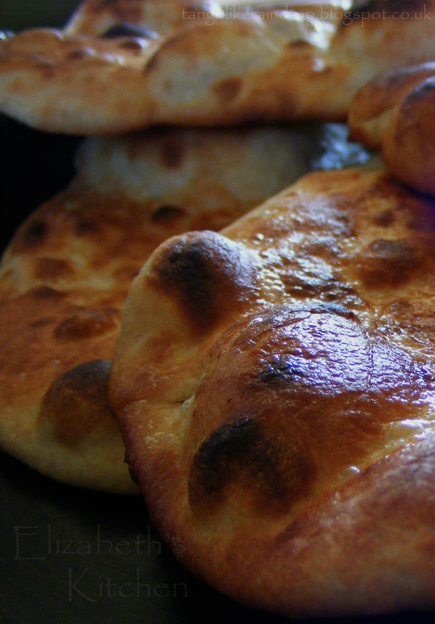 We live out in the country where there are no takeaways. If we were to get a takeaway we'd have to drive for at least half an hour to town and back and well, by the time we'd get home with our meal it would be not-so-fine. So, we don't get takeaways very often (only occasionally when the travelling Chinese takeaway sets up for an evening in the local hall), but we do love a good Indian meal, especially the na'an breads. Shop bought na'an breads are ghastly, so we often make our own.
When I say we I mean the OH. This recipe is what my partner makes every time we have an Indian meal. He's the official na'an maker in our house because he does it so very, very well.
There are never any leftovers.
You could go through the whole process of mixing and kneading the dough by hand, but a bread machine saves time and effort. He's even made it in the bread machine using the pizza dough setting which only takes 45 minutes to run through. Ideal when one is short of time.
Try it, you'll love it! You could always add your favourite seasoning to the recipe too, like a few finely chopped cloves of garlic or some cumin seeds.
You might also like this na'an bread recipe from Kate at Veggie Desserts, it's yeast free!
Bread Machine Na'an Bread 
A perfect accompaniment to any Indian dish.
Ingredients
8 grams active dry yeast
240 ml warm water
50 grams caster sugar
40 ml full-fat milk
1 egg, beaten
1 tsp salt
620 grams strong bread flour
60 grams butter, melted
Instructions
1. Place the first seven ingredients into your breadmaker as per the manufacturer's instructions.
2. Select the dough cycle and allow it to run through
3. When the dough cycle is complete, punch down the dough.
4. Pinch off pieces of dough the size of a golf ball, roll them into balls and place them on a tray.
5. Cover the dough balls with a clean dish towel and allow to rise for 30 minutes.
6. Preheat the grill to high heat and place a piece of aluminium foil on the grill pan. Brush the foil with butter.
7. Roll each dough ball into a thin, flat circle.
8. Place the flattened dough on the foil under the grill, brush with melted butter and cook for 2-3 minutes or until browned. Keep an eye out for burning.
9. Turn the bread over, brush with more melted butter and cook the other side for 2-3 minutes.
10. Serve immediately.
Details
Prep time: Cook time: Total time: Yield: Serves 6