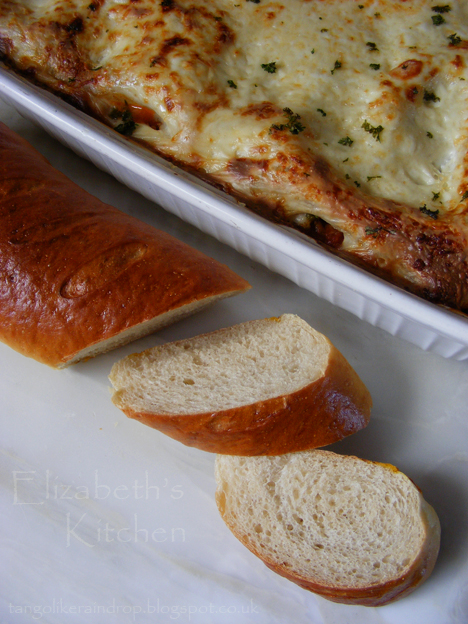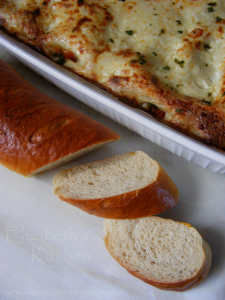 I love fresh bread. I have fond childhood memories of visiting my friend's house when her mother had her bread-baking days. She'd spend a whole day making the bread for the month and the table and oven would be filled with loaves and trays of rolls, glistening with the melted butter brushed over the top. The whole house would be scented with the unique saliva-inducing aroma of fresh bread. We'd hover around until a loaf came out of the oven and devour several slices warm, without butter, savouring every morsel of yeasty goodness.
It wasn't until I had children of my own that I started experimenting with making my own bread. I'm no expert by any means, but I do enjoy the process of kneading, shaping, proving and baking. There's something really satisfying about tucking into your own homemade loaf of bread, and it's even more appealing when the children do too, making their little noises of bread-eating pleasure.
This recipe makes a fantastic French style baguette. If I am serving it alongside a main meal I will make two large baguettes which usually get dipped into an olive oil and balsamic vinegar side dish (the children love this and it's a great way to get some good fats into their little growing bodies). Day old leftovers often get sliced, lightly toasted, rubbed with a cut garlic clove and drizzled with a little bit of olive oil for a quick garlic toast. I'll make four small baguettes for packed lunches or picnics. This recipe makes a perfect submarine sandwich base.
I don't know where the original recipe for this loaf came from, I'm afraid. It was copied off a website into my cookery notebook some time ago. It's a really simple recipe to make and I encourage you to try it, especially if you've never made bread before.
Since this is a from-scratch recipe I have shared it with Javelin Warrior's Made with Love Monday's from-scratch recipe round-up.