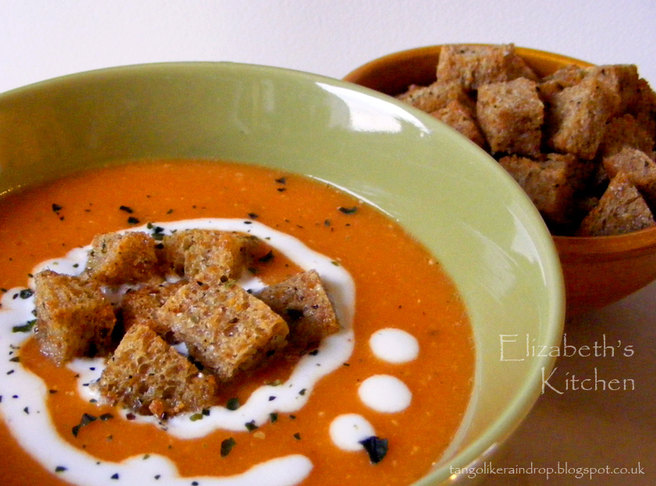 When I saw this recipe for red lentil soup by My Golden Pear yesterday I immediately bookmarked it. I liked the addition of the chilli and mustard seed and the fact it's low fat and good for you, especially after the excesses of Christmas and New Year. I also like the fact that it uses ingredients which are on hand and since I'm doing a new year clear out of the cupboard I thought it was a perfect recipe to serve for dinner this evening. Of course, I can't just leave a recipe well enough alone and I improvised slightly to use ingredients that I had. This is a wonderful, warming winter soup with just the perfect touch of chilli. Use regular garlic if you can't get the lovely smoked variety and serve with croutons, a swirl of natural yogurt and a good grinding of seaweed over the top. Next time I might throw in a small handful of quinoa for some extra protein.
Red Lentil Soup with Garlic & Seaweed Croutons
A hearty & warming winter soup.
Ingredients
2 tbsp extra virgin olive oil, divided
1 large onion, chopped finely
generous pinch dried thyme
4 carrots, diced finely
6 cloves Orkney smoked garlic, finely chopped
1 small dried red chilli
2 tsp yellow mustard seeds
2 400 gram tins chopped tomatoes
200 grams red lentils
1500 ml vegetable stock
110 grams leftover bread, crusts removed & cubed
Shetland Seaweed Sprinkle
sea salt & freshly ground black pepper
Instructions
1. Heat 1 tbsp oil in a medium saucepan and gently saute the onion, thyme and carrots for around 4 minutes, or until they start to soften.
2. Add 4 cloves of the garlic, the chilli and the mustard seeds and saute for a few more minutes.
3. Stir in the tomatoes, lentils and vegetable stock.
4. Bring to the boil, reduce heat, cover, and gently simmer for 20-30 minutes.
5. Remove from the heat, cool slightly and puree. Season with salt and pepper.
6. To prepare the croutons, preheat oven to 180 C.
7. Mix 1 tbsp olive oil, 2 cloves of garlic and seaweed together and stir in the cubed bread. Toss well to evenly coat the bread.
8. Season with salt and pepper, adding more seaweed if required.
9. Spread evenly on a baking sheet and bake for 15-20 minutes, until toasted and golden, stirring occasionally.
10. Allow to cool. Serve alongside the soup.
Details
Prep time: Cook time: Total time: Yield: Serves 4
I am entering this recipe into Ren Behan's Simple and in Season recipe round up, hosted this month by the lovely Lavender & Lovage.