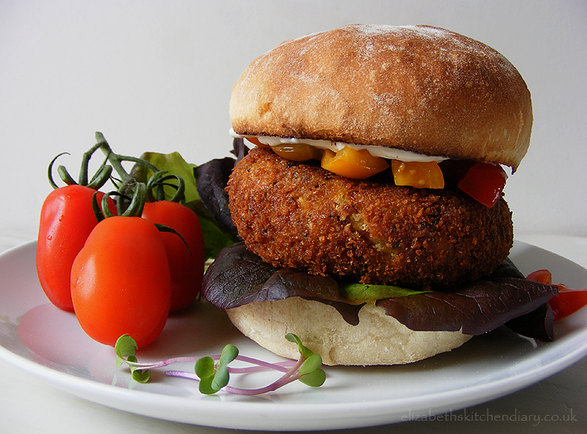 I'm a big fan of veggie bean burgers. Not the shop bought ones though, I don't know what they do to those to make them taste so awful, but nothing beats a good home made veggie burger except, perhaps, a good home made barbecued beef burger – I'm not a vegetarian! Nonetheless, veggie bean burgers are a great way to pack in some fibre and they are one of my favourite ways to use up leftover mashed potatoes.
Using budget brand kidney beans in water, supermarket own brand mature cheddar you can make this burger recipe feed a family of 4-6 for a matter of pennies. This particular batch was coated in crumbs made from a failed Skoki Health Bread recipe I made awhile ago for the Random Recipes food blogging challenge (and there's a little story in that post about that time I was lassoed, should you be interested!). I detest food waste and I'm so glad I've managed to make good use from the failed loaves.
The recipe itself is inspired by one found over at Spice Up the Curry. The first time I made the burger as directed and it was rather hot indeed. My poor partner suffered a bit the next day! So, I've tweaked it over subsequent batches and I've come up with the recipe below which is reminiscent of an onion bhaji, my OH says. He prefers his in a burger bun, and I prefer mine on its own with a side salad.
Regular readers will be aware that I've promised myself I would not blog much this month. I'm finishing up (or trying to!) my dissertation for a BSc (Hons) Life Sciences degree with the Open University so my blog has should take a bit of a back burner. As such, I'm not making individual recipes to share with blogging challenges, but I am going to share this post with quite a few, so scroll down to the very bottom of this post for all the details. 🙂

Ozeri Green Earth Pan Review:
Some months ago I was sent a gorgeous 8″ Green Earth Pan by Ozeri to try out and review. I've been using it regularly since I received it and I have to say it is my most favourite pan I have ever owned. It's made from an ultra-safe 100% PTFE and PFOA free ceramic non-stick Ecozeri multilayered coating derived completely from nature. This means that little bits of cancer-causing stuff won't come off the pan and get into your food. I dread to think how much Teflon I've ingested over the years with my knackered old pans (which have now been binned!).
I love this pan. It really is non-stick, meaning you can use less oil, and the colour and style are superb. My only criticism is that I think a better quality plastic handle could have been used since the ceramic pan itself is such high quality, but the handle is serviceable and the whole thing is remarkably easy to clean. You don't have to worry about scratching the surface with cleaning utensils, as you do when working with chemical non-stick coated products. It's even dishwasher and oven safe! Yes, it's a pretty awesome pan and I want to invest in the whole range!
Please note, I was sent this product to review and all opinions are my own.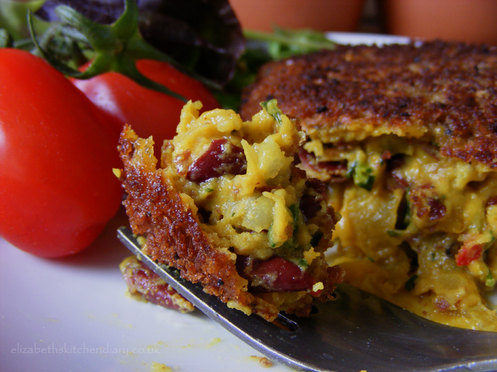 Red Kidney Bean Burgers
Spicy, beany and incredibly moreish; a perfect burger for vegetarians!
Ingredients
1 tbsp sunflower oil
1 400 gram tin kidney beans in water, drained
1 large onion, finely sliced
1 inch segment ginger root, grated
1 red chili, seeded and finely diced
1 tsp turmeric
1 1/2 tsp garam masala
200 grams cold leftover mashed potatoes
50 grams mature cheddar cheese, grated
handful coriander leaves, chopped
4 spring onions, finely chopped
1 egg (optional)
salt and freshly ground black pepper
2 tbsp plain flour
For Coating & Frying
plain flour
1 egg beaten with 1 tbsp cold water
breadcrumbs
sunflower oil, for frying
Instructions
1. Heat oil in a medium sized frying pan and saute onion until it softens.
2. Mash the drained red kidney beans and add to the onions along with the ginger, red chili, turmeric and garam masala. Warm through for a few minutes, stirring constantly.
3. Remove from heat and transfer to a large bowl to cool slightly.
4. Add potatoes, spring onion, cheddar cheese, coriander leaves, flour and egg, if using. Combine well with a wooden spoon.
5. Form into 4 large patties, or 8 small (mixture is wet, but persevere) and place in the fridge covered in cling film until needed.
6. Heat 1 inch of sunflower oil in a deep frying pan.
7. Meanwhile, dip the kidney bean burgers in flour, beaten egg and breadcrumbs to coat.
8. When the oil is very hot fry the burgers on both sides for about 3 minutes. Drain on kitchen paper and serve.
Details
Prep time: Cook time: Total time: Yield: Serves 4
Cooking with Herbs by the lovely Karen from
Lavender and Lovage
 asks us to share our recipes involving herbs. This recipe includes plenty of fresh coriander leaves.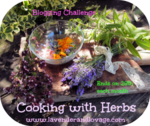 Lets Cook with Cheese by Nanya Kanabar at
Simply Sensational Food
 asks us to share our vegetarian recipes involving cheese. This recipe included cheddar cheese.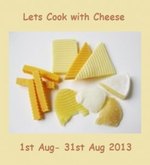 Alphabakes, a challenge alternately hosted by Caroline Makes and Ros at The More Than Occasional Baker, which gets us baking to a certain letter each month. This month the letter is G. This recipe includes both ginger and garam masala, two G's!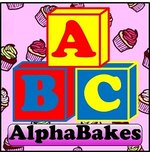 Feel Good Food over at A Kick at the Pantry Door. Victoria Lee's new blogging challenge asks us to share our recipes on a themed ingredient which offers health benefits and makes you feel good. This month that ingredient is ginger! This challenge is a blog hop, so scroll down and see what other foodies are making with ginger!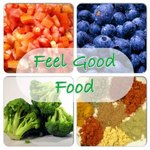 Lastly, I am sharing this recipe with Turquoise Lemons' No Waste Food Challenge hosted this month (and next) by myself as this recipe uses up leftover mashed potatoes and breadcrumbs from a failed recipe.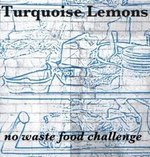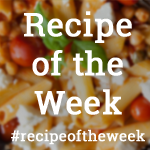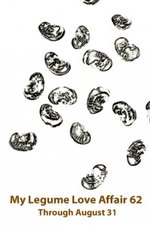 Elizabeth's Kitchen Diary was sent an Ozeri Green Earth pan for review. All opinions expressed are our own. This is not a paid post.