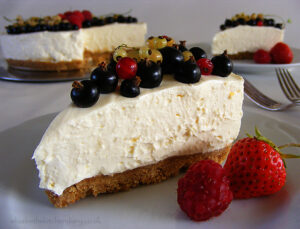 One of the fondest memories I have of my childhood in Cape Breton, on the East coast of Canada, is that of berry picking. In the summertime there were so many varieties of wild berry to choose from. Wild blueberries were my favourite; they were tiny and bursting with flavour. It also took absolutely forever to pick a reasonable amount of them to use in the kitchen! My memories of picking them involve a baking sun and white parched landscape on the top of the hill where they grew. There was a cat with one eye which used to come and visit us too. I never knew who owned it.
Wild strawberries grew on the roadsides and they too were tiny and had a magnificent succulent flavour I have never tasted the like of in a commercially grown strawberry. Picking them was a time consuming task – two for me, one for the container, two for me… maybe two more for me, one for the container…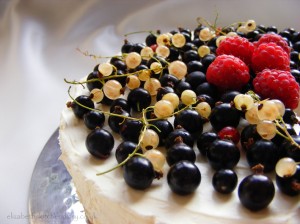 Blackberries were the scariest to pick. There was a very thick bramble patch nearby that even the birds couldn't get into the middle of. That's where we were sent, as small agile children, into the centre of the bramble patch to get those big juicy blackberries the birds couldn't reach. We'd invariably come running out at full speed, getting shredded to bits by the thorns, as the wasps chased us out of their territory, stinging us over and over again. Calamine lotion was a regular staple of our childhood medicine chest!
We knew where the Indian plum trees grew, and my mother made a gorgeous jam with their fruits. Wild cranberries could be picked from the surface of a freshwater lake in a top secret location. Wild raspberries grew everywhere, invading perfect cultivated gardens with their aggressive manner. We'd sit there, as mucky barefooted children, cross-legged next to the bushes and just help ourselves and licking our raspberry juice stained fingers.
My mother would make jams for the winter months out of these fruits. Come autumn the preserve cupboard would be filled with perfectly lined up labelled Mason jars with blueberry, raspberry, strawberry and Indian plum jams and wild mint jelly (I never liked the wild mint jelly though).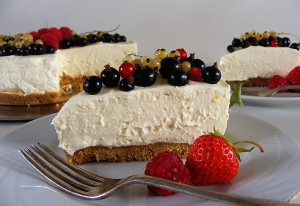 Alas, my own children do not know the pleasure of picking their own berries. I've tried to grow black currants and gooseberries in my own Shetland garden but despite the fact the bushes are thriving and healthy, the cold north wind rips off any flowers which might possibly develop. I've never had a single fruit from them (a contrast with my neighbour whose blackcurrant bush positively sags with the weight of berries!). I've planted a row of willow trees in the hope that this might offer some protection in the years to come. Maybe, one day, I'll get fruit from my own bushes. In the meantime, fresh fruit tends to come from the supermarket.
Imagine my delight when I received an email from my veg box supplier saying that their soft fruits were ready for delivery in the next order! I received a gorgeous punnet of mixed berries including red, black and white currants (the latter of which I'd never tried before but I am absolutely in love with now!) and a few strawberries and raspberries.
I wanted to make something special with these beautiful local berries. I could have handed the entire punnet to the children and they'd have disappeared in a matter of seconds (my children are fruit mad!) but I thought a no bake summer fruits cheesecake might be a tasty way to show off these berries in all their glory, and I wasn't wrong!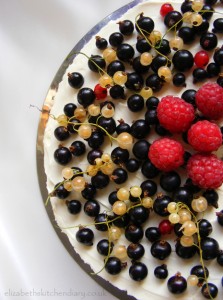 This no bake cheesecake recipe is remarkably simple to make and the thick, creamy, lemony base compliments the tartly sweet berries adorning the top perfectly. Best of all, since it's a no bake recipe you don't need to use your oven on those summer days where it's just too hot to consider baking. If your berries are a bit too tart for your taste you could always dust the top with icing sugar. As this is a summer pudding I am sharing it with the Four Seasons Food blogging challenge hosted by Delicieux and Chez Foti which, this month, features 'Summer Puds'.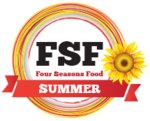 Four Seasons Food hosted by Delicieux and
Chezfoti
No Bake Summer Fruits Cheesecake
A light, lemony, creamy no-bake cheesecake; perfect for when you don't want to turn the oven on!
Ingredients
200 grams digestive biscuits
100 grams unsalted butter, melted
2 tbsp caster sugar
500 ml double cream
600 grams full fat cream cheese
70 grams icing sugar
2 lemons, zest and juice
250 grams mixed summer fruits (black, red & white currants, raspberries, strawberries, etc.)
Instructions
1. Place digestive biscuits in a food processor and pulse until they form fine crumbs.
2. Stir in melted butter and sugar.
3. Press into the base of an 8 inch spring form pan which has been buttered and lined with baking paper.
4. Leave to chill for at least an hour in the refrigerator (or 20 minute in the freezer).
5. Lightly whip the cream and stir in the softened cream cheese, icing sugar and lemon zest and juice, taking care not to over beat (use a wooden spoon).
6. Spoon onto the prepared base and smooth the top.
7. Leave to chill for 4-6 hours.
8. When ready to serve, arrange the summer fruits over the top.
9. Dust with icing sugar, if desired.
Details
Prep time: Cook time: Total time: Yield: Serves 8-12