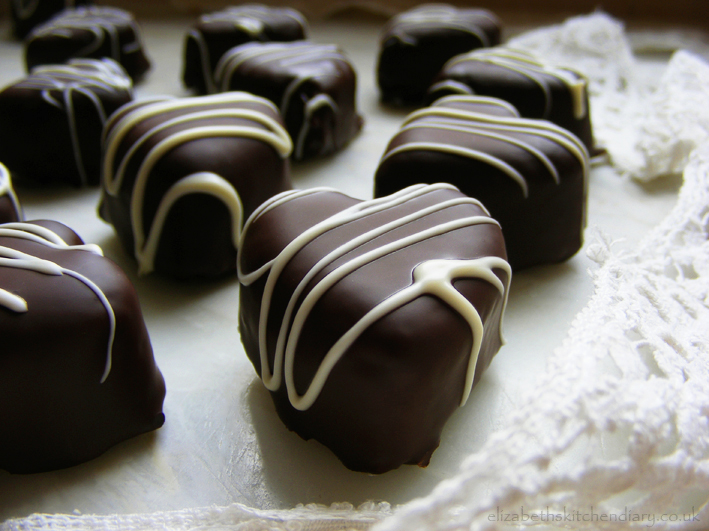 When I was a very little girl in Canada I remember my grandmother reaching into her freezer and pulling out a container of her home made chocolates. The filling was sweet and white with a coconut flavour and I was absolutely and utterly in love with the little chocolate covered morsels. I would ask what was in the filling, to which my grandmother would reply, with a little half-smile and mischievous glint in her eye: "Mashed potatoes!"
"Mashed potatoes?! No way!" I would reply, each time, "What's really in them?"
The answer was always the same: mashed potatoes (and a chuckle). I grew up believing I'd been had because there was no way there was mashed potatoes in those delicious chocolates my grandmother made.
No. 
No possibility at all.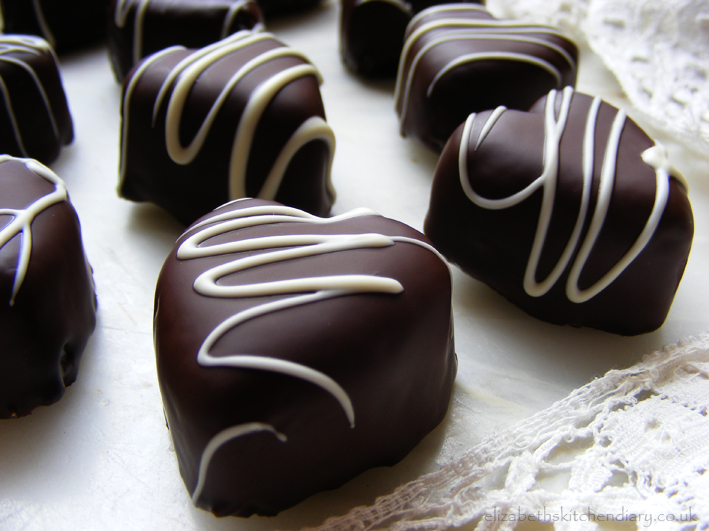 Then, some years later and 3000 miles away one of the Mums at our local toddler group brought a homemade Scottish sweet to a party. This Scottish macaroon, she said, was made with mashed potatoes and icing sugar. I immediately remembered my grandmother's chocolates and realised I hadn't been had after all! I remember at the time didn't much care for the toddler Mum's Scottish macaroon, it being overly sweet and quite hard in texture, but I realised that perhaps my grandmother had been telling the truth way back then!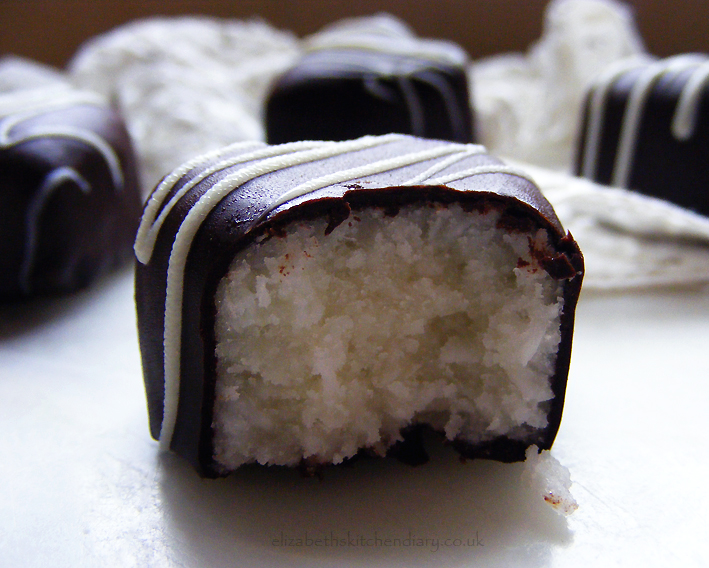 This month I have had the pleasure of hosting Choclette of Chocolate Log Blog's We Should Cocoa food blogging challenge where I challenged my fellow food bloggers to make and share their recipes for chocolates. I immediately thought of my grandmother's chocolates and I set out to recreate them as my own challenge entry. My theory was that if coconut oil was included it would result in a softer textured centre. I was right! I'd also picked up a lovely little heart shaped silicone ice cube mould at our local charity shop for just 20 pence which I thought would make a perfect mould for the filling.
I wanted to make the filling dairy free as one of my reader's in Australia (hello Lee!) asked me for a dairy free chocolate recipe. This is it! This recipe is also vegan, just make sure you use an appropriate dark chocolate for dipping.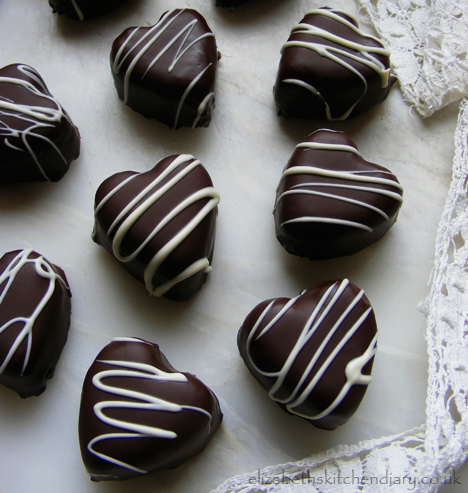 I'm am quite pleased with how well this recipe turned out. I dished the chocolates out to unsuspecting visitors over the following days after making them, to which each and every single taste tester said, "They taste like Bounty Bars!" One said they were like Bounty Bars, but better, because they aren't as sickly sweet as a Bounty Bar. Not one single person guessed that there was mashed potato in them!
When making these make sure you use a floury potato, the kind you would use for mashing. I used J.K. Mainland's potatoes, from the south end of Shetland, because I think they're the best mashing potato ever!
My chocolate dipping technique needs to be refined somewhat, I think. I wanted to give the chocolates a flat bottom, but placing them on a flat surface made the melted chocolate spread out, so I left them on a wire cooling rack to drip and cool. This made the tops look lovely and heart-shaped, but the bottoms were a bit bumpy. Ach well, they still tasted fantastic! There's an excellent Guardian article on tempering chocolate here, if you want a little guidance/advice on the process.
Ideally, I would have double dipped the chocolates in dark chocolate for a thicker coating, but I ran out of chocolate and it was Sunday morning when I was dipping them, so I only used a single layer. I think the addition of a spoonful or two of Malibu rum might take these chocolates to a whole new coconutty level, but I haven't tried it yet. Do let me know if you do!
If you're looking for another old school coconut recipe why not try these coconut pyramids from The Hedgecombers.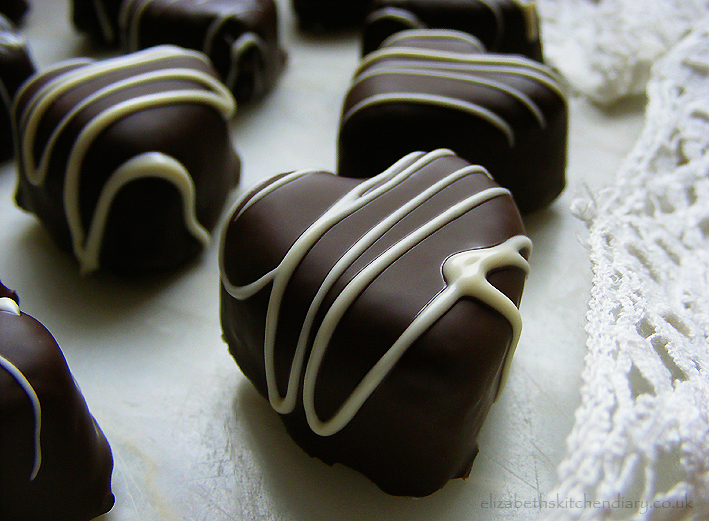 Coconut Chocolates
Delicate coconut chocolates reminiscent of a Bounty Bar, but better!
Ingredients
160 grams peeled floury potatoes
250 grams icing sugar, sieved
150 grams desiccated coconut
3 tbsp coconut oil, warmed
1-2 tbsp Malibu rum (optional)
200 – 400 grams good quality dark chocolate
50 grams good quality white chocolate
Instructions
1. Simmer potatoes in unsalted water until tender. Drain and return to hot pan for 30 seconds to evaporate some of the remaining water. 2. Mash potatoes and press through a fine sieve, twice. Allow to cool for about 10 minutes.3. While the potatoes are still slightly warm add the icing sugar, coconut, coconut oil and rum, if using. Combine thoroughly. 4. Press small spoonfuls of the mixture into a silicone heart shaped ice cube tray. Alternately, leave to chill in the refrigerator for an hour or so until mixture can be worked with and roll into 1 inch balls.5. Chill in the refrigerator for several hours until solid. 6. Coarsely chop 200 grams of the dark chocolate and melt in a heatproof bowl suspended over a pan of barely simmering water. A thermometer will measure 31-32 C.7. Pop the coconut hearts out of the silicone mould and coat in chocolate, placing on greaseproof paper or a wire rack to harden. Place the coconut balls into petit fours cases, if desired. 8. If you want a thicker chocolate shell, repeat the melting and dipping process with the remaining 200 grams dark chocolate.9. Melt the white chocolate in the same manner and drizzle over the chocolates once they have hardened.
Details
Prep time: Cook time: Total time: Yield: Makes 35