Because life's too short not to take out the fine china.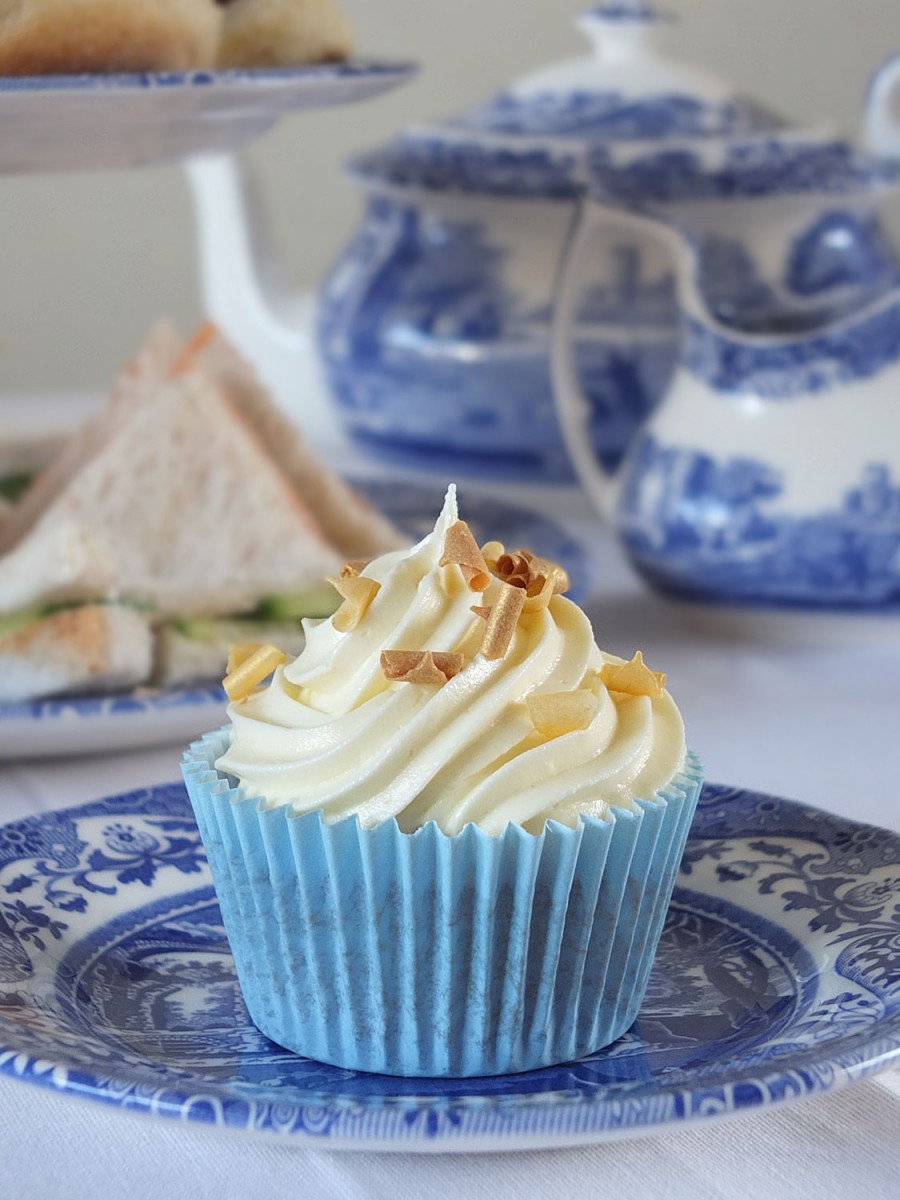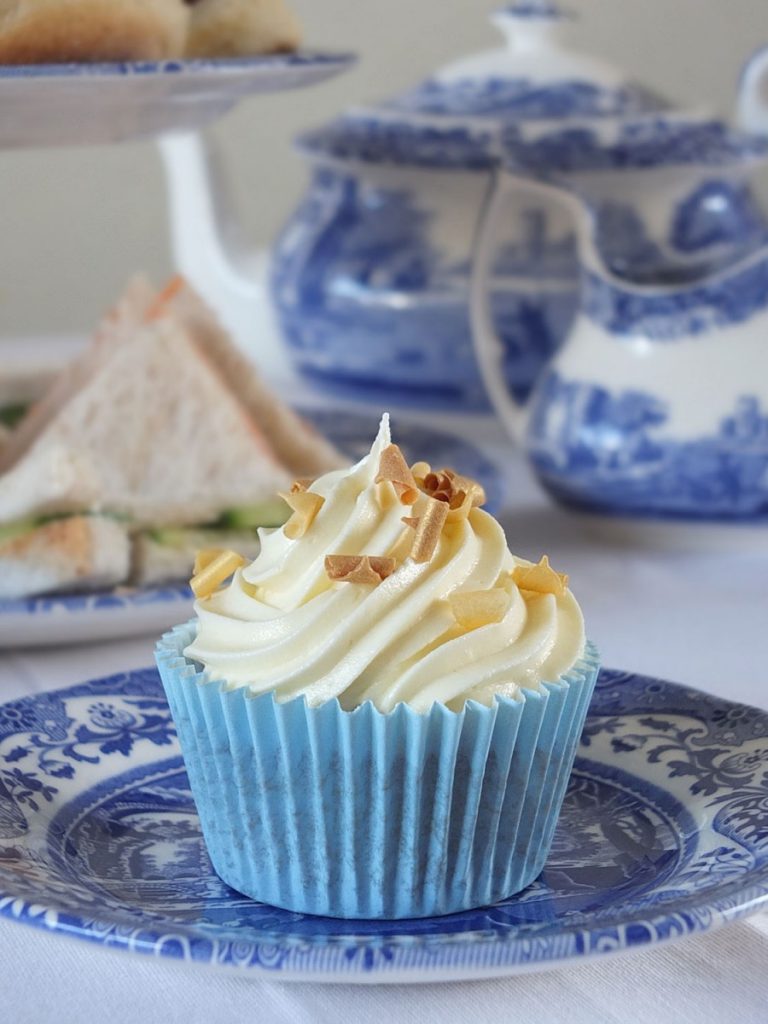 I've become a lady who lunches, on occasion now. I've been regularly meeting up with a few other ladies in the village for coffee, cake, soup, that sort of thing, over the last few months. I've really been enjoying our chats and get-togethers. It's easy, I think, to become so busy and tired with work and home life that we forget to nourish our friendships.
It was my turn to host during our last get-together, and so I thought it would be a perfect opportunity to break out the fine china. You know, that stuff that only gets taken out on really special occasions (ie: I've not touched it once since I was sent the set to include in a blog post months and months ago!).
Afternoon Tea it would be, complete with cucumber sandwiches, tiny cakes and plenty of tea.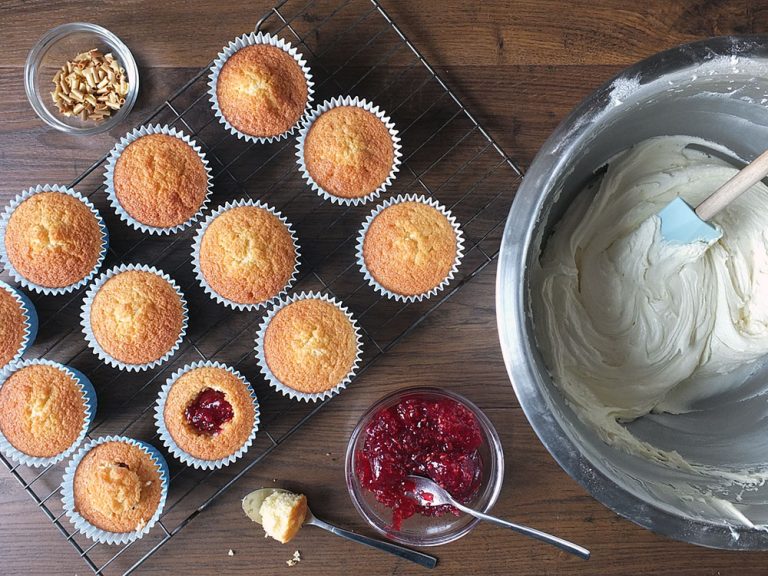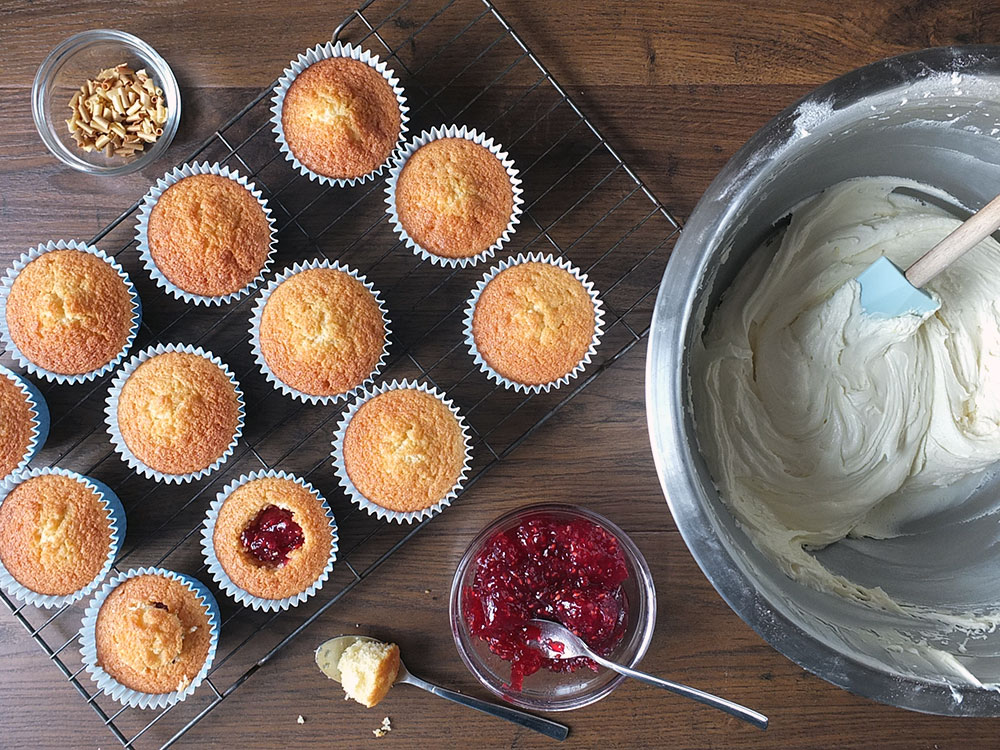 In a moment of inspiration, I decided to make cupcakes. It's been awhile since I made cupcakes and I fancied getting creative. Scouring my cupboard I found a Tupperware container with broken pieces of white chocolate left over from decorating my gluten-free creme egg brownie recipe and the remains of some gold chocolate curls at the bottom of a Cake Angels Sweetie Pie Sprinkles container. An idea was born.
[amazon_link asins='B073XKV68H,B0069RPPXA' template='ProductCarousel' store='elizskitcdiar-21′ marketplace='UK' link_id='27e150ed-2a83-11e8-be06-5ffcbd9283fe']
WHITE CHOCOLATE FROSTING
If anything, you need to try this frosting. There's enough in this recipe to pile quite high on top of your cupcakes (or to frugally ice two dozen cakes) or even to frost a 9 inch two tier cake. This frosting is ah-maz-ing, and I reckon one of the nicest, lightest and fluffiest frostings I've ever made.
Truth be told I was sceptical when I was experimenting with it; I thought the chocolate was going to harden too quickly and not work, but really, for you white chocolate lovers – you're going to fall head over heels with this stuff. It totally works.
I thought that the white chocolate frosting would be a bit too sweet too, so I wanted something tart to cut through it, so I decided to fill the cupcakes with raspberry jam. Make sure you use a good quality raspberry jam for the filling too – something with loads of fruit.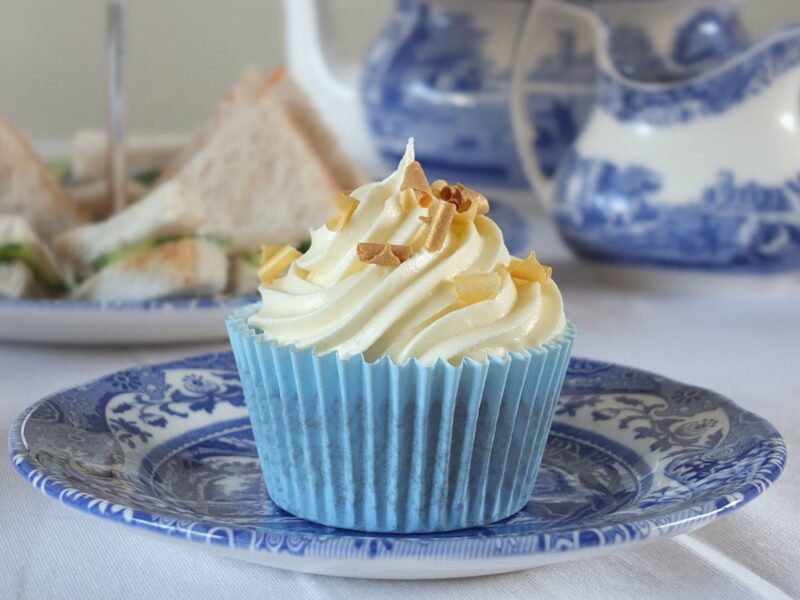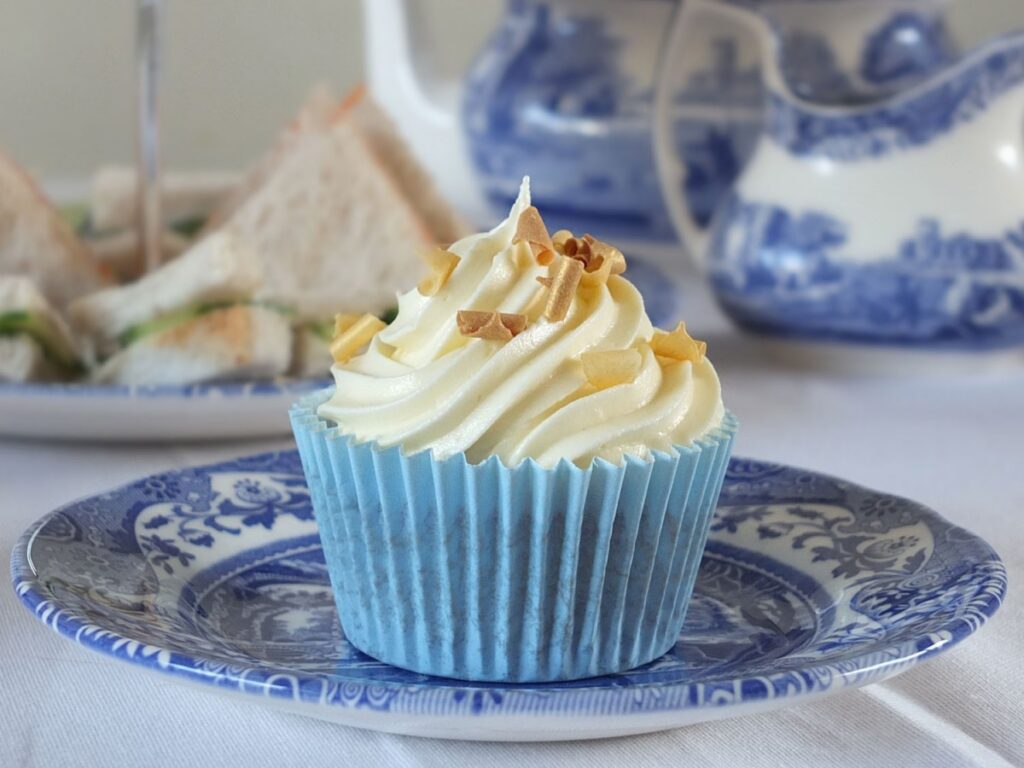 [amazon_link asins='B0000B2OKN,B00FGR3HFM,B0036MEC3U,B0036POFXE' template='ProductCarousel' store='elizskitcdiar-21′ marketplace='UK' link_id='85019379-2a85-11e8-ad42-bb9aaf68cfde']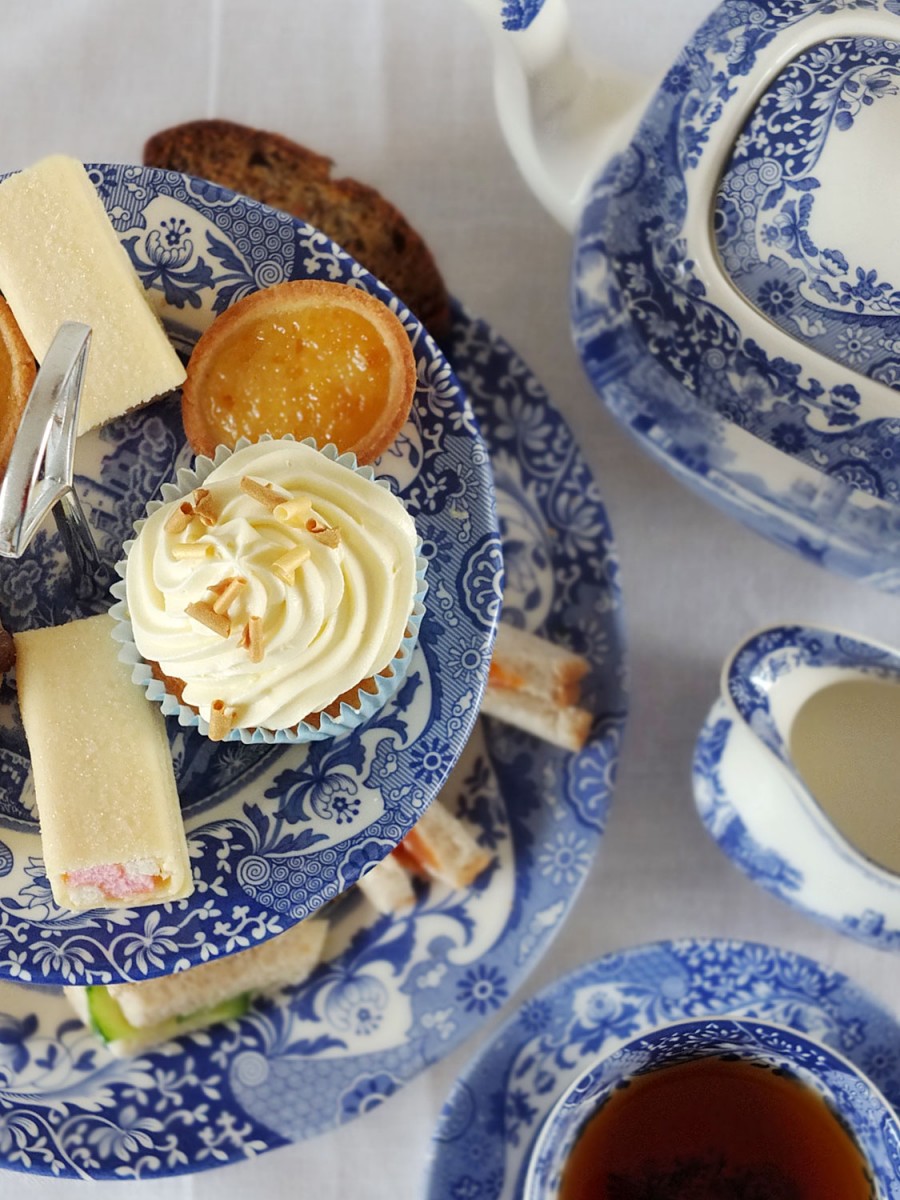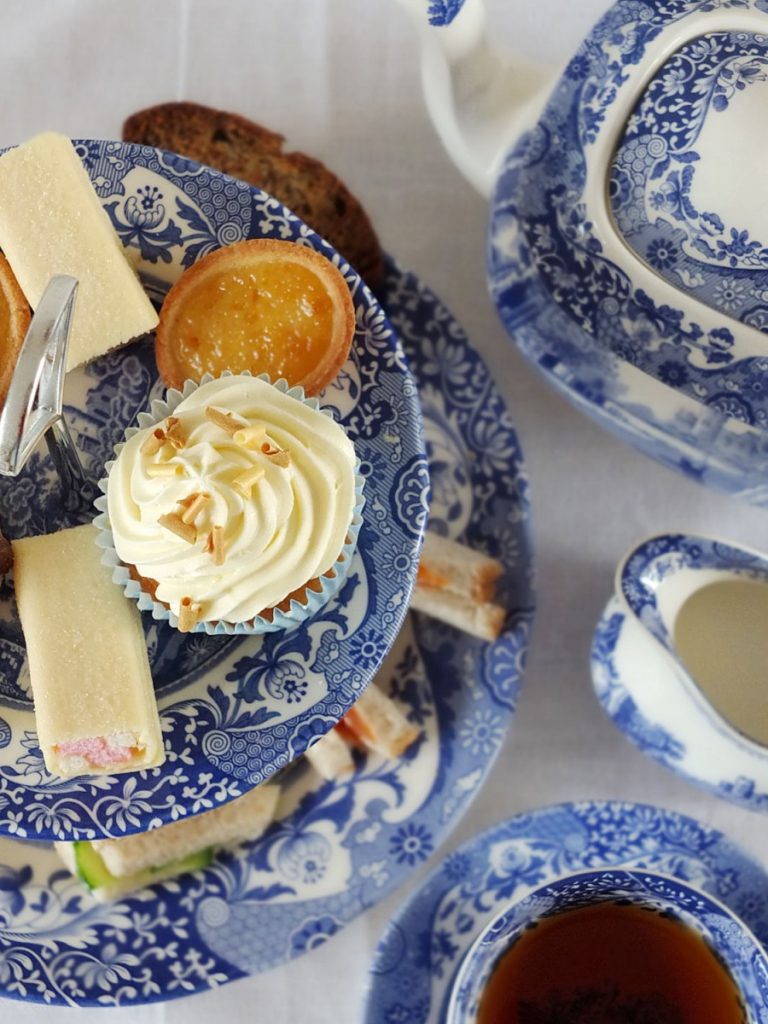 A word on my fine china – isn't it fabulous! It's a collection of Spode Blue Italian that I was sent, complimentary, to create an Afternoon Tea blog post around some time ago. I created a trio of sandwiches for that blog post, although for this particular get-together we only had two varieties: smoked salmon and cream cheese, and cucumber sandwiches. One of my friends made the cucumber sandwiches loosely based on a recipe she'd seen from The Pioneer Woman.
I also served up some homemade banana bread I'd made a few weeks ago and had frozen. Of course, there were fruit scones with jam and cream (ok I was lazy here and bought ones from the Walls Bakery instead!) topping half with jam then cream, and the other half with cream then jam, to make sure everyone would be happy. Mini Battenburg cakes and Bonne Maman lemon tarts (don't buy these tarts, they're awful) finished off the ensemble.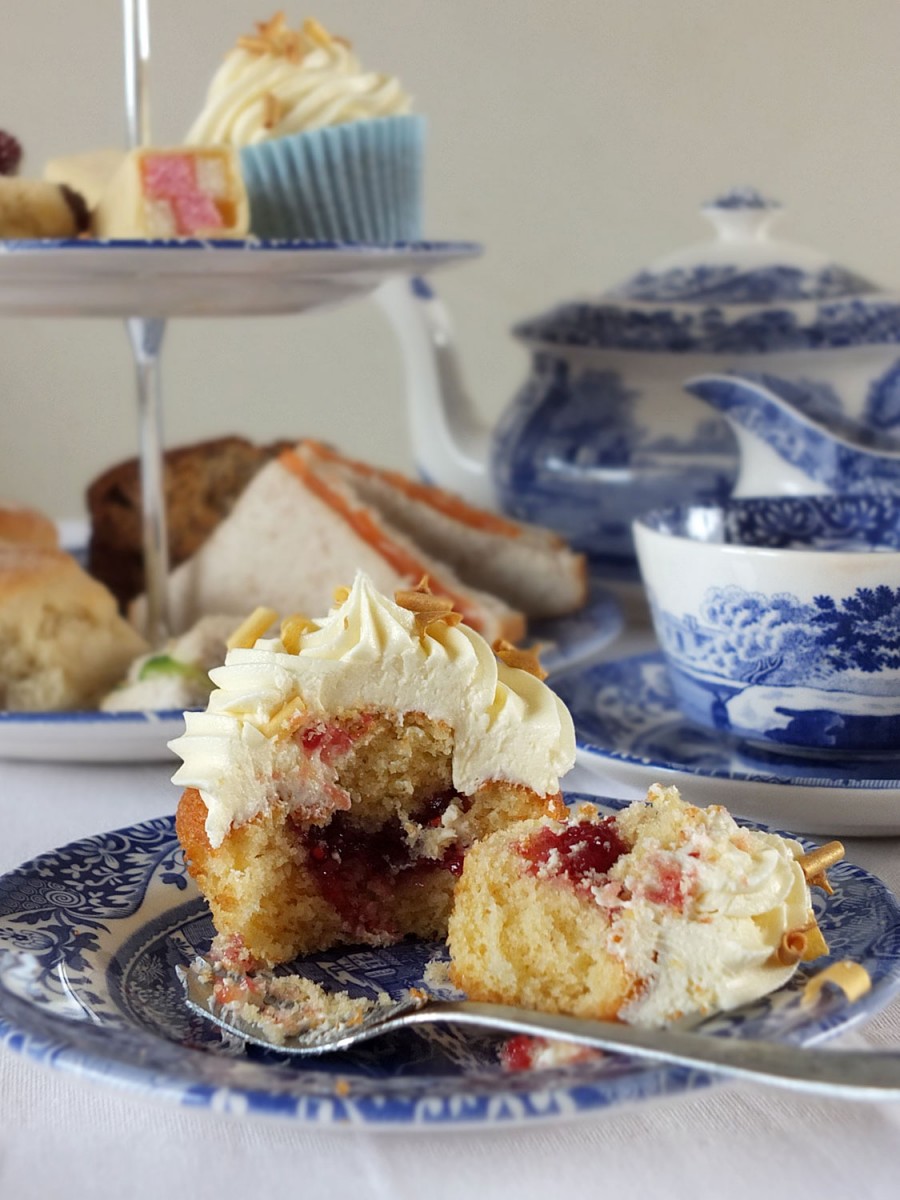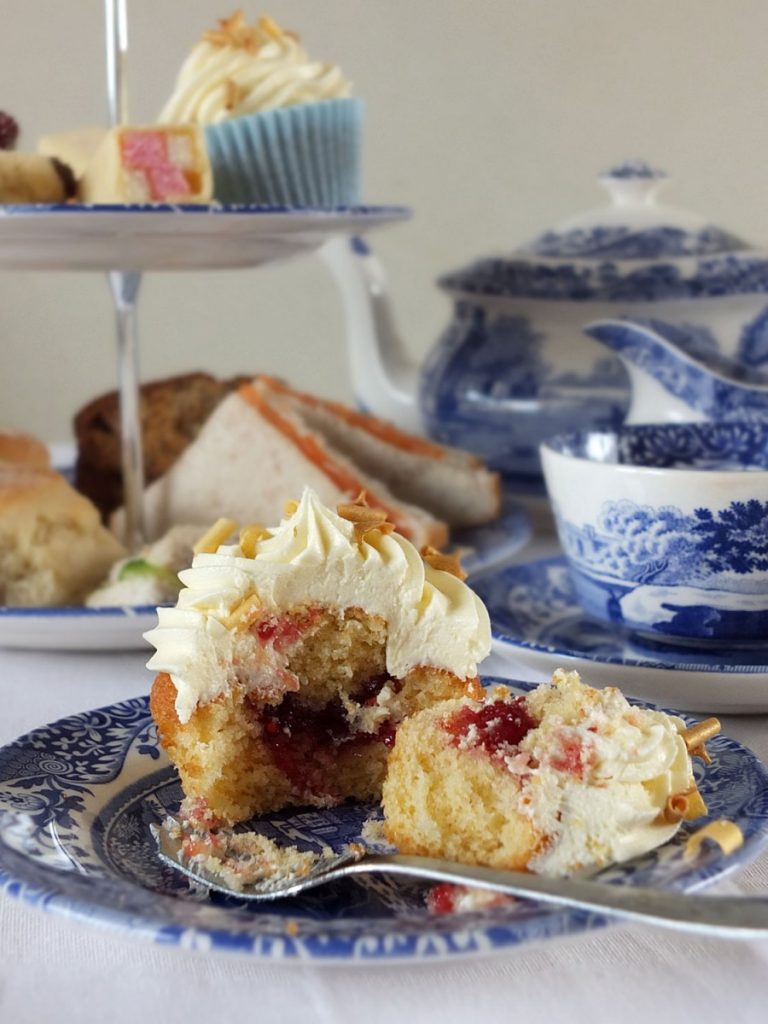 We enjoyed two whole pots of Seville orange black tea with our Afternoon Tea, and my friends (and children, when they taste tested the cupcakes when they got home from school) loved the cupcakes. I hadn't intended on blogging the recipe, really, I was just faffing about practising taking pictures with my camera, just in case, but I reckon these cupcakes are just too good not to share.
What do you serve at your Afternoon Tea parties with friends? Let me know in the comments!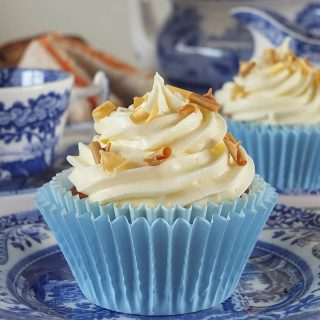 Raspberry Filled Vanilla Cupcakes with White Chocolate Frosting
A light and fluffy vanilla cupcake filled with tart raspberry jam and topped with the creamiest white chocolate frosting. Gold chocolate curls finish them off elegantly.
Print
Rate
Ingredients
for the raspberry filled vanilla cupcakes
for the white chocolate frosting
Affiliate Links
This recipe card may contain affiliate ingredient and equipment links. As an Amazon Associate I earn from qualifying purchases.
Instructions
Preheat oven to 180 C/ 160 C fan. Line a 12-hole muffin tin with paper cupcake cases.

Cream together the butter and sugar until light and fluffy.

Add the eggs, one at a time, and beat until well combined.

Add the vanilla and salt and stir well.

Sift over the flour and fold in with the milk to form a soft dropping consistency.

Spoon into the prepared baking cases and bake in the centre of the oven for 15 minutes or until well risen and golden. A skewer inserted in the middle of the cake will come out clean when ready. Transfer to a wire rack to cool completely.

To prepare the frosting break the chocolate into a small heatproof bowl and suspend over a pan of barely simmering water to melt. Leave it to cool to room temperature.

Beat together the softened butter and the icing sugar until light and creamy. Add the melted, cooled white chocolate and beat, adding enough double cream to reach the desired consistency.

When the cupcakes are cooled, use a small teaspoon to remove a one inch core from the cupcake. Fill with 1/2 tbsp of raspberry jam and return the centre cupcake piece.

Frost the cupcakes with a piping bag fitted with a large star nozzle and decorate with gold chocolate curls.