In collaboration with Garda Trentino S.p.A. Tourism Board.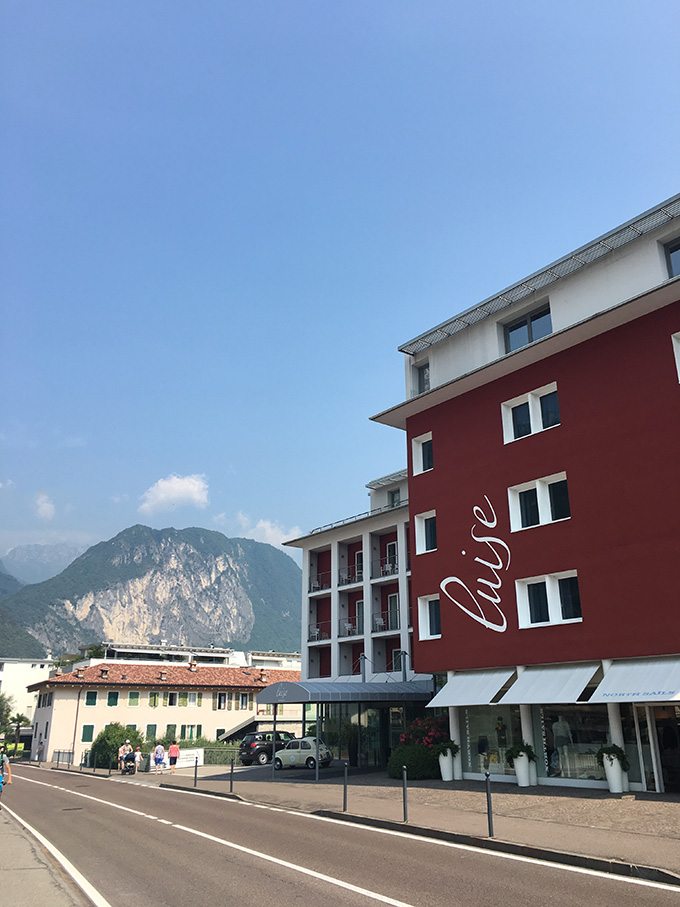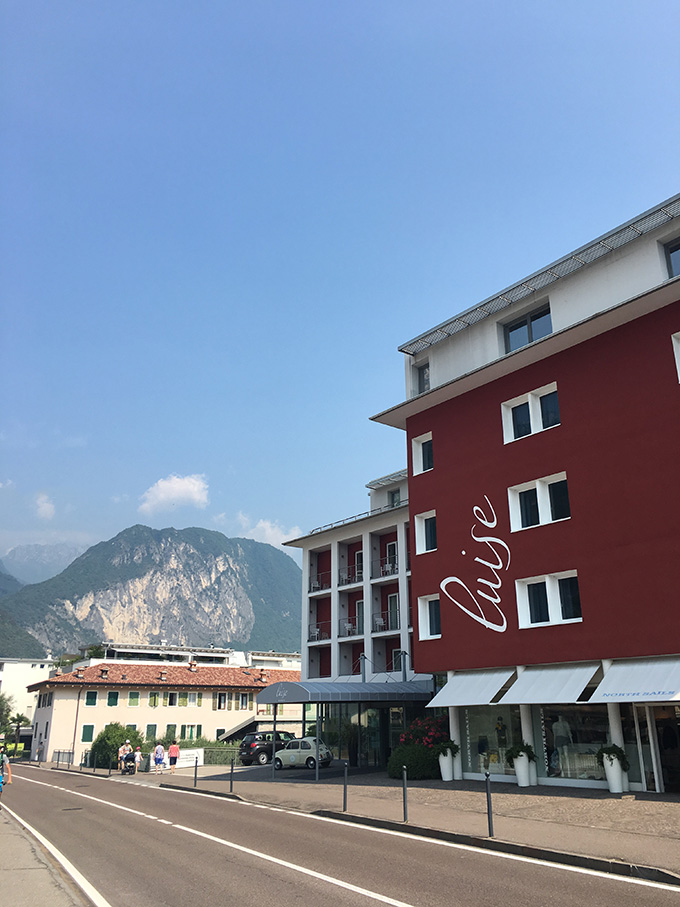 Travel stories. We love to tell them. The best thing about travel stories is that you get to live the adventure first, and then relive it each time you tell the story.
Hotel Luise in Riva del Garda has been telling travel stories since 1959, and they have a collection of over 1800 suitcase travel labels from all over the world to prove it. These labels were collected by Stella, owner and manager of the Hotel Luise, and 350 of them are on display in their hall. To keep the tradition of travel labels going they commission a local artist to design one for them each year.
The recently refurbished rooms in Hotel Luise make for a perfect base when visiting Riva del Garda and the surrounding area in Northern Italy; a home away from home.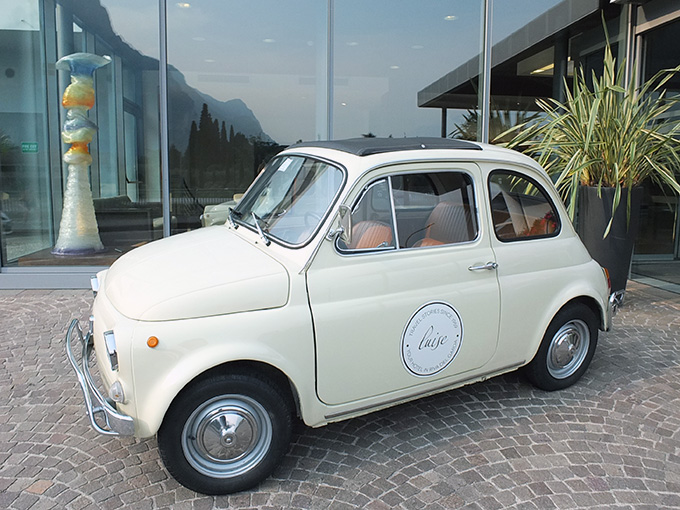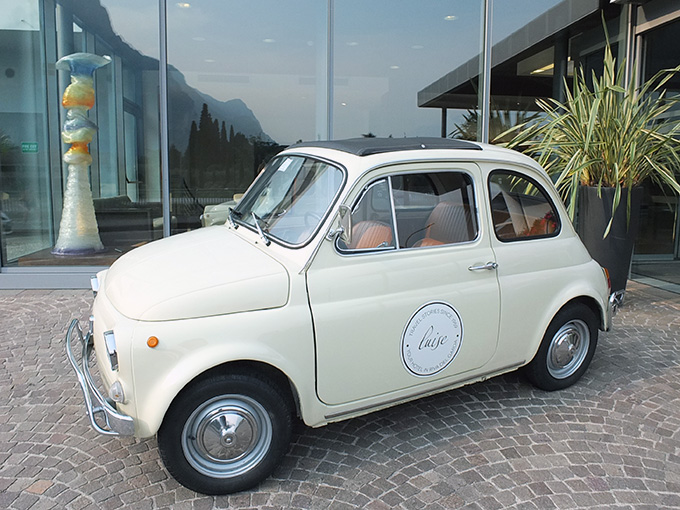 There is a distinct 'travel' theme with Hotel Luise, from the quirky little car parked out front, the Vespa in the hall to the travel themed artwork adorning the walls.
The hotel itself was built in 1959 by Rina and Eugenia Bertolini. It began as thirty rooms and a restaurant, but due to the hard work and dedication put in by Rina and Eugenia's son Alberto and his wife Stella when they took over in 1990, they are now a flourishing four-star hotel.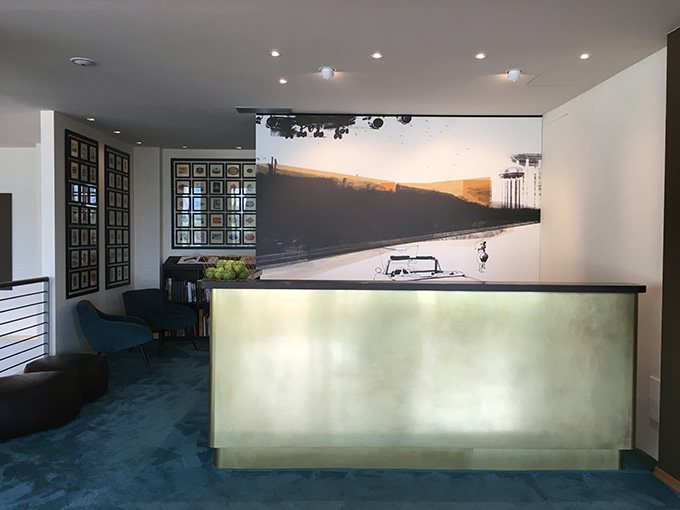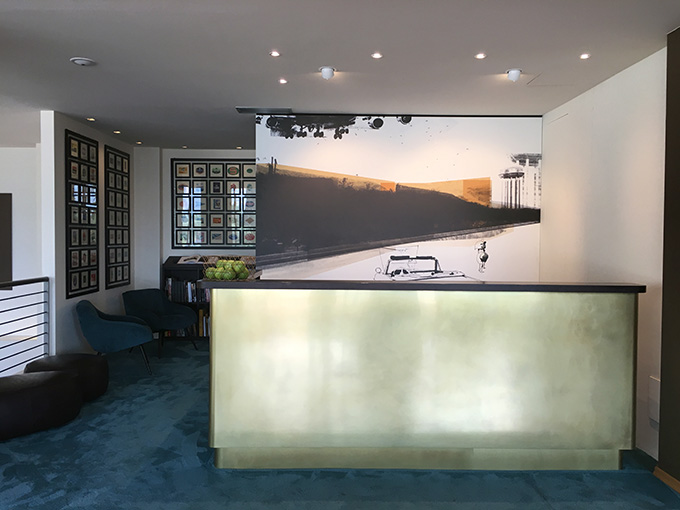 I stayed at the Hotel Luise for four nights last summer, and I have to say I was really impressed by everything about the place. Staff were very friendly and welcoming, making me feel very at ease upon arrival.
It didn't take very long to check me in and I was shown to my room… the bicycle room.
THE BICYCLE ROOM AT HOTEL LUISE RIVA DEL GARDA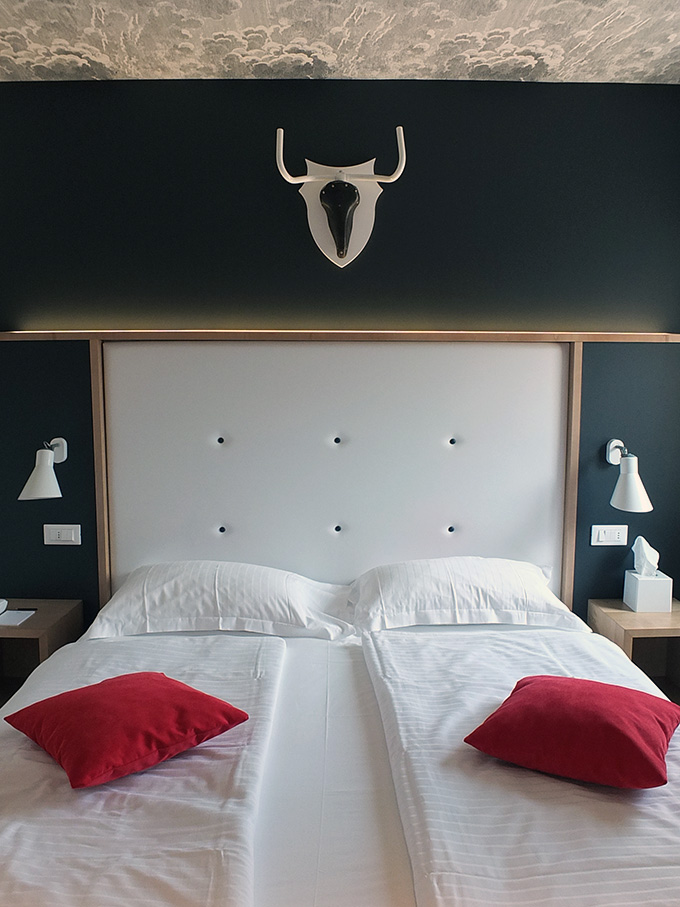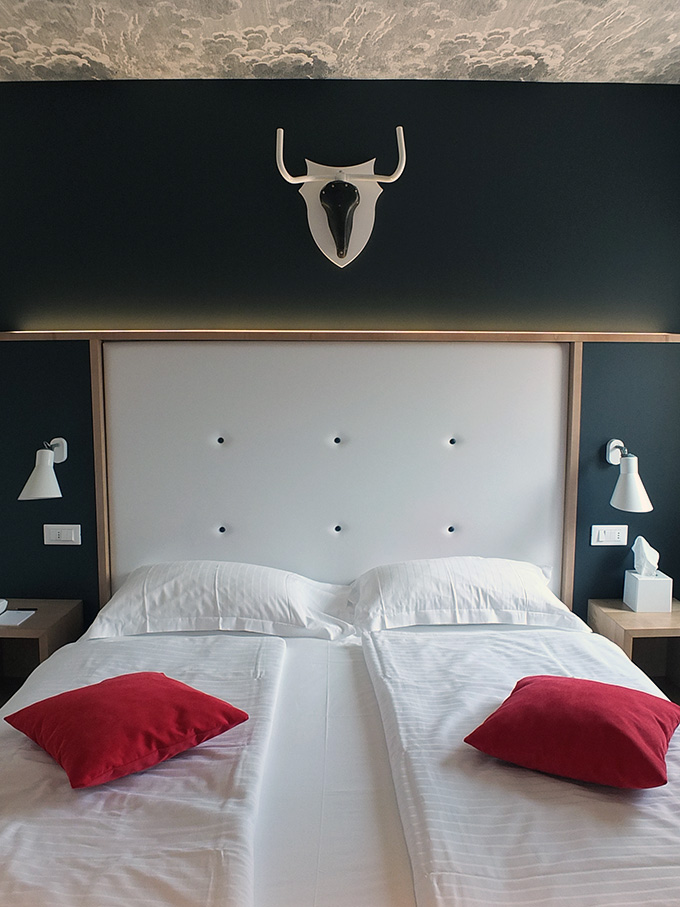 Vintage Italian design and a love of cycling meet in the Hotel Luise Bicycle Room. The room features a cosy double bed for crawling into at the end of a day's adventuring, blessedly cooling air conditioning (it was 36 C the week I visited!), a well-stocked minibar with local beer and snacks and a decent wifi connection too. There's plenty of storage space for your luggage too – drawers and hangers for clothes and a safe, if needed.
I really loved the decor in this room, especially the leather bicycle saddle and handlebar 'Bull's head' above the bed. This is suggestive of Pablo Picasso's Tête de taureau, created in 1942, and was a nice little feature.
My room overlooked Lake Garda, which was only a few minutes walk away.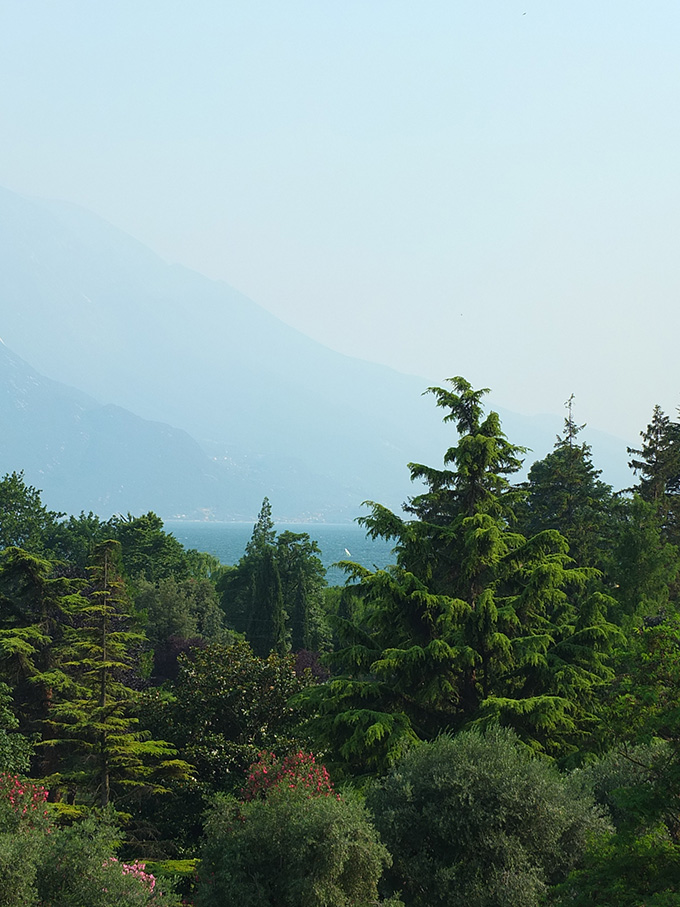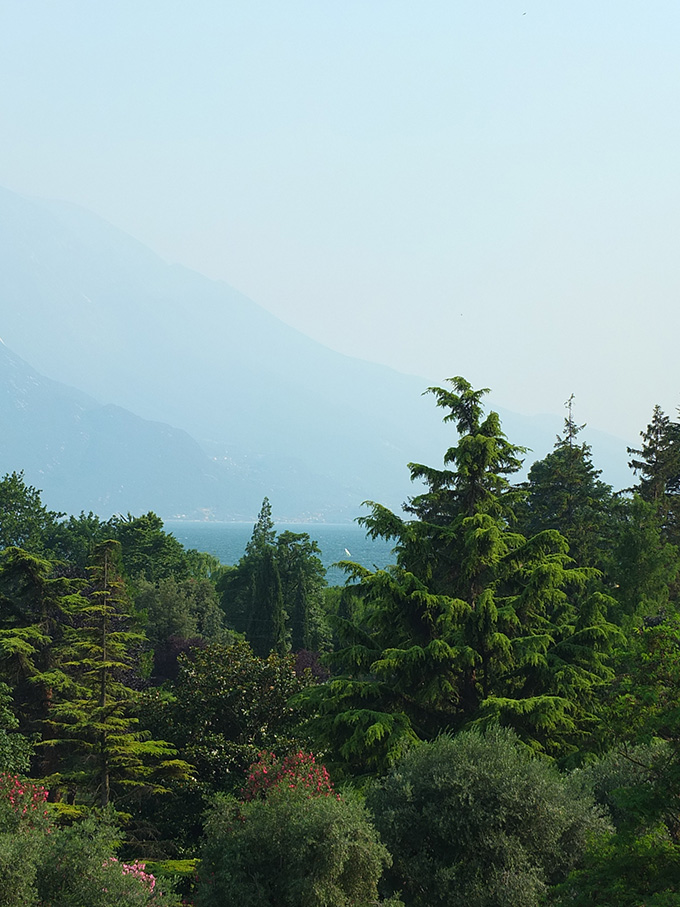 The bathroom has a powerful hot shower and organic, locally produced toiletries as well as a soft and comfortable bathrobe, slippers and a hair drier. Tea and coffee making facilities are available so you can have your cosy morning cuppa while lounging in your bathrobe before you head out for another day's adventure.
If the Bicycle Room is not quite to your taste, there's also a Type Room, featuring vintage typewriters, and a Map Room with or without a balcony overlooking the garden. Those with a higher budget might be interested in the Room with a View on the top floor of the hotel, with views overlooking the lake and mountains.
Prices for the Bicycle Room start from €89 per night.
BREAKFAST AT HOTEL LUISE RIVA DEL GARDA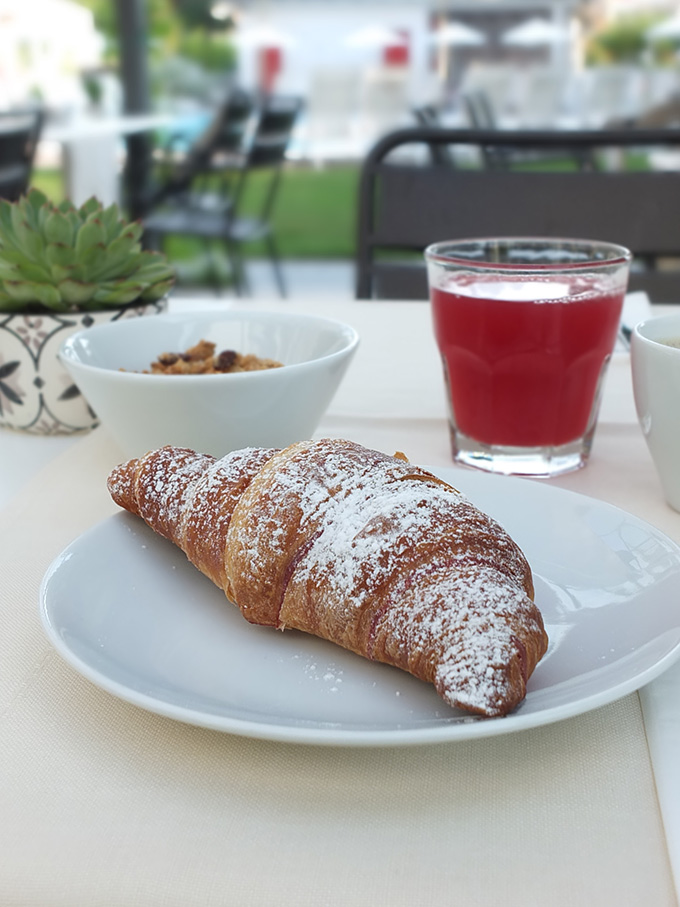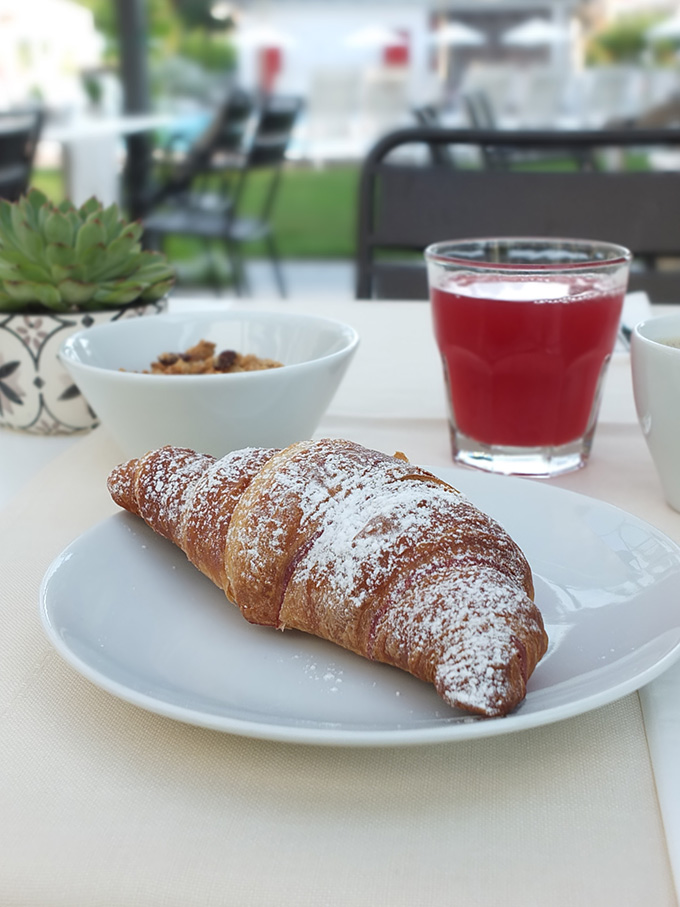 I have to say, I really looked forward to breakfast every day I stayed at Hotel Luise. They do the best breakfast buffet! Everything you could imagine is included, and it's all incredibly fresh and delicious. They've got all manner of filled croissants, which was one of my favourite items; I had to try a different one each morning with my coffee(s). There's fresh fruit, freshly squeezed fruit juices, yoghurts, muesli, cereals, cooked breakfasts, cheese and cold meats, homemade bread, toast, cakes, pastries, cookies, bacon, salmon… and so much more!
Enjoy your breakfasts either indoors, or outdoors on La Veranda. Alternatively, you can order room service!
OTHER AMENITIES AT HOTEL LUISE RIVA DEL GARDA
Hotel Luise also has a lunch and evening menu, but I never dined there for those as I was out exploring the region elsewhere. They also have a wine bar, which I'm vexed I missed out on as I have heard very good things about this bar. Apparently, they will speak with you for awhile to find out what you're like, and then design an aperitivo especially for you. They claim that a good bartender is like a psychologist, creating the right drink for the right person at precisely the right moment.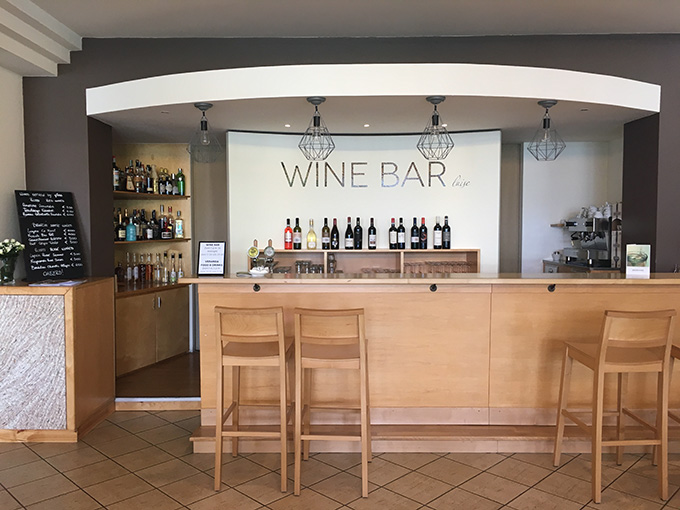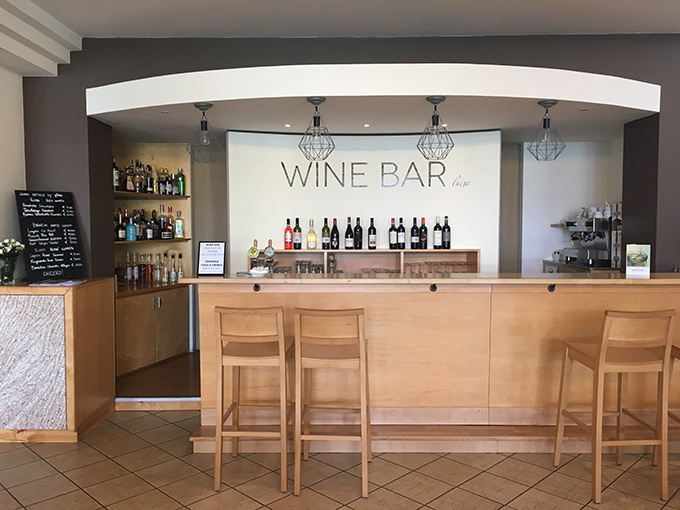 Don't fancy a dip in the lake but still want to cool off? The Hotel Luise swimming pool opens early. Alternatively, just enjoy the warmth of the sun while relaxing on a lounger, nipping for a drink or a bite to eat at La Veranda Pool Bar.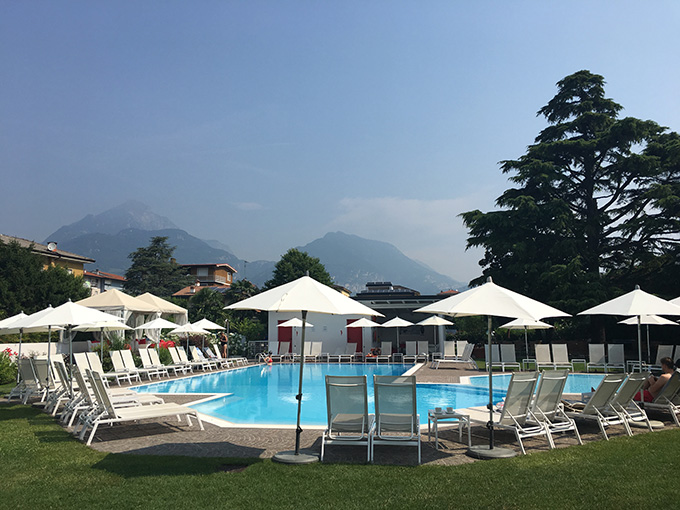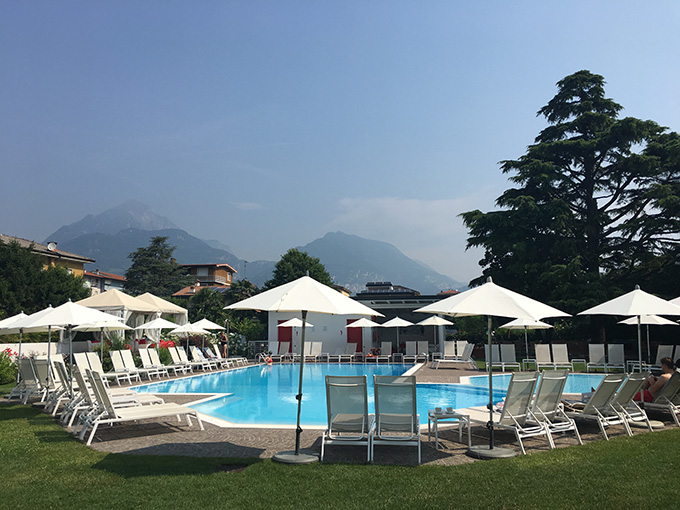 Hotel Luise is a perfect base for families. During the summer months, there are arts and crafts Summer Club activities on throughout the day for children. If you're needing a little break or want to enjoy one of those long, lingering Italian al fresco dinners in the garden with your partner (or even on your own), they even offer babysitting services; you just need to let them know a day in advance.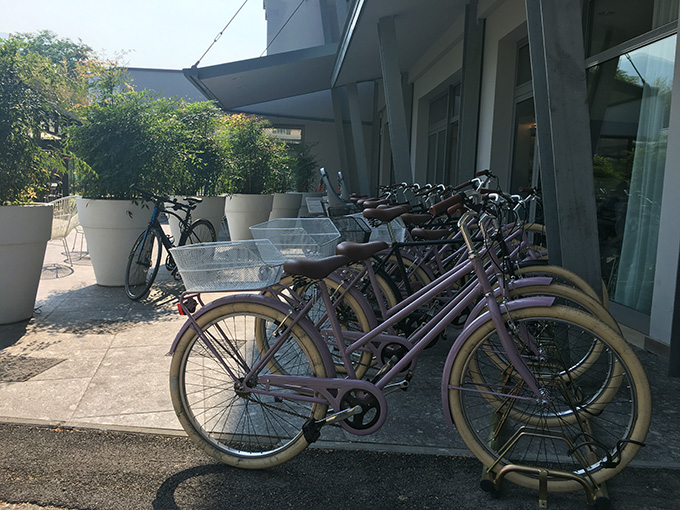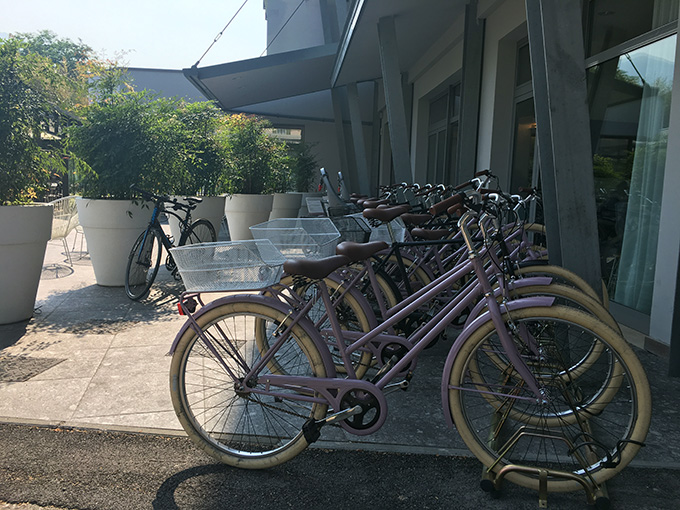 If you want to explore the surrounding area by bicycle, Hotel Luise offers their guests free bicycle hire. Just ask at the desk. They'll even pack a picnic lunch for you if you want.
I really enjoyed my stay at Hotel Luise in Riva del Garda. Staff were very friendly and attentive and answered my myriad of questions without hesitation. I can wholeheartedly recommend that you should stay at Hotel Luise if you've visiting Riva del Garda, you won't be disappointed.
To find out more, visit the Hotel Luise website, and find them on Twitter, Facebook and Instagram. Don't forget your suitcase travel label when you leave!
Elizabeth was a guest of Garda Trentino S.p.A. Tourism Board during her visit to Riva del Garda. However, all thoughts and opinions expressed are her own.