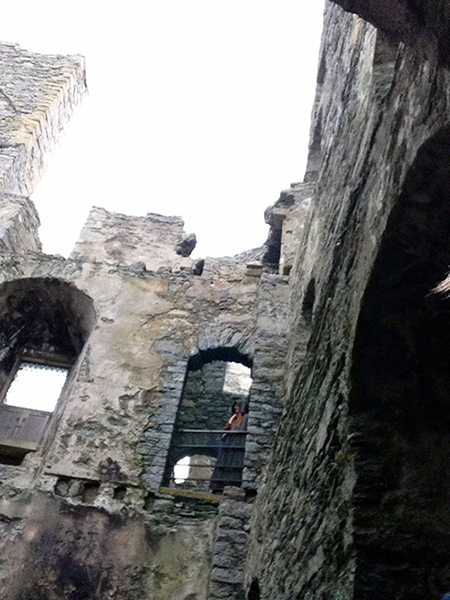 This photograph was taken last night by my eldest son. I had been invited to attend the launch of the third in a series of Shetland murder mysteries by my friend and neighbour Marsali Tayor. I recall with great fondness sitting with the manuscript of the first novel, sticky notes and pen at hand as I proof read and wrote notes. At that time she didn't yet have a publisher, so to attend the launch of the third in the series was a great delight, an honour and a privilege made more so by the fact Marsali successfully battled cancer between the first and third novels (the fourth is currently being finished).
You can read all about the launch, her novel, and find the recipe for a delightful hot chocolate she served afterwards on my Taste of Shetland post.
I brought my teenage son along with me to the launch as I thought it might be something he'd find interesting (plus, he was designated bag carrier!). As it was the launch for a witchy murder mystery the invitation said to come along in appropriate witchy/halloween attire. What a great opportunity to get out my floor length brown dress (which last made an appearance during the serving of my 16th century mediaeval horsebread recipe) and the hooded, flowing hand-embroidered green cloak my mother made over a decade ago. Although I love this cloak and would happily wear it year round, hooded cloaks are somewhat out of fashion and I tend to attract enough gossip as it stands, so the cloak stays in the closet until it's yearly unveiling around Halloween.
Would you believe I was the only one who dressed up like this for the launch?! No matter – folk just thought I was a prop! I stood, silent, with my camera tucked into the folds of my cloak, on the top floor of the ruined 17th century Scalloway Castle – a great vantage point for photographs of the people below.
My eldest (age 14) snapped this photo of me on his iPod and I really rather like it.
So, for this week's Alphabet Photography Project by PODcast, R is for ruins.
A is for… Adventure
B is for… Brave
C is for… Coast
D is for… Derelict
E is for… Education
F is for… Fishing Industry
G is for… Green
H is for… Helicopter
I is for… Iron Age
J is for… Jelly Sweets
K is for… Kohlrabi
L is for… Lynn
M is for… Marmoset
N is for… Noise
O is for… Orangedale
P is for Puffin
Q is for Quarry
If you want to be kept up to date on my recipes, occasional craft tutorials, adventure stories and giveaways then please subscribe to my weekly newsletter; it gets sent out every Monday morning if there is new content. Your email address won't be passed on to anyone, you will never be spammed and you are free to unsubscribe at any time, no questions asked. Make sure you confirm your subscription or you won't receive the newsletter – if it hasn't arrived check your junk mail folder.
[wysija_form id="1″]