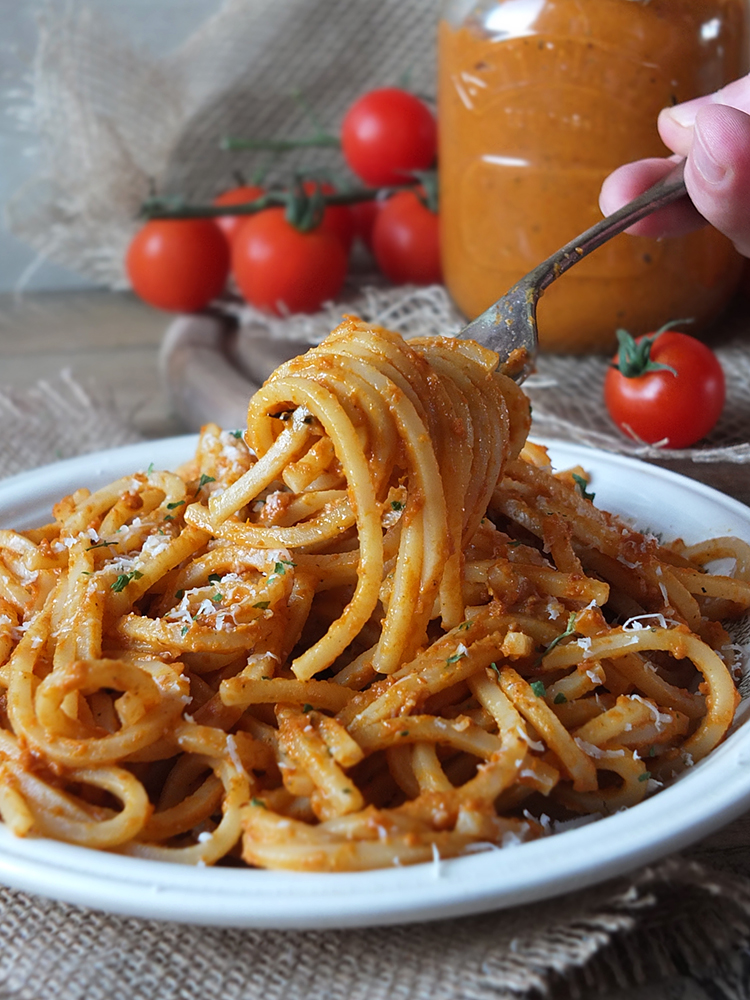 I'm always looking for speedy supper ideas. As much as I love spending time over the cooker, some nights I really can not be bothered. Those nights tend to be the three nights in the week I'm working in our village co-operative – my 'getting out of the house' job where I work a few hours in the afternoon and close up the shop in the evening.
The UK laws on selling foodstuffs are a bit funny. It's illegal (as far as I am aware) to sell anything past its 'use by' date, so I tend to reduce things right down in the hopes someone will buy it before I have to throw it in the bin. Then there's the 'best before' date where food is still ok, for awhile yet at least, but it's not at its best. It's still edible.
Like these piccolo cherry tomatoes.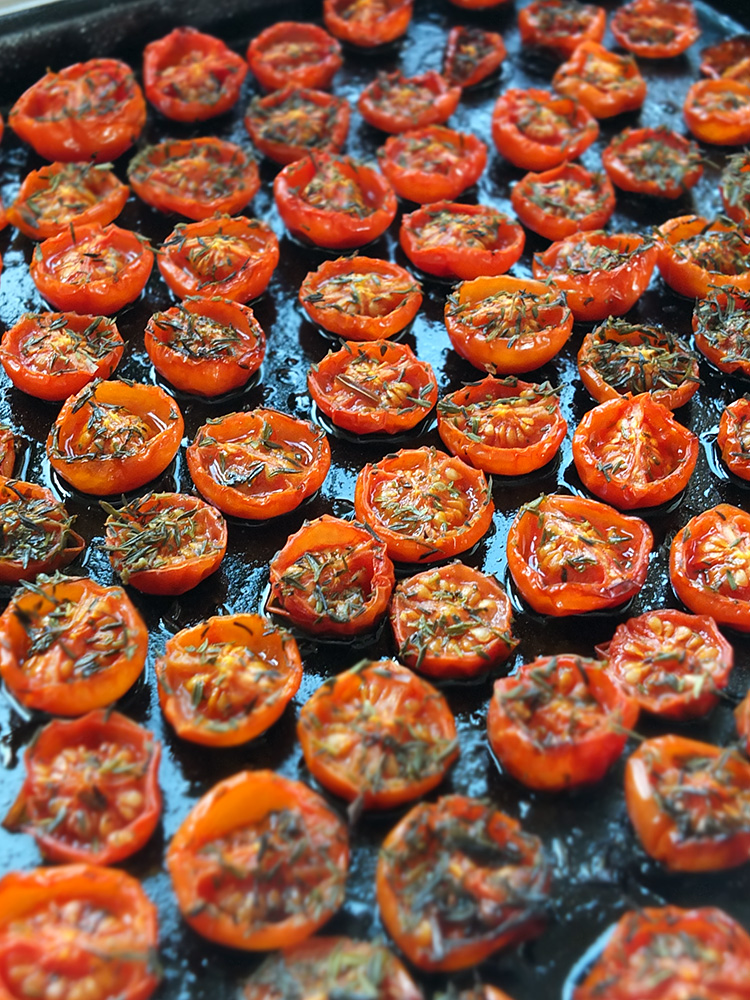 Six packets of these beautiful little ruby red gems were destined for the bin one day when I started my shift. They were just crying out to me to be saved and made into something – salsa, perhaps?
Googling piccolo tomato recipes I found Nigella Lawson's Moonblush Tomatoes – simply halve the tomatoes, sprinkle with some seasonings, preheat the oven, pop the tomatoes in, switch the oven off and leave it there overnight.
I did just that. My kind of recipe – no work involved!
However, in the morning my tomatoes looked exactly as they did when I put them in the evening before. Clearly Nigella and I have vastly different ovens.
They needed to be salvaged, again, so I switched the oven on to 220C (I have a fan oven), roasted them for 15 minutes, switched the oven off again to let them cool and then blitzed them in my Froothie Optimum 9400 high speed blender.
Win!
My husband taste tested this quick and easy pasta sauce first for his lunch (see, he's lucky in that he gets to eat my photographs sometimes!) – he loved it.
The biggest test was the kids. They are the fussiest eaters ever, despite my good intentions.
They loved it! The scoffed every bite of their evening meal without having to be coaxed!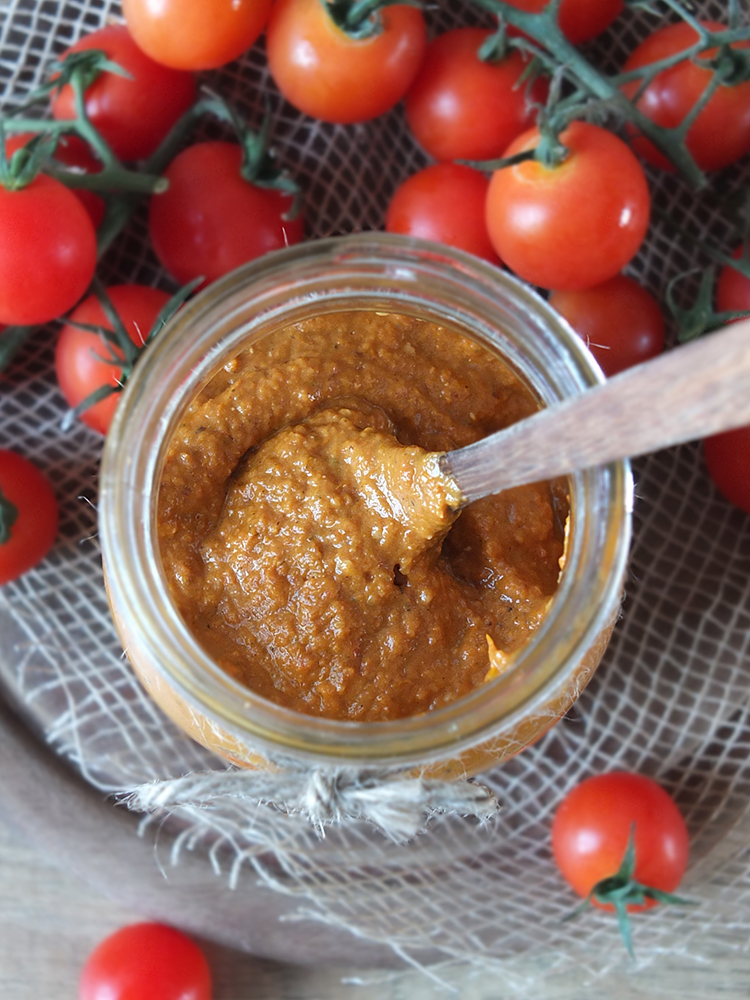 As luck should have it too there was enough natural light filtering through the light cloud cover that day so I was able to take a few half decent photographs! Regular readers will know how much I struggle taking photos during these dark winter months.
I served this sauce on some spaghetti alla chitarra, a square spaghetti with a special rough texture which holds sauce beautifully (or so it says on the packet). I'd picked this up recently at the suggestion of our six year old who spotted it in the co-op and suggested we try it, as it was a new pasta, and it was buy one get one free (he's learning well!).
My recipe is slightly adapted from Nigella's version in that I upped the quantities, I used smoked Maldon sea salt and garlic infused olive oil from Pomora and then whizzed it all together in my high speed blender. If you don't have a high speed blender you might want to sieve it first to get all the seeds out, if you (or your children) prefer a smoother sauce. Add an extra teaspoonful of sugar if you want a sweeter sauce. I wonder if it would make a good pizza sauce…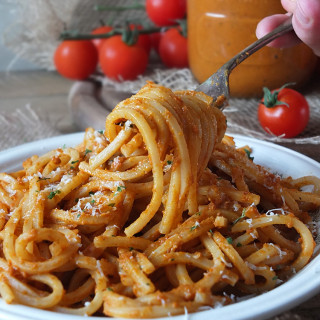 Quick & Easy Roasted Cherry Tomato Sauce
A quick and simple midweek supper idea - only five ingredients and ready in under 30 minutes!
Print
Rate
Affiliate Links
This recipe card may contain affiliate ingredient and equipment links. As an Amazon Associate I earn from qualifying purchases.
Instructions
Preheat oven to 220 C.

Halve your cherry tomatoes and arrange them, cut side up, on a baking tray.

Sprinkle with the remaining ingredients and roast for 15-20 minutes.

Leave to cool slightly and then puree in a high speed blender.

Serve over pasta.
Environmental Information
Click here to view the nutritional information for this recipe.
OTHER QUICK PASTA SAUCE RECIPES YOU MIGHT LIKE
A Tasty Raw Tomato Sauce Recipe by Recipes from a Pantry
Hidden Cauliflower Cheese Pasta Sauce by Elizabeth's Kitchen Diary
Rapid Roasted Vegetable Pasta Sauce by Feeding Boys
Vegetable & Tomato Pasta Sauce by Citrus Spice
Chilli, Bacon & Chickpea Pasta by Fab Food 4 All
Courgette Spaghetti Alfredo by Elizabeth's Kitchen Diary
Whizz, Bang Pizza Sauce by Tinned Tomatoes
Speedy & Spicy Spaghetti Sauce by The Veg Space
Spaghetti alla puttanesca by Elizabeth's Kitchen Diary
LINKING UP WITH SOME BLOGGING CHALLENGES
Extra Veg by Fuss Free Flavours and Utterly Scrummy
Credit Crunch Munch by Fab Food 4 All and Fuss Free Flavours
No Waste Food Challenge by Elizabeth's Kitchen Diary


If you want to be kept up to date on my recipes, occasional craft tutorials, adventure stories and giveaways then please subscribe to my weekly newsletter; it gets sent out every Monday morning if there is new content. Your email address won't be passed on to anyone, you will never be spammed and you are free to unsubscribe at any time, no questions asked. Make sure you confirm your subscription or you won't receive the newsletter – if it hasn't arrived check your junk mail folder.
[wysija_form id="1″]
Elizabeth's Kitchen Diary is a Froothie Ambassador and she uses the Froothie Optimum 9400 blender, the Froothie Optimum 600 slow juicer and the Optimum ThermoCook to make many of her recipes. These are affiliate links, meaning if you buy a blender or juicer through them we will earn a small commission. This is not a paid post and all thoughts and opinions are our own.
We are also ambassadors for Pomora, a unique UK company providing the opportunity for UK and US readers to adopt an olive tree from farmers in Italy. Any adoption made through our website will earn us a small commission.