Vibrant, colourful, delicious and super easy to make this Greek-style pasta salad makes for a perfect packed lunch or side for a BBQ or potluck. This recipe was originally published in March 2013. It has been updated & republished in Feb 2019.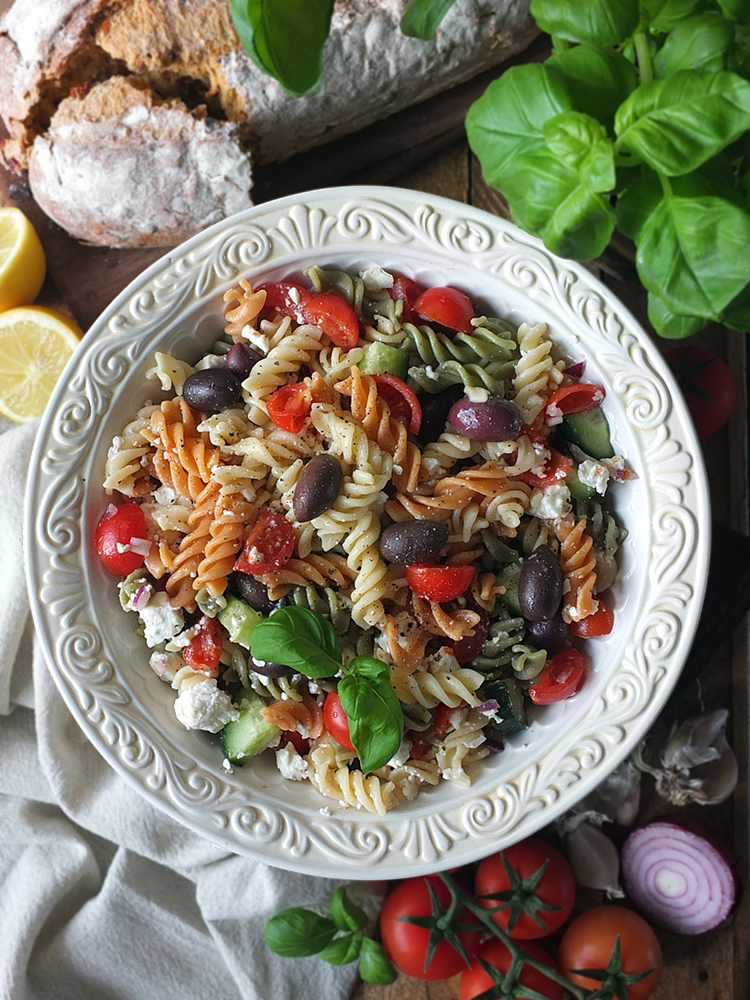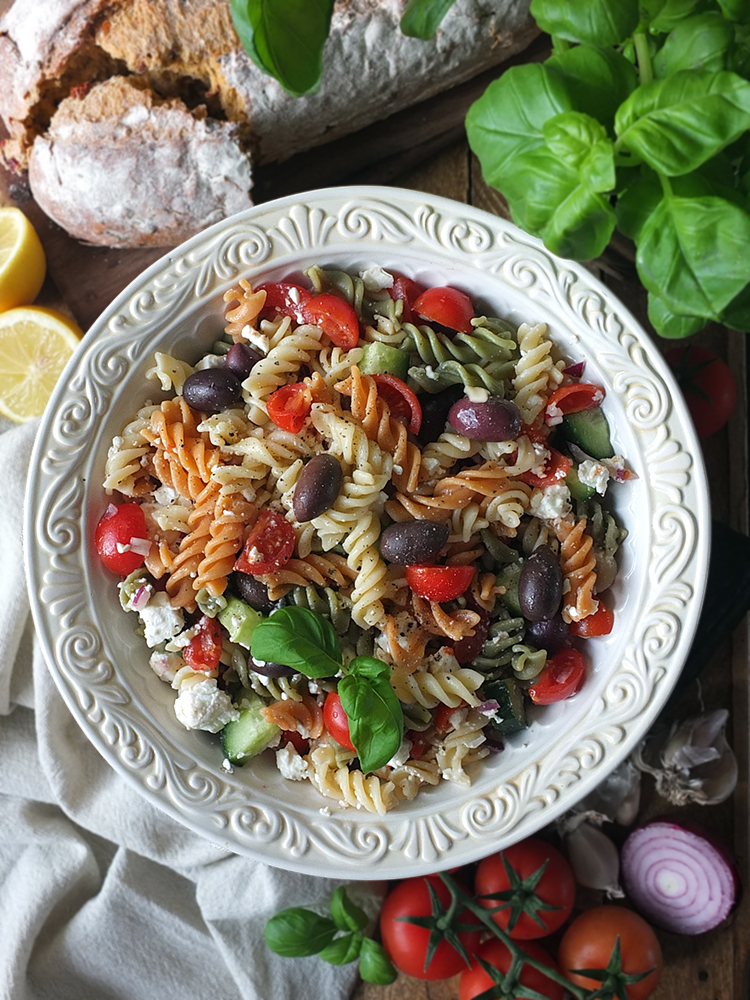 Greek Pasta Salad – a Quick & Easy Packed Lunch Idea
I first discovered Greek pasta salad while I was living and working in Halifax, Nova Scotia in my early twenties. There was a delightful little cafe just down the street from where I worked and they served the most wonderful assortment of salads. This cafe was an ideal place to go for a quick lunch break, and I used to order their Greek pasta salad regularly.
However, I used to ask them to remove the olives before they handed me my lunch. At that time I'd never even tried an olive, I thought they were hideously unattractive and I was not going to eat them! The staff always looked at me rather strangely when I asked them to remove the olives and I now understand why – good quality olives make this dish.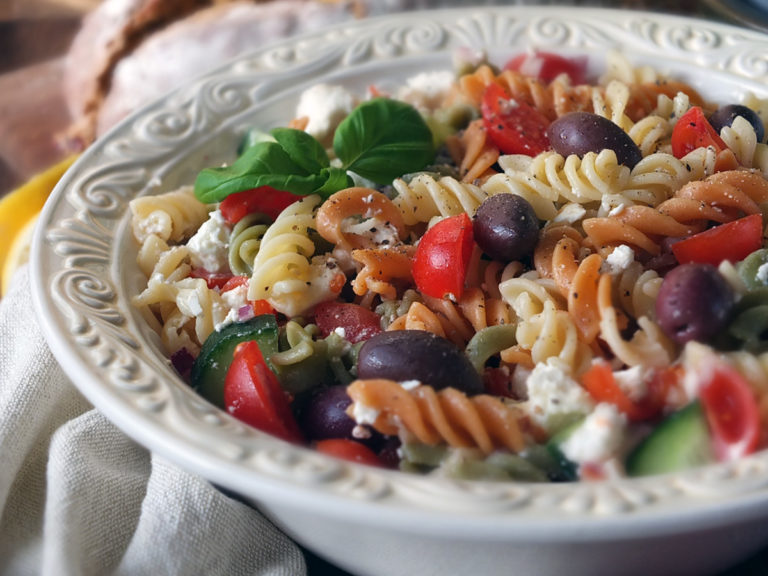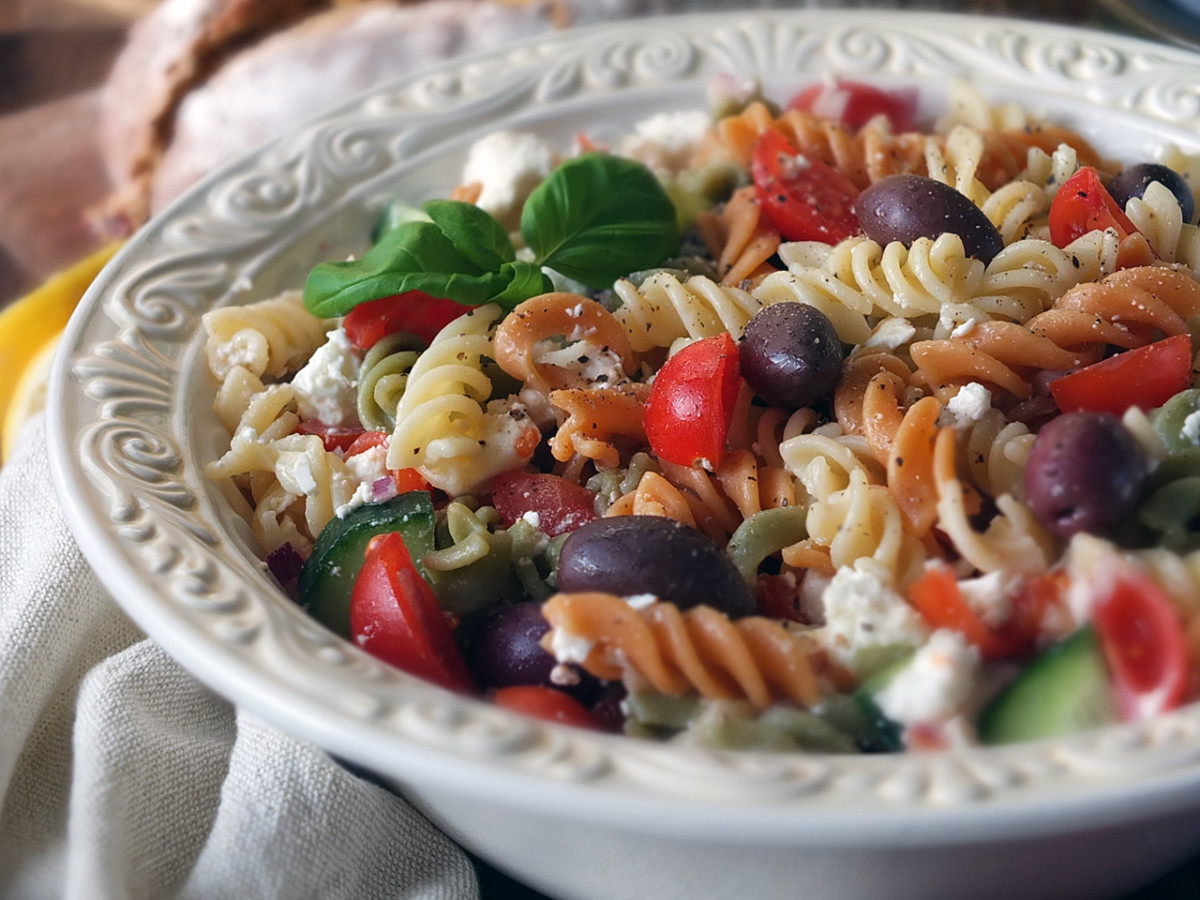 It wasn't until I ended up on a press trip to Sardinia (a car launch of all things!) in my mid-20s that I developed a passion for olives.
I am now a lover of all things olive, and much to my delight, so are my children.
This Greek pasta salad recipe is one of our family favourites. It's been made time and time again from a handwritten recipe that's been in my notebook for a very long time. I have no idea where the original recipe came from, unfortunately, so I can't credit the source.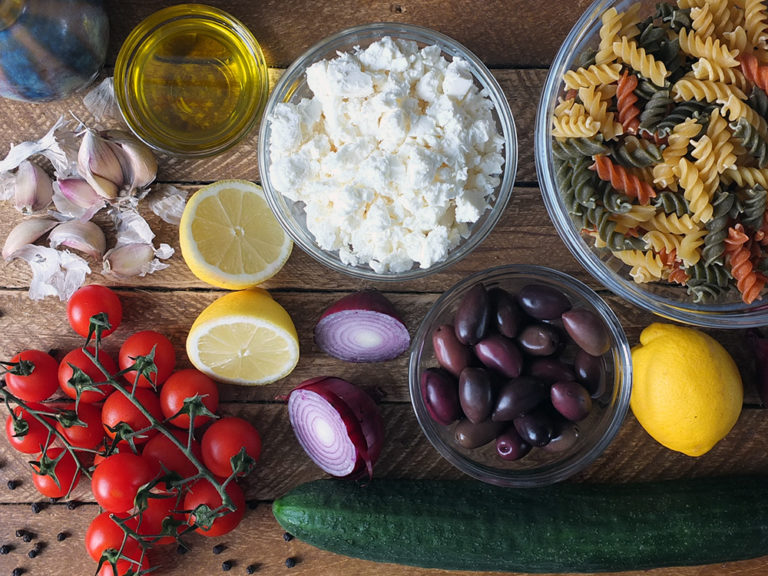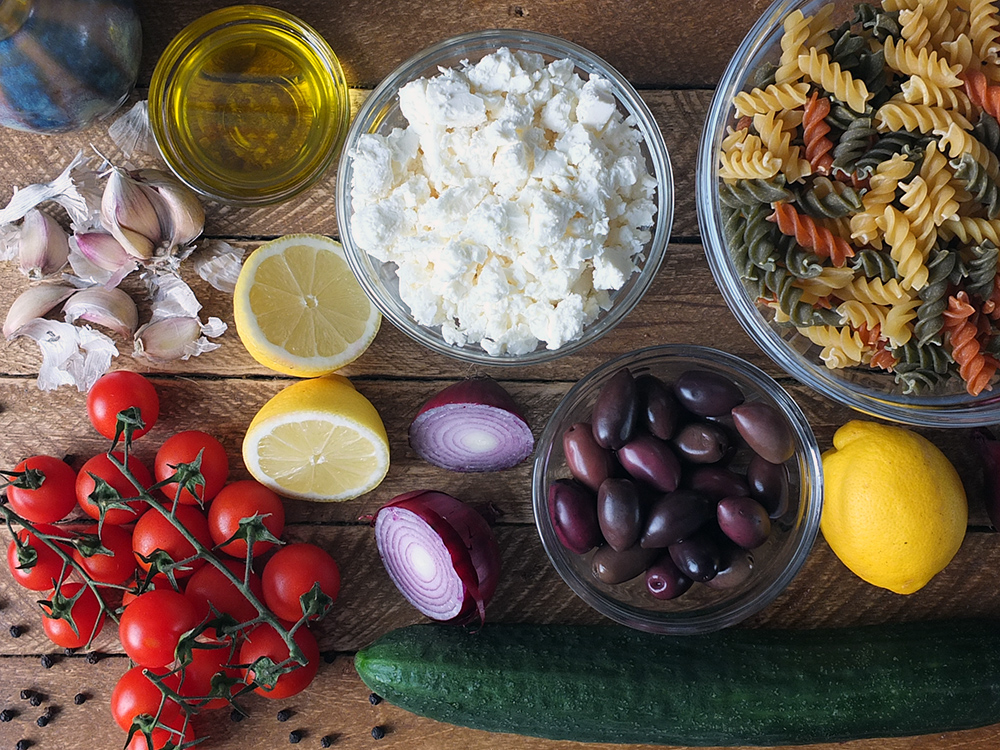 Ingredients for Greek Pasta Salad
300 grams dried pasta – I like tricolour fusilli, but trotolle makes for a nice chunky variation. Make it gluten-free by experimenting with any of the gluten-free pasta options available nowadays.
220 grams cherry tomatoes – I like vine-ripened piccolo tomatoes
half a cucumber – quartered and sliced
one small red onion- finely chopped
kalamata olives – pitted, or not – I prefer with the pits.
feta cheese – look out for the PDO label to make sure it's the real thing.
extra virgin olive oil – I use Pomora
one lemon, juice only
a couple of garlic cloves – to taste, finely chopped
plenty of freshly ground black pepper
fresh basil leaves – to garnish if desired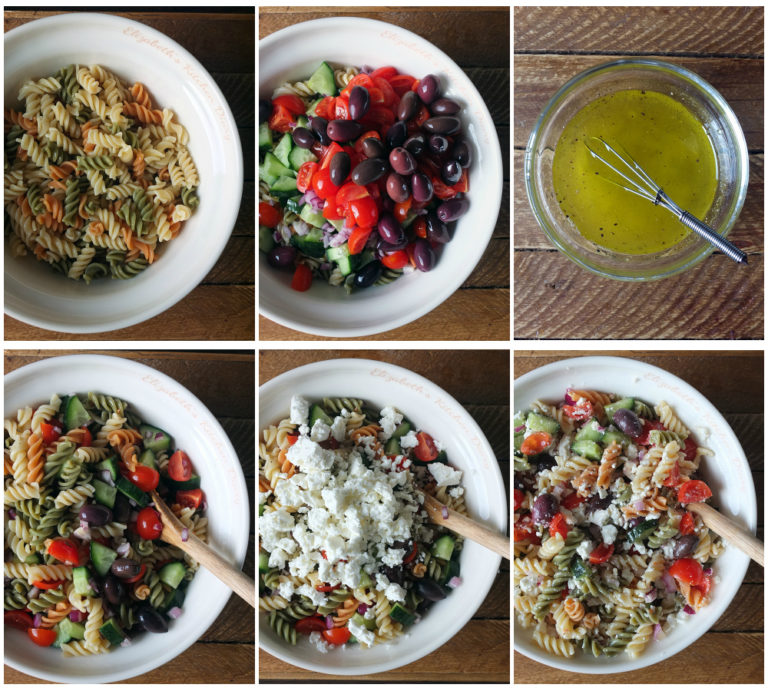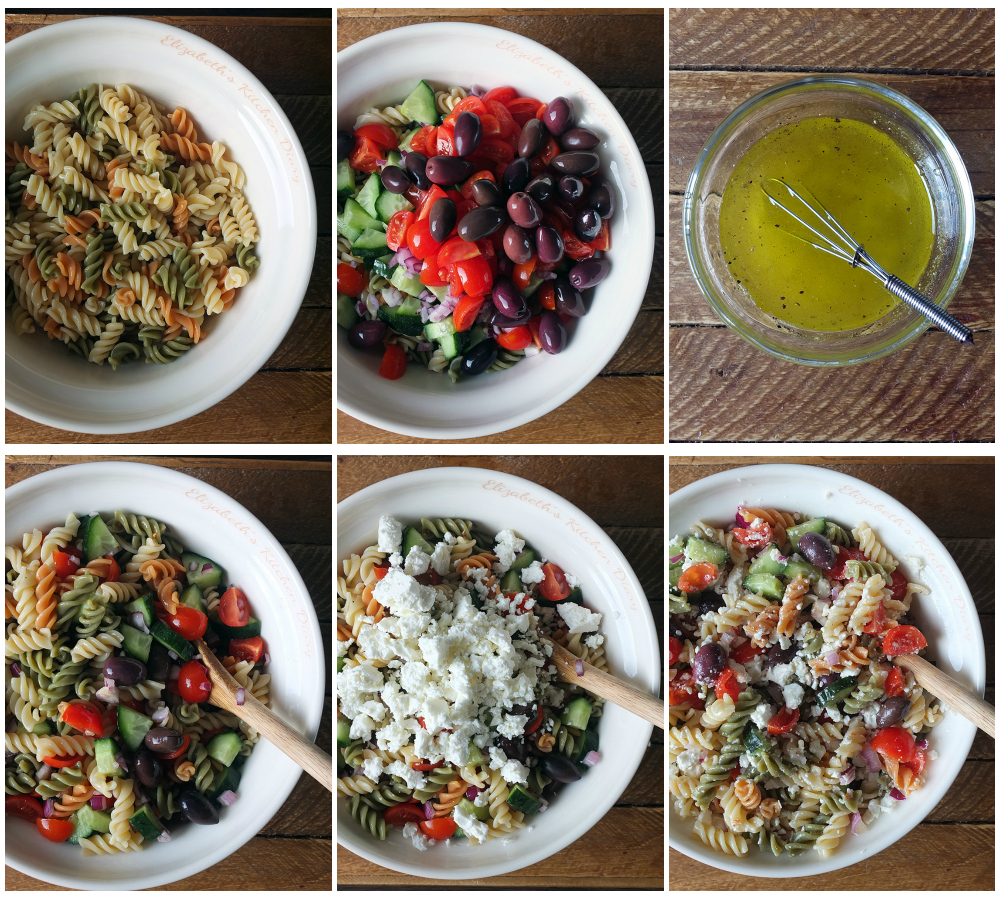 How to Make Greek Pasta Salad – Step by Step Instructions
Bring a large pan of salted water to the boil. Cook your pasta according to the packet instructions for about 10-12 minutes, until al dente. Drain and rinse the pasta under cold water to halt the cooking process.
Add your tomatoes, cucumber, red onion and kalamata olives.
Whisk together the olive oil, lemon juice, garlic and black pepper to make a dressing.
Pour the dressing over the salad and gently mix to coat well.
Sprinkle over the feta cheese.
Gently combine. Chill until needed.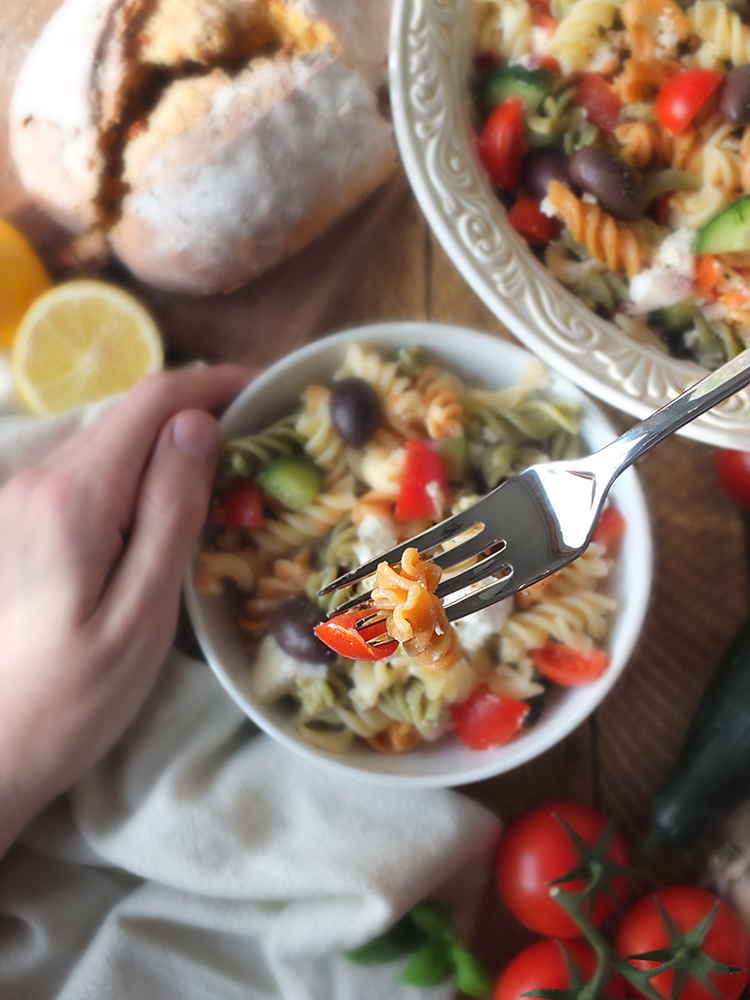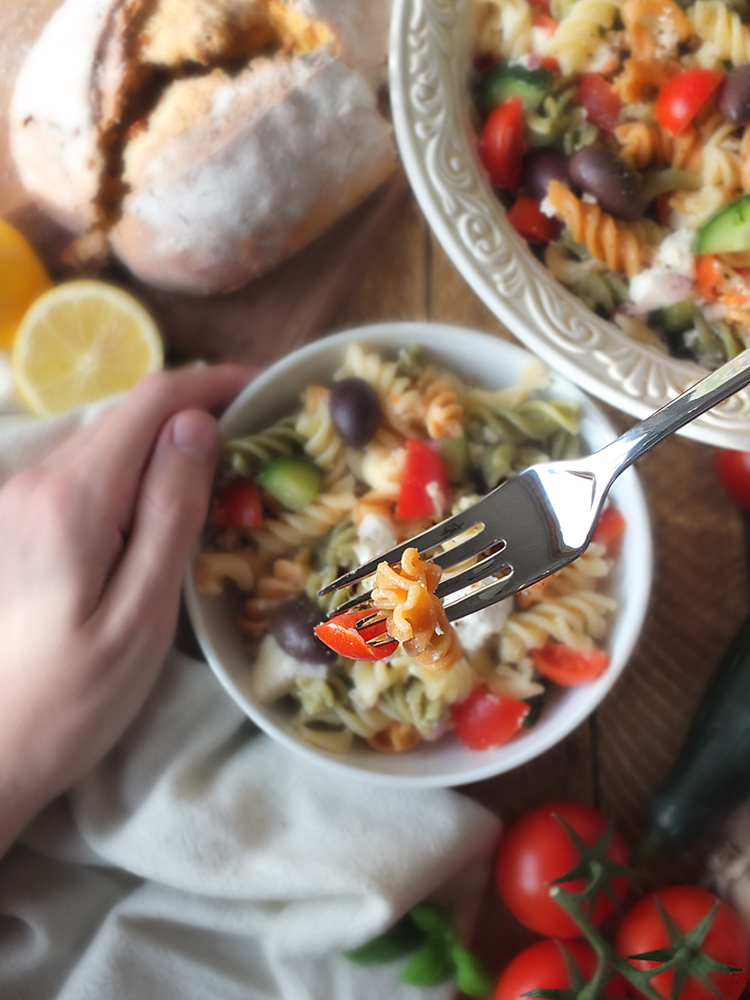 Greek pasta salad makes for a wicked packed lunch and if you are a fridge raider like me, it's a perfect midnight snack with a generous grinding of black pepper over the top.
In fact, just keep the pepper grinder next to you and add more pepper as you work your way through the dish. That's how I eat mine, anyway. You can never have too much black pepper, in my humble opinion!
Viners Cutlery
A meal can be made even more extra special by eating it with good quality cutlery. Viners have been making beautiful, stylish and durable stainless steel cutlery since 1908. With their origins in Sheffield, England, they have maintained a tradition combining the best materials and cutting edge technologies to produce elegant, robust, rust-resistant cutlery with an enduring finish.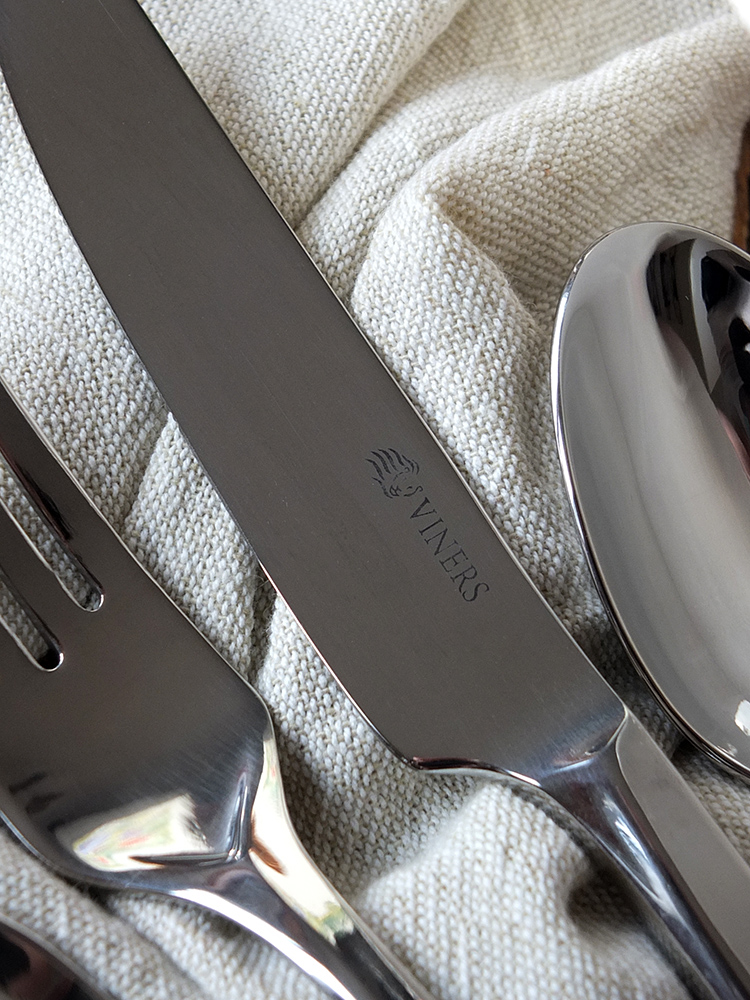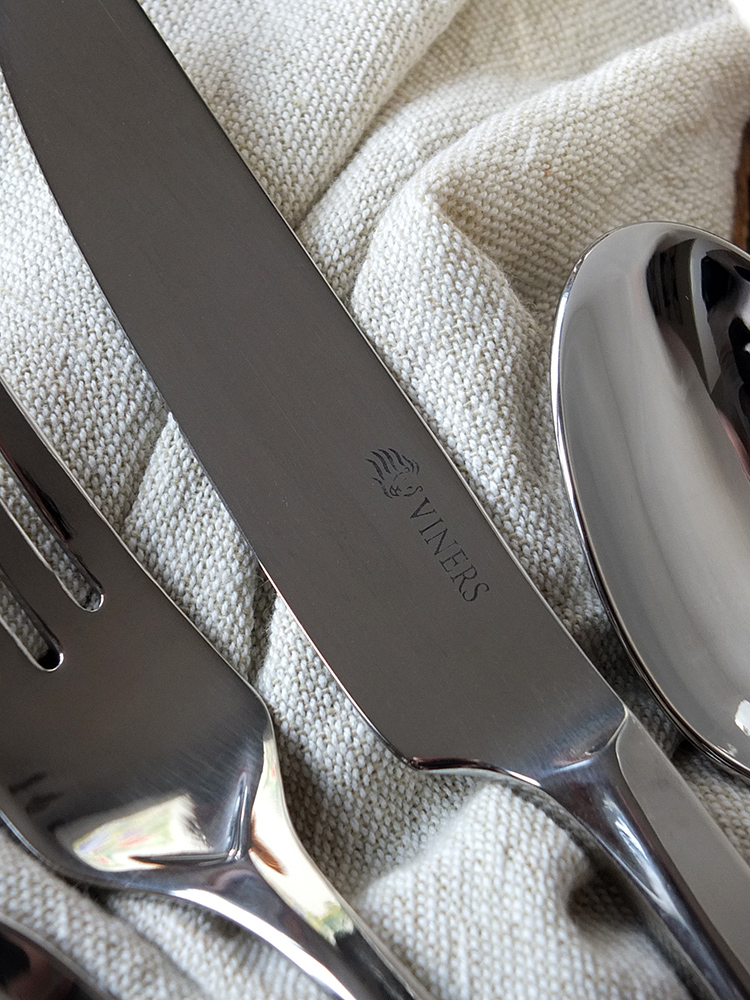 Mayfair 18/10 24 Piece Cutlery Set Giftbox
A timeless and endearing design delicately details the Mayfair handles, making a beautiful addition to the Viners cutlery range, and a perfect fit for home dining. This cutlery is created with perfect weight and balance that feels comfortable in your hand; it's got a good heavy weight to it, but not too heavy – just perfect, I think.
This 24 piece set contains six of each table knives, table forks, dessert spoons and teaspoons and retails for £78. It also comes with a 50-year guarantee and they are dishwasher safe.
How about visiting the Viners website to browse their gorgeous cutlery collections? Also, follow them on Twitter to keep up with their news.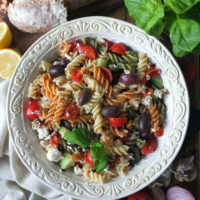 Easy Greek Pasta Salad Recipe
Vibrant, colourful, delicious and super easy to make this Greek-style pasta salad makes for a perfect packed lunch or a side for a BBQ.
Print
Pin
Rate
Affiliate Links
This recipe card may contain affiliate ingredient and equipment links. As an Amazon Associate I earn from qualifying purchases.
Instructions
Bring a large pan of salted water to the boil and cook the pasta according to packet instructions until al dente (around 10-12 minutes).

Drain the pasta in a colander and rinse well under cold water to halt the cooking process.

Place the cooled pasta in a large bowl and add the quartered cherry tomatoes, cucumber, diced red onion and olives.

In a separate small bowl, mix together the olive oil, lemon juice and garlic. Season well with freshly ground black pepper.

Pour the dressing over the pasta and the vegetables, stirring to coat.

Sprinkle over the feta cheese and gently combine.

Season with more freshly ground black pepper, if desired, and chill until needed.

Garnish with fresh basil leaves, if desired.
Notes
GLUTEN FREE OPTION - Make this recipe gluten-free by using gluten-free pasta.
This Greek Pasta Salad will keep up to three days, covered, in the fridge, so it makes for a great packed lunch option.
Nutrition
Sodium:
528
mg
|
Calcium:
152
mg
|
Vitamin C:
14.9
mg
|
Vitamin A:
315
IU
|
Sugar:
3
g
|
Fiber:
2
g
|
Potassium:
222
mg
|
Cholesterol:
22
mg
|
Calories:
309
kcal
|
Saturated Fat:
5
g
|
Fat:
15
g
|
Protein:
9
g
|
Carbohydrates:
33
g
|
Iron:
1.1
mg
Environmental Information
Other Healthy Lunches You Might Like
A few lovely lunch recipes from other food bloggers!

Photo Credit: Lucy @BakingQueen74

A filling lunch option based around zero pointed ingredients on Weight Watchers Flex or Freestyle programs

Photo Credit: tinandthyme.uk

An easy, quick and delicious plant-based midweek meal. Make your own teriyaki sauce (recipe coming soon) or use a commercial one.

This is not a paid post, although Elizabeth's Kitchen Diary has been gifted items from Viners as compensation. All thoughts and opinions expressed are our own. Amazon links are affiliate links and we earn from qualifying purchases.