Our weekly bite-sized review series.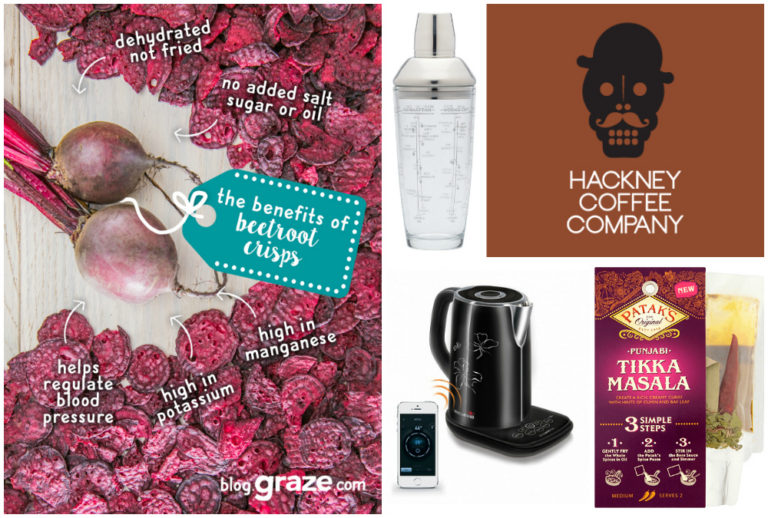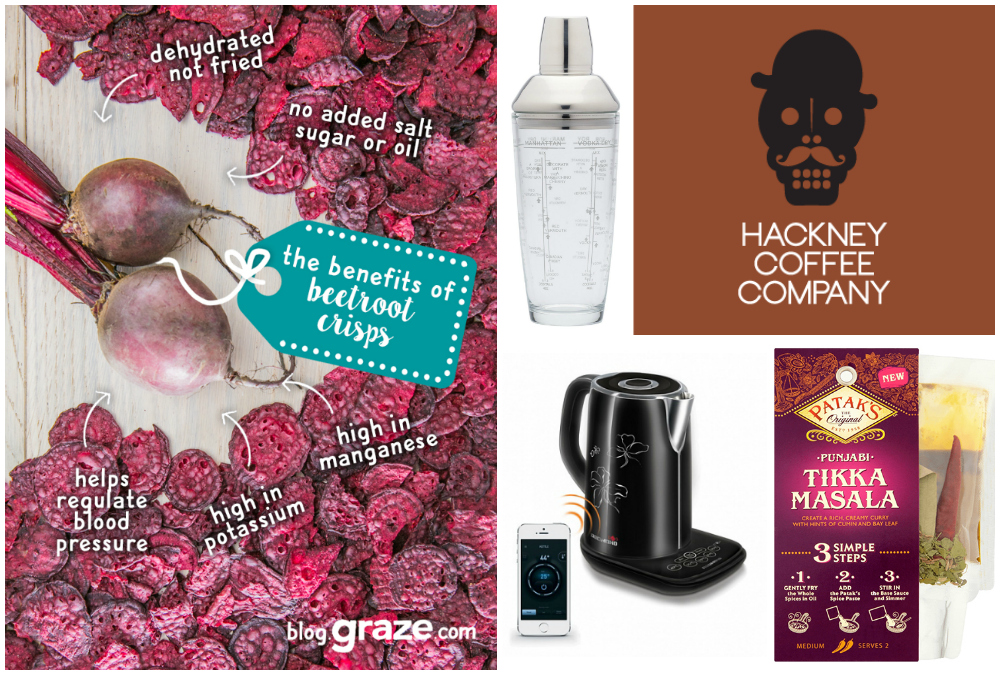 This week our top five picks feature a London coffee company, a snazzy cocktail shaker, some new dried veggie snacks, a rather delicious Indian spice kit and a futuristic kettle.
Hackney Coffee Company – Launched in October 2015 this start up company makes some mighty fine coffee in their London coffee shop. Given that I couldn't get to London to taste test it myself they sent me a rather delicious sample to try out (yum!) and they have plans for cocktails in the near future! Will definitely be visiting the next time I go to London!
Boston Glass Cocktail Shaker – speaking of cocktails, I treated myself to a brand new cocktail shaker I found downstairs in the Bolts Mini-market in Lerwick, Shetland. Best cocktail shaker ever! It's glass, it's sturdy and well made, and it's got the measures down the side to make 3 or 6 servings of various cocktails like a Manhattan, Rob Roy and Martini Dry. RRP £13.95
Beetroot Crisps from Graze – These new beetroot crisps give you the crunch we like in a vegetable crisp without the added fat as they're dried, not fried. Combined with crunchy chickpeas, naturally seasoned with jalapeno, and sunflower seeds. At less than 100 calories, they also contain essential nutrients, vitamin E, manganese as well as the added benefits of protein and fibre. Add them to your next Graze subscription, prices from £3.99 per box.
Patak's New Punjabi Tikka Masala Kit – I do love cooking from scratch, but I don't always have the time. This new three step spice mix has sachet of whole spices, a sachet of paste and the cooking sauce. Almost like cooking from scratch, but they've taken most of the work out of it for you. Super tasty too! RRP £2.70 for 303 grams.
Redmond Skykettle – My latest kitchen appliance. This futuristic kettle with remote control technology also functions as a thermo pot (not quite sure what that is yet though). Activated from my iPhone, the kettle boils water, heats it to the specified level (within the range from 40°C to 95°C) and can keep it at a set temperature for up to 12 hours. Watch this space for recipes! RRP £110
Dislcosure: this is not a paid post. With thanks to the Hackney Coffee Co, Graze, Patak's and Redmond for the product samples. All thoughts and opinions expressed are our own. Any links in orange are Amazon affiliate links (see sidebar for more information).