During Shetland Boat Week 2019, Agnes Kay Charters ran tours of Lerwick Harbour and Bressay, venturing out to the Noss National Nature Reserve to visit the gannets when the weather permitted.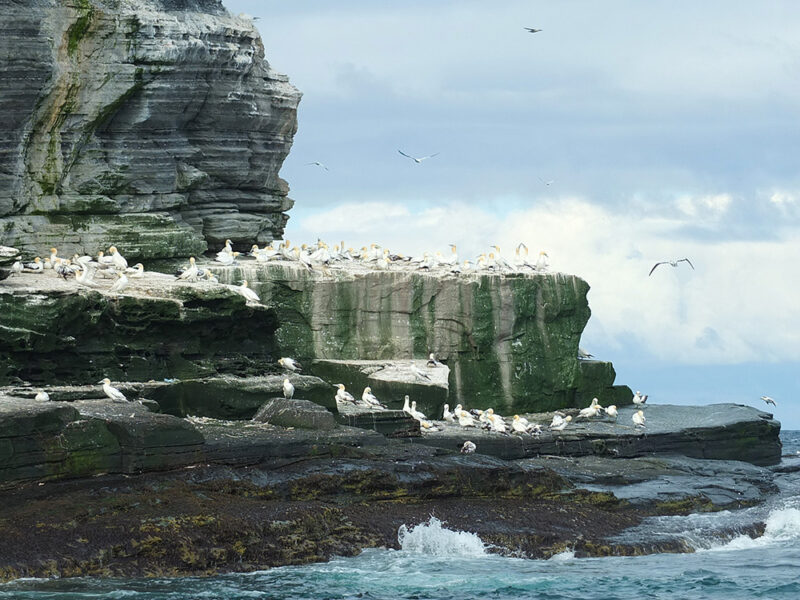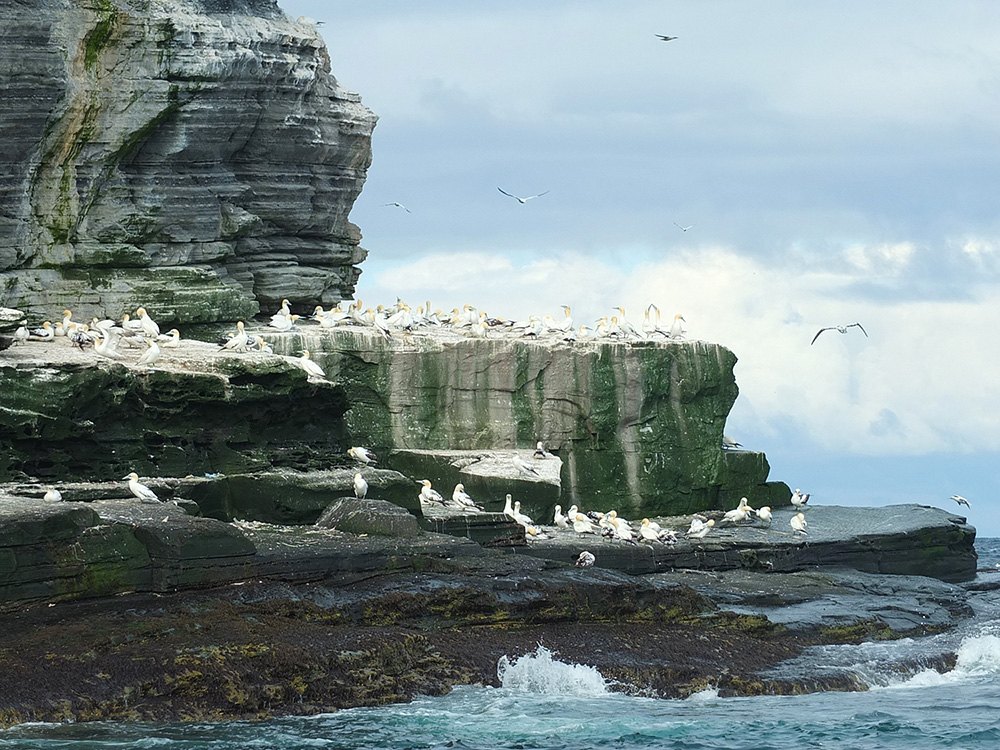 A visit to see the Gannets of Noss with Agnes Kay Charters
Shetland Boat Week 2019 has just finished, and what a week it was! Created to showcase Shetland's maritime heritage and encourage a passion for traditional Shetland boats, Shetland Boat Week offered a wide variety of indoor and outdoor activities for all ages.
One of the outdoor activities on offer were Lerwick Harbour tours onboard the Agnes Kay II, a renovated 1961 wooden fishing boat built to fish in Scottish waters.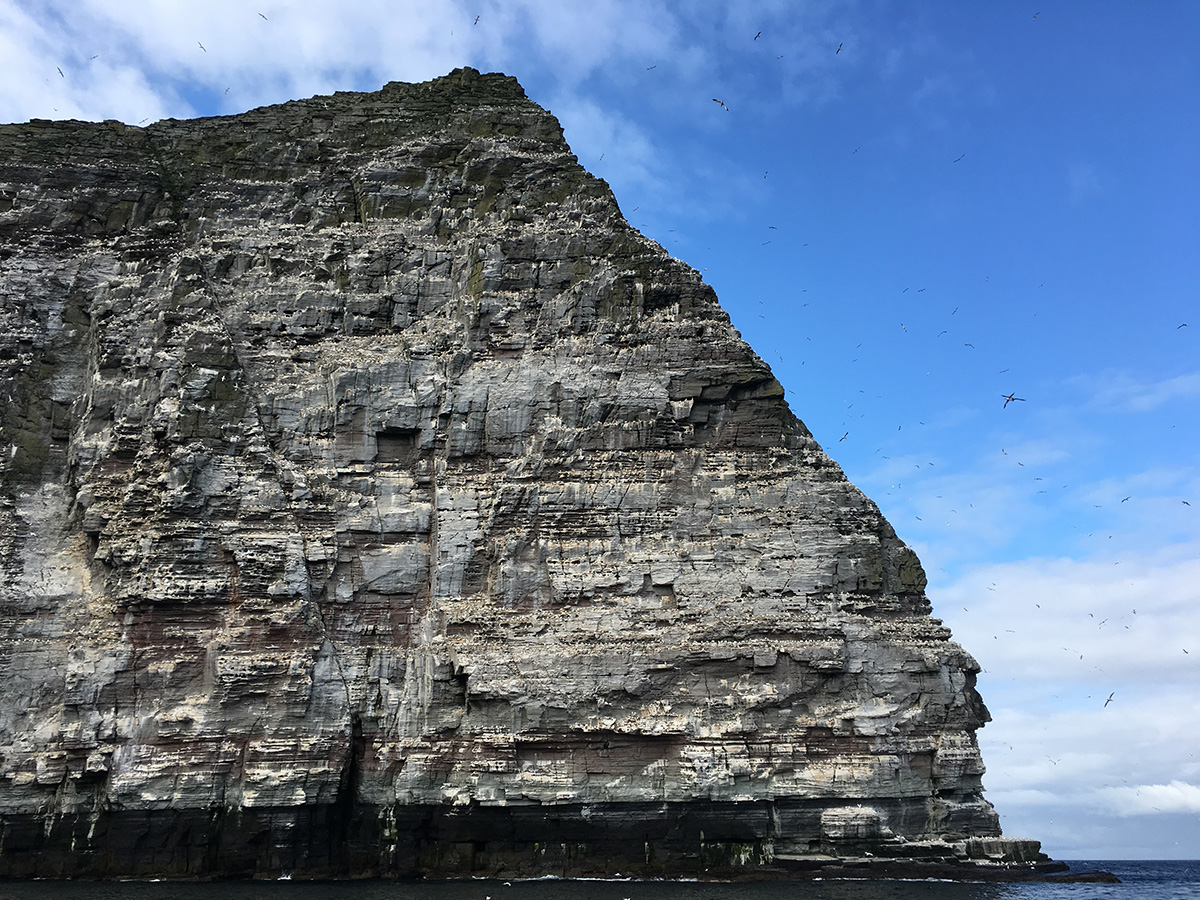 Weather permitting, skipper Ewan Anderson took passengers around to the back of the island of Noss to have a look at the seabirds. I was lucky enough to be on not one, but two of these Noss trips.
About the Noss National Nature Reserve
The island of Noss is located on the east side of Bressay, a short ferry ride away from Lerwick, Shetland's capital town. It's one of the most important seabird colonies in Scotland and was declared a National Nature Reserve in 1955.
With its towering 181-metre tall, mile-long cliff, Noss is a veritable seabird city. At peak season, there are 25,000 breeding gannets and thousands of guillemots, fulmars and kittiwakes nesting it the cliff's sea-eroded Devonian desert sandstone nooks.
It's an extraordinary experience to see/smell/hear 150,000 seabirds from the sea. These photographs don't do it justice – it's something you just have to do for yourself.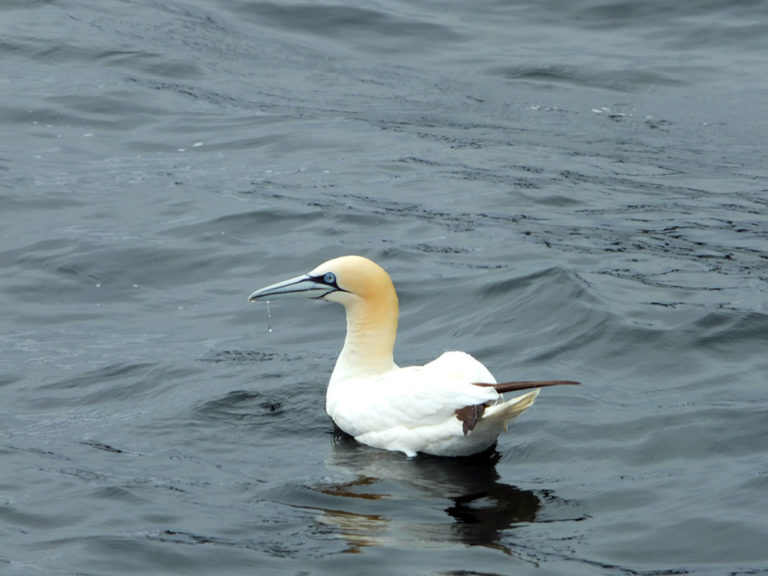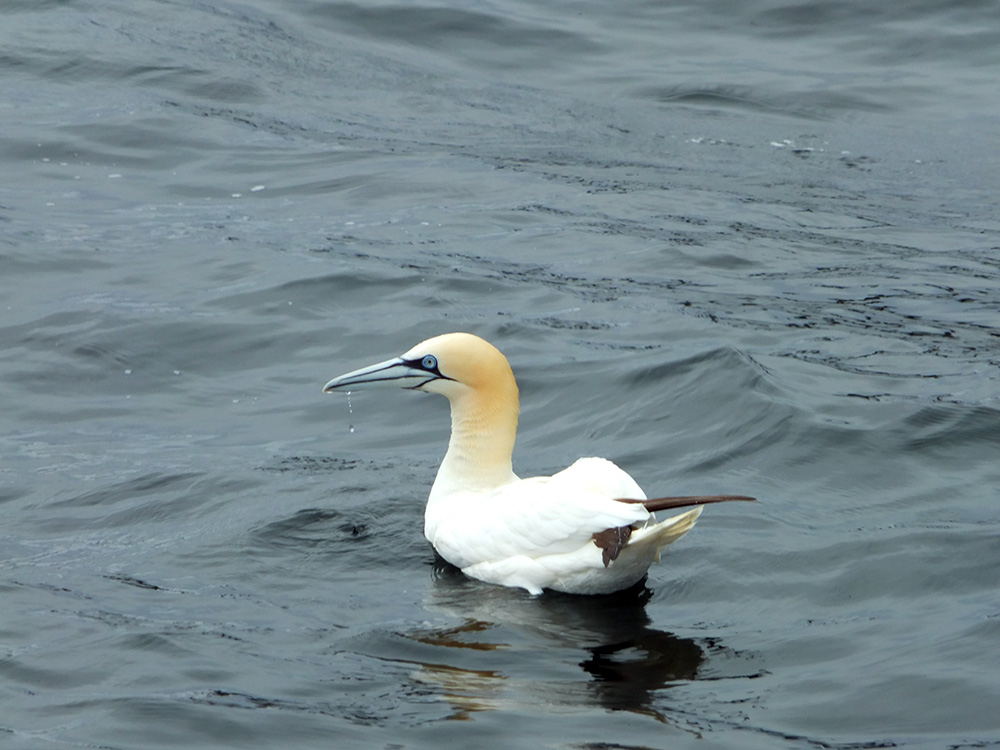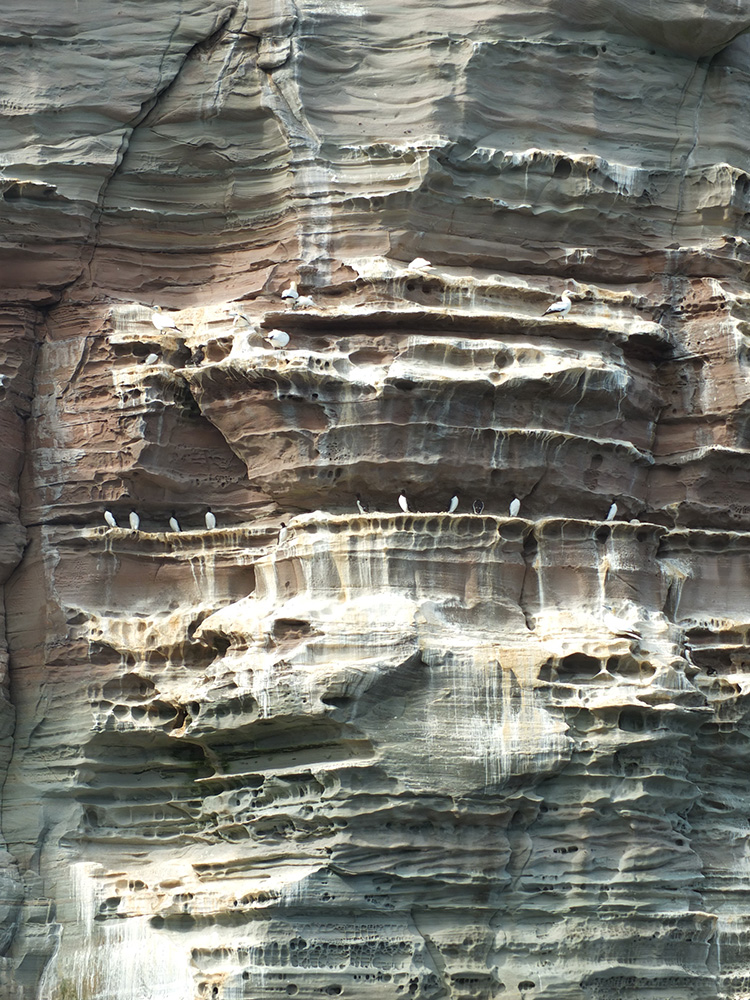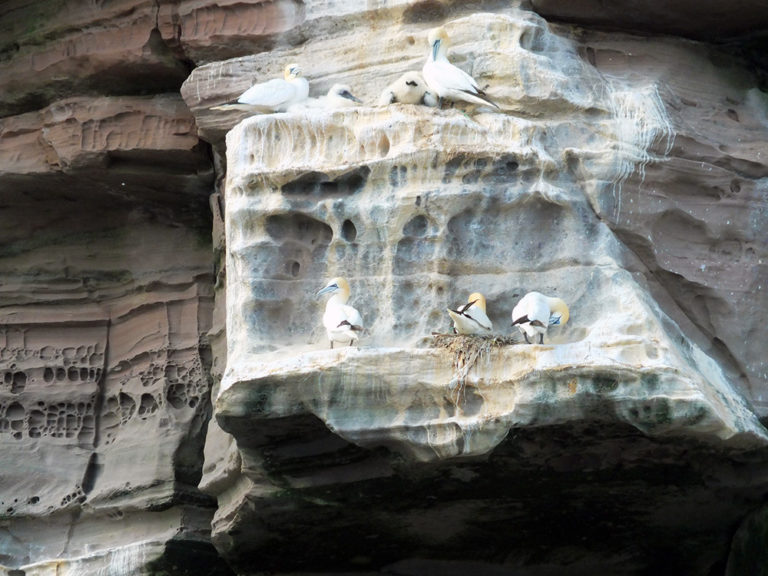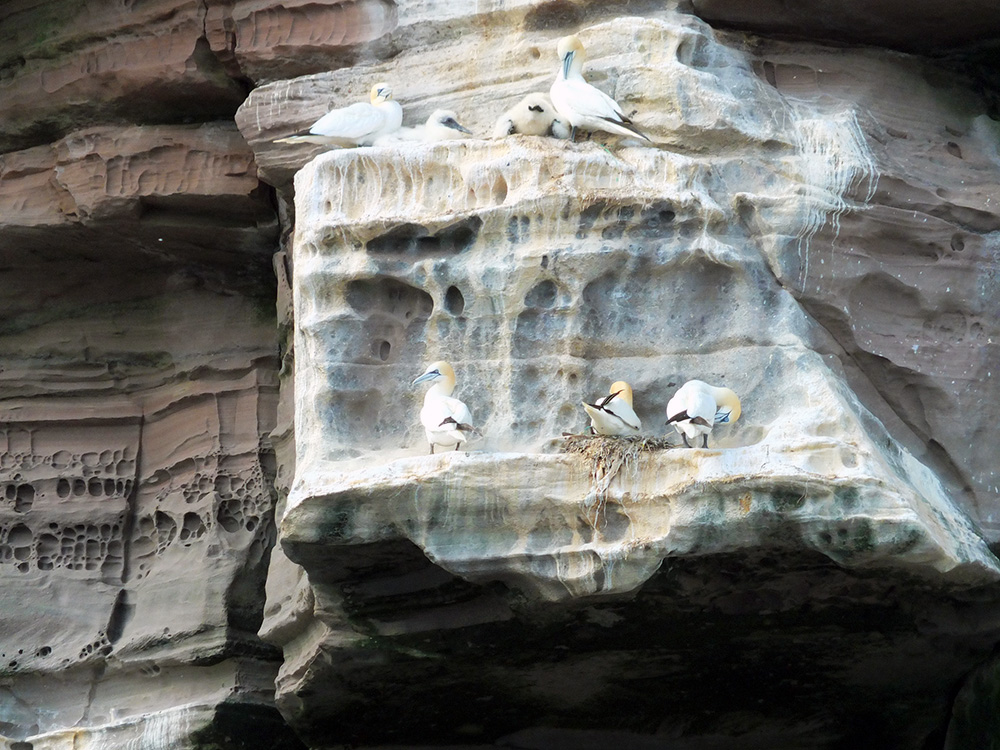 A few facts about Northern gannets
they are the largest seabird in Britain
over 40% of the world's Northern gannet population breed in Scotland
they are bright white, with distinctive yellow heads and black wingtips
Northern gannets breed in colonies which have a rather distinctive aroma due to all the guano (that'll be the white bird poo you can see on the cliff image above!)
gannets dive for fish at speeds up to 60 miles per hour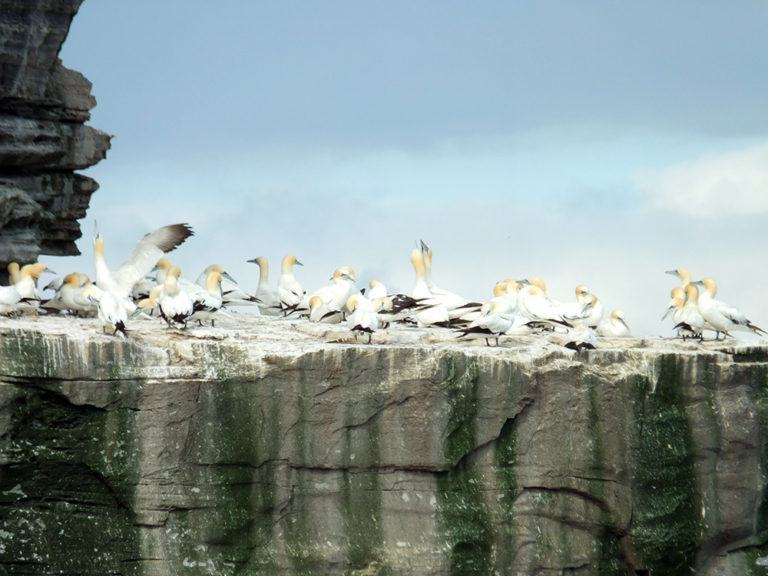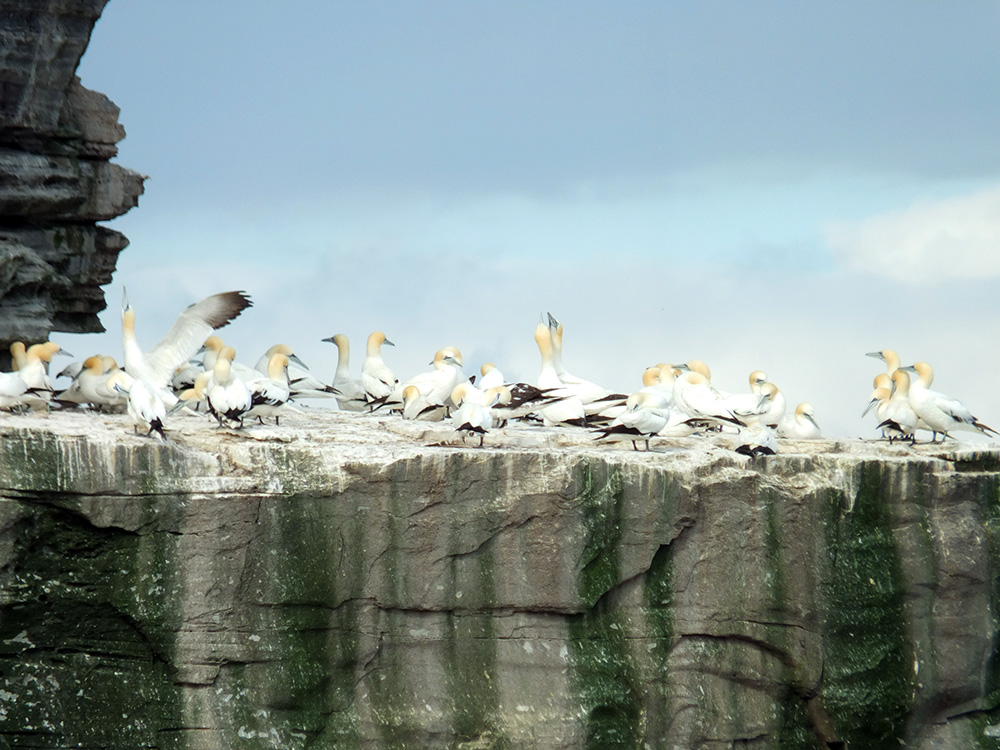 The sea was remarkably calm around Noss and so we were able to get in very close to the cliffs to watch the birds above. It's hard to describe the feeling of being at the base of these immense cliffs with the cacophony of birdlife above us. The sun shining brightly helped, too.
Afterwards, we did a spot of mackerel fishing just off Bressay and fed the seals and Great Skuas. It's incredible to hand feed a wild Arctic Skua a freshly caught mackerel! All in all, it was a rather epic day.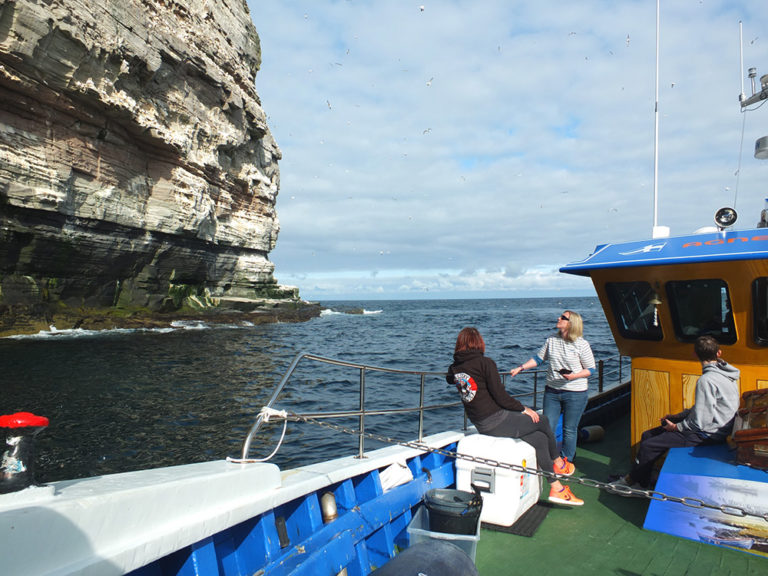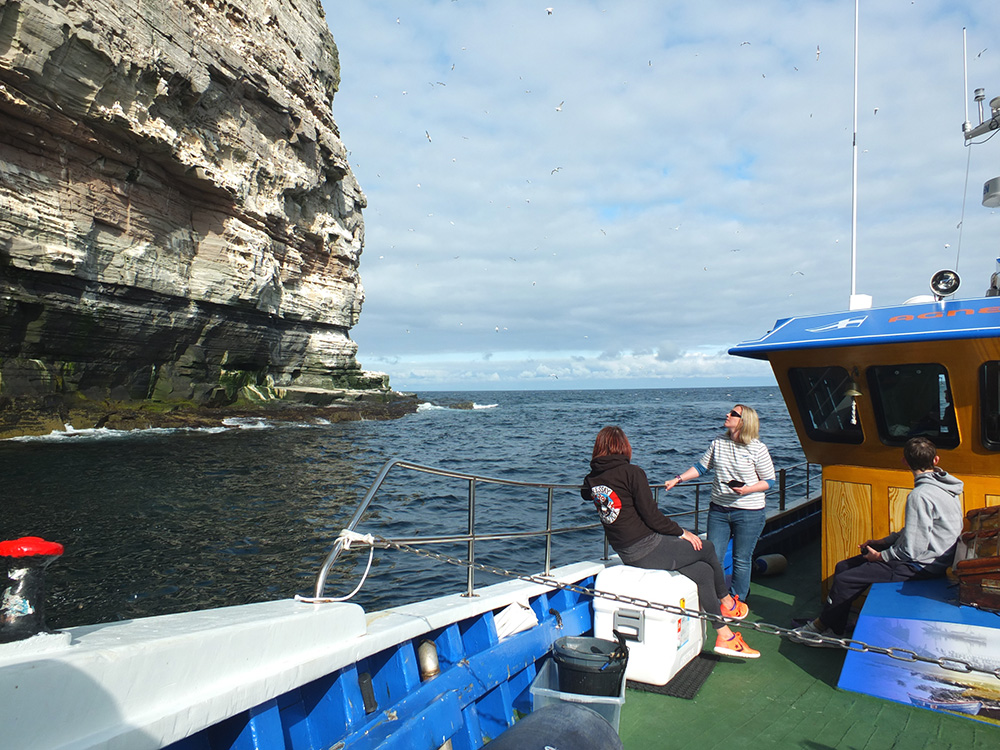 About Agnes Kay Charters
Agnes Kay Charters owner and skipper, Ewan Anderson, has over 26 years experience at sea.
From his early years messing around in a rowing boat in the harbour of his native Whalsay, Ewan has experienced working all over the world on all sorts of vessels including fishing boats, ferries, workboats and tugs.
He is now fulfilling his dream of offering charter services and passing on his passion for both the sea and Shetland's stunning scenery.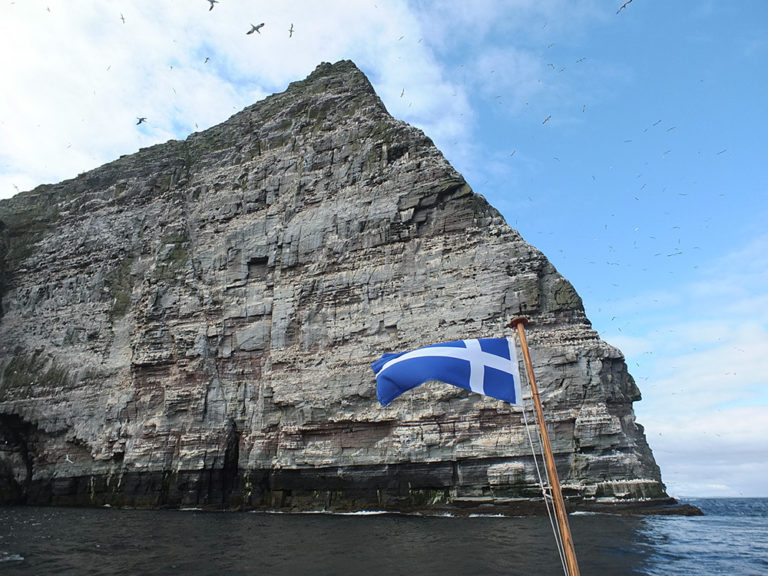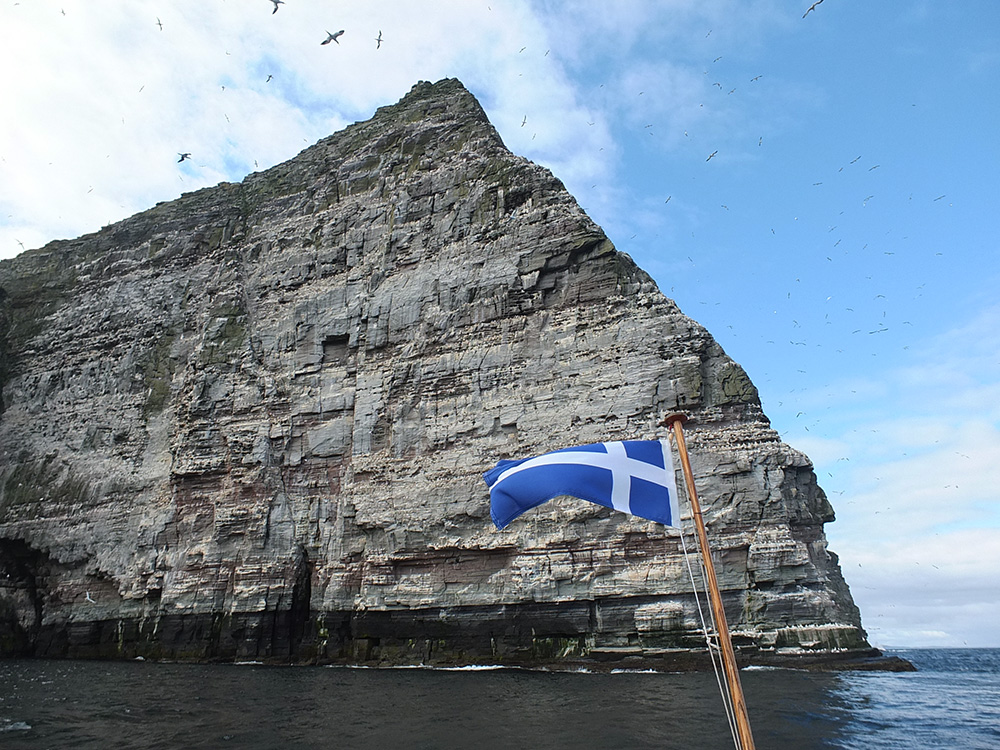 For more information and to enquire about hiring Agnes Kay Charters for your next adventure visit the AgnesKay.uk website. It doesn't have to be a Shetland-based adventure either – Ewan will travel between the Isle of Man, Scotland or even venture as far as Norway. Drop him a message about your adventure plans and he'll see what he can do!
You can also find Agnes Kay Charters on Facebook and Instagram.
Video: The Gannets of Noss
PIN THIS ADVENTURE FOR LATER!
This is not a paid post, we're simply helping raise awareness about a friend's business. All thoughts and opinions expressed are our own.