August's Craft Gin Club subscription box contains an artisan gin all the way from Australia! It's a gin box perfect for a beach day, and we're offering you the opportunity to win this box this month! Keep reading to find out how!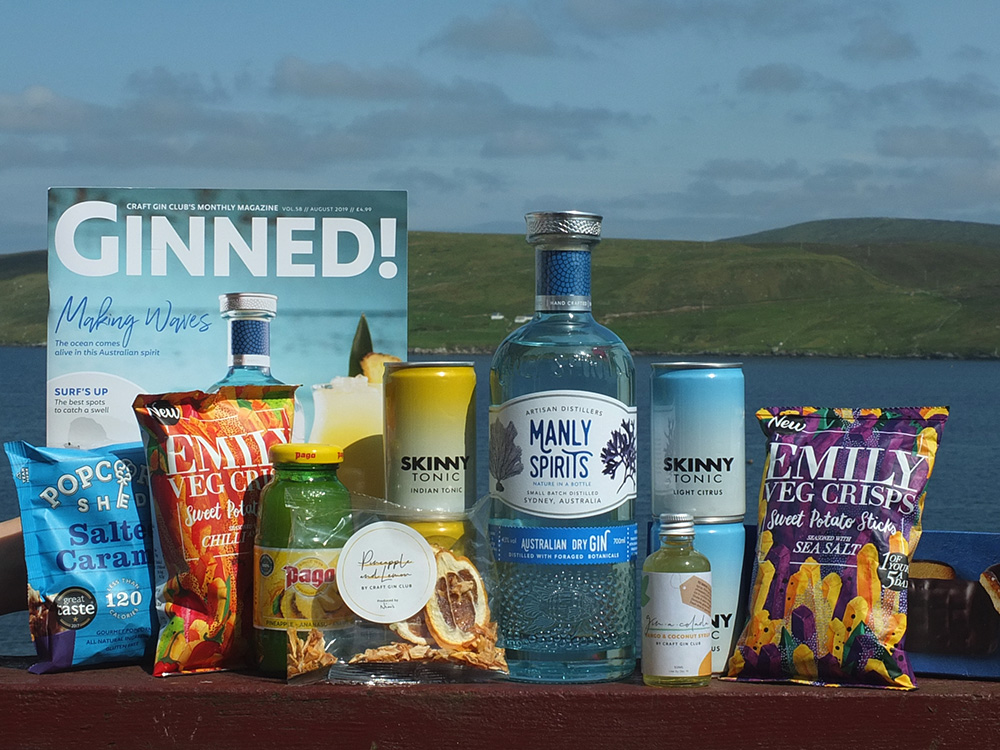 Introduction
I don't know about you, but I've been loving the sunny summery weather we've been having lately! Ok, there have been a few spells of remarkably heavy rain, but still, there's been a fair few beach days this summer.
I've recently moved house, and August's subscription box was my first Craft Gin Club delivery in my new home. I opened my box outdoors on my new patio, with its sea views, sitting in the shade of my overhanging flowering cherry tree. All the happy, I tell you, and gin to boot!
It was perfect timing for the theme of August's Craft Gin Club box – Fun in the Sun! It's toes-in-the-sand time and Craft Gin Club have curated a gin box for the perfect beach day (or for lounging on the patio in the sun under a cherry tree!).
This month's gin comes all the way from Australia. I do have to confess I was originally rather perplexed by the name: Manly Spirits. What's so manly about it? It turns out that there's a rather famous beach (the home of surfing, I've since learned!) in Australia called Manly Beach, and this gin is named after that.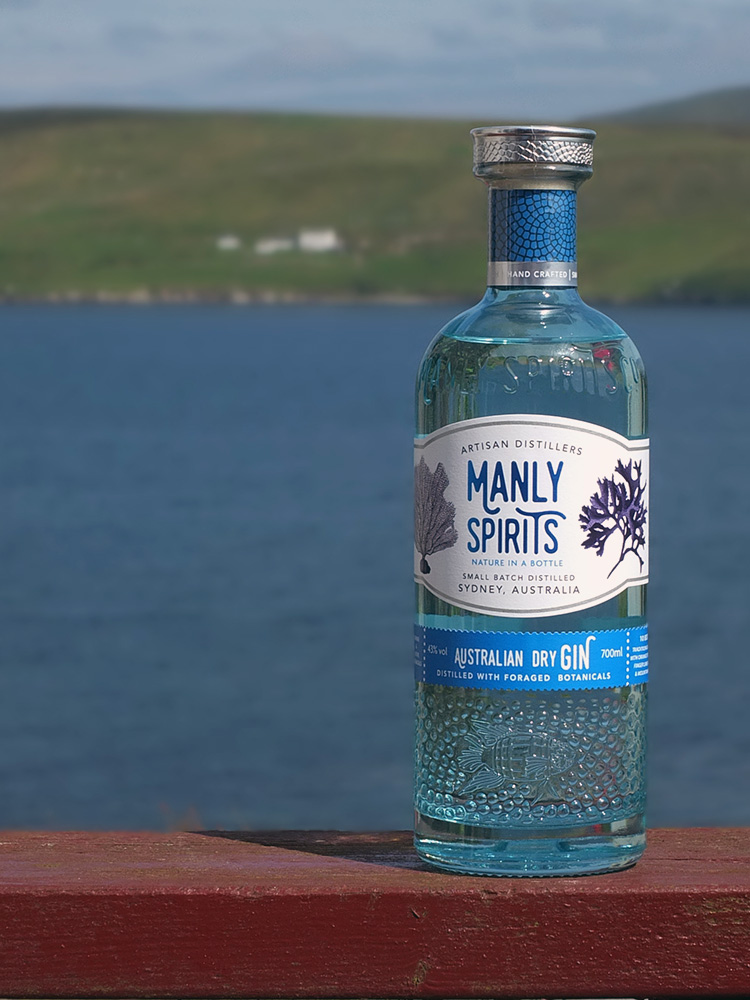 Manly Spirits – Nature in a Bottle
With the scent and flavours of a sunny Australian beach, this gin, which Craft Gin Club have imported specially for us amazing members, is like a holiday in a bottle!
This gin is made in small batches using sustainably harvested sea lettuce found on Curl Curl Beach, just a stone's throw from the distillery. This unique seaweed imparts a taste of the sea into the distillate as well as that ever-elusive umami character.
Description – "Fruit and pepper are on the nose, elevated by juniper and delicate citrus. On the palate, this gin is dominated by soft spice and approachable pepper, with a juniper core and a lingering, complex finish."
Botanicals – Sea Lettuce, Pepper Leaf, Anise Myrtle, Finger Lime, Orange Peel, plus Juniper and traditional gin botanicals.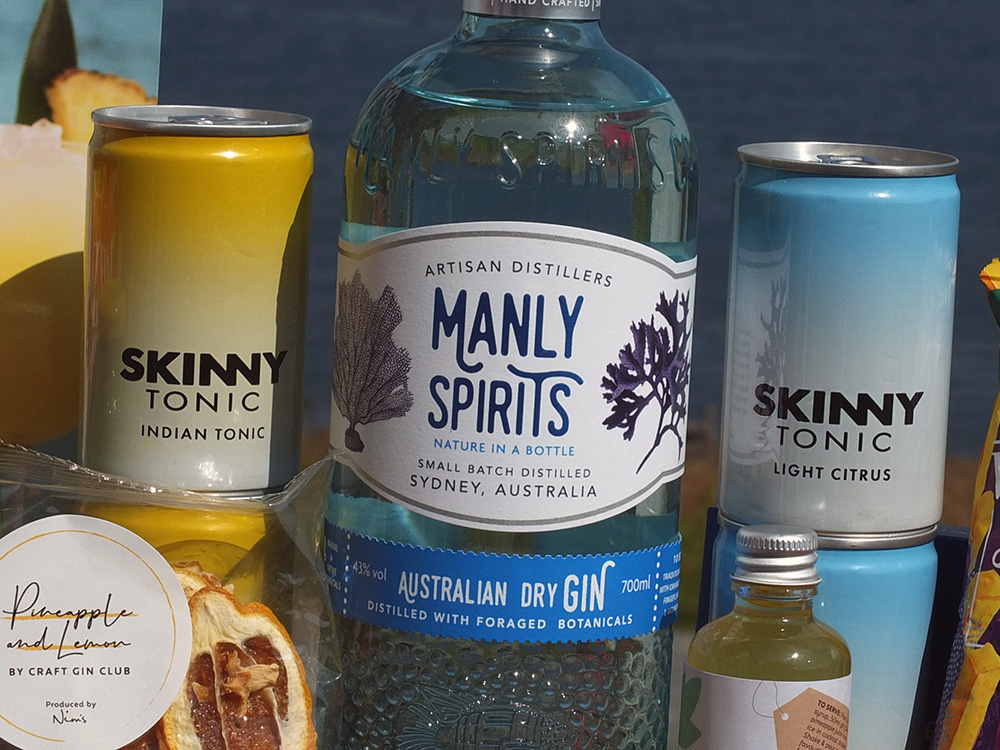 About Craft Gin Club
Craft Gin Club is the UK's biggest club for gin lovers. It's a subscription service where you're in charge – you can have monthly, bi-monthly or quarterly deliveries, and you're free to change or cancel your subscription at any time. Delivery is via Royal Mail and it's free.
Each month you'll receive a full-sized bottle of craft gin that isn't available anywhere else – and the gin is always a surprise until it arrives. It's like Christmas morning opening each box!
In addition, you'll receive a selection of paired mixers, both sweet and savoury snacks and a 56-page GINNED! club magazine packed with all sorts of recipes, stories and gin-spiration.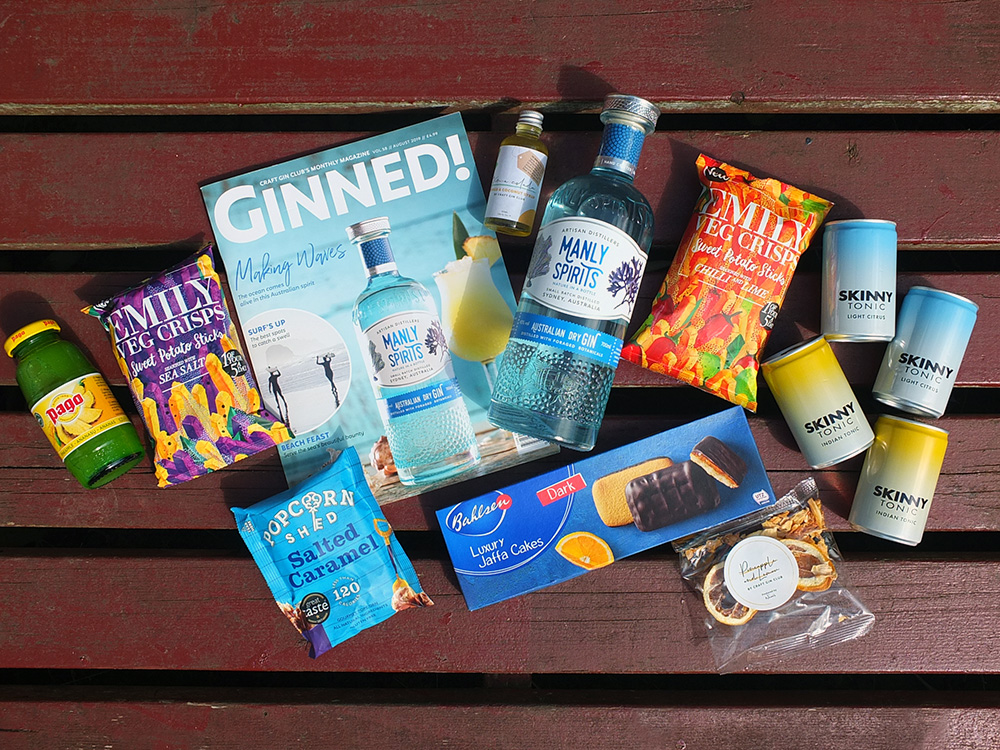 So what's in August's Craft Gin Club box?
70cl bottle of Manly Spirits Australian Dry Gin – the taste of the sea, distilled
4 x 150 ml Skinny Tonics – two of each flavour: Indian Tonic & Light Citrus
200 ml Pago Pineapple juice – for the perfect tropical gin cocktail (see the video below!)
50 ml Gin-a-colada Mango & Coconut Syrup
Salted Caramel Gourmet Popcorn from Popcorn Shed
2 x packets of Emily's Veg Crisps in Sea Salt and Chilli & Lime
125-gram pack of Bahlsen Luxury Jaffa Cakes
dried lemon slices and pineapple, for a cocktail garnish
I've been getting the Craft Gin Club subscription box for over a year now, and I have never failed to be impressed by its contents. This month was not a disappointment either – I loved the ingredients for the Gin-a-colada (although be warned it does pack a punch!).
Although I am no stranger to the deliciousness of Popcorn Shed popcorn (Salted Caramel is my favourite!), I was delighted to try the new Emily's Veg Crisps. Both flavours were fabulous, and I really liked how big and chunky the seasoned sweet potato fries were, perfect for snacking while sipping! Jaffa Cakes, in any form, are going to be a win in my eyes, but these Bahlsen Luxury Jaffa Cakes were just that little bit more fabulous than usual with their dark chocolate topping and rectangular shape.
How to make a tropical gin cocktail | Craft Gin Club
If you like Pina Coladas and getting caught in the rain, then this ginny take on a holiday favourite is for you! Craft Gin Club use this month's gorgeous Gin of the Month – Manly Australian Dry Gin and Pago pineapple juice to recreate this beach cocktail, with a dash of their very coconut and mango syrup – it's seriously good and super easy to make too, just be warned – one or two is enough!
Exclusive Discount Code from Elizabeth's Kitchen Diary
Join the Craft Gin Club using the exclusive discount code ELIZABETH40 to receive 40% off your first box!
Craft Gin Club Giveaway
The Craft Gin Club team are very kindly holding on to one extra August box for one of my lucky UK readers – simply watch the video above and then fill out the Rafflecopter entry form below to be in for a chance at winning!
Answer the question in your blog comment: How many ml of Manly Spirits goes into each Craft Gin Club Gin-a-colada? I'll only be approving blog comments with the correct answer.
This giveaway ends midnight (00:00 hours, 12 am on Sunday night/Monday morning) on Monday 26 August 2019 (GMT) and the winner will be announced shortly afterwards. Terms & Conditions. By entering our giveaway, you are agreeing to these T&C's.
Elizabeth's Kitchen Diary receives monthly Craft Gin Club boxes in exchange for occasional promotion, although all thoughts and opinions expressed are our own. Thank you for supporting the brands who make it possible for me to do what I love: mess up my (gorgeous new) kitchen and share recipe stories! Be DrinkAware. Remember to always drink responsibly.