In collaboration with Nutri-Brex 5 Ways Gluten-Free Granola.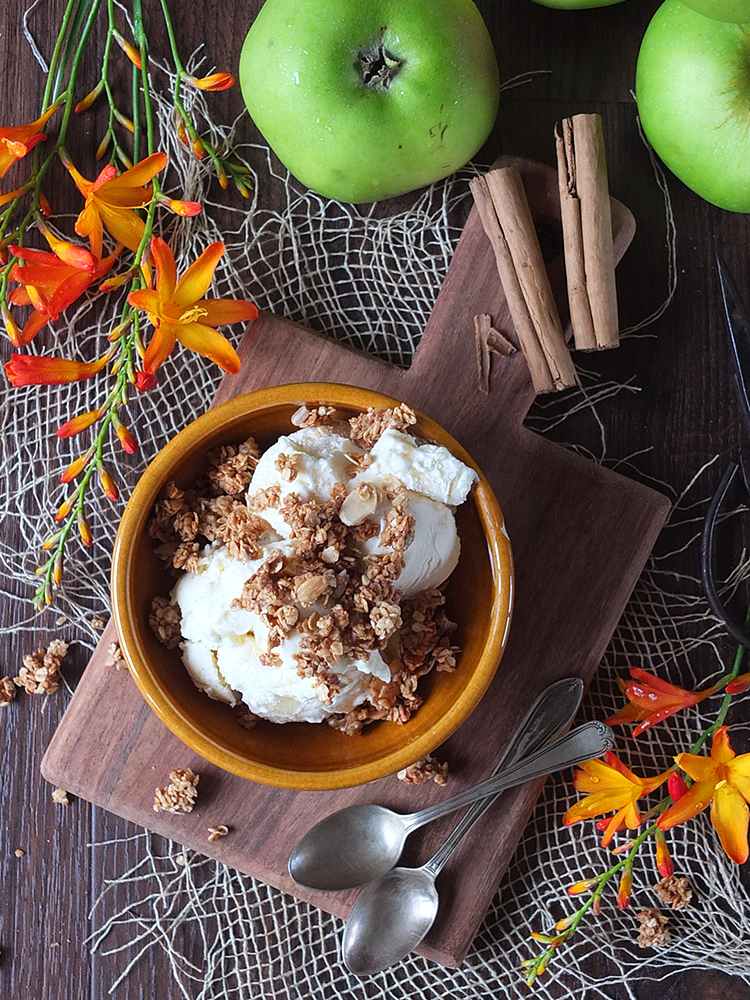 Happy Friday everyone! I hope you're all having a fantastic day and have some rather grand adventures planned for the weekend. Me, I have my tank built conditioning camp on a Saturday morning, so Friday is my day where I allow myself a little indulgent treat, after all, I'll burn it all off in the morning at my fitness class, right?
One of my favourite treats is a bowl of ice cream topped with crumbly oat biscuits. The sweet creamy ice cream with the savoury buttery crunch pairs just perfectly.
For this recipe, my final in the Nutri-Brex 5 Ways Challenge I've been on this week, turns their gluten-free granola into a delicious crunchy ice cream topping, and to accompany: an incredibly moreish apple cinnamon swirl ice cream. The best thing too, it's no churn! Simply beat, swirl and freeze! Easy peasy!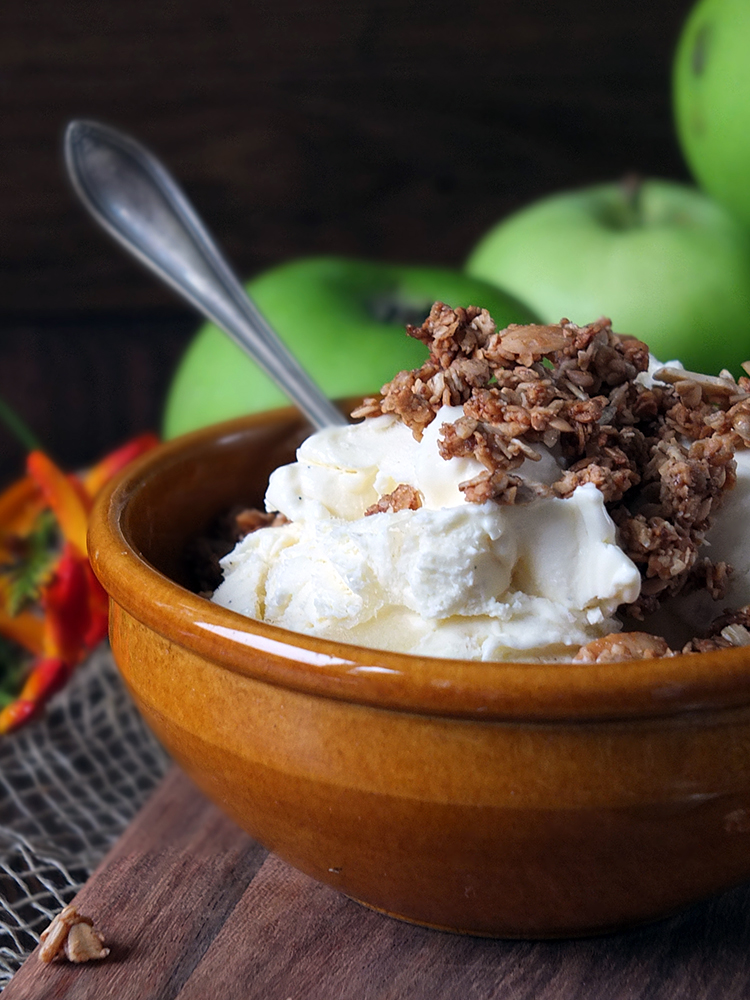 You could, if you wanted, go through all the bother (which isn't much really) of making your own applesauce for this recipe, but I've cheated and used a bottle of store-bought Bramley apple sauce. I'd probably make my own if I had access to fresh wild apples like I did growing up in rural Eastern Canada, but alas, apples in the UK cost a pretty penny and applesauce doesn't!
I've added a tiny drop of Calvados apple brandy to the cinnamon-infused applesauce mixture. This is to lower the freezing point. Without a drop of alcohol, the fruit swirl would turn to ice crystals in your ice cream mix, and that's not a nice texture really. Just a drop of alcohol helps with that. If you don't have Calvados use a bit of vodka, or even rum.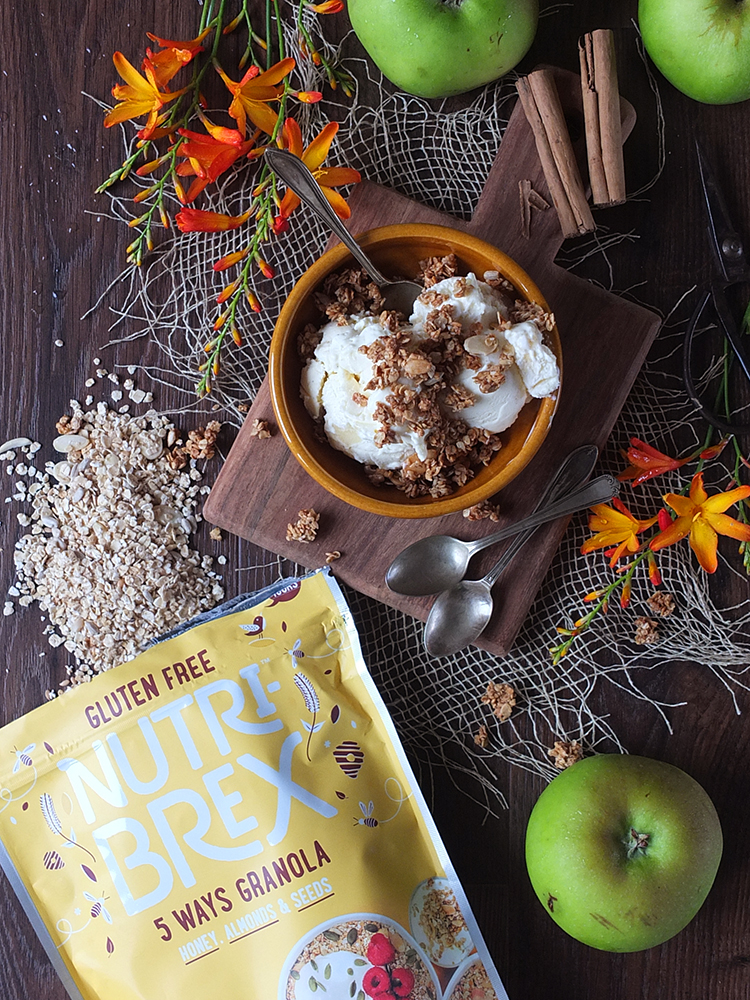 For my recipe, I've turned the Nutri-Brex 5 Ways Honey, Almonds & Seeds Granola into a delicious crunchy cinnamon infused ice cream topping. It's really remarkably easy to make too; it's simply egg white that binds the flakes of granola together. I've added a little dark muscovado sugar for some indulgent sweetness, but that's just an optional extra.
NUTRI-BREX GLUTEN-FREE GRANOLA
Nutri-Brex is an award-winning gluten-free brand who have recently expanded their range to include 5 Ways Granola. Their honey, almonds and seeds variety feature honey, golden linseeds, almond flakes and sunflower seeds as well as gluten-free fine-cut oats, which works really well in this No Churn Apple Cinnamon Swirl Ice Cream with Granola Clusters recipe.
Nutri-Brex granola can be used in a minimum of five different ways:
GRANOLA: serve Nutri-Brex with milk or yoghurt for a traditional crunchy granola breakfast
PORRIDGE: simply add milk and microwave or cook on the hob for a delicious hot breakfast on these cold Autumn mornings
TOPPING: sprinkle over your favourite fruit, or even over some peanut butter and gluten-free toast
BIRCHER: mix with yoghurt, grated apple, a splash of apple juice and some milk and leave overnight for a delicious breakfast in the morning
SMOOTHIE: blend with your favourite fruit, ice and a dollop of natural yoghurt for a fast and filling start to the day
This week I've been sharing the results of my Nutri-Brex 5 Ways Challenge. I hope you have been inspired! Don't forget to check out my other recipes: on Monday I shared my coconut and mango breakfast parfait (overnight oats), Tuesday featured my three-ingredient high-protein gluten-free crepes, Wednesday I introduced you to my Caribbean Crush Post-Workout Protein Smoothie (which, in all honesty, could also be a smoothie bowl as it's so deliciously thick) while Thursday I shared my highly portable Gluten-Free Granola Bars with Hazelnut, Coconut & Quinoa.
You can find Nutri-Brex 5 Ways Granola on their online shop for only £3.49 for 400 grams. Follow them on Facebook, Twitter and Instagram for more recipe inspiration too – a better breakfast needn't be a dull breakfast! If you've made something with one of their products let them know! Tag @NutriBrex and use the hashtag #MyNutriBrex.
How do you jazz up your breakfast granola? Let me know in the comments!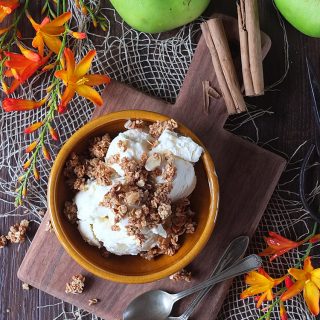 No Churn Apple Cinnamon Swirl Ice Cream with Granola Clusters
Ribbons of cinnamon infused apple puree are swirled through a thick and creamy vanilla ice cream. Top with some crunchy honey, almond and seed granola clusters. Pure indulgence!
Print
Rate
Ingredients
for the no churn apple cinnamon swirl ice cream
Affiliate Links
This recipe card may contain affiliate ingredient and equipment links. As an Amazon Associate I earn from qualifying purchases.
Instructions
Preheat your oven to 150 C.

Combine the Nutri-Brex granola, ground cinnamon and brown sugar together in a bowl. Break up the sugar with your fingertips, but don't worry if there are tiny clumps.

Whisk together the egg white until it is light and foamy. Stir in the vegetable oil and pour over the granola mixture.

Stir well until the granola is coated in the egg white. Carefully spoon out on a single layer onto an ungreased baking sheet, making sure to leave clumps.

Bake in the centre of the oven for 20 minutes, stirring carefully halfway.

Remove the baking sheet from the oven and leave the granola to cool on the tray before breaking into pieces and storing in an airtight container.

To prepare the ice cream, stir the cinnamon and Calvados into the apple sauce until well combined and set aside.

Whisk the double cream until it forms soft, stiff peaks. Take care not to overmix.

Add the vanilla bean paste and sweetened condensed milk and whisk again until it forms stiff peaks again. Take care not to overmix.

Spoon 1/3 of the mixture into a two litre freezeable container. Spoon over half of the apple mixture and repeat with the remaining cream and apple, finishing with a layer of cream.

Using a knife, make figure of eight swirls through all of the layers a few times to get the apple cinnamon swirls through the ice cream.

Freeze for a minimum of four hours. If freezing overnight, allow the ice cream to defrost for 10 minutes before serving so it softens.
Environmental Information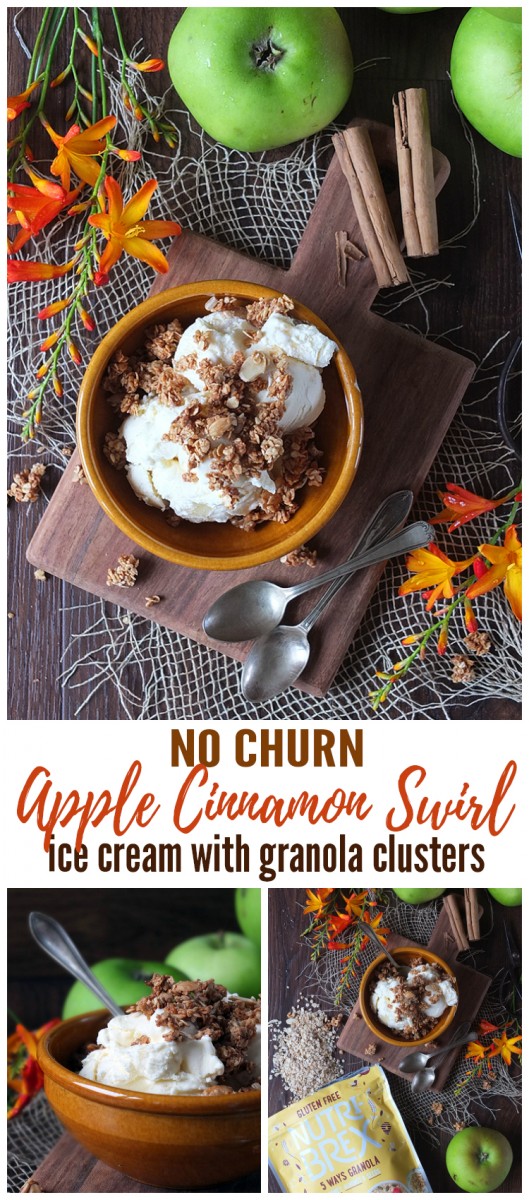 This is a commissioned recipe for Nutri-Brex. Thank you for supporting the brands who make it possible for me to do what I love: mess up my kitchen and share recipe stories.