A replica Middle Ages peasant horsebread recipe made with heritage wheat and legumes. Inspired by Ken Follett's book Pillars of the Earth.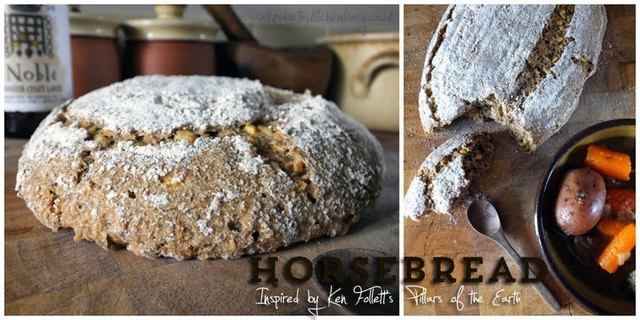 I have a very active imagination.
A significant portion of my day is spent daydreaming of things other than what I am supposed to be doing, a bit like the lead character in The Secret Life of Walter Mitty (an absolutely fantastic film, by the way).
One moment I'm doing something mundane, the next I'm off in a crazy adventure in my head.
For example, I could be driving down a single track country lane and I spot a flock of sheep with coloured paint splodges on their rumps.
In my head those sheep have been playing paintball at night, how else can you explain the paint shots? Cue: dramatic slow-motion mind-scene of paint-balling sheep. (I do realise in reality these paint splodges have something to do with medication, but nocturnal paint-balling sheep are much more interesting).
Last autumn I finished an Open University Life Sciences degree after eight years of study. This means I now have time to read books for pleasure, not just for education.
It took most of my final year of study to get through George R. R. Martin's A Song of Ice and Fire series since most of my reading energy was spent studying stem cells, but now that I am finished I can devote as much time as I want to the wonderful world of fictional books.
Such book reading fuels my imagination.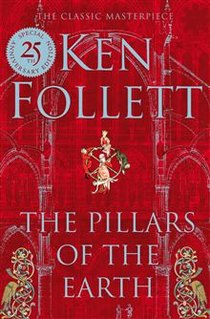 Image source
Upon a recommendation, I started reading Ken Follett's Pillars of the Earth (1989), 25 years after it was published, and I was instantly gripped.
Not gripped in the way that oh, I'm looking forward to the evening when I can sit down and read my book, but gripped in the way that I would hurriedly pack the children off to school in the morning and spend the whole time they were away curled up on the couch with coffee and a blanket kind of gripped.
The housework was neglected, the washing piled up, the phone wasn't answered. The sort of gripped that means everything, including getting up off the couch to make meals, is an inconvenience (as an aside, you may have noticed the resulting blogging silence of late!).
Pillars of the Earth is the story of a master builder in the Middle Ages with a lifelong dream to build a cathedral church. It describes the hardships he had to endure during those times in the city of Kingsbridge, England, the complex relationships between people, and the violence and consequences of human ambition.
The author clearly did his research before writing this novel. It is very convincing – it makes you believe you are in 1135 England.
Last week I was swept away on a spontaneous trip to the south coast of England. The airplane landed in Exeter and we took a taxi to our destination in Plymouth.
En route I saw several grand (to me) churches and what I think was an abbey of some sort. I also saw a road sign to Kingsbridge. My heart might have fluttered a little bit – there's a real Kingsbridge?! (Note to self: check if the Pillars of the Earth setting of Kingsbridge was based on a real place – it's not, but it's loosely based on an area not too far from where I physically was).
The whole time I was in Plymouth I was admiring the architecture from a completely different perspective.
I could visualise the people behind each and every stone the buildings were constructed of. I could imagine the thought processes and passion that went behind the design of each and every detail.
My imagination ran riot.
Imagine my delight when I came home and found out a new food blogging challenge had been launched: Read, Cook, Eat jointly hosted by Chris over at Cooking Around the World and Galina from Chez Maxima. For this challenge, you're asked to recreate the recipes you've read about in a fiction book. Novel Food by Simona over at Pulcetta also features recipes inspired by books. Pillars of the Earth frequently mentions horsebread: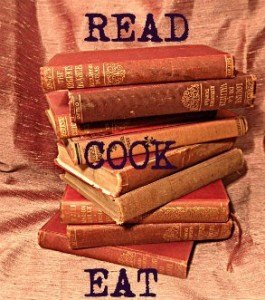 "When the daylight began to soften into dusk, a kitchen handcame to the guesthouse with a cauldon of pottage and a loaf as long as a man is tall, all just for them. The pottage was made with vegetables and herbs and meat bones, and its surface glistened with fat. The loaf was horsebread, made with all kinds of grain, rye and barley and oats, plus dried peas and beans; it was the cheapest bread, Alfred said, but to Jack, who had never eaten bread until a few days ago, it was delicious. Jack ate until his belly ached. Alfred ate until there was nothing left."
– Pillars of the Earth (1989)
Surprisingly, an internet search for horsebread recipes came up with nothing even remotely authentic.
Paul Newman, author of Daily Life in the Middles Ages (2001) explains why: he says virtually no bread recipes remain from the Middle Ages because bread making was so commonplace the recipe didn't need to be written down. It would have been like writing down the recipe for boiling water.
Bread was made by bakers, not chefs, and it was the chefs who recorded recipes.
Newman says, "Whatever the recipe, the basic ingredients for bread have remained the same: a powdered starch (usually a flour made from wheat, spelt, rye, barley or other grain), a liquid (water or milk), salt and a rising agent. By far, yeast was the most common leavening for bread but easy to use dry yeasts like we have today did not exist.
Instead, old dough (which is still used in traditional "sourdough" bread) or "barm" (a liquid process of fermenting grain mash into beer) were used to start bread dough rising.
Besides the basic ingredients, oats, nuts, dried fruits, and even beans and lentils were sometimes added in for flavour and texture or to act as fillers when grain was in short supply.
Bean breads were usually served to horses but people would eat them as well if no better bread was available."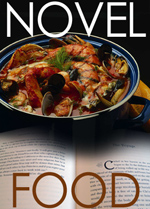 My research found that sometimes the grains were ground with the legumes. Wikipedia says dried yellow split peas were often used and so I set to work to recreate the recipe with what I could source.
My first stop was our local wholefoods shop where I remember seeing pea flour for sale. They didn't have pea flour at this time, but they did have some Dove's Farm English Wholegrain Heritage Flour and some chickpea (gram) flour.
The heritage flour is interesting: it is a blend of grains grown in the 16th/17th centuries. The shop proprietor told me the reason she'd sold pea flour when I saw it ages ago was that she'd been on a historic bread making course and she used it then.
Dried yellow split peas were what they ground, she said, and people on coastal communities flavoured their bread with dried seaweed instead of salt.
Salt would have been an unaffordable luxury for the poor.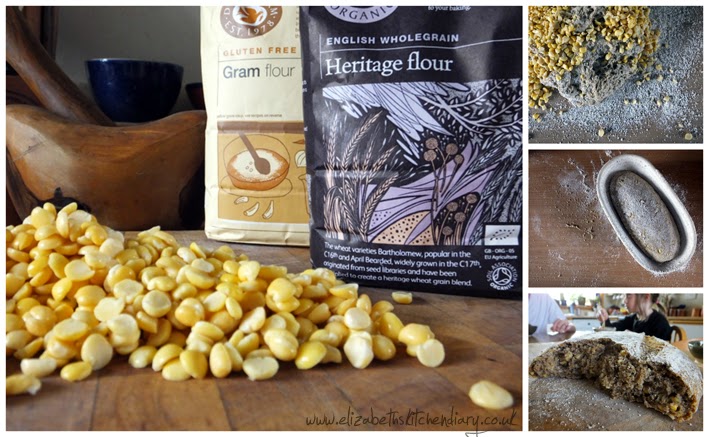 I made my horsebread loaf with some lively sourdough starter I was given not too long ago. This is my second sourdough loaf, the first one being a resounding success. To accompany the horsebread I made a simple stew with Shetland beef and vegetables, based on the following 15th-century recipe:
"Beef y-Stywyd.—Take fayre beef of þe rybbys of þe fore quarterys, an smyte in fayre pecys, an wasche þe beef in-to a fayre potte; þan take þe water þat þe beef was soþin yn, an strayne it þorw a straynowr, an sethe þe same water and beef in a potte, an let hem boyle to-gederys; þan take canel, clowes, maces, graynys of parise, quibibes, and oynons y-mynced, perceli, an sawge, an caste þer-to, an let hem boyle to-gederys; an þan take a lof of brede, an stepe it with brothe an venegre, an þan draw it þorw a straynoure, and let it be stylle; an whan it is nere y-now, caste þe lycour þer-to, but nowt to moche, an þan let boyle onys, an cast safroun þer-to a quantyte; þan take salt an venegre, and cast þer-to, an loke þat it be poynaunt y-now, & serue forth." – (Recipe source: Two Fifteenth Century Cookbooks)
For the meal, I donned my most medieval dress – a floor-length, embroidered, swishy brown affair, and I asked everyone eat out of clay bowls with wooden spoons. To serve, I found some Noble English craft lager in our local supermarket made with hops dating back to the 800s. That was authentic as I could make it, in 2014 in Shetland.
We loved every bite of our dinner. I was pleasantly surprised at how much we enjoyed the horsebread and simple stew, washed down with lager, considering the basic seasoning and ingredients. The bread was very filling, and at first, when everyone was quite hungry it was really flavoursome. Then, as we began to fill up the split pea flavour became a little overpowering. However, if I was a starving peasant in the English Middle Ages I reckon I would have been grateful to have such a filling meal.
So, this is my recipe for horsebread.
I have no idea how authentic it is, but from what I've read I would think it's a pretty good attempt. Do let me know what you think of the recipe, or what you thought if you read the book! I'm a quarter of the way through the sequel, World Without End, and I'm enjoying it as much as I did the first book. I really hope there is a third on the way!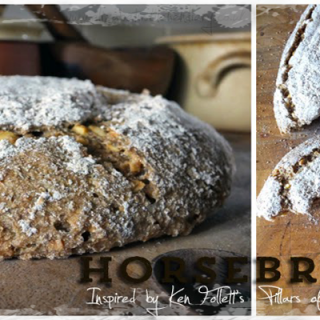 Mediaeval Horsebread
A replica Middle Ages peasant bread recipe made with heritage wheat and legumes. Inspired by Ken Follett's Pillars of the Earth.
Print
Rate
Affiliate Links
This recipe card may contain affiliate ingredient and equipment links. As an Amazon Associate I earn from qualifying purchases.
Instructions
Wash dried yellow split peas and place them in a medium sized bowl. Cover with water and leave overnight to soak.

Take sourdough starter out of the fridge and leave overnight to get to room temperature.

The next morning, mix together the starter, flours, seaweed (or salt) and water until a thick wet dough forms. Leave, covered, in the bowl for 3 hours or more.

Meanwhile, drain and dry split peas. Coarsely chop them and set aside.

Turn dough out onto a floured board, adding extra heritage flour so that a workable dough forms. Knead in the chopped split peas and form into a loaf.

Using extra heritage flour, make sure the sides of the banneton are well coated to prevent sticking. Place loaf in banneton and leave to rise for at least 4 hours.

Place a large baking tray in the oven and heat oven to its highest setting (around 230 C)

When the oven is hot enough, remove tray, sprinkle with more heritage flour and turn loaf out of the banneton.

Score loaf with a sharp knife and bake in the oven for 25 minutes. Turn out on a wire rack to cool.
Environmental Information