In collaboration with Love Food Hate Waste.
This week, why not get into the habit of making the most out of leftover ingredients, because waste not, want not, as they say! This blog post is the final instalment in our #GiveUpBinningFood series in collaboration with Love Food Hate Waste and it's is all about re-purposing food you already have in the kitchen. You know you're going to like it because it's all about the food you've already bought! We've got 19 different, creative recipes for you to love those leftovers with!


The six-week long #GiveUpBinningFood for Lent campaign was broken down into weekly themes to help make reducing food waste at home a more attainable goal. These themes were:
1st March (week 1) Meal planning: Tip for Weekly Meal Planning
8th March (week 2) Storage: Food Storage Tips 
15th March (week 3) Fridge focus: How to Make the Most Out of My Fridge
22nd March (week 4) Portioning – 6 Tips for Perfect Portioning
29th March (week 5) Food labels – Understanding Food Labels
5th – 13th April (week 6) Leftovers – what can I do with my ingredients?
Many people throw food out based on how it looks but unless it's mouldy or smells bad, it is often perfectly usable. Wilting herbs can be used up or frozen for later, soft vegetables are great for cooking and yesterday's meal can either be eaten again or reconstructed to take on a second life. Let your creativity run wild or simply look up recipe ideas online. Cooking this way saves time and money, and helps reduce food waste too!
Top tips and suggestions from Love Food Hate Waste
Firstly, change your view. Think 'ingredients' not 'leftovers' and you'll find yourself with a new found creativity for using up what you have in your fridge.
Freeze food into individual portions for easy mid-week meals. Keep them interesting by adding different flavours to each portion, e.g. make one hot, one quite herby, etc.
Once wine is opened it oxidises quickly, so pour it into an ice cube tray and freeze. Pop a cube straight into a pot for a tasty goulash or stew.
Keep a basic pizza dough or flat bread in the freezer at all times. Use up ingredients like soft mushrooms, wilting spinach and unfinished feta to make a quick and easy family pizza.
Use up soft or wrinkly vegetables in a soup or casserole. They are also perfect for making pasta sauces.
Download the free Olio app to connect with neighbours and local shops to share any surplus food you have. Share it with those who can use it rather than just throwing it out.
Use up the heel from a block of Parmesan or Grana Padano cheese in broths and stock. It adds buckets of flavour and is an ideal way to adding a 'rounded meatiness' for vegetarians.
Check out the video below of blogger Liberty London Girl talking leftovers. She shows that it really is easy to get creative with the things you can find already in your fridge.
Week 6 of #GiveUpBinningFood: Liberty London Girl talks leftovers
Seven fun leftover recipes from Love Food Hate Waste

Leftover Pizza? – Make pizza lasagne!
Turn one Italian staple into another one… as if by magic! Preheat your oven to 180°C and cut off the crust from six slices of cold, leftover pizza. Cover the bottom of a square baking dish with tinned tomato sauce. Lie two slices of pizza on the sauce, face up. Add a layer of ricotta and mozzarella cheese and more tomato sauce. Repeat this step for another layer but this time put the pizza slices face down and drizzle a bit more tomato sauce on top. Then load up with more mozzarella and sprinkle with parmesan. Bake for 30 minutes covered, and another 10 minutes uncovered. Pizza cake!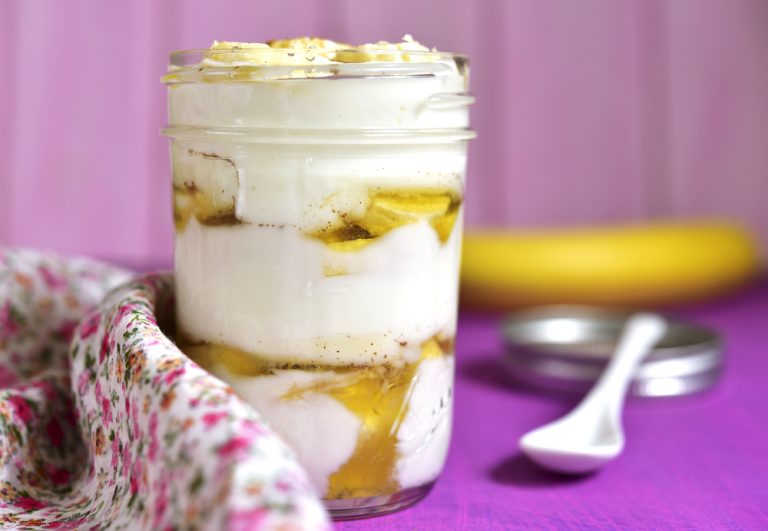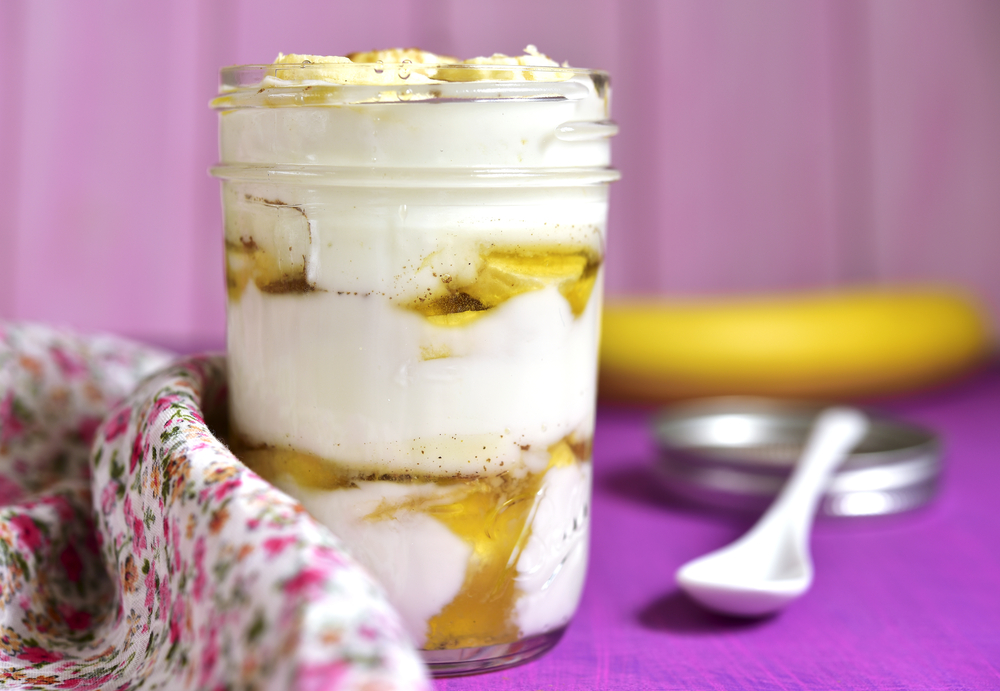 Leftover Cake? – Make a trifle!
Is Bake Off inspiring you a tad too much? Use up leftover cookies or cake by smashing them up into a tantalising Trifle which is as easy as it is delish. Layer a mason jar with alternating layers of whipped cream and crumbled cake. Decorate with some optional fruit between the layers. And voila. Yum!
Leftover Rice? – Make fruity rice cakes!
It might not seem like an obvious idea, but last night's leftover rice can make fabulous fruity rice cakes for a delicate dessert. It is also a great way of using up fruit approaching their use-by date. Grate 75g of creamed coconut and pour over 5 tablespoons boiling water and stir until the coconut dissolves and produces a thick paste. Leave to cool. Place half a mango in a food processor (or dice with a fork)) and blend until smooth, add the coconut cream paste and blitz. Add the rice, vanilla essence, icing sugar, lime juice and lime zest and blitz for about 10 seconds so that the mixture is combined but the rice still has some texture. Cover in a bowl and leave in the fridge for an hour until the rice mixture is firm enough to handle. Divide the mixture into four equal portions, then shape into rounds using slightly damp hands. Place on a tray lined with cling film, cover and chill for at least 2 hours. Transfer the rice cakes to serving plates and garnish with strawberries and sliced mango.

Leftover Beer? – Make beef in beer!
Opened beer bottles are annoying, but you can turn leftover beer into a quick and easy delicacy. It's cheap, filling, moreish and tasty. Preheat the oven to 180°C, and heat some oil in a large frying pan. Brown 500g of stewing beef cubes on all sides and set aside in a bowl when all done. Next, fry one peeled and sliced onion for a few minutes until soft, add one peeled and sliced carrot and return the beef to the pan. Pour in 400ml beer, 200ml of beef stock, 400g of tinned chopped tomatoes, 2 bay leaves and a teaspoon of mixed dried herbs and bring to the boil. Leave to simmer. Transfer to a casserole dish and place in the oven for about 3 hours, or until the beef is really tender.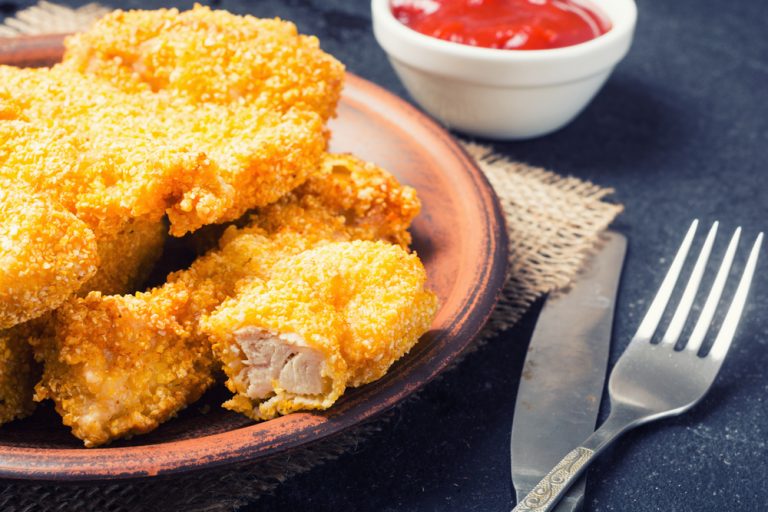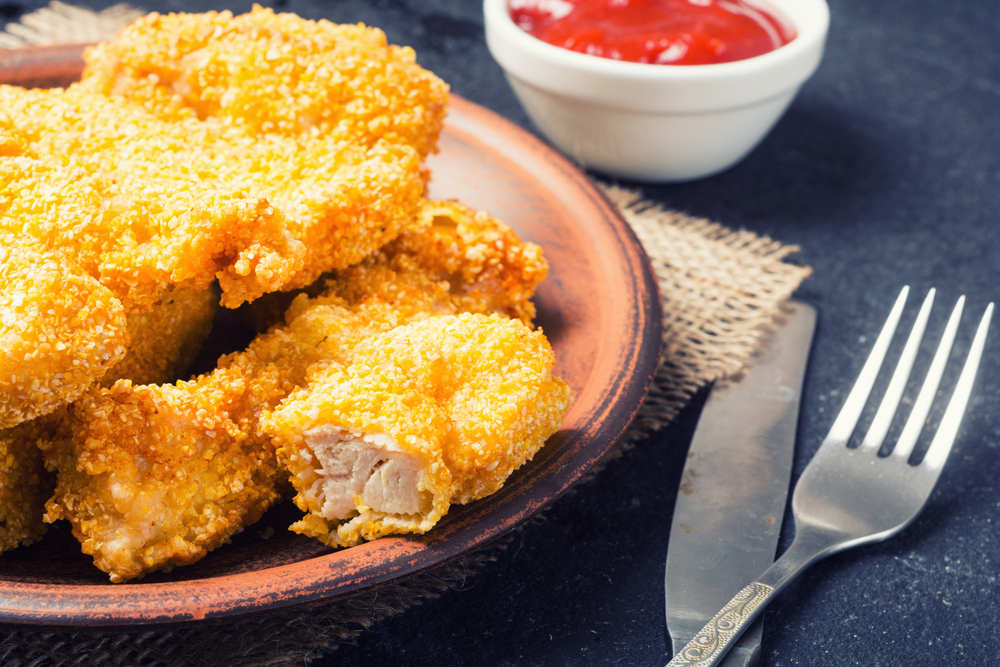 Leftover cornflakes? – Make crunchy Southern-style bites!
Use up the bits of cornflakes at the bottom of the box for something a little unexpected. Mix with Cajun spice for a delicious Southern-style coating for chicken. Preheat the oven to 190°C /170°C Fan/Gas 5 and cut chicken breasts into 8 strips. Place the cornflakes into a freezer bag and crush with your hands until the pieces are small but still crunchy. Add the Cajun spice and shake well until combined. Set out three small plates, one with flour mixed with black pepper, one with beaten egg and the remaining one with the crushed cornflakes. Dust each piece of chicken in flour then dip into the egg and finally press into the cornflake crumbs ensuring that the chicken is completely coated. Place coated chicken onto a lightly greased non-stick baking tray and brush each with a little oil. Transfer to the oven and cook for 15-20 minutes until crisp and golden and the chicken is cooked. Perfect with sweet potato wedges and homemade coleslaw.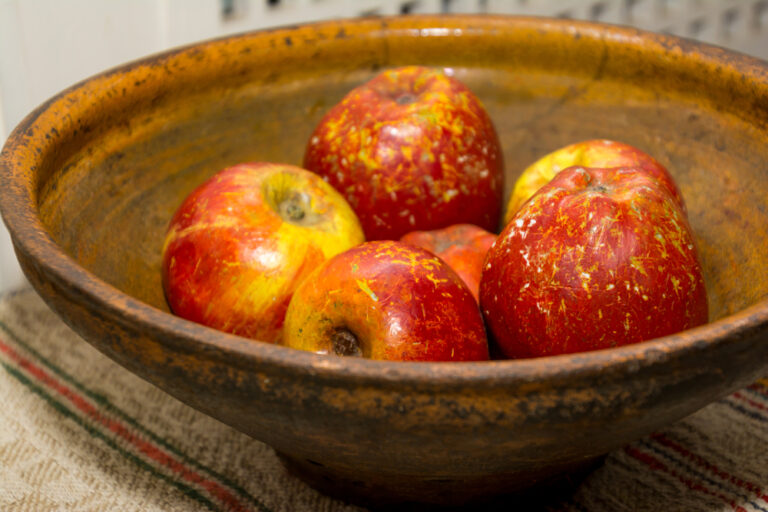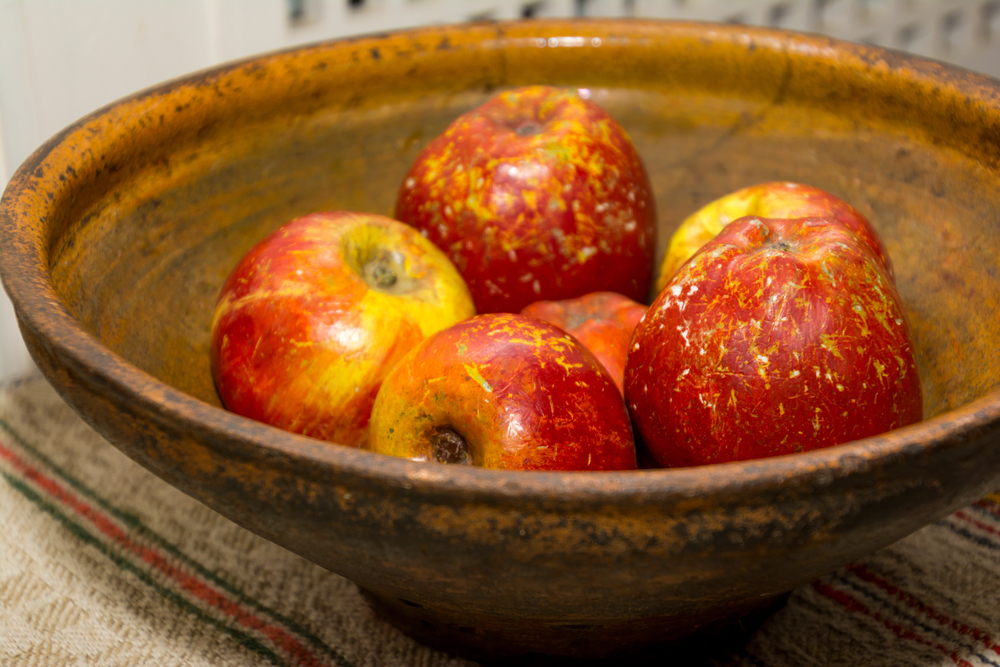 Leftover apples? – Make a toffee apple crumble!
Use up any variety of dessert apples in this delicious recipe, which incorporates a quick toffee sauce and is topped off with a crispy crumble made from a leftover doughnut. To make the toffee sauce, place 50g of brown sugar, 100ml double cream and 15g butter into a small saucepan and heat gently until the sugar has dissolved. Increase the heat and simmer gently for 2-3 minutes, stirring constantly until the sauce has thickened and coats the back of the spoon. Transfer to a bowl and leave to cool. For the crumble blitz a leftover doughnut in a food processor or grate it until it resembles fine breadcrumbs. Place in a small mixing bowl and rub in the butter. Preheat the oven to 180°C / 160° Fan /Gas 4. Remove the apple cores and score all around each apple with a knife. Cut a thin slice from the top and bottom of each apple to make a flat surface and place the apples in a small baking tin. Pour a tablespoon of toffee sauce into the centre of each apple and drizzle over each apple. Then pile the crumble mixture on top, pressing down lightly to ensure the crumble sticks. Bake for 25 minutes until the apple is tender and the topping is golden and crisp. Serve warm with a yet another drizzle of toffee sauce.
Leftover Sunday roast? – Make homemade 'sausages'!
These 'sausages' are a tasty and different way to use up leftover roast beef and vegetables. It's also a perfect way of using up frozen mashed potato. Mix together your leftover beef, potato, any vegetables and flour, and season to taste. Mould into eight sausage shapes and chill for 15 minutes. Heat the oil in a large frying pan and fry the sausages for 4-5 minutes, turning once or twice until golden. Done.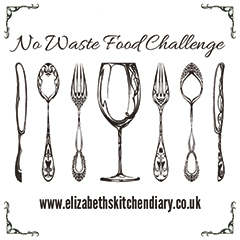 The No Waste Food Challenge Round-up
The monthly #nowastefoodchallenge has been running for five years now, and each month food bloggers from all around the world share their tips, tricks and recipes for helping to prevent food waste. From using up leftovers in rather creative ways to using up the last little bits and bobs lurking in the back of the cupboard this challenge is a community-orientated platform to share ideas. So, without further adieu, here are the recipes shared in the challenge over the last month!
Leftover chicken bones? – Make your own chicken stock from scratch!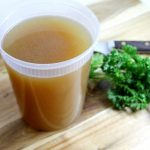 A recipe prepared with homemade chicken stock can't be beaten. Don't throw those chicken carcases away after you've had your Sunday lunch – freeze them and any wilting veg and make your own chicken stock! Markus over at Earth, Food & Fire has a fantastic homemade chicken stock recipe! Chicken stock can be used to make your own homemade chicken noodle soup, just thrown in some lightly sauteed veg and your favourite noodles!
Onions gone soft? – Make Welsh Bara Lawr Laverbread Seitan Faggots!
Welsh food blogger Shaheen from Allotment 2 Kitchen never fails to impress me with her creative uses for ingredients which might otherwise have gone into the bin. Here she's shared a rather intriguing recipe to use up those soft onions in the cupboard – a vegan recipe for Welsh Bara Lawr Laverbread Seitan Faggots (Ffagod) with a gorgeous onion gravy. If you're looking for vegetarian/vegan Welsh recipes, definitely visit her blog!
Brown bananas? – Make a Biscoff Banana Cake with Caramel Drizzle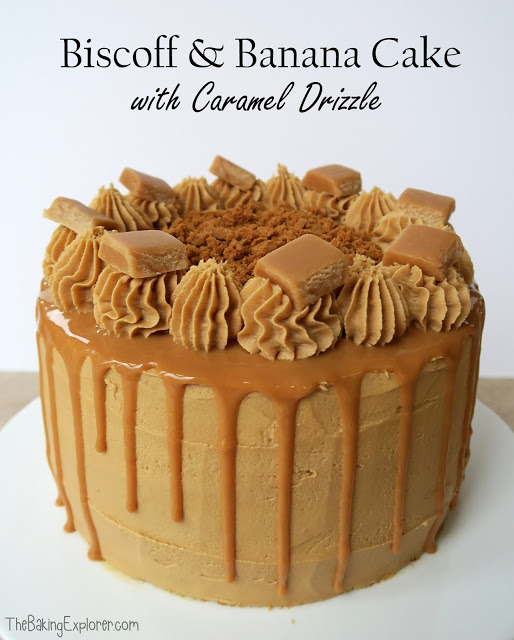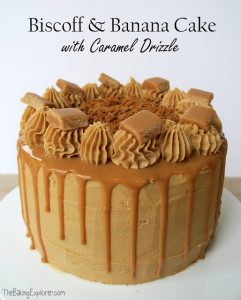 Browning bananas make for the very best bakes, don't you think? Kat, the Baking Explorer, gets extra creative with hers (as well as some leftover fudge pieces from a previous baking session) to create this showstopper of a Biscoff Banana Cake with Caramel Drizzle. Browned bananas have never looked so beautiful! Just look at that perfect caramel drizzle too – swoon!
Another tip: Peel and slice browning bananas and freeze them for smoothies later. Just blitz them straight from frozen!
Leftover sprouts? – Serve them with Chilli Roasted Oca & Hedgerow Pesto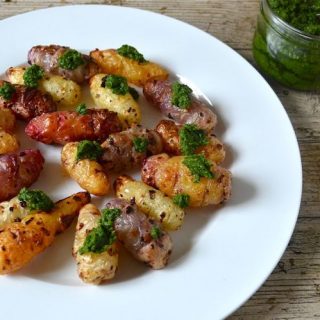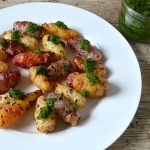 Choclette over at Tin & Thyme is another really creative vegetarian cook – this month she's shared a recipe for a fascinating ingredient I've never heard of before: Oca. These tubers taste like a slightly lemony potato, Choclette says, and she roasted hers with chilli and served them with a hedgerow pesto made with wild garlic. Wild garlic is just coming into season now, so if you're lucky enough to live near where some grow get out and start foraging!
Leftover roasted romanesco? – Turn it into a pasta bake!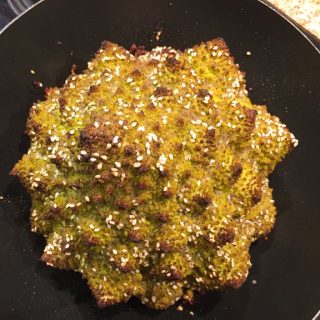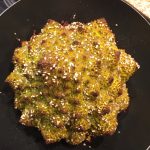 Ok, this recipe isn't for the pasta bake itself, it's for the whole roast romanesco with za'atar that she repurposed the leftovers into a pasta bake with. Romanesco, in case you were unfamiliar with it, is like a fractal broccoli crossed with a cauliflower. It's a pretty vegetable and, when roasted with the za'atar spice blend, tastes utterly divine. All the taste and flavour, Helen at Family, Friends, Food says, with none of the fuss. Za'atar is a Middle Eastern spice blend but you can substitute this with oregano and thyme.
Leftover Easter chocolate? – Try this No-Bake Creme Egg Biscuit Cake!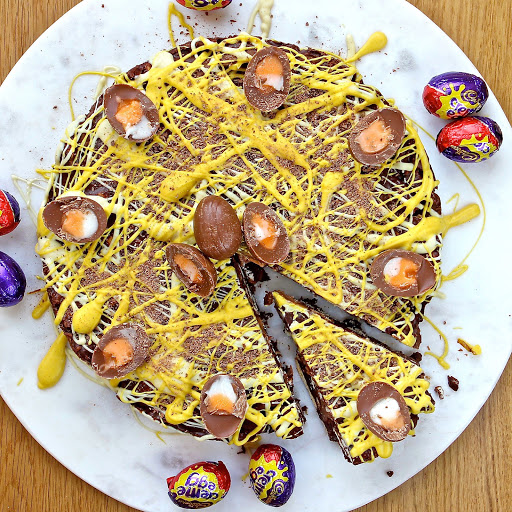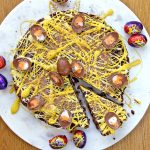 Leftover chocolate? What madness is this?! Well, just in case you do have an excess of Easter chocolate lying around Kate, the Gluten-free Alchemist, comes to the rescue with a rather fantastic No-Bake Creme Egg Biscuit Cake recipe for you. A biscuit cake, in case you've never made one before, is a great recipe to get creative with the kids with. You simply break up the biscuits, stir in melted ingredients and leave to set. Decorate with as much Easter chocolate as you want!
Tomato Glut? – Make your own Tomato Butter!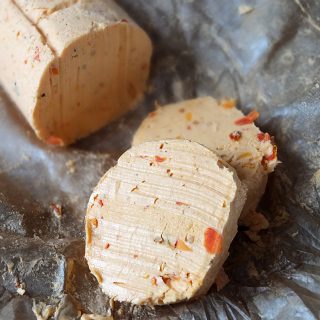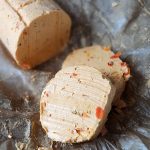 I first had tomato butter while dining in the Eiffel Tower. It was served with a gorgeous piece of grilled salmon and some creamy polenta with pistachios, so recently, to celebrate 25 years of Label Rouge certification by Scottish Salmon, I recreated the meal. Tomato butter is so simple to make, just roast your tomatoes with a little olive oil, fresh thyme and some salt and pepper, and then blitz into some room temperature butter. Store for a week in the fridge, or up to three months in the freezer, slicing off and defrosting just what you need. Serve with grilled fish.
Made too much pesto? – Check out these storage tips!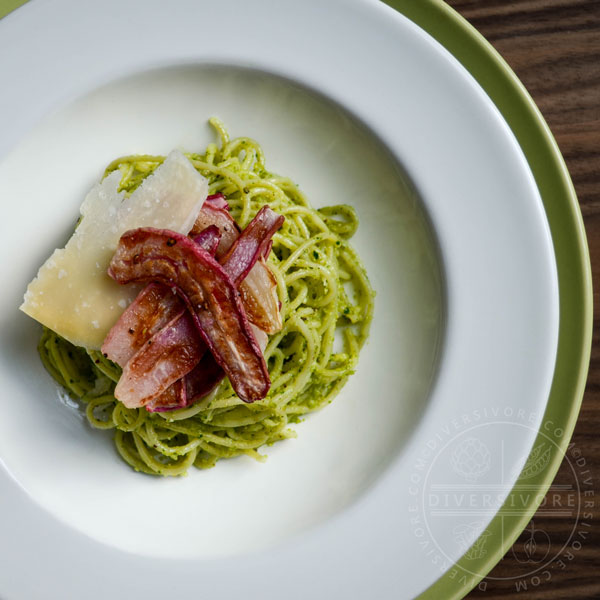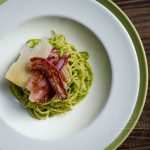 Did you know that you can store pesto in the fridge for a few more days as long as it's covered in olive oil? Failing that, pop leftovers into ice cube trays and freeze until needed later. I like topping my homemade lasagne with dollops of homemade pesto, but you'll want to check out this gorgeous recipe for Roasted Radishes with Pistachio & Radish Green Pesto by Sean from Diversivore. Radish greens are often thrown out, but they are perfectly edible as Sean demonstrates!
Leftover porridge? – Make some porridge bread!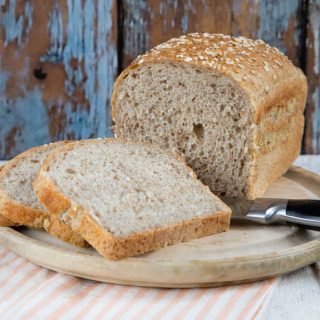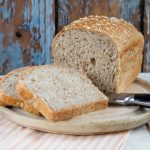 Helen over at Fuss Free Flavours has a genius way to use up any leftover cold porridge that might be lurking in the bottom of the porridge pot – Leftover Oatmeal Porridge Bread! Make sure you wait until the porridge is completely cold first before you start making bread with it, or the warmth may rush the yeast rising process. She warns that it's a wet and sticky dough too, but persevere as the resulting full flavoured and filling, wholesome loaf is well worth the wait.
Half a tin of black beans needing used up? – Make a protein shake!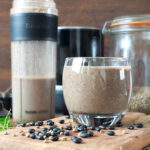 Black beans are a fantastic source of non-animal protein, especially for vegetarians/vegans. Whizz up some cooked or tinned black beans into your favourite chocolate shake and add a spoonful of hemp seeds to make a Black Bean Hemp Brownie Protein Shake. I used up some Supergreens cacao powder that was nearly out of date in mine for a little extra nutritional boost. It's not the prettiest of protein shakes on the planet, but it's full of vegan protein and tastes fantastic!
Leftover Roasted Sweet Potato? – Make some savoury muffins!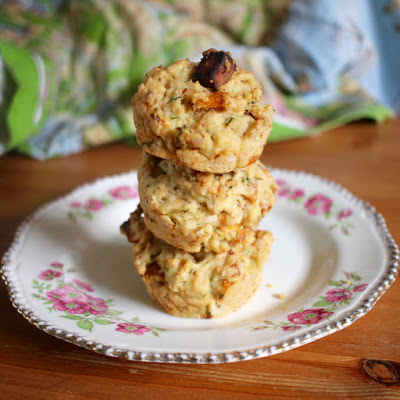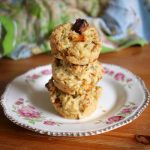 Johanna over at Green Gourmet Giraffe is a wonderful inspiration when it comes to re-purposing leftovers into new, fantastic dishes. Describing her Vegan Sweet Potato, Feta and Sauerkraut Muffins, she says, "They are not the bonniest muffins.  I discovered the hard way that the shape when they are spooned into muffins tins is the shape they keep, but they were slightly crisp outside and soft inside.  I loved the pairing of sweet potato and sauerkraut.  The tofu feta added nice flavour and texture.  I am really delighted to discover how good the sauerkraut is in the muffins.  It adds a certain umami."
Bircher Muesli going stale? – Make some flapjacks!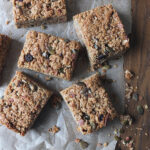 I really wanted to like Bircher muesli, but for me, there's something really unappealing about cold, soggy, apple juice sweetened porridge. It's just not for me. I have, however, discovered that Bircher muesli makes absolutely wonderfully fantastic Homemade Muesli Flapjacks! These beauties are not too sweet, nor too buttery, and they hold together perfectly while out on long cycle trips or hill walks. The kids love to take them to school for their snacks too, and my husband can't get enough of them. Win!
For recipe inspiration and plenty of other food waste, prevention tips and tricks sign up to the Love Food Hate Waste newsletter!
JOIN US WITH THE NO WASTE FOOD CHALLENGE!
I challenge you, dear reader, to share your own suggestions to help prevent food waste! You don't have to have a blog to enter, simply let me know your recipe or tip in the comments below and fill out the Rafflecopter form. Bloggers – link up with the linky tool below, as usual, to be included in the roundup – click here for the full No Waste Food Challenge rules. If you want to enter the giveaway, leave a comment and enter via the Rafflecopter form.
GIVEAWAY
Now, how's that for a wide variety of uses for leftovers? See what a little creativity can achieve? 🙂 What's the most creative thing you've ever done with leftovers? Let me know in the comments and be in for a chance at winning a £25 Amazon Gift Card!
HOW TO ENTER
For your chance to win a £25 Amazon Gift Voucher enter using the Rafflecopter form below. Comment with the most creative recipe idea you've ever made out of leftovers. Come back and tweet about the giveaway every day for more chances to win!
TERMS & CONDITIONS
This giveaway is open to UK entries only. Entrants must be age 18 or over. The winner will need to respond within 30 days of being contacted; failure to do this may result in another winner being selected.
The prize is offered and provided by Elizabeth's Kitchen Diary. The prize is to win a £25 Amazon Gift Voucher. There is no cash alternative and the prize is not transferable.
There is no entry fee and no purchase is necessary to enter this giveaway.
The promoter (Elizabeth's Kitchen Diary) reserves the right to cancel or amend the giveaway and these terms and conditions without notice.
Entry into our giveaways will be deemed as acceptance of these terms and conditions.
If you need some help using Rafflecopter, here's a quick clip to show you how. Rafflecopter will pick the winner at random from all the entries received. I will be verifying entries. Any automated entries or those who have claimed they have made the mandatory blog post comment and really haven't will be disqualified. It's mandatory! Please make sure your comment is eight words or longer or Google views it as spam and this negatively affects my spam score. All entries with comments fewer than the mandatory 8 words will be disqualified and deleted.
Closing date is midnight (that's 00:00 hours, 12 am on Sunday night/Monday morning) on Monday 1 May 2017 (GMT). The winner will be announced afterwards.
This is a sponsored post in collaboration with Love Food Hate Waste. Thank you for supporting the brands who make it possible for me to do what I love: mess up my kitchen and share recipe stories. All images, unless otherwise attributed, via Shutterstock.