Fresh lime juice takes these cupcakes to a whole new level.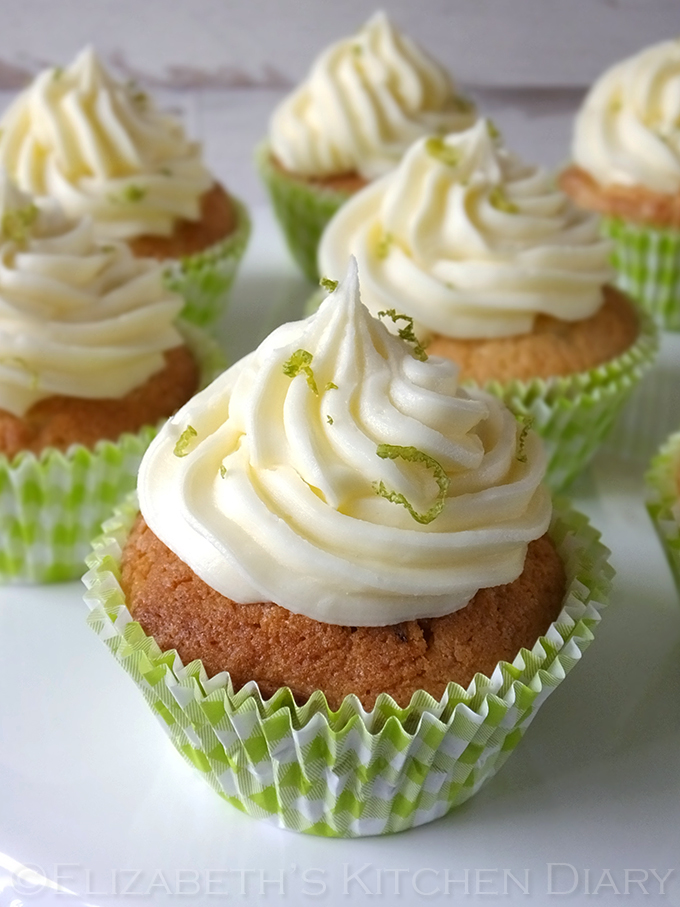 My husband came home from work the other day to find four strangers sitting at our kitchen table eating their lunch.
When he told me this after I returned home after my day out, I belly laughed, and then, as the realization slowly dawned on me, I expressed mock horror.
There was no cake!
There had been people sitting at my kitchen table and there was no cake to share with them!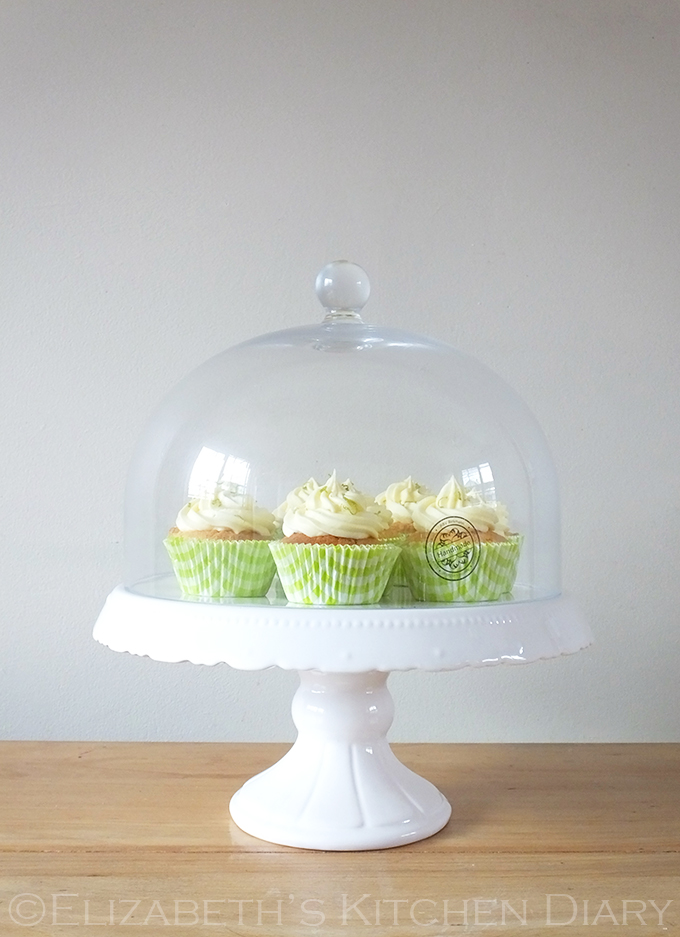 We live in rented accommodation. The property ladder is not something my husband or I have been able to jump on to as of yet, so we have to dutifully pay our rent each month to a landlord (although a mortgage would cost less than our rent, but who am I to question them in control of who has a house or not). Our landlord decided that major repairs would be undertaken on our house, and that of our neighbours, starting in the middle of January this year.
From how I understand it (I could be wrong, feel free to correct me!) but back in the 1970s there was a high demand for blockwork with so many new houses going up here in Shetland, what with the oil boom and all. A German company (now no longer trading) devised a method for making blocks with an additive (red gold?) which made them harden quicker so they could meet demand. Now, 45 years later, these blocks are crumbling.
Late last year we received a letter from our landlord saying our house was going to be undergoing some building work. Could we make sure there was a 2 metre free area around the house for the scaffolding. We were to be in Phase II, to begin in early March.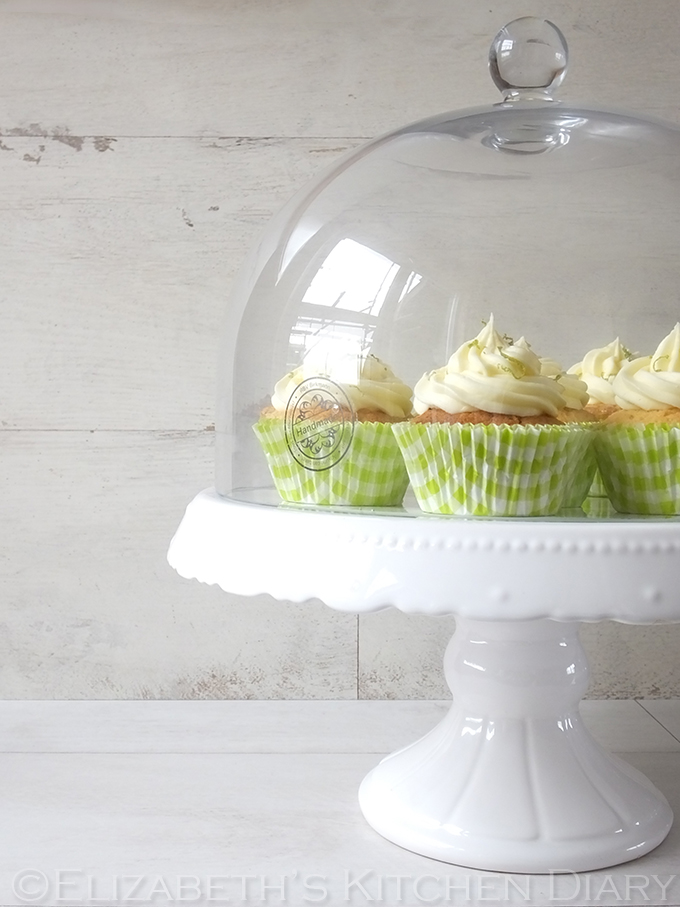 Shortly after a quiet and peaceful New Year, a whole team of builders moved into the area like a plague of locusts -destroying everything in its path. The original plan had been scrapped (without us tenants being informed) and the whole scheme was to be worked on as a single project, instead of in phases.
A digger team arrived in our garden, creating a five-foot deep moat around our house complete with a drawbridge so we could get in and out. My herb rockery, lovingly and back-breakingly built with all the large stones I'd dug out of the rest of my garden, disappeared into a heap of rubble along with the dirt from our neighbours' gardens, plonked into our front yard and burying all of the flowers and trees I'd established in there over the last eight years.
Two days after returning home from a week in the hospital with my eldest after his experience with a burst appendix another demolition team began removing the blockwork from our house. My husband is a sound guy (who missed all this noisy fun as he was away on his travels in India!), so I used his equipment to monitor the noise: 103 decibels. I had to go about my business (quite literally, for my main job I work from home!) with a full week of noise up to 103 decibels – that's the same as a jet fly over at 100 feet! Not to mention having to quickly remove everything from shelves and cupboards before the sledge hammer knocking down the remaining brickwork crashed it all to the floor. I'm pleased to report the only casualty was a single egg cup.
This left our timber framed house with just the timber. It was essentially stripping the coat off our house and set it outside, naked, against the elements, with nothing but plywood skin to protect us from the wind and rain.
I can't explain how terrifying it was to be sitting in a two story wooden house frame with gale force 10 winds outside shaking it like it was a treehouse. How I lay awake in the night wondering if the whole place was going to collapse on the children and I like a deck of cards while I watched computer monitors, plants and lamps shake and all the kitchen utensils hanging from my kitchen spice rack swing side to side. I could feel the floor moving beneath me. A minor inconvenience, a local authority spokesman said. Quit your complaining, I was told, as I lay down towel after towel to soak up the rain pouring in through our wind and watertight walls and windows.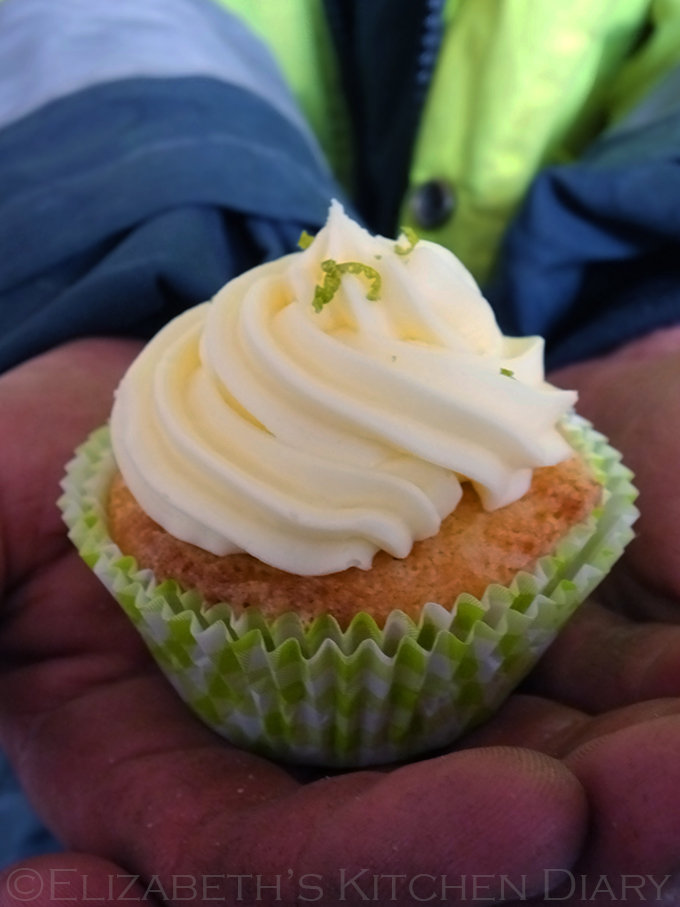 Fast forward a month and the new blockwork is finally up around the house. Another team has been putting in new windows and outside doors. Yet another team will be replacing the roof before new Harling goes up on the outside of the house, and then someone (allegedly) is going to sort out the garden. The gales have (mostly) subsided and at least it isn't 8 degrees in the house in the morning anymore (our electricity bill shot up as we tried to keep the kids warm by cranking up the heaters – £600 electricity usage in just over one month!).
Nonetheless, I've become quite fond of the builders over the last few months. It's been nice stopping for random chats and a laugh, or even just having someone to say 'Good morning!' to while out on the school run. These Irish builders, for many of which this has been their first experience of Shetland, and they have become part of our community in their own way (along with all their dust, dirt and scaffolding!).
I've felt for them having to slog away in the gale force winds and horizontal rain whipping at their faces: a typical Shetland winter. I've never seen men graft as hard as they have been over these last few months.
The strangers sitting around our kitchen table were the window team. They'd been putting up the new window facings in the kitchen and had stopped for their lunch break.
The lack-of-cake oversight on my part would not happen again. The next morning I woke early (as I've been doing lately to get a few hours' noise-free work in before the builders arrive!) and baked a batch of these lovely lime cupcakes. That's one of the builders posing with a cupcake in the photo above – blurry as I was trying to snap it in a hurry!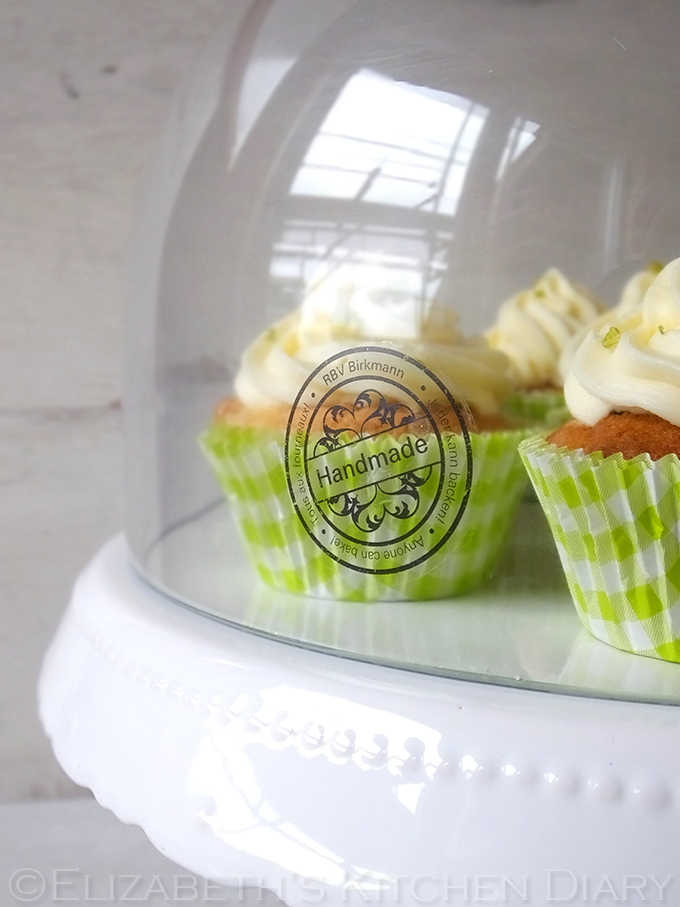 It was a win-win situation for me. I needed to try out a fantastic new cake stand and glass dome I'd been sent from CakeMart – a German company with a new UK website (as well as MeinCupcake in Germany (their main online shop), France and Austria). They sell a very wide range of cake, muffin and cookie making, decorating and display products – everything you need including gorgeous (and affordable) cupcake cases – pictured above is the House of Marie cupcake cases in gingham lime, £2.12 for a packet of 50 – the perfect size to feed hungry builders with.
The cupcakes are displayed on a 30 cm RBV Birkmann vintage soft white cake stand with a matching 29 cm RBV Birkmann glass dome cover. What the information on the website doesn't tell you is that this gorgeous glass cover and the cake stand itself are both handmade! They are both stunning, delicate pieces of craftsmanship with small imperfections in the material creating an individual character. They will both be much used and loved in our cake-loving household.
If you look carefully at the window reflections in the glass dome above, you can see scaffolding poles. You see, these builders have taken over! For their morning break they had freshly baked lime cupcakes, and although I didn't try them myself (I'm watching my waistband, you see!), four builders, one husband and two children can attest to the taste and texture of these cupcakes.
In keeping things as natural as I could I used fresh lime juice and zest in both the cupcakes and buttercream frosting. Although I do like playing with coloured ready to roll icing when it comes to special occasions, for everyday baking I prefer to avoid unnatural colourings and flavourings. I think I might be onto a winner with these cupcakes if the feedback I received is anything to go by!
Now, the word on the street is that our house foundations are made with the very same crumbling blockwork which has been torn down and replaced. My husband and I have ten years, so we hear, to get on the property ladder before our current house collapses on its crumbling foundations. At least there will be a lovely harled shell to hide the mess!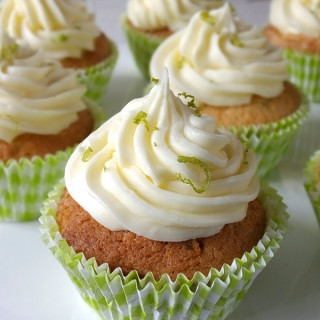 Lime Cupcakes with Lime Butter Cream Frosting
Freshly squeezed lime juice gives a zesty twist to these cupcakes.
Print
Rate
Ingredients
for the lime butter cream
225

grams

butter

softened

350

grams

icing sugar

25

ml

fresh lime juice

lime zest

to decorate
Affiliate Links
This recipe card may contain affiliate ingredient and equipment links. As an Amazon Associate I earn from qualifying purchases.
Instructions
Preheat oven to 180 C/ 350F. Place paper cases in a 12 hole muffin tin.

Cream butter and sugar together in a large bowl until light and fluffy.

Add the eggs, one at a time, beating well between additions.

Add the flour and salt, and combine thoroughly.

Add 1-2 tbsp lime juice so that the batter forms a soft dropping consistency.

Spoon into the prepared baking cases and bake for 15-20 minutes, until well risen and golden. A skewer inserted in the centre will come out clean when the cupcakes are cooked.

Transfer to a wire rack to cool completely.

To prepare the frosting, cream together the butter and icing sugar until smooth and light. Add the lime juice and incorporate well.

Pipe onto the top of the cooled cupcakes using a large star nozzle.

Sprinkle with lime zest and serve!
Notes
Calories per cupcake: 450 kcal (it's all that butter in the frosting!)
Nutrition
Calories:
453
kcal
|
Carbohydrates:
53
g
|
Protein:
3
g
|
Fat:
26
g
|
Saturated Fat:
16
g
|
Cholesterol:
98
mg
|
Sodium:
16
mg
|
Potassium:
39
mg
|
Fiber:
1
g
|
Sugar:
41
g
|
Vitamin A:
826
IU
|
Vitamin C:
2
mg
|
Calcium:
16
mg
|
Iron:
1
mg
Environmental Information
OTHER CUPCAKE RECIPES YOU MIGHT LIKE
Classic Chocolate Cupcakes with Vanilla Frosting by Little Sunny Kitchen
Mad Scientist (aka Chocolate Oreo) Cupcakes by Fuss Free Flavours
Salted Caramel Apple Cupcakes by Farmersgirl Kitchen
Mr. Whippy Cupcakes by It's Not Easy Being Greedy
Chocolate Orange, Salted Caramel or Raspberry and White Chocolate Cupcakes by Greedy Gourmet
Sushi Cupcakes with Green Tea Butter Cream by Emily's Recipes & Reviews
Champagne & Strawberry Cupcakes or THE Candied Jalapeno Bacon Viogner Cupcakes by Goodie Godmother
Easy Spaghetti Cupcakes or the Ultimate Tiramisu Cupcakes by The Petite Cook
Spiderman, Chocolate Cherry Cupcakes with Pistachio Icing or Cherry Chocolate Chip Muffins by ET Speaks from Home
Rhubarb Fairy Cakes with Edible Flowers by Tin and Thyme
Looking for a recipe for vegan guests? Try this vanilla cake from Veggie Desserts!
Elizabeth's Kitchen Diary received cupcake cakes, a cake stand and matching glass dome from CakeMart for review purposes. All opinions expressed are our own. This is not a paid post.