A whole lot of science and a little bit of cake.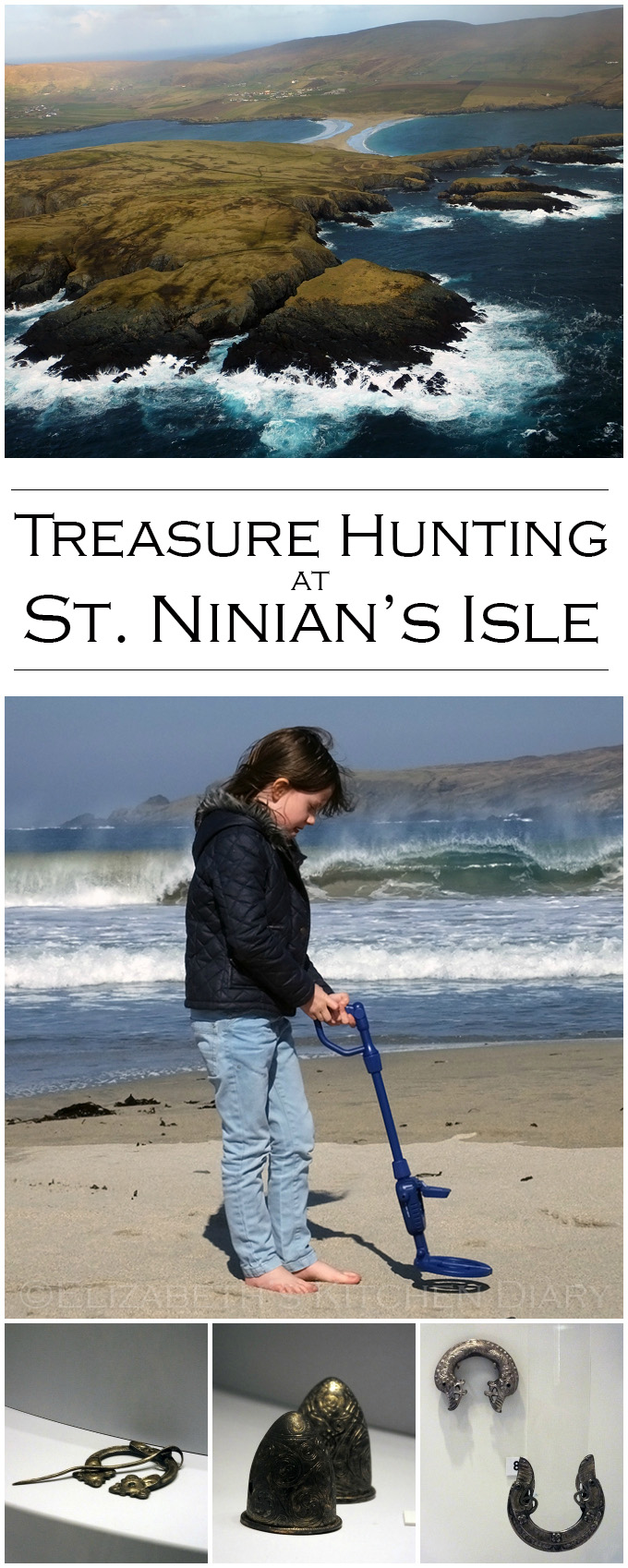 The beauty of waking up each morning, for me, is that bit after you dreamily return to reality and that subsequent anticipation of what might happen that day. It's a new day! What adventures could possibly lay before you in the following 24 hours? A recent renewed zest for life (it's funny how the springtime return of light has that effect on me, much like a wilted flower receiving vital sun rays), the loss of nearly two stone in weight through diet and exercise and the approach of a significant birthday milestone on the distant horizon have really spurred me to grab life by the horns and enjoy the ride. I'm not getting any younger!
I've come to realise absolutely anything can happen. A chance email may find its way into my inbox, beginning a new and interesting project, I may be inspired to create something, or, as in the case of yesterday, watching the sun rise over the hill by my house prompted me to check the BBC weather app on my iPad – full sun all day!
I've always said that when the sun shines here in Shetland that day should be declared an island-wide holiday. The winters here can be long and dark, and we need to use each sunny day to its full advantage. Being self-employed means I'm my own boss, so I can officially declare sunny days holiday days (rainy days are writing days, and bright but overcast days are food photography days) – so I took the day off and we headed to the beach!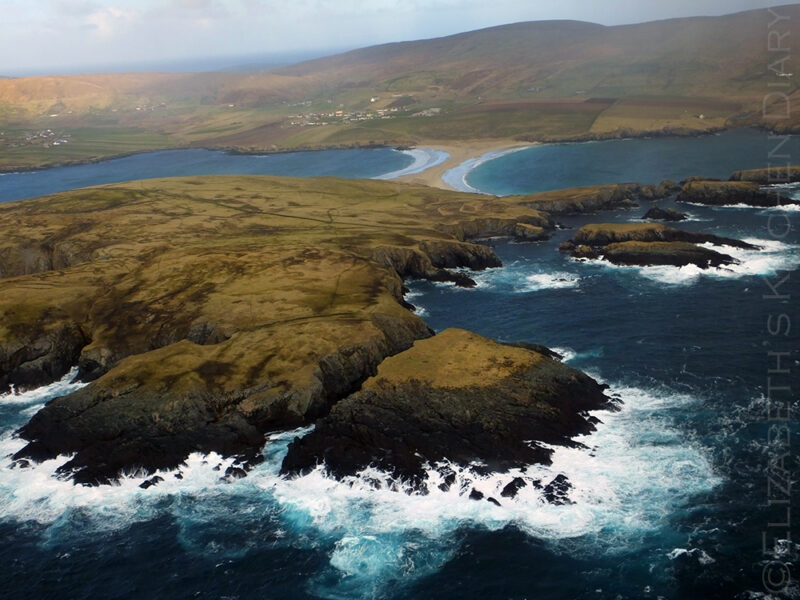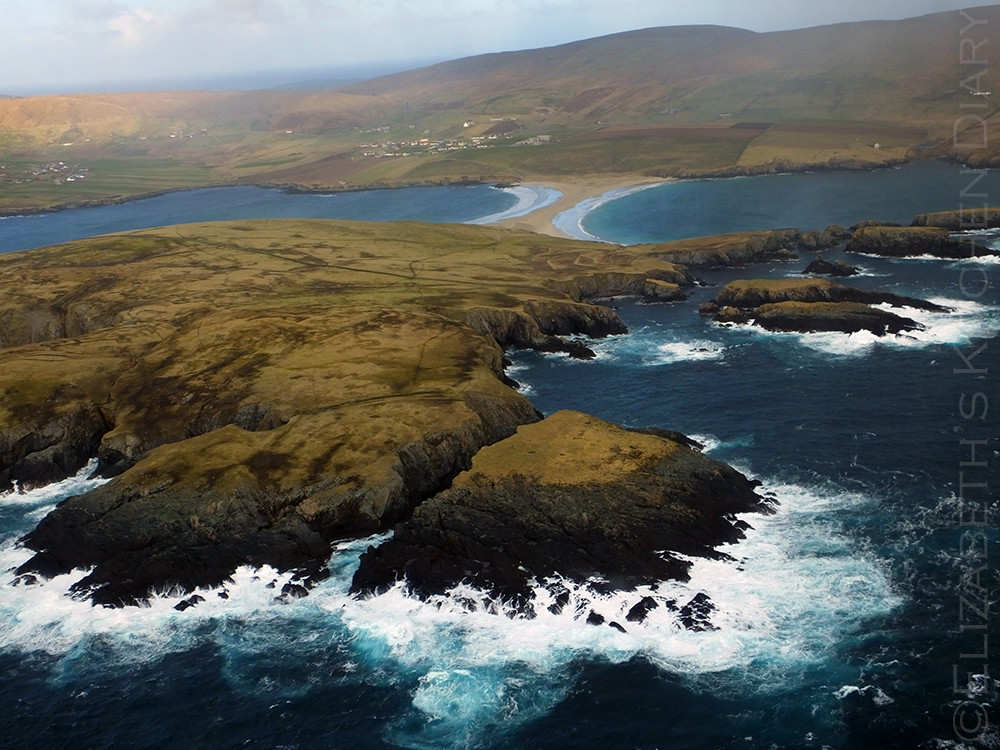 GEOGRAPHY
St. Ninian's ayre (beach), on the south west mainland of Shetland, is the largest active shell-sand tombolo in Britain, formed by the action of the waves from two opposite directions (north and south). This 500 metre long sand beach is a fantastic place for adventuring.
Tombolo: a beach or bar that links two islands or joins an island to a larger landmass
The aerial view of the St. Ninian's tombolo and the adjoining island was taken by myself during a return flight from Fair Isle recently. Isn't it a stunning location?
ARCHAEOLOGY
There is evidence of settlement on the island going back to Neolithic times (10,200 – 2000 BC) with Neolithic graves found beneath the ruins of an old chapel on the island. St. Ninian's Isle is most famously known for its Pictish treasure hoard found by a school boy in 1958.
So, what a better place to go hunting for treasure ourselves!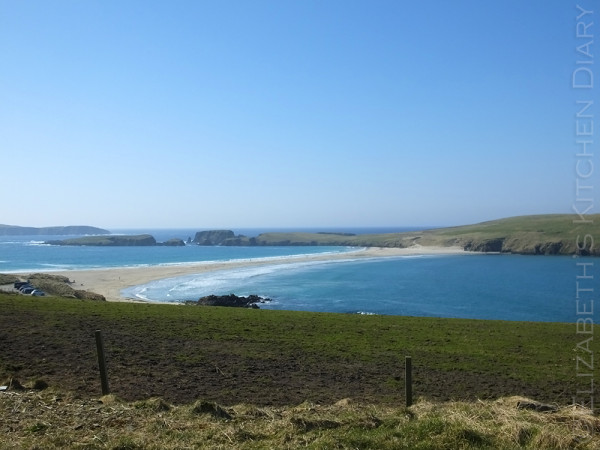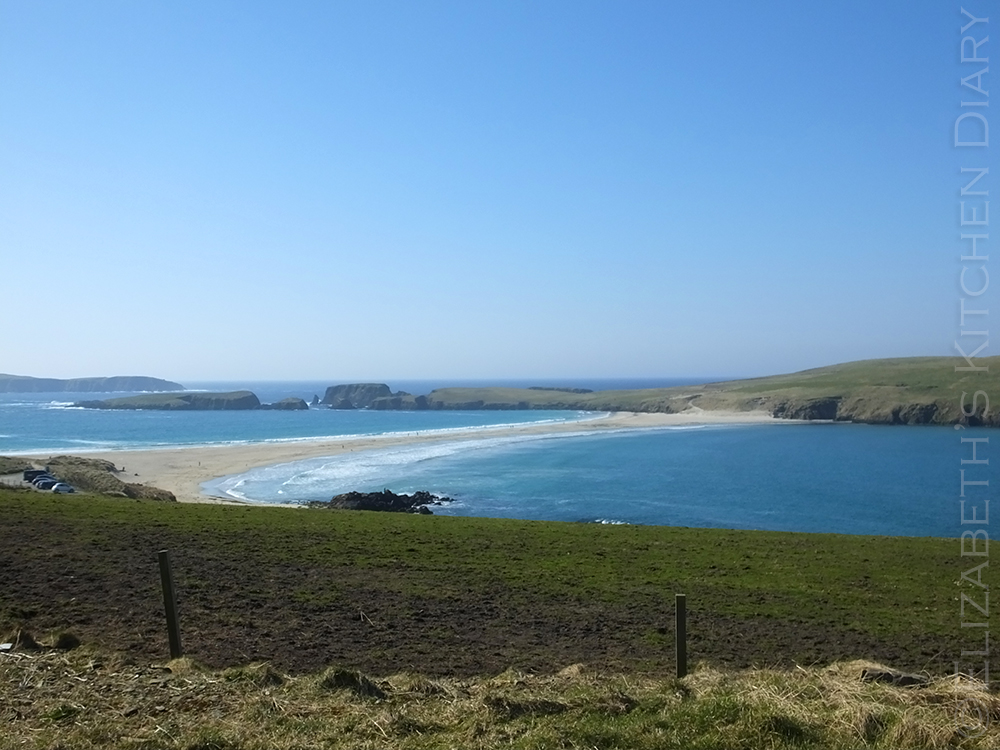 The sciences have a long history of being male-dominated fields. Trends UK, the number one toy company in science, is currently running a campaign to highlight that science is not just for boys, but girls can love it too. Recently, there has been a lot of coverage in the media saying girls have less interest in science and prefer not to choose it as a career, however, Trends UK believe girls will be just as interested in science projects as boys are, if they are given the choice to try them out. So, a small group of family bloggers with girls over the age of 8 were sent a cool range of Discovery Channel science toys to play with.
We received the Planets and Metal kit including a Discovery Channel Double Globe Planetarium and a Discovery Channel Digital Metal Detector (or Iron Protector, as our six year son old calls it!). Trends UK have a fantastic range of Trends UK Science and Discovery Science toys available, suitable for both girls and boys interested in discovering how the world works.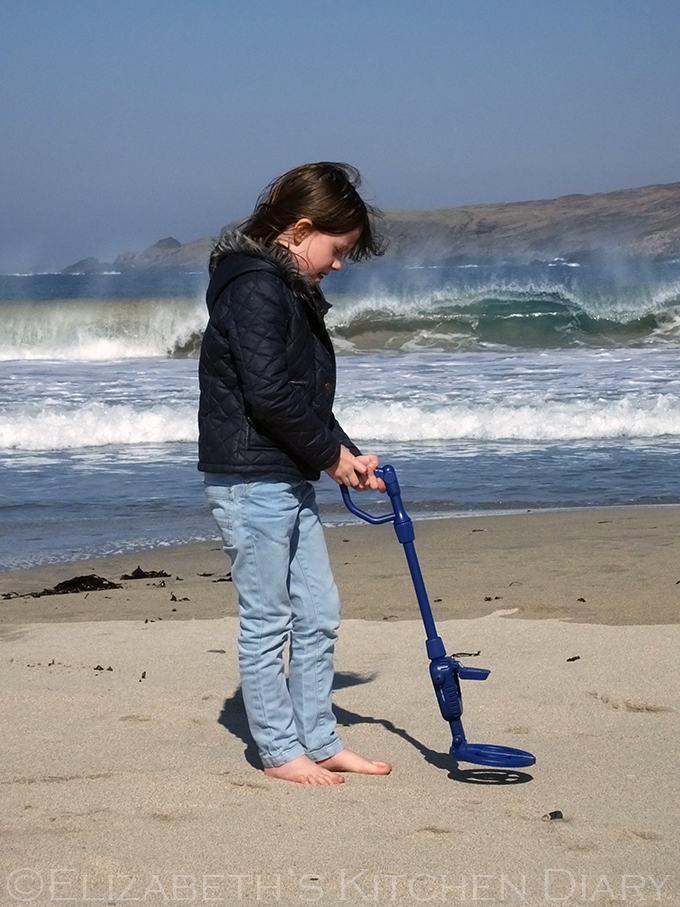 ELECTRICITY
The Discovery Channel Digital Metal Detector features a double search coil providing good coverage, a rotating digital backlit LCD screen showing status (searching or metal detected) and battery strength. An audio tone alert lets you know when metal has been detected beneath the surface, and the volume of this tone can be adjusted. You can remove the centre handle shaft too to make a compact hand-held unit ideal for searching confined spaces.
Yea but how does it work?! Metal detectors have coils, so says the accompanying leaflet. Electricity is sent through the coils to the ground and back to the coils. If a metallic object gets in the way, the signal is interrupted, which results in the metal detector creating an audible sound.
So, armed with a metal detector and a picnic basket, we explored St. Ninian's beach and isle in the full, glorious sun. The weather was warm enough for shoes and socks to be removed, and, later on, even jackets!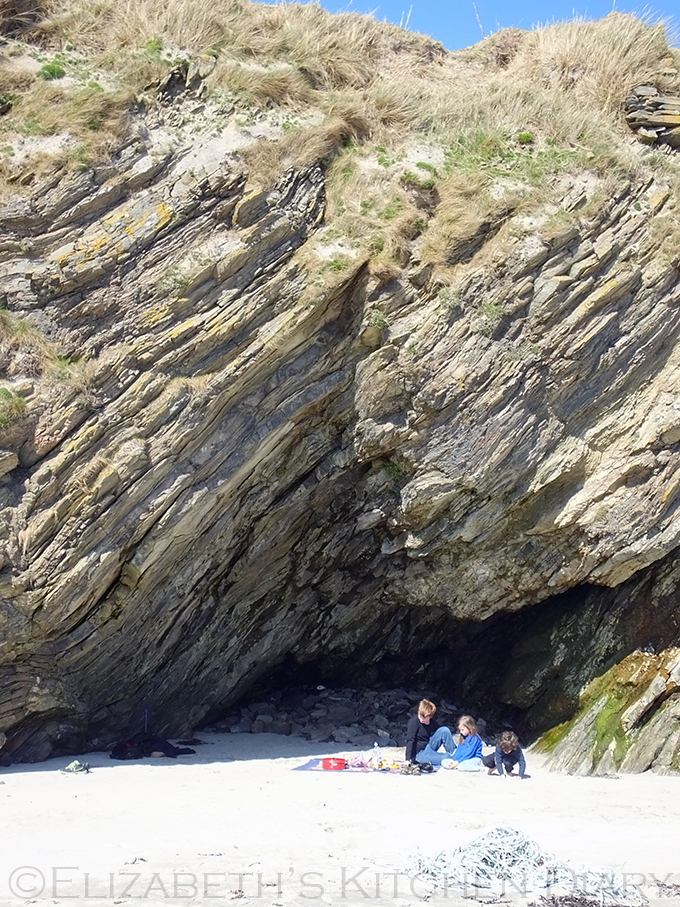 GEOLOGY
First thing was first – lunch! Our location of choice for our picnics on St. Ninian's is the cave at the far end, on the left hand side of the island. Despite the beach being busy with other families out enjoying the fine weather we only encountered one other family who walked by, doing their best to pretend we weren't there. This area, with its high cliffs and fantastic view out over the water is fairly sheltered from the wind too. Despite the wind you can see in the beach photo further above, we were able to lay out paper plates and not have them blow away (this is a rarity in Shetland – everything usually gets held down because of the wind!).
This cave is a perfect place to explain to the children about how rocks and land are formed, bent and folded into their shapes, and how the sea creates caves through the effects of erosion over time.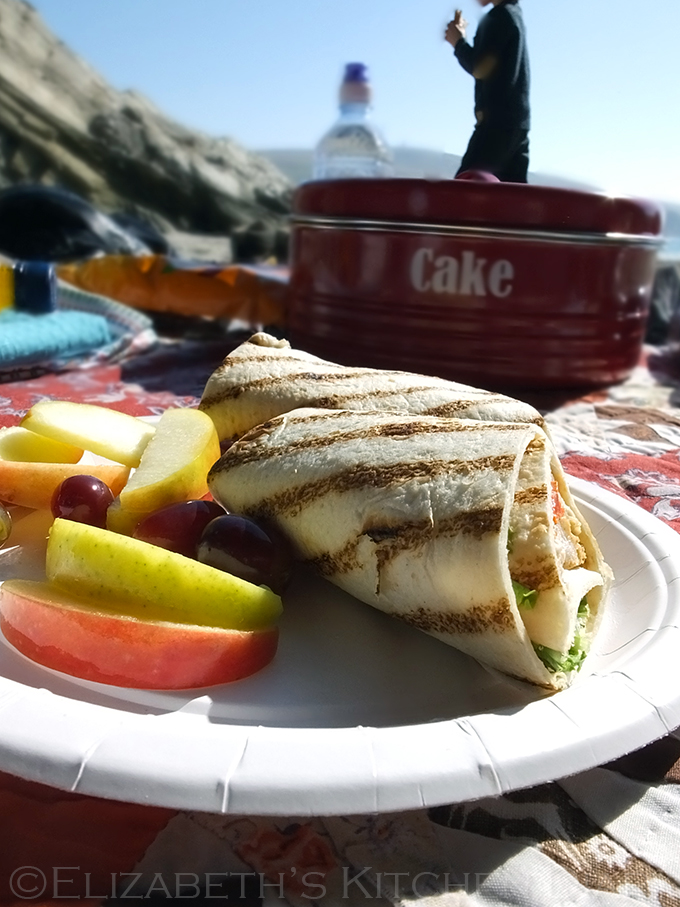 TIME
This glorious day was also my eldest son's 15th birthday (I'm not old enough to have a 15 year old child, am I – where have the years gone?!). Shortly after I witnessed the beautiful sun rise that morning I decided I was going to bake the birthday boy his cake (decorated by his younger brother and sister) and we were going to go on an adventure!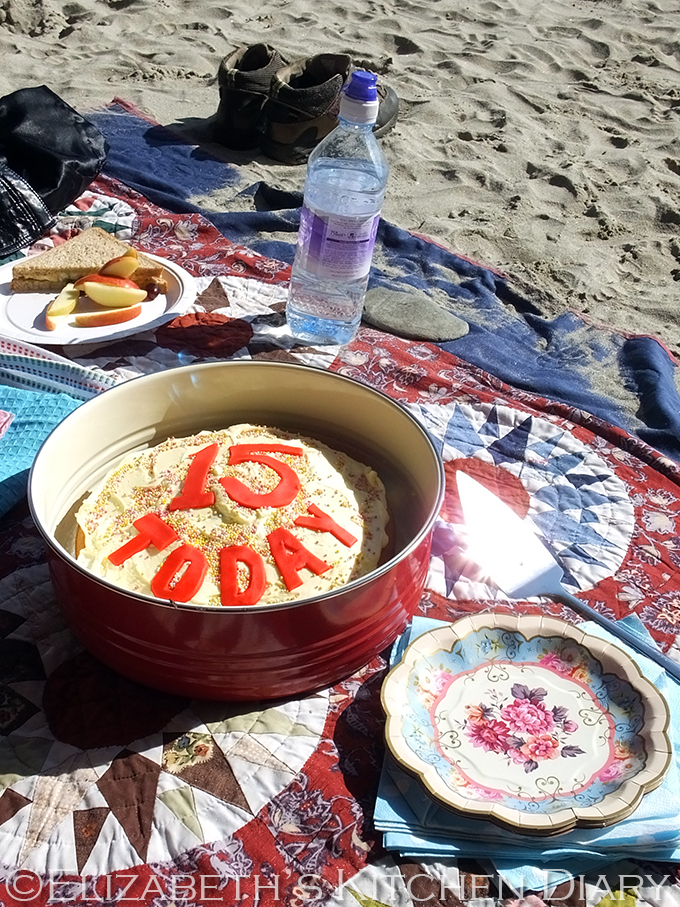 Sheltering in the cave (the outdoor equivalent of switching the lights off) DD arranged the candles on the cake and I was delighted that I managed to get them all to stay lit long enough for the birthday boy to blow them out! You might notice one candle missing – it got dropped on the way to the back of the cave, so his 15th birthday cake only had 14 candles!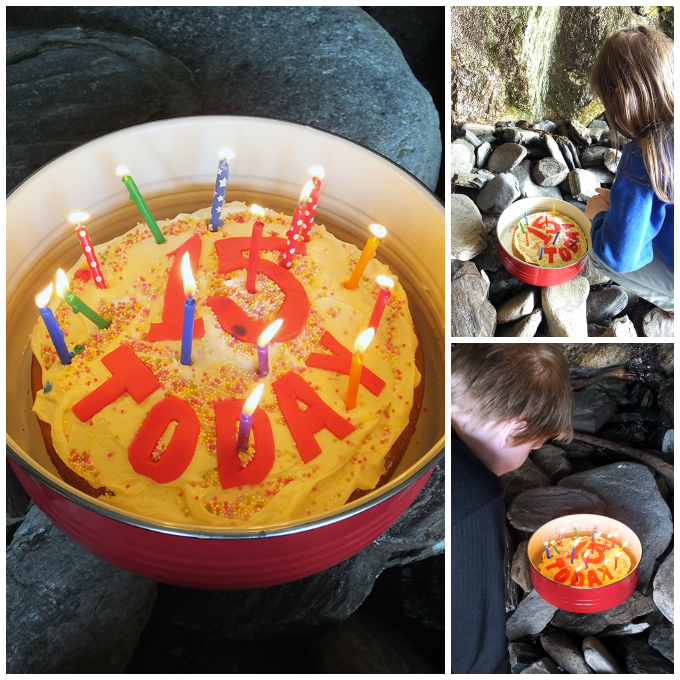 Birthday cake on the beach (Nigella Lawson's buttermilk birthday cake recipe) ranks pretty highly in the awesome department, the birthday boy says, even if the cake was seasoned, somewhat, with the cave water dripping off the cave roof while we tried to get the candles lit! The cake was transported in my brand new Buick red retro storage canister from Typhoon from home furnishing and interior design company Red Candy (a tin which I love, very, very much!).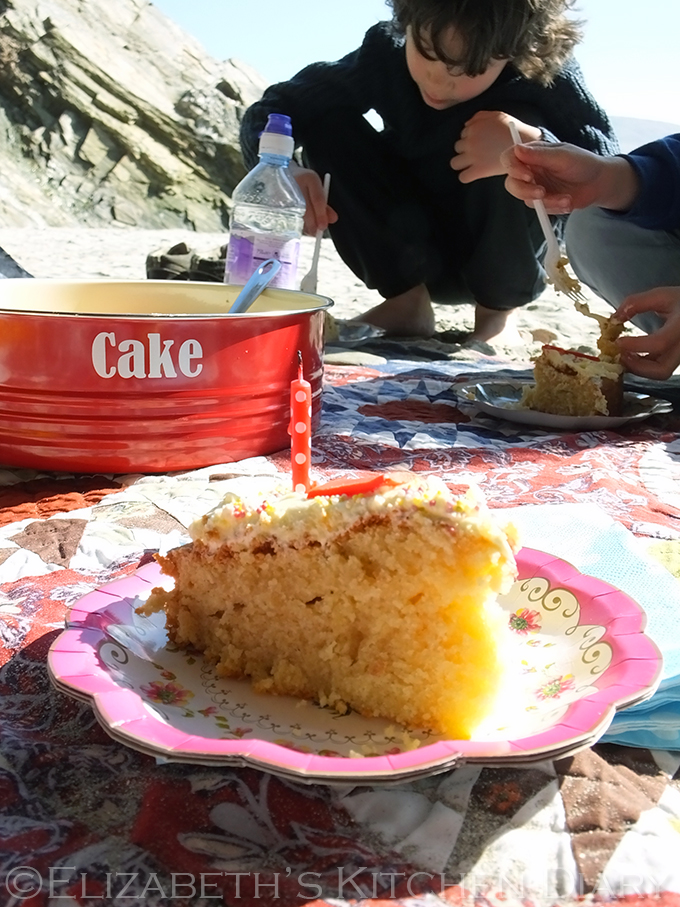 Afterwards, I sat and basked in the sun with a belly full of cake (not calorie counted!) and watched the children play tag and dig holes, searching for treasure with the metal detector (which hadn't yet actually detected any metal). For a moment deadlines were ignored, all the stuff I have to do which is piling up was forgotten, and I sat there, in the warmth, content. The three of them scrambled up a nearby cliff (it's nice that they're all old enough to be able to do this without me worrying they're going to spontaneously fall over and slide down!). I wanted to take a photo, so I asked them all to smile.
"Wait, Mum, wait!" shouted the youngest, "I want to get my sword! It will make me look much cooler!"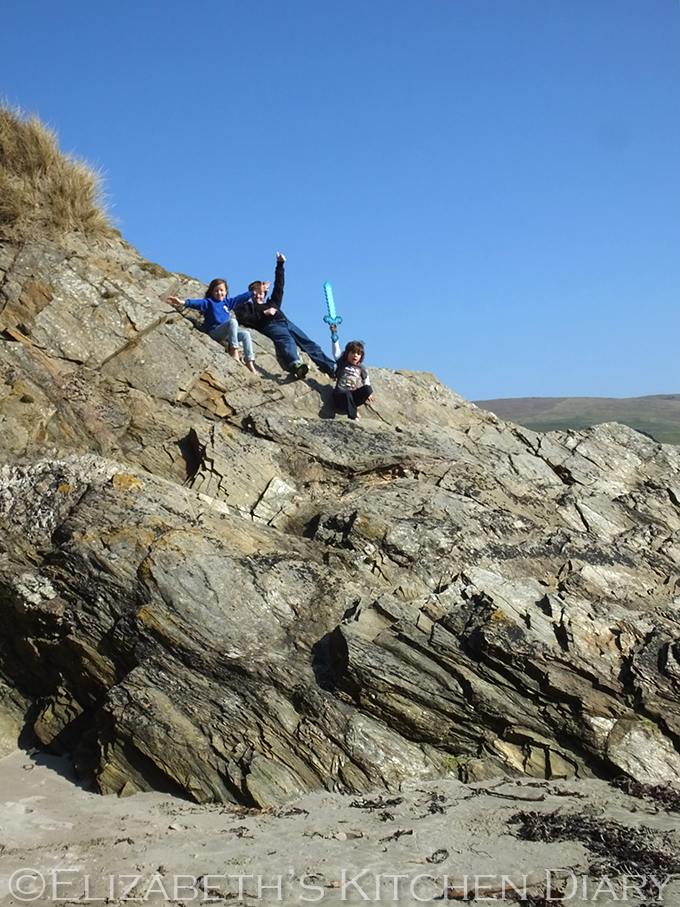 Then, on to treasure hunting!
OCEANOGRAPHY, GEOGRAPHY & LINGUISTICS
The first exciting thing DD found was a fizzy juice tin, unopened and still full of juice! We're not the only island here in the North Sea. Approximately 200 miles NNW lies another island archipelago, the Faroe Islands, a self-governing country within the Danish Realm.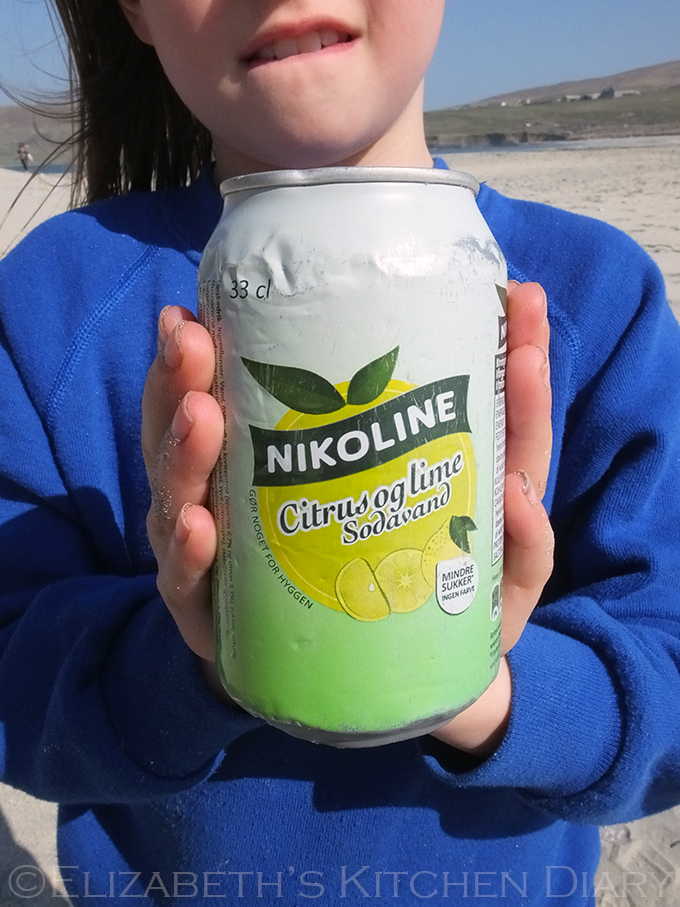 We assumed that this juice tin must have floated down from Faroe on the surface currents of the Faroe-Shetland channel. I had a hard time explaining to DD why she couldn't just open the tin and drink the juice (despite the fact it was still in date!).
"Og means and!" exclaimed DD, "my teacher told me!"
ARCHAEOLOGY
Our adventures then took us to the 12th century chapel ruins located on St. Ninian's Isle itself. After a quick read of the information board the kids were off! We left the metal detector down on the beach though as it's against the law to metal detect on Scheduled Ancient Monuments like the St. Ninian's Chapel.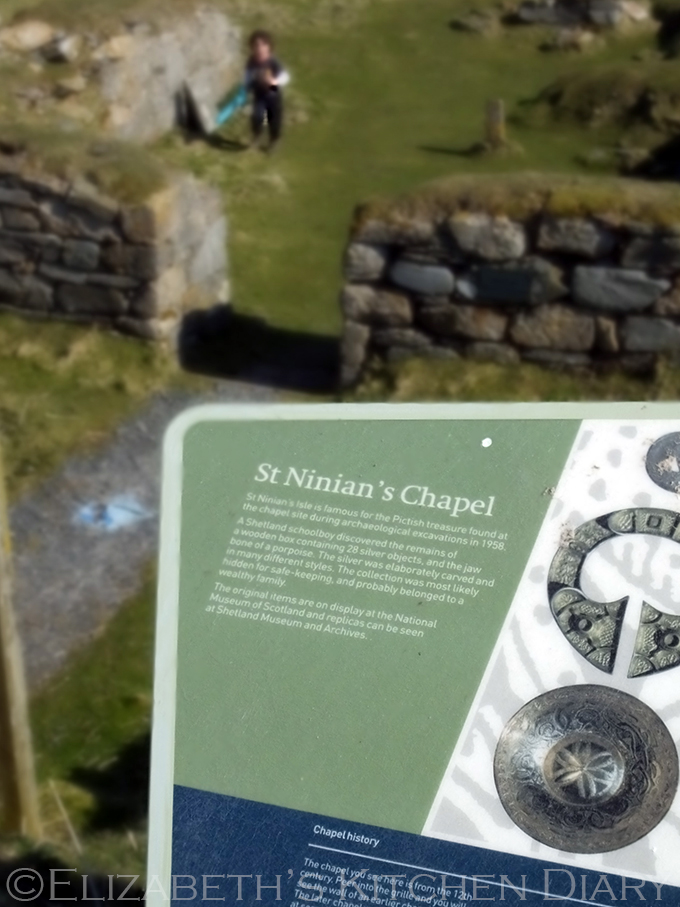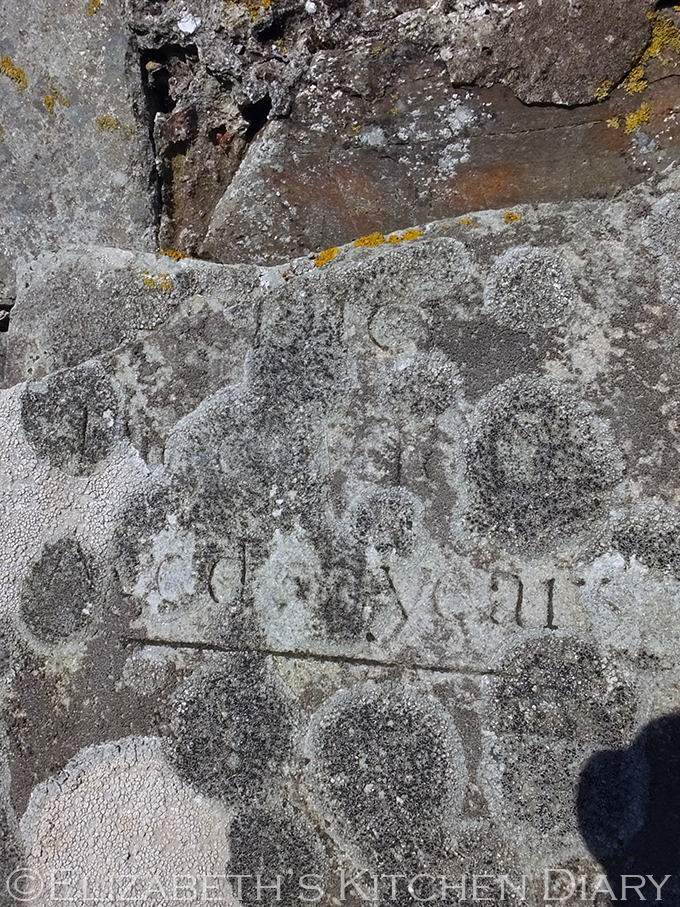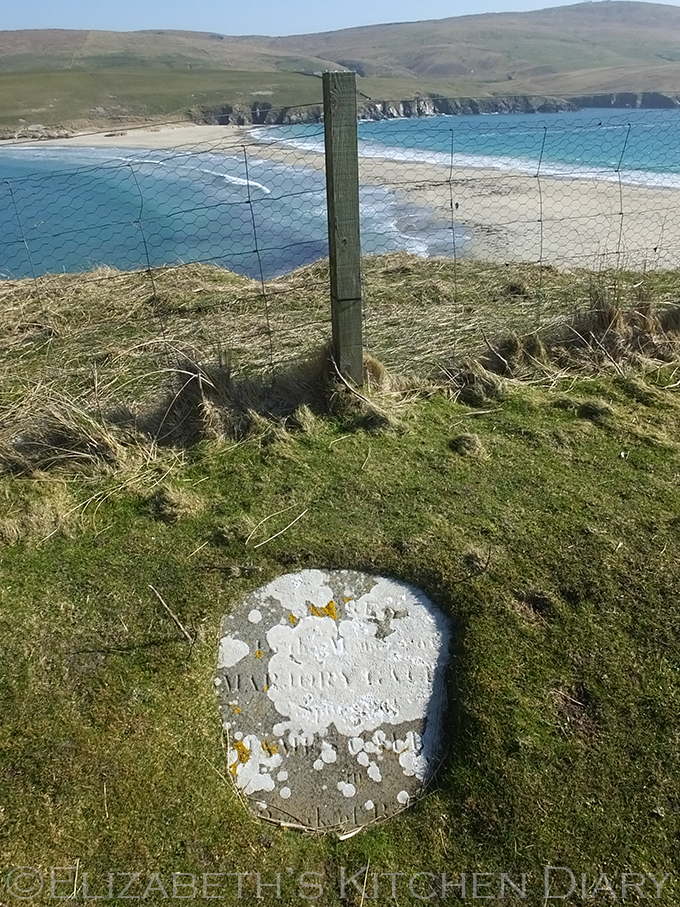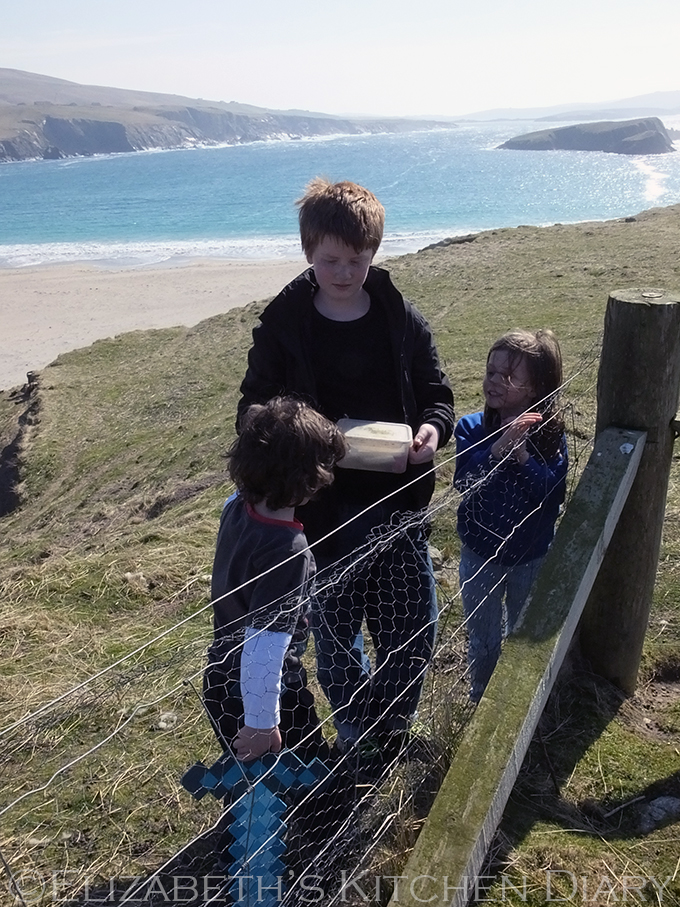 METEOROLOGY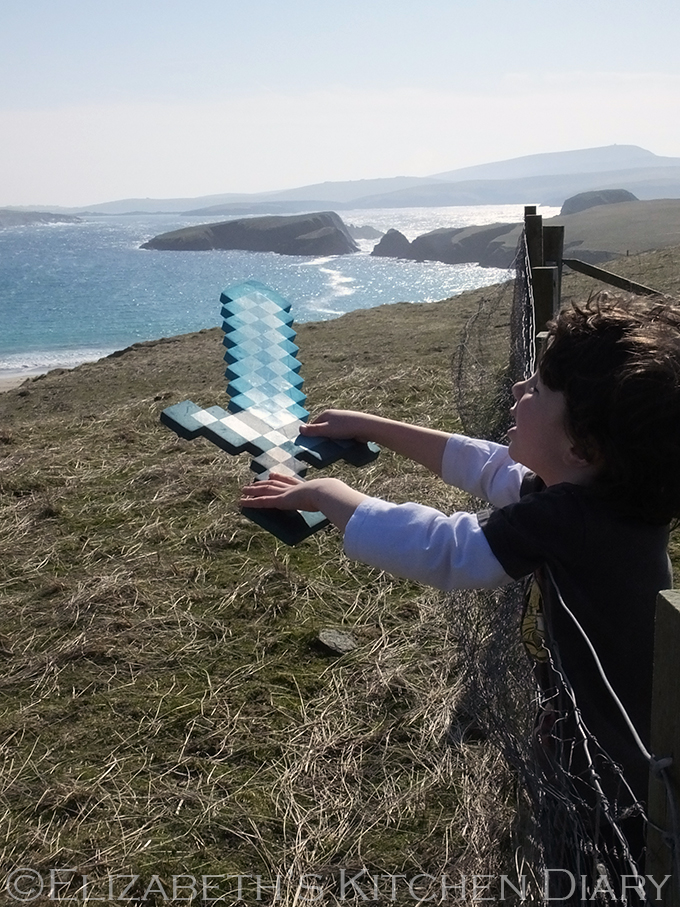 Our youngest used his minecraft sword to play with the force of the wind.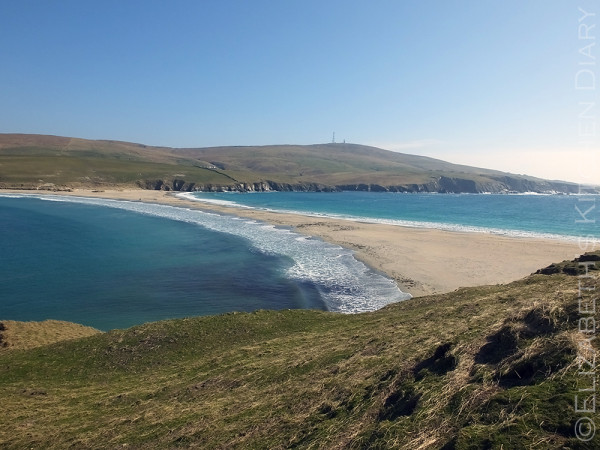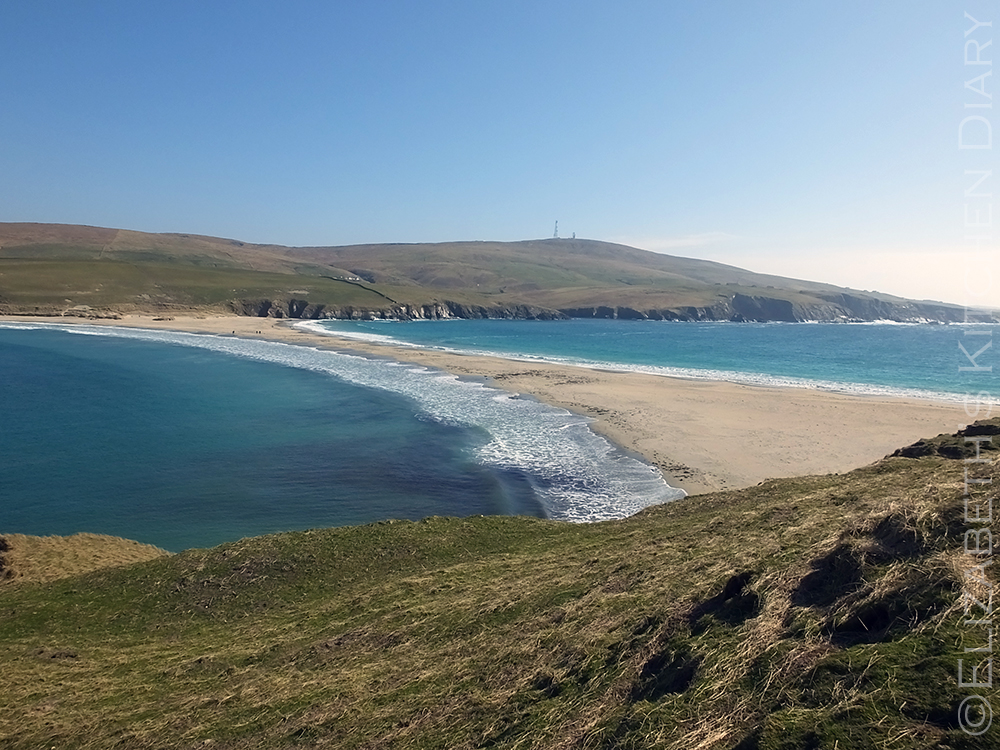 TEMPERATURE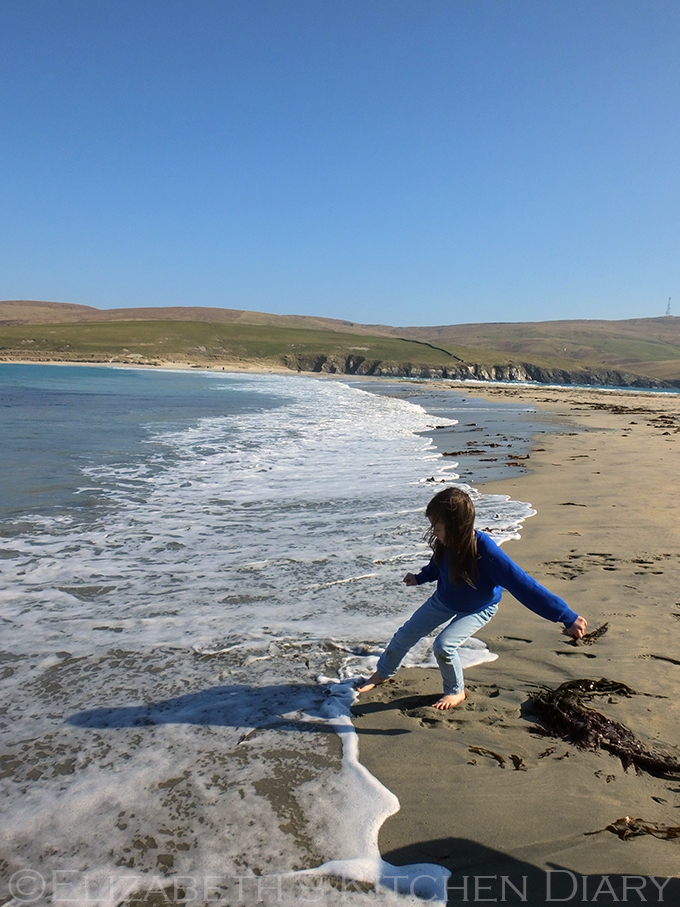 The waters of the North Atlantic don't get very warm, even in the height of summer. It took DD some time to muster up the courage to dip her toe in the sea – but she did it!
GEOMETRIC TOPOLOGY AND KNOT THEORY
aka tying your big brother up with beach rope, because it just has to be done.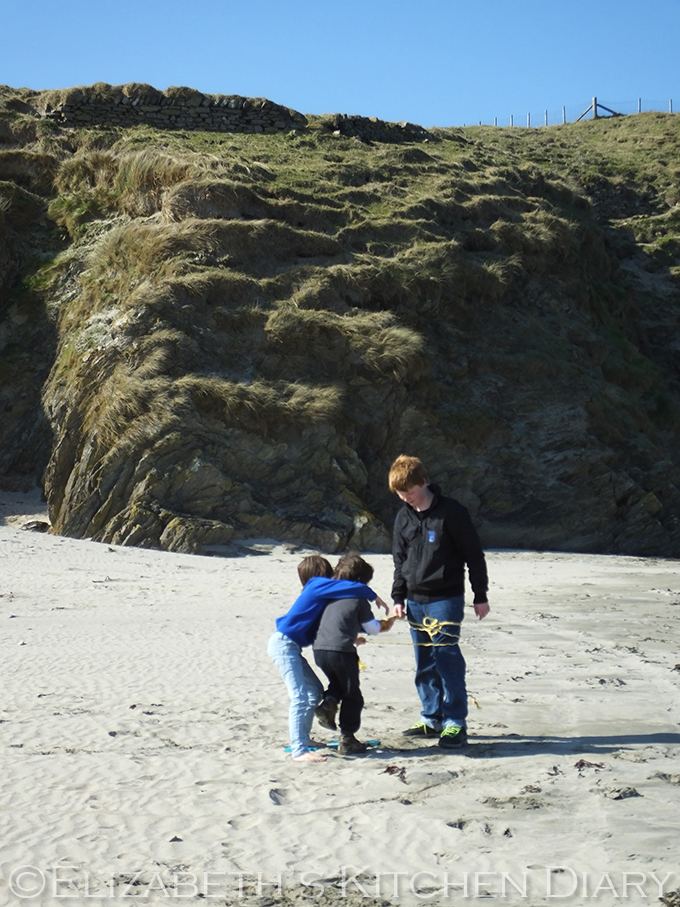 ENVIRONMENTAL SCIENCE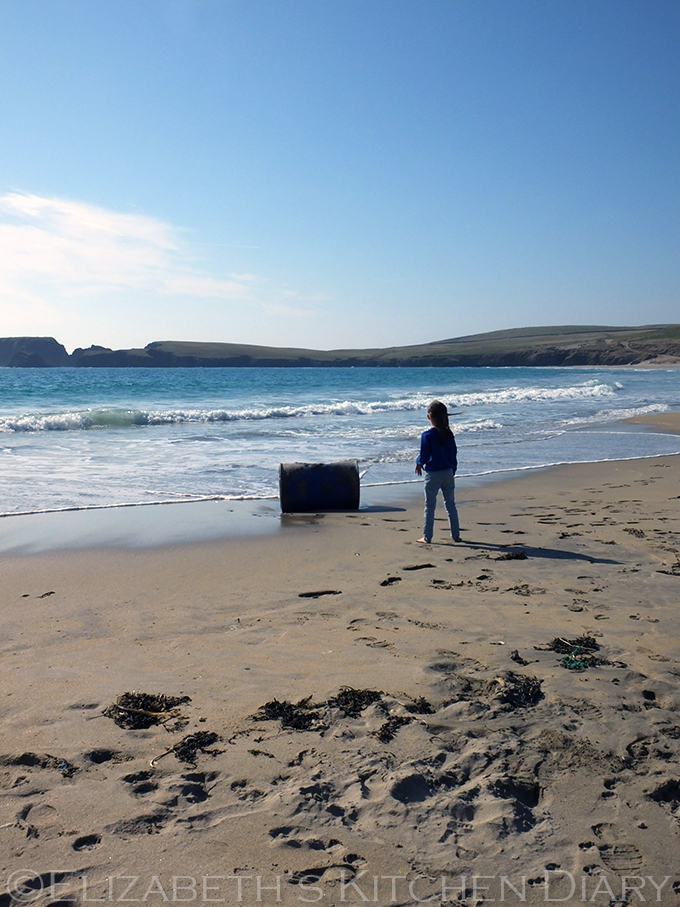 Natural curiosity prompted DD to inspect a large blue barrel that had washed ashore. Thankfully it was empty, but how did it get there, and what impact was it going to have on the local environment?
HISTORY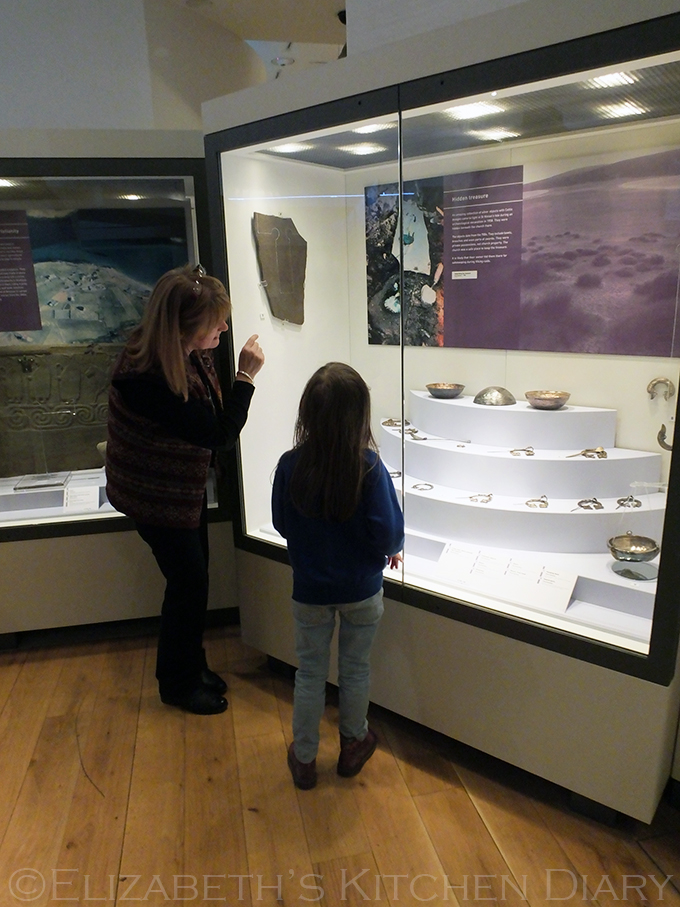 We finished off our day with a trip to the Shetland Museum & Archives to view the replica St. Ninian's Treasure on display there. The original treasure is in The Museum of Scotland in Edinburgh.
Now, the story goes (as the museum lady kindly explained), that a school boy had been asked to assist during an excavation of the old chapel site in 1958. He was busy digging away (likely wishing he was doing something a bit more fun!) when he found a slate with a crudely etched cross in it. Upon lifting the slate (located where the coins were photographed in the post above), he discovered a treasure of 28 pieces – mostly silver, hidden likely during the Viking raids. These objects date from the 700s and were personal possessions, not owned by the church. The church might have been considered a safe place to hide them during the raids.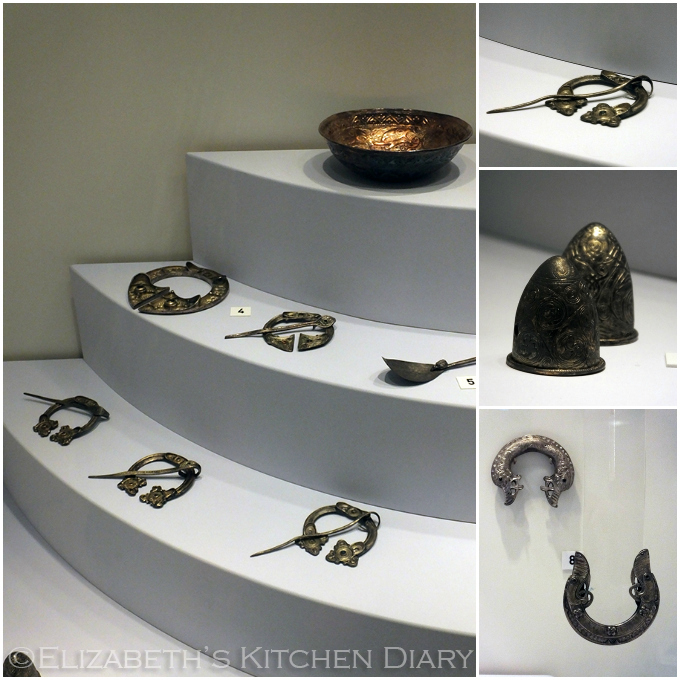 To find out more about the St. Ninian's Treasure visit the National Museums Scotland page.
WOMEN IN SCIENCE
Trends UK is right, there is an appalling lack of number of women in STEM fields (science, technology, engineering and mathematics). Despite the fact that girls are consistently outperforming boys in education, fewer women choose careers in the sciences.
Why is this?
The Telegraph recently wrote that although men and women are on equal footing based on ability, research shows that choosing a career is not based on how good you are at something, it's based on how much you like it.
So how do we get our girls to love science?
Love it yourself! Foster a fascination of the world around us in your own children; lead by example. When you see something ask yourself and your children why, when, how? The rest will follow. Talk through what you see. A trip to the beach can be so much more than just a trip to the beach and basking in the sun – just look at all the science involved in our visit! Encourage them to try new things, to ask questions. Don't be afraid if you don't know the answer – after all, the internet is at our fingertips. There will be an answer somewhere, and I think it's important that our kids know that we don't know everything – there's so much more in the world left to explore and learn!
Don't leave it up to the school teachers! As parents we are our children's primary teachers – we need to fuel their imaginations!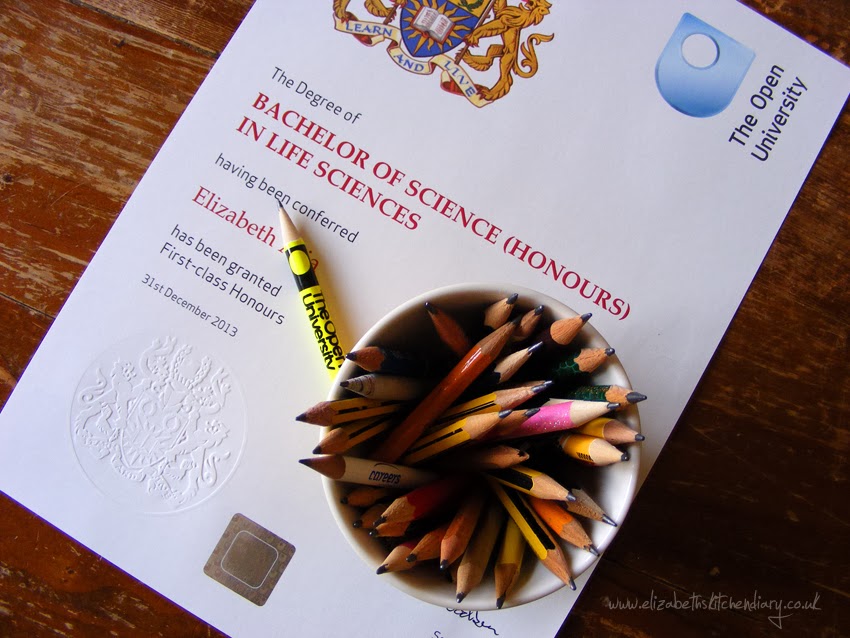 I suppose I am biased. I have always held a fascination with the outdoor world and how things work. I excelled at biology in school (although I struggled with mathematics and physics). I went on to study Life Sciences with The Open University, graduating in 2013 with a First Class Honours degree. You can read all about that in my post 40 pencil stubs…
I am lucky in that all three of my children seem to be following my lead. My eldest son loves biology (and cooking – did you know following a recipe uses both math and science?), while DD (aged 8) is the most curious of all three of them. Our youngest (six) just goes with the flow, but he's showing an aptitude too – if breaking things (aka taking things apart to see how they fit together) counts!
Long may it continue!
ALSO LINKING UP WITH
Recipe of the Week by A Mummy Too
Alphabakes (the letter B) by Caroline Makes and The More Than Occasional Baker
Love Cake by Jibber Jabber UK
Let Kids be Kids linky
Follow Elizabeth's Kitchen Diary's board Shetland on Pinterest.


If you want to be kept up to date on my recipes, occasional craft tutorials, adventure stories and giveaways then please subscribe to my weekly newsletter; it gets sent out every Monday morning if there is new content. Your email address won't be passed on to anyone, you will never be spammed and you are free to unsubscribe at any time, no questions asked. Make sure you confirm your subscription or you won't receive the newsletter – if it hasn't arrived check your junk mail folder.
[wysija_form id="1″]
Elizabeth's Kitchen Diary was sent a Discovery Metal Detector from Trends UK for the purposes of this post, and a cake tin from Red Candy. All opinions expressed are our own and this is not a paid post.