#1 top rated silicone baking mats from Kitzini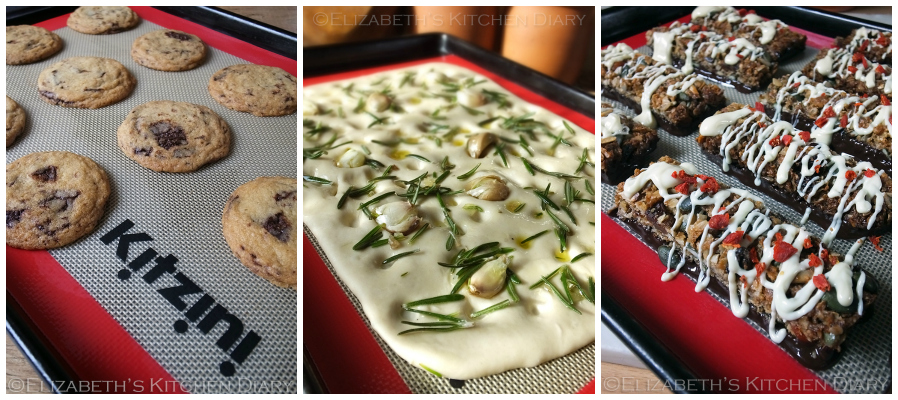 One thing that Americans do well is chocolate chips. They've got all sorts of them in different flavours and sizes. Here in the UK, well, in Shetland at least (unless I'm willing to shop online) all I can get is one measly 100 gram top supermarket brand (not naming names here!) bag of chocolate chips with barely a hint of any cocoa solids in it. What's the point?!
To remedy, I've taken to using Fair trade 85% cocoa solids chocolate bars, chopped up, to make my fail safe chocolate chip cookie recipe. They melt a little bit more than conventional chocolate chips would, but at least you get a proper hit of chocolatey chocolate in each bite.
I've been using a silicone baking mat now instead of baking paper for my cookie recipes for the last few years. It's been well used (I like cookies!) and was in desperate need of replacing, so imagine my delight when Kitzini contacted me asking if I'd like to put their new silicone baking mat to the test!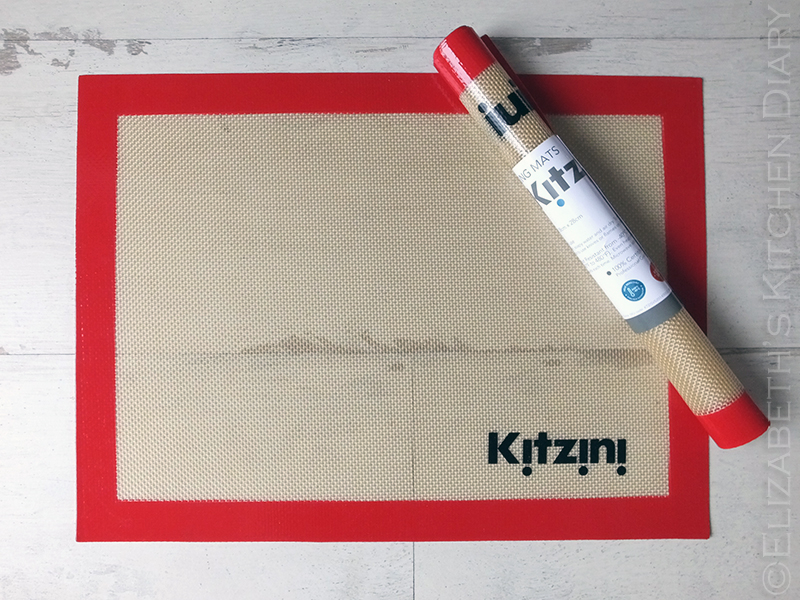 Another thing Americans do well is the whole silicone bakeware thing. Kitzini silicone baking mats have been selling like hotcakes in the US market, and they're now starting to branch out into the UK.
Kitzini are a relatively new, small family business aiming to bring innovative, stylish kitchen gadgets to the market, including their new silicone baking mats. These baking tray reusable liners are the fantastic new must-have for the kitchen… and for good reason:
They are made from high quality fibre glass coated with 100% Certified FDA/LFGB food-safe silicone for consistent heat conduction.
They are heat resistant from freezing to to 248°C
The silicone coating creates an instant non-stick surface that is very easy to clean.
They can be used in the oven, microwave or even as a pastry mat.
They're stylish! A woven hessian type weave with a bold coloured border makes for an attractive product.
They're easy to store – roll up or lay flat in a drawer.
There is no need for baking sprays, butter or oil, thereby keeping the calorie content down on the finished dish.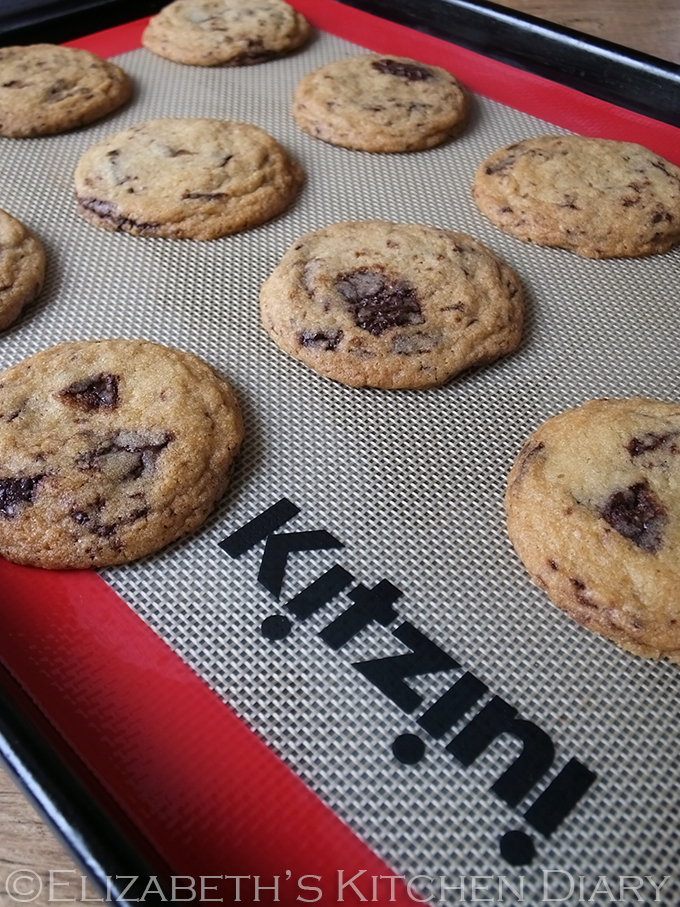 Now, what did I think of my Kitzini baking mat samples?
First up I tested them out on my tried and tested Camp Aitebreagh Chocolate Chip Cookie recipe. Usually, to make these cookies, I either have to liberally butter a baking tray or use a new sheet of baking paper per batch (too much melted chocolate stuck to the paper means it can't be reused for each batch).
My old baking mat (a poor quality freebie off the front of a supermarket baking magazine!) had a lot of resistance to it, meaning my cookies didn't spread as much as they normally would have. The perfectly smooth Kitzini baking mats allowed the cookies to spread just how they are supposed to resulting in gorgeous, perfectly textured cookies each time. Their large size meant I could get a full dozen cookies on each sheet without worrying about them touching.
A quick wipe down of the melted chocolate between batches meant I churned out four dozen of my favourite cookies in no time.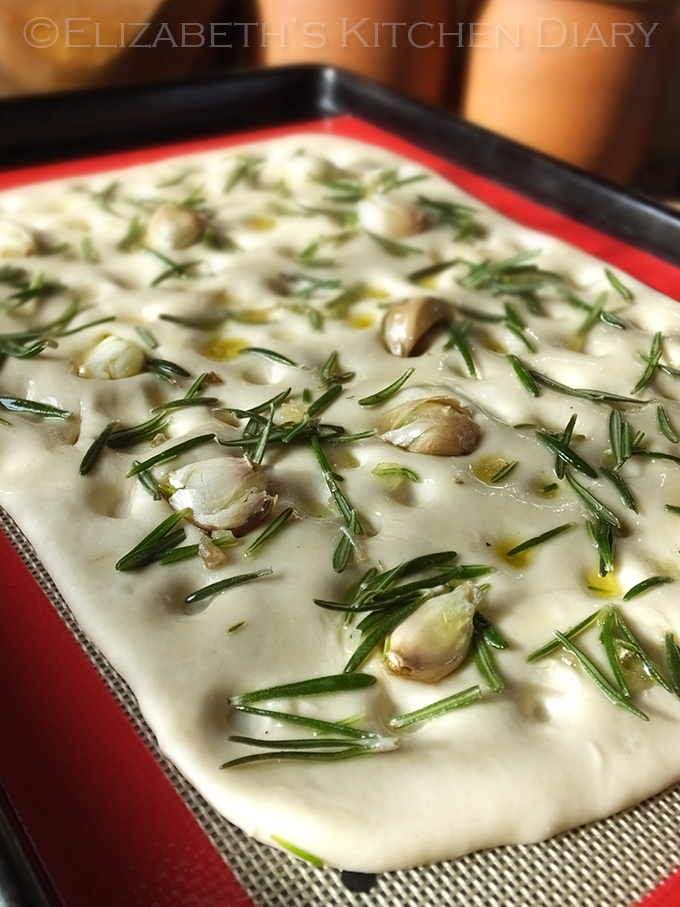 Secondly, I used my baking mat to make some bread machine garlic and rosemary focaccia. The dough gripped perfectly to the mat, meaning I didn't have to faff about trying to get the dough to stay where I wanted it to while rolling (saving time!) and the mat was easily transferred, bread dough and all, to the waiting baking tray.
The bread baked perfectly, and there was no problems sliding the baked bread onto a wire rack to cool (there's nothing worse than having bread stick to baking paper, is there!). I'll be using this baking mat for our pizzas too – it really does make rolling out the dough so much easier!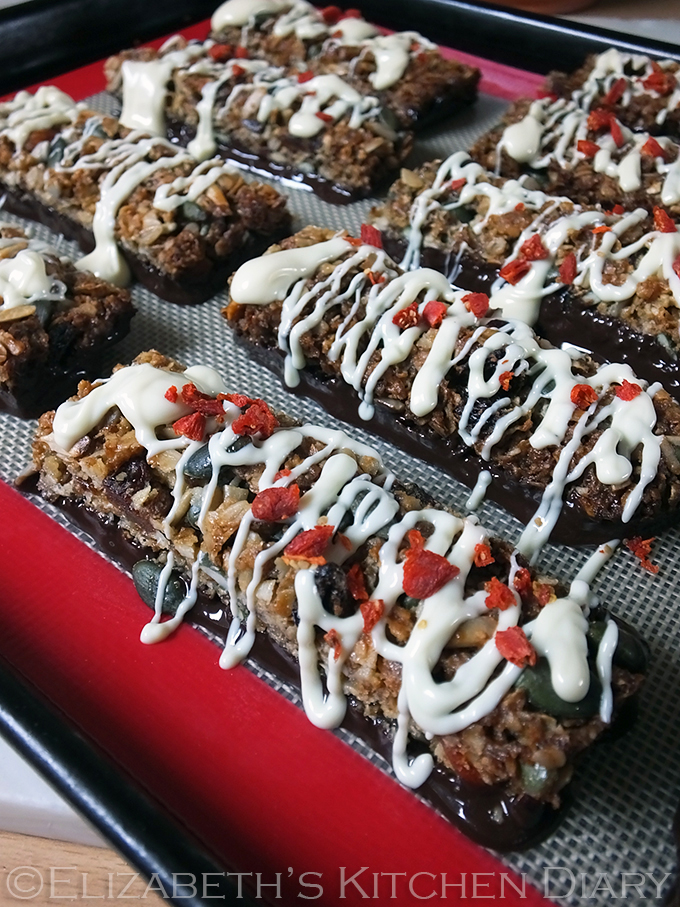 Lastly, these experimental Alpen muesli bars with pumpkin and sunflower seeds that I made for a weekend treat worked perfectly on my new Kitzini baking mat! The bars themselves were baked in a separate 9 inch silicone baking pan, cooled and then cut into bars before being dipped in melted dark chocolate and left to harden on the Kitzini baking mat. White chocolate and goji berries were then sprinkled on top. A little bit too moreish, I tell you – and a recipe will follow shortly!
THE VERDICT: I love this product! It looks fab and does exactly what you want it to.
Kitzini sell exclusively through Amazon in both the US and UK, and their baking mats have an RRP of £29.99 each. However, at the time of writing this post (30 March 2015) they are on sale for £10!
You can find out more about Kitzini on their website, or follow them on Facebook and Twitter.
GIVEAWAY
Kitzini have very kindly offered the chance for ten of my readers to win a Kitzini silicone baking mat of their own RRP £29.99
HOW TO ENTER
For your chance to win one of ten Kitzini silicone baking mats RRP £29.99 enter using the Rafflecopter form below. Come back and tweet about the giveaway every day for more chances to win!
TERMS & CONDITIONS
This giveaway is open to UK entries only. Entrants must be age 18 or over. The winner will need to respond within 7 days of being contacted; failure to do this may result in another winner being selected.
The prize is offered and provided by Kitzini. The prize is to win one of ten Kitzini silicone baking mats RRP £29.99. There is no cash alternative and the prize is not transferable.
There is no entry fee and no purchase is necessary to enter this giveaway. The promoter (Elizabeth's Kitchen Diary) reserves the right to cancel or amend the giveaway and these terms and conditions without notice.
Entry into our giveaways will be deemed as acceptance of these terms and conditions.
If you need some help using Rafflecopter, here's a quick clip to show you how. Rafflecopter will pick the winner at random from all the entries received. I will be verifying entries and any automated entries or those who have claimed they have made the mandatory blog post comment and really haven't will be disqualified. It's mandatory!
Closing date is midnight on Monday 27 April 2015 (GMT) and the winner will be announced that day.
If you want to be kept up to date on my recipes, occasional craft tutorials, adventure stories and giveaways then please subscribe to my weekly newsletter; it gets sent out every Monday morning if there is new content. Your email address won't be passed on to anyone, you will never be spammed and you are free to unsubscribe at any time, no questions asked. Make sure you confirm your subscription or you won't receive the newsletter – if it hasn't arrived check your junk mail folder.
[wysija_form id="1″]
Elizabeth's Kitchen Diary received two Kitzini Silicone Baking Mats for review. All opinions expressed are our own, and this is not a paid post.