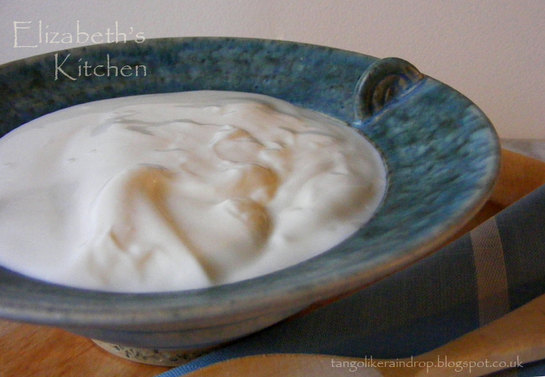 I love yogurt but it is expensive if you eat it at the rate our family does! I would buy the local village shop's entire stock and then run out before the next delivery if I didn't make my own. I have tried making yogurt the traditional way, but alas, our house is far too cold and drafty. There is nowhere consistently warm enough to make it, so I gave up trying. A Lakeland Electric Yogurt Maker has solved this problem, and at £20 it's quite the bargain, I think.
I buy cases of UHT full fat milk (£4 from the town supermarket) and every few months I buy one of those small tubs of Yeo Valley organic natural yogurts to use as a starter (40p). I've tried other brands of natural yogurt but full fat Yeo Valley makes the best (their no fat variety – not so much, it has to be full fat all the way). Save a spoonful from each batch to use as a starter in subsequent batches. You will eventually notice the yogurt not turning out as thick and creamy and so this is when you need to get a new shop bought starter. Each batch will keep in the fridge for up to 5 days (if it lasts that long!)
Please note that this is not a sponsored post. Living on a remote Scotland island means I don't have access to a steady supply of shop bought yogurt. I love my Lakeland yogurt maker and it's paid for itself in homemade delicious, creamy natural yogurt at least ten times over.
Homemade natural yogurt
Delicious, creamy and economical homemade natural yogurt.
Ingredients
1 litre UHT full fat milk
4 heaped tbsp skimmed milk powder
1 tbsp Yeo Valley plain natural yogurt
Instructions
1. Spoon the skimmed milk powder into the yogurt bowl.
2. Pour in the UHT milk (no need to heat as it is already sterilized) and stir until the skimmed milk powder is dissolved.
3. Gently stir in the natural yogurt starter.
4. Place yogurt bowl into the maker, pop the lid on and switch on.
5. Leave for 11 – 12 hours.
6. Transfer the yogurt to the fridge and leave until cool.
Details
Prep time: Cook time: Total time: Yield: 1 litre