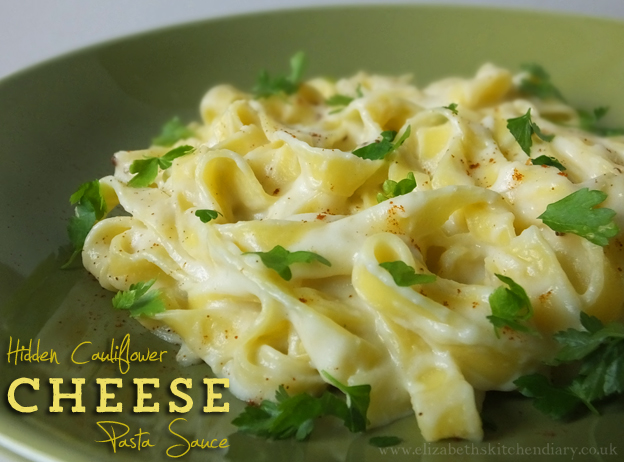 DD is going through a pasta and cheese sauce phase just now. Every time I ask her what she wants for dinner I get the same reply: "Macaroni with cheese sauce, please."  She likes her pasta and cheese with olives, chopped fresh tomatoes and fresh parsley scattered over the top, so at least there's some veg in that meal.
However, this is not to every child's liking. Both my boys would kick up a massive fuss if I dared scatter fresh tomatoes over the top of their pasta.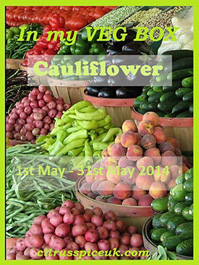 Cauliflower is not a vegetable I ever think to buy, but it's been making a regular appearance in our house via our Turriefield Vegetable Box. That's one of the many things I love about our veg box, it forces me to get creative with ingredients I normally wouldn't think to use. Like cauliflower (and cabbage!). They are expanding my vegetable horizons!
There'd been a paper bag of cauliflower sitting in the fridge for over a week, silently waiting (nagging) to be made into something before it went to waste. I'd no idea what I was going to do with it until DD asked for macaroni cheese for dinner again, and while I was hanging out the laundry I had a brainwave: purée it and hide it in the sauce!
It worked! DD had a massive bowl and it wasn't until she was nearly finished when she commented, "There's something different about this." But she was none the wiser that she'd just eaten a generous helping of cauliflower.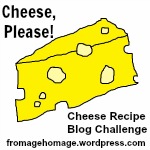 This recipe is the usual cheese sauce I make for DD, slightly adapted to include the hidden cauliflower. If you don't fancy the cauliflower bit you could always use extra milk to make a regular cheese sauce. Leftovers freeze really well, so I always make a big batch of sauce and freeze the rest in DD sized portions for a quick mid-week meal.
I'm linking this quick and easy recipe up with a few food blogging challenges. First, In My Veg Box, co-hosted by Manjirichitnis over at Slice Off Me and Nanya over at Citrus Spice UK, is all about cooking vegetarian with cauliflower this month.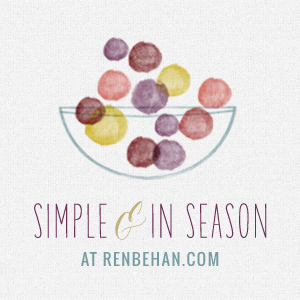 This month's Simple & In Season over at Ren Behan's beautiful food blog is all about seasonal recipes. I'm just learning about seasonal produce now and I'm going to assume that if it's arrived in my veg box it is seasonal! Cheese, please! over at Fromage Homage has a theme of Cheesonal and Seasonal this month, combining cheese with at least one seasonal ingredient.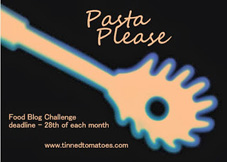 Pasta Please, the brain child of Jacqueline over at Tinned Tomatoes, and guest hosted by Nazima over at Franglais Kitchen is also about cooking seasonally this month.
Lastly, I'm linking up with Extra Veg, a challenge designed to get us eating more vegetables. Co-founded by Helen over at Fuss Free Flavours and Michelle at Utterly Scrummy, this month's challenge is guest hosted by Shaheen over at Allotment 2 Kitchen. This challenge is a blog hop, so scroll down to see what other foodies have been sneaking extra veg into!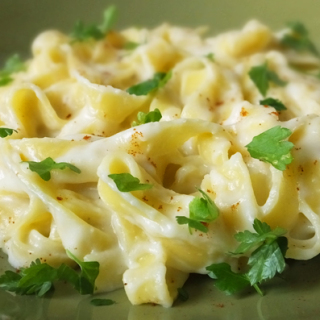 Hidden Cauliflower Cheese Pasta Sauce
A deliciously creamy cheese sauce with hidden vegetables! Ideal for picky children.
Print
Rate
Affiliate Links
This recipe card may contain affiliate ingredient and equipment links. As an Amazon Associate I earn from qualifying purchases.
Instructions
Place cauliflower in a medium sized saucepan and cover in water. Bring to a simmer and cook until tender, about 10-15 minutes.

Meanwhile, heat butter in a large saucepan until it starts to bubble.

Stir in flour and cook, while stirring, for one minute.

Remove pan from heat and whisk in the milk.

Return pan to heat and stir until the sauce thickens. It will be quite thick at this stage. Remove pan from heat.

When the cauliflower is tender, drain and purée.

Stir cauliflower purée, mature cheddar, mustard and cayenne into the sauce.

Season with salt and pepper, to taste, and serve sauce with pasta.
Notes
This recipe makes enough sauce to feed four adults, however, if you are just feeding small children with it leftovers freeze very well. Freeze in individual child-sized portions for a quick mid-week meal.
Environmental Information