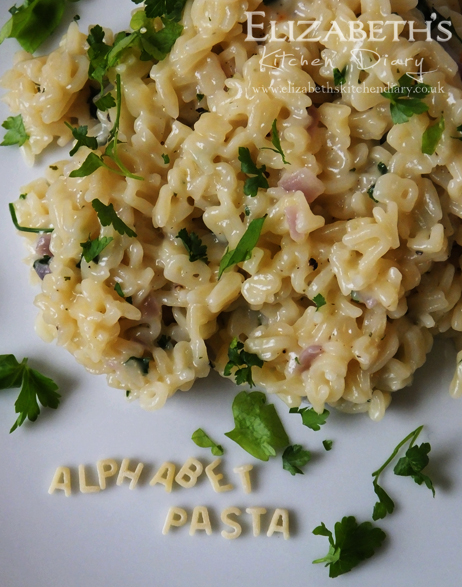 When I was little my mother used to make mince and tatties for dinner. Her mince involved browned beef, a chopped onion and a tin of Heinz alphabet soup and it was absolutely the Best Thing Ever. I could never get enough of it. 
Sometimes, for breakfast, if we were lucky, we'd get treated to a box of Alpha-Bits breakfast cereal instead of our usual Shredded Wheat or Cornflakes breakfast. Does Post still make and sell Alpha-Bits cereal in Canada?
As a result I have a nostalgia for alphabet shaped foods, so years ago when I saw organic white alphabetti Italian pasta by La Terra e il Cielo in our local Scoop Wholefoods shop I quickly bought it and it became a regular item in our store cupboard.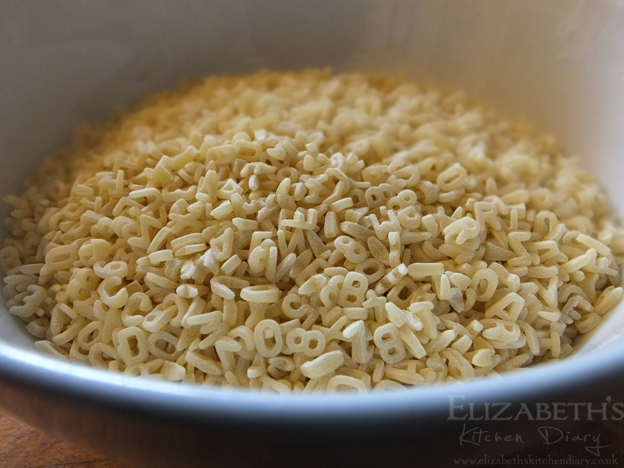 I will throw a handful of alphabetti in my own mince and tatties recipe, or in some home made vegetable soup but my favourite way to prepare alphabetti is as a cheesy grown-up comfort food. Sometimes I get in a meat and carbs sort of mood and this dish is my fall back upon carbohydrate craving staple. It's also my side dish for our local Scalloway Meat Company peppered pork grills and minted lamb chops which I I often pick up in our local village shop. I am positively addicted to their peppered pork grills, thick pork fillets marinated in a spicy peppery sauce and grilled to perfection in my Tefal Optigrill. Mmmmm!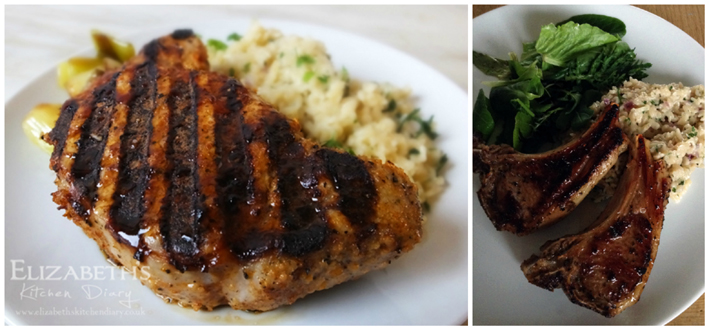 This recipe is adapted from a recipe found here. I prefer to use Maldon smoked sea salt in this dish, and I don't grind the salt. Instead, I crush the teaspoonful between my finger tips so that you get hits of the gorgeously smoked flavour as you scoff. Scoop Wholefoods in Lerwick now sell Maldon smoked sea salt, for any locals reading this! Red onion gives a nice contrast of colour and I throw in quite a lot of fresh parsley. I love the green flecks throughout the cheesy pasta. Just try it; you'll be hooked too. 🙂
As I always serve this pasta dish as an accompaniment to some local butcher produce, I am sharing this post with my own Shop Local challenge, which aims to promote the wonderful produce available to foodies on their own doorsteps.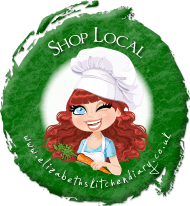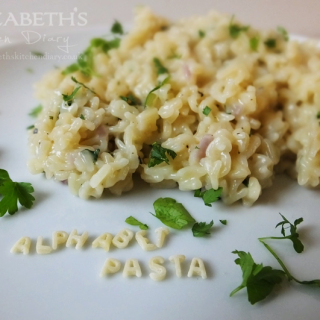 Alphabet Pasta
The perfect comfort food - a cheesy alphabet pasta, for grown ups!
Print
Rate
Affiliate Links
This recipe card may contain affiliate ingredient and equipment links. As an Amazon Associate I earn from qualifying purchases.
Instructions
Heat butter in a medium sized saucepan over a medium heat.

Sauté onion until softened, about 2-3 minutes and add the pasta. Stir to coat well.

Add the vegetable stock, stir and pop the lid on the pan. Cook for 10 minutes, stirring occasionally to keep the pasta from sticking to the bottom of the pan.

When the stock is completely absorbed and the pasta is al dente (it still has some bite to it) stir in the cheese, salt, pepper and parsley.

Serve immediately.
Notes
Serve with peppered pork grills or minted lamb chops.
Environmental Information