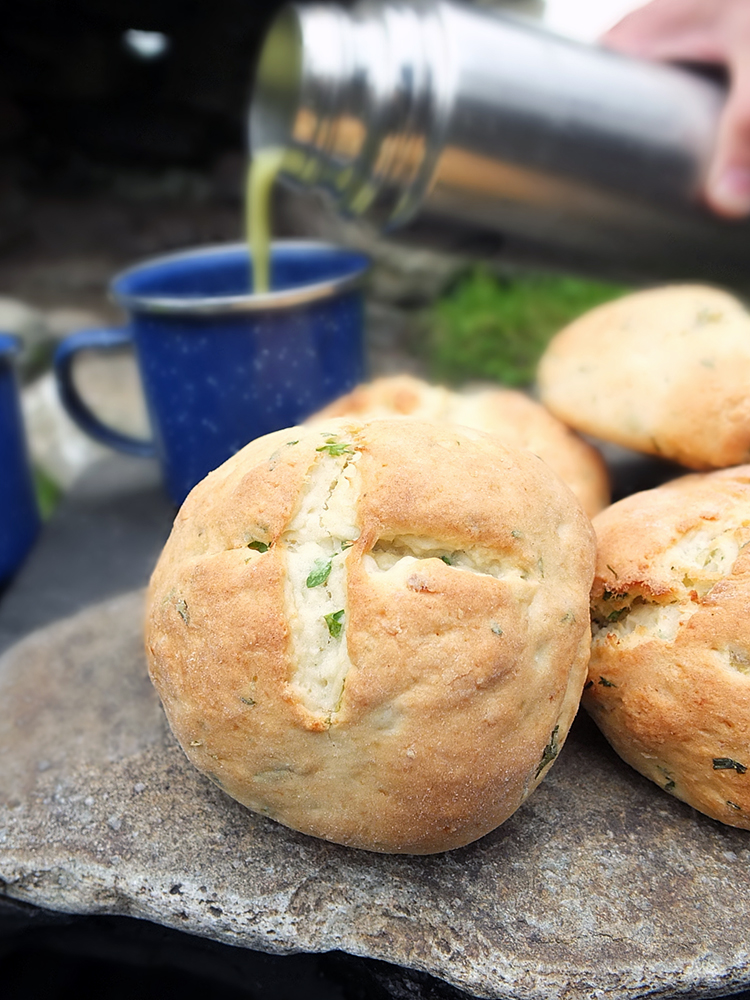 They say that familiarity breeds contempt.
I've called Shetland home now for over 17 years. Shetland, in case you don't know, is a little island archipelago in the North Sea midway between Iceland, Norway and Scotland. It measures a mere 80 miles from tip to tip and about 35 miles wide. It really is a tiny, tiny rock in the great big sea.
I'm not feeling the Shetland love right now.
I know it's just a phase and I think it's part of my post-holiday comedown. In June my friend and I went on an epic bike-packing trip through Orkney and the highlands of Scotland – 400 miles of glorious cycling through some of Scotland's most picturesque country, including 80 miles of off-road trails down the Great Glen Way ending with a climb of Britain's highest mountain – Ben Nevis.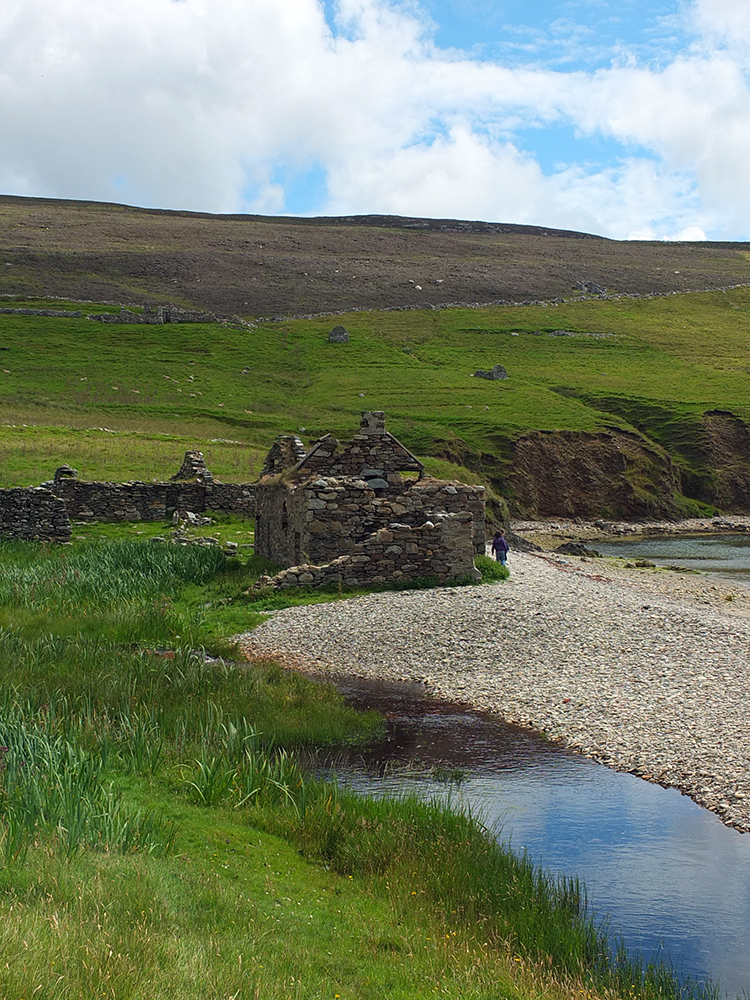 This was followed by a whirlwind family trip, our first proper press trip, on the Virgin Trains East Coast Line from Aberdeen to Hull where we caught the P&O Ferries Pride of Hull to the Netherlands, and hopped on another train to spend the weekend in Brussels, Belgium.
In mid-July I went solo camping in Bergen, Norway. Although it rained most of the time I was there (they're having their worst summer for rain since 1929 I was told by a local), there was one gloriously sunny day where I went on the most fantastic hike through the surrounding mountains and lakes. As far as outdoor adventuring goes, for me, it was utter heaven. SPF 50+ wasn't sufficient for my delicate red-haired complexion and as I sit here and type my skin is peeling from the resulting sunburn. My husband (who has a darker complexion and doesn't burn) is morbidly fascinated by this.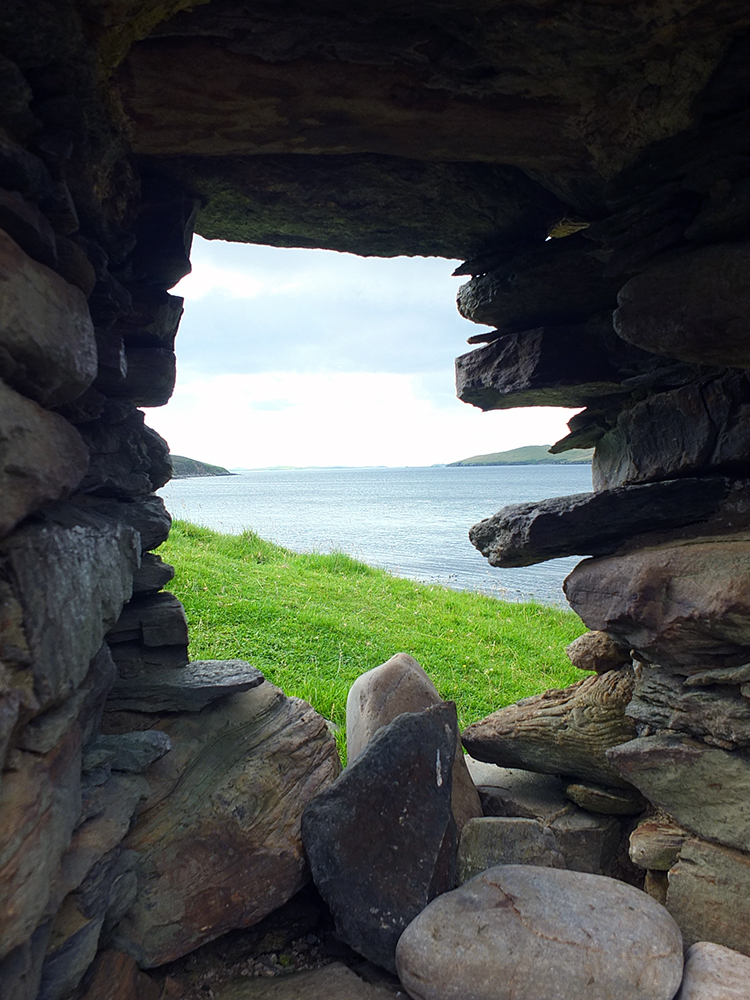 So now I am sitting here, sulking a bit, skin peeling, with what can only be described as a serious case of the harumpffs. I had so many 'I love my life' moments this summer. Now…. bah.
Oh, and I feel like I've been run over by a train. I didn't do any strength exercises for entire month of July; traveling seriously disrupted my exercise routine. Yesterday I started the 30 Day Shred in the hopes that it would kick start my fitness regime, and oh my goodness gracious me the ouch. All of me. Ouch.
That and I've only seen proper sun a handful of days this summer. You know, that proper sun where the wind has died down, the sky is deep blue and you can actually feel the heat of the sun? I felt it one day in Norway. I felt it the day we left on our bike-packing trip and the following day in Orkney. That was June 13th & 14th, and then July 20th.
Three days of sun this summer – that's it!!!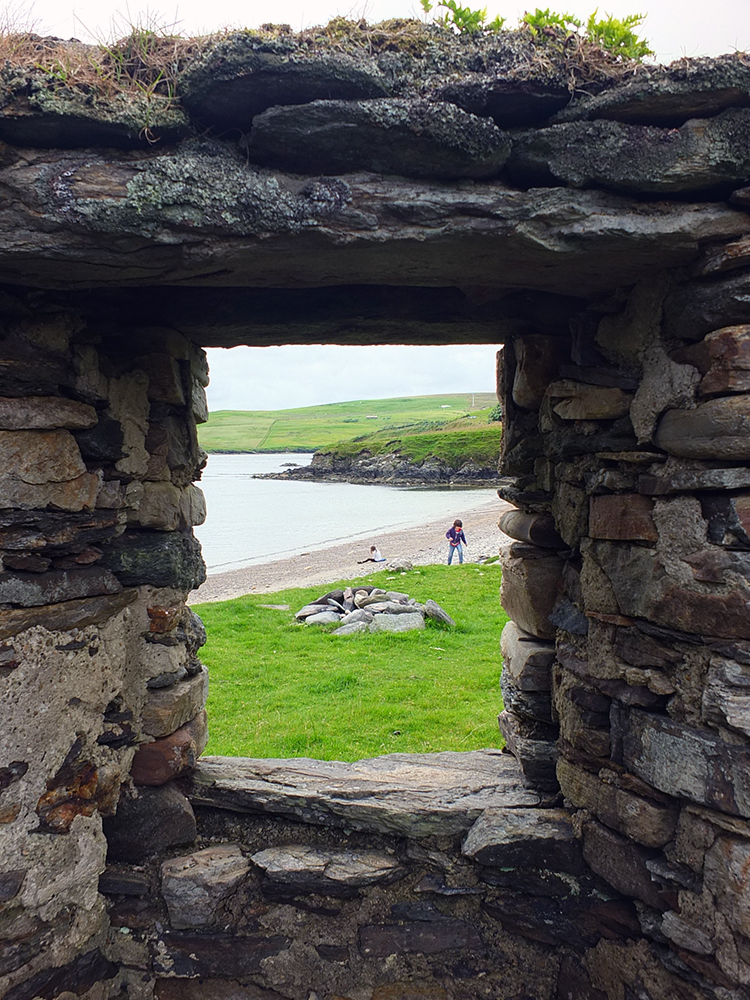 I miss summer.
Proper summer. Canadian summer.
I miss fireflies and bats, the sound of peeper frogs in the ponds. I even miss June bugs and their relentless bashing against the screen window trying to get indoors. I miss thunderstorms and the relief from the humidity when the skies opened overhead. As a child, I'd stand outdoors in my bathing suit embracing the heavy, warm rain.
It's flipping cold here. I can feel winter coming.
I need to stop whinging. I live on the most beautiful island, despite its lack of proper summer. Shetland has almost 1700 miles of coastline. There are still many new and interesting places to explore even though I feel like I've seen it all and can't figure out where to go next.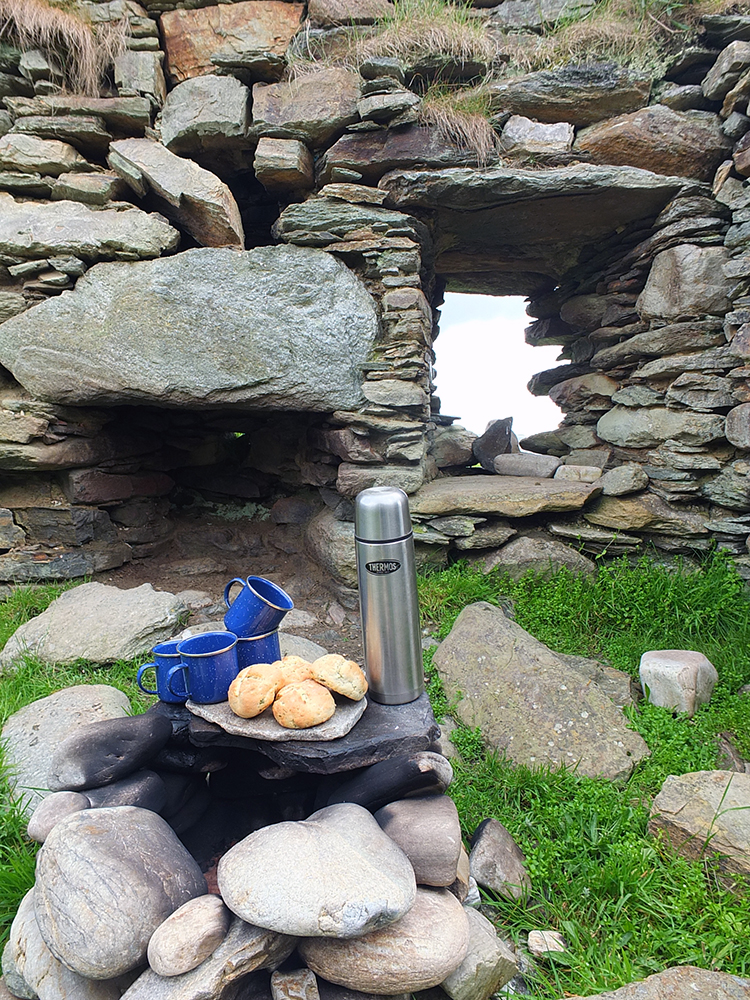 Last weekend I managed to convince the family to go on a picnic. Dear reader, I don't know if you realize how much of a monumental effort it is to get my family to put down their devices and go out exploring. The moaning! The 'aaawww do we have to?'s' Saying that, given the amount of whinging from me you've just read from me I can see where they get it from. I'm struggling to get motivated to do anything right now.
Invariably though, they love it when we get there, and I do too despite my grumblings. I even had a good 15 seconds of the happy sun warmth when we arrived at our beach destination, a beach facing south, sheltered from the sharp north wind. The clouds broke for a moment and I felt that brief moment of sun warmth on my face.
We explored up and down the beach, as you do. The tide was out and I found some tiny rock pools – one contained the most miniature crab in it. I felt for it – trapped inside a tiny micro-environment with only a small area to explore. Another contained a strawberry anemone with its fronds extended, although unless a snail, not paying attention to where it was…. er.. snailing… decided to crawl into its mouth there would be very little to eat in that tiny rock pool.
Both creatures would just have to sit and wait until the tide came back in for their freedom. A bit like I'm feeling right now (more self wallowing pity there, sorry).
The kids on the other hand entertained themselves with great glee. I'd been scouring the pebbly beach for small bits of driftwood for our garden fire pit when our youngest asked if he could have a couple sticks to play boat races with in the little stream. Madam created sand sculptures, oblivious that the wind had changed direction and was now blowing straight across the beach.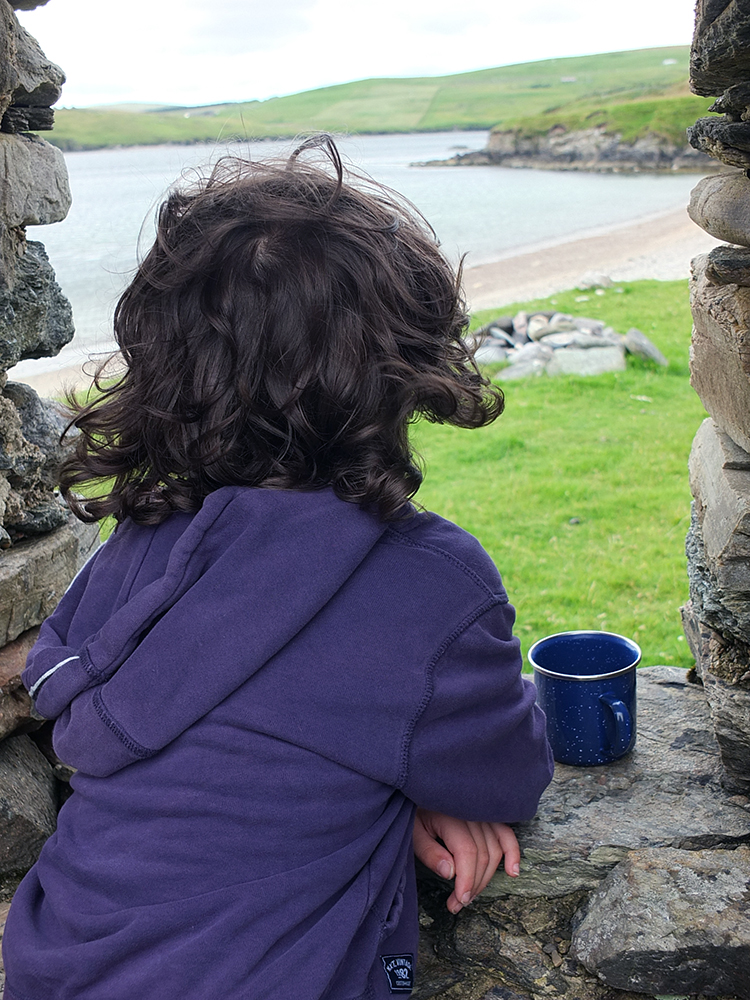 Our picnic lunch was served inside the ruins of a small croft house on the beach out of the wind. The day prior I'd made a most delicious summer soup with fresh peas, potatoes and lovage herb, and some mini picnic herbed potato bannocks based on a Nova Scotia recipe I've made a few times. The original quantity of flour is nowhere near enough and so I've upped the flour, used milk instead of water (reducing the quantity) and added a generous handful of fresh herbs. I've made this recipe as one whole round in the past, which is lovely, but this time I thought I'd make little mini bannocks perfect for a picnic.
My husband and I really enjoyed them, dipping them into the summery soup poured from a flask, but the kids weren't fans. They whinged. I think it was the green flecks of the herbs that put them off. Ach well, you can't please them all!
I used leftover mashed Albert Bartlett rooster potatoes for this recipe, mashed with my snazzy new üutensil Spudnik potato masher. You can read all about these companies and find the recipe for pea, potato and lovage soup I developed in collaboration with them over on yesterday's blog post.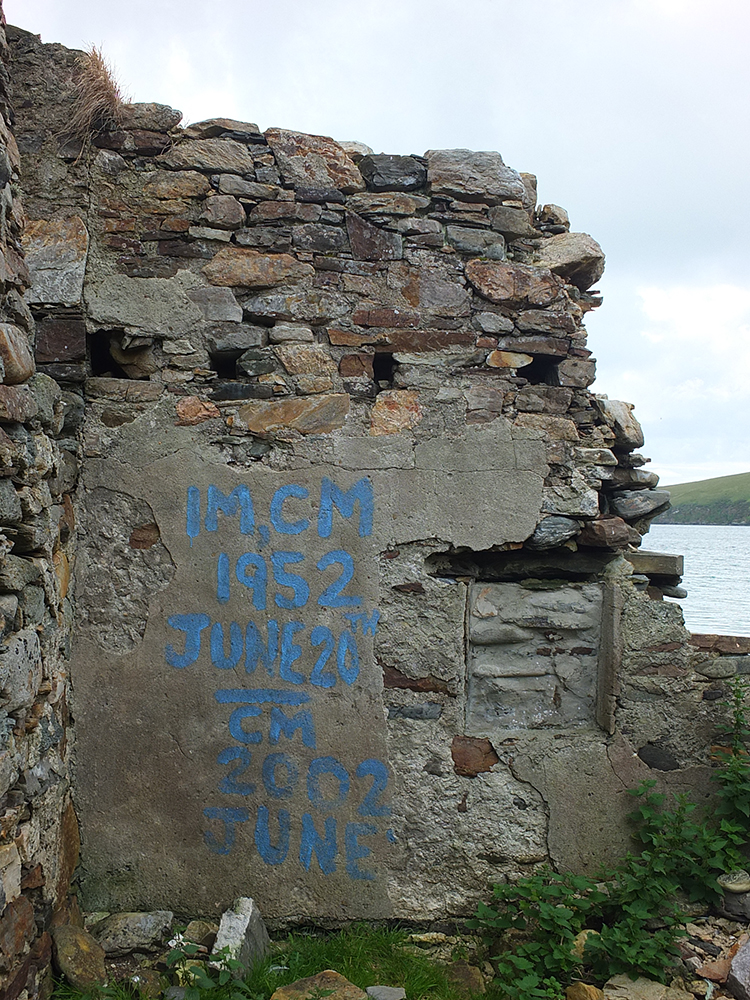 The secluded pebble beach we picnicked at used to be quite a busy area with the ruins of loads of croft houses surrounding it. For some reason, I have it in my mind that the main ruin on the beach used to be an old village shop. I've been here quite a few times but for some reason, this time the graffiti spray-painted on the inner wall of the shop ruins attracted my attention.
I felt a pang of sadness that there was only one set of initials in 2002. It made me realize that I need to stop feeling sorry for myself and enjoy these precious moments I have with my family because life is fleeting.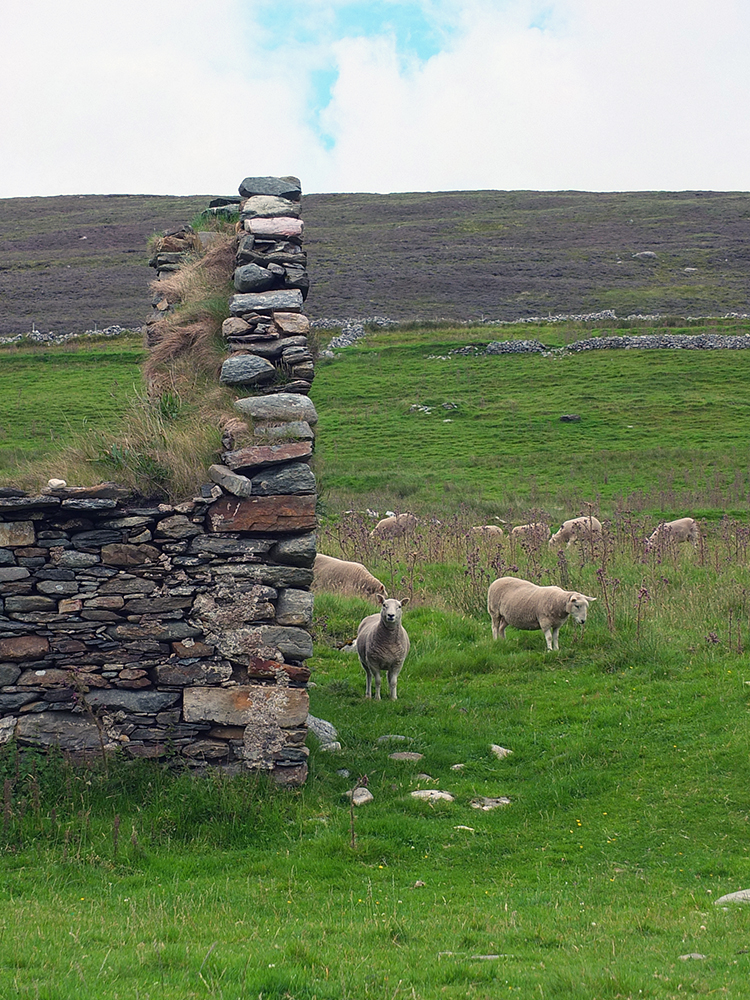 Do you have a favourite place in Shetland I might not yet have had the opportunity to explore? Some secret picnic spot? An isolated beach? A stunning cliff top walk? Any suggestions as to where to go and explore on the next sunny day would be greatly appreciated. I need to remind myself why I love this place so much and why I choose to call it home.
Don't worry, I know that my post-holiday slump will pass. I just hope I don't set in motion the idea for something drastic – like asking my husband to find us private rented accommodation in the village he works in, saving up for a mortgage (can we do it?!) or even moving back to Canada….. or Norway! It'll be 10 years this October I've lived in this house; the longest I've ever stopped in one place. Familiarity is breeding contempt. I'll just sit here and wait for the tide to come back in.
In the meantime though, here's my herbed potato picnic bannock recipe, and here are a few tips on how to pack a picnic.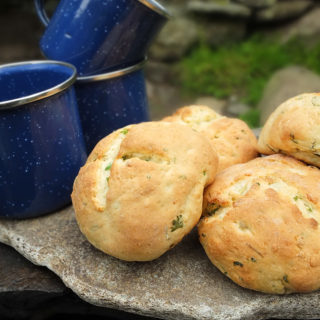 Herbed Potato Picnic Bannocks
A lovely light and moist potato bannock ideal for summer picnics.
Print
Rate
Affiliate Links
This recipe card may contain affiliate ingredient and equipment links. As an Amazon Associate I earn from qualifying purchases.
Instructions
Preheat oven to 230 C/ 210 C fan and line a baking tray with a silicone baking mat.

Sift together the flour, salt, and caster sugar. Rub in the butter with your fingertips until it resembles coarse breadcrumbs.

Rub in the mashed potatoes until well combined.

Stir in the finely chopped herbs and make a well in the centre of the mixture.

Add the milk and stir well with a wooden spoon until just combined.

Turn out onto a floured board and knead for a moment until smooth.

Cut into 8 even sized pieces and form into small round bannock shapes.

Cut a cross into the top of each bannock and bake for 20-25 minutes until golden on top. Transfer to a wire rack to cool completely. Store in an airtight container until needed.
Environmental Information
OTHER PICNIC BREAD RECIPES YOU MIGHT LIKE
Cheese & Olive Savory Picnic Muffins by Family, Friends, Food
Polish Sweet Buns with Blueberries by Coffee & Vanilla
Pressed Picnic Sandwich by The Hedgecombers
Best Summer Stuffed Picnic Loaf by Tinned Tomatoes
Wild Garlic Cheese Scones by Tin & Thyme
Caprese Pinwheel Sandwiches by Tinned Tomatoes
SHARING WITH SOME BLOG LINKIES
The Summer Al Fresco Eating Linky by Foodies 100
[wysija_form id="1″]