In collaboration with üutensil and Albert Bartlett potatoes.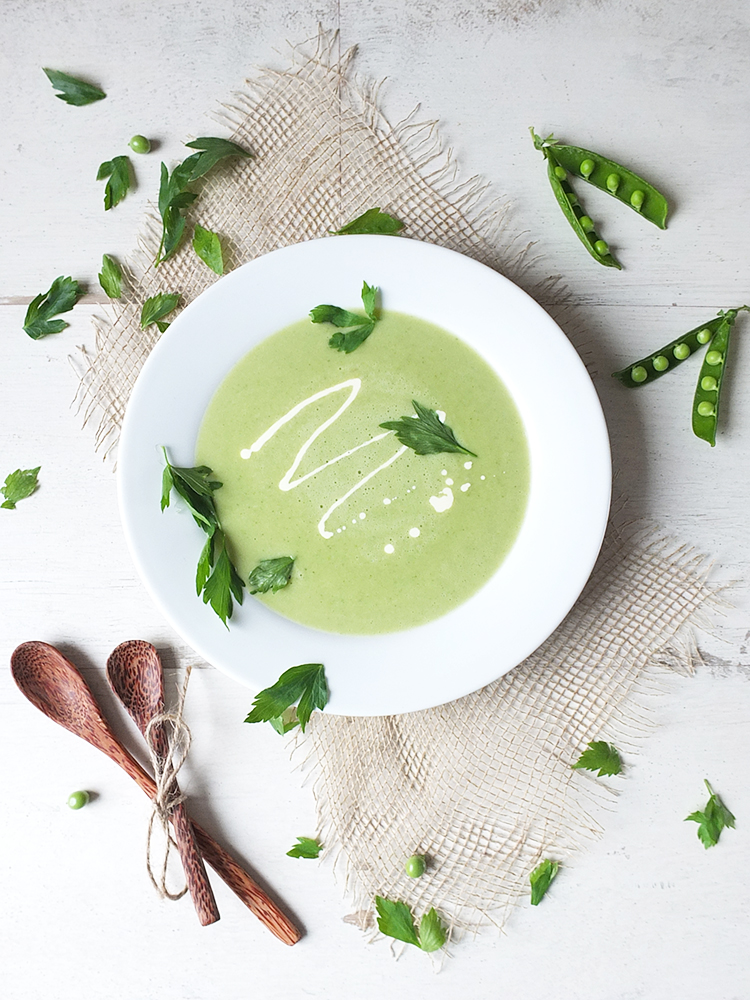 It's the time of year where our diet is largely dictated by what appears in our weekly organic CSA veg box. It's been a slow year for growing so far, our veg box producers say, due to cold weather and rain, but we are now receiving weekly deliveries. It's peak growing season in Shetland right now.
Our last veg box contained something new to me – lovage herb – a herb which looks a lot like flat leaf Italian parsley but has a flavour reminiscent of parsley and celery but with a hint of aniseed and curry. It goes very well with chicken, eggs and in fresh pea soup.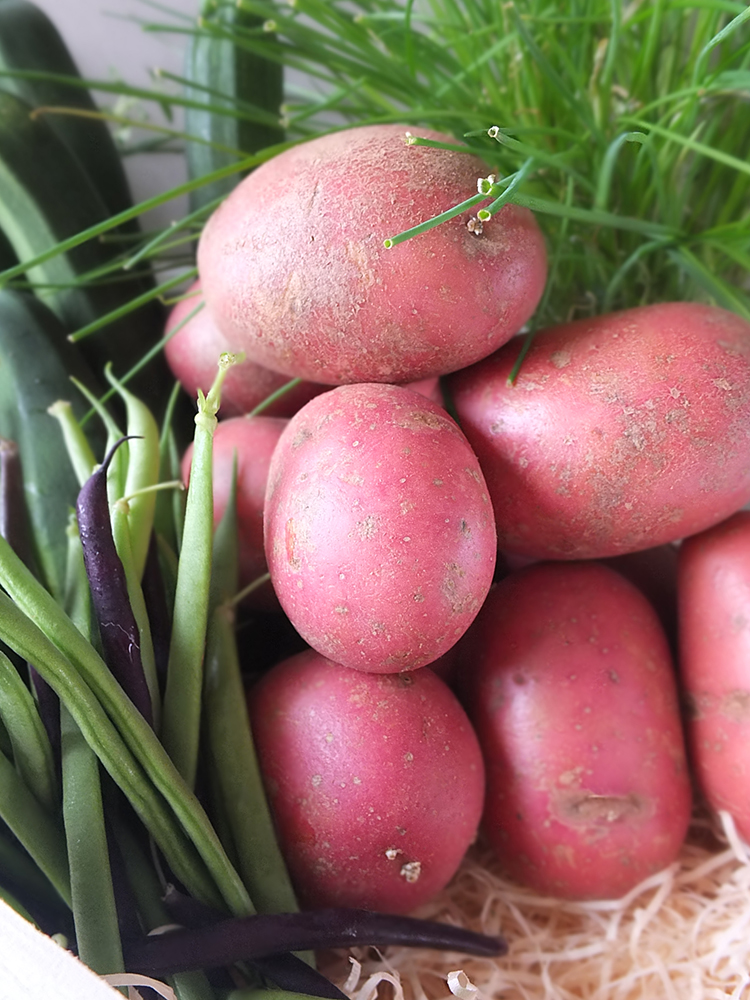 I didn't waste my gorgeous veg box peas in this soup, no way. My veg box peas are harvested the day before delivery and they are like gold in our house – they barely last an hour after delivery, being eaten, raw, straight from the pods like sweeties.
This soup recipe was made from supermarket pea pods which, I have to say, don't hold a candle to the veg box peas for freshness and taste, but they work really well in this summer soup.
I also used Albert Bartlett potatoes as a thickener. The addition of a few potatoes to a puréed soup adds a delicious creaminess without it being heavy – perfect for summer.
Albert Bartlett supply 20% of the UK's potatoes, and their Rooster variety tastes fantastic. This tattie is great for boiling, baking, mashing and roasting – an all round versatile potato. I love that they tell you where and by whom each bag of potatoes was grown – the potatoes for this soup were grown by Rodney Harrison in Aberdeenshire.
This summer soup recipe was prepared using a new range of innovative kitchen gadgets from üutensil, an award winning British design company who have created a wide range of quirky new kitchen utensils to brighten up your kitchen and made every day cooking tasks just that much easier.
The Strip², pictured above left, is a rather clever two-in-one vegetable prepper with an ambidextrous comfort grip. One stainless steel blade perfectly peels your vegetables while the second finely toothed blade slices delicate julienne sticks. I've got a veg box kohlrabi in my fridge with this julienne peeler all over it. Kohlrabi coleslaw, anyone?
The Tilt, pictured above right, is an angled non-slip two-sided chopping board with a built in ruler so you can be sure to cut your food into the perfect sized pieces. It's dishwasher safe and each side is clearly marked in the top right hand corner with either a picture of vegetables or meat, keeping food groups separate.
The Swoosh & Böl colander and mixing bowl set has a generous non-slip base for stability while the all purpose colander has vortex shaped perforations for the perfect drainage. The stepped handles create a larger draining reservoir – no more rushing across the kitchen with a colander of dripping vegetables!
The Spudnik is an innovative rotation potato masher. Instead of bashing your hot cooked potatoes you gently rotate the ball at the top with the palm of your hand, crushing the potatoes beneath the flower shaped base. It's faster and easier than traditional potatoes mashers and the result is perfect deliciously soft and fluffy mash every time.
I used the Spudnik to create a delicous side dish for my soup – some herbed potato bannocks. The recipe will follow shortly! We took a flask of the leftover soup and some of the bannocks out for a beach picnic yesterday, which rather lovely, and I'll share some photos and the recipe soon.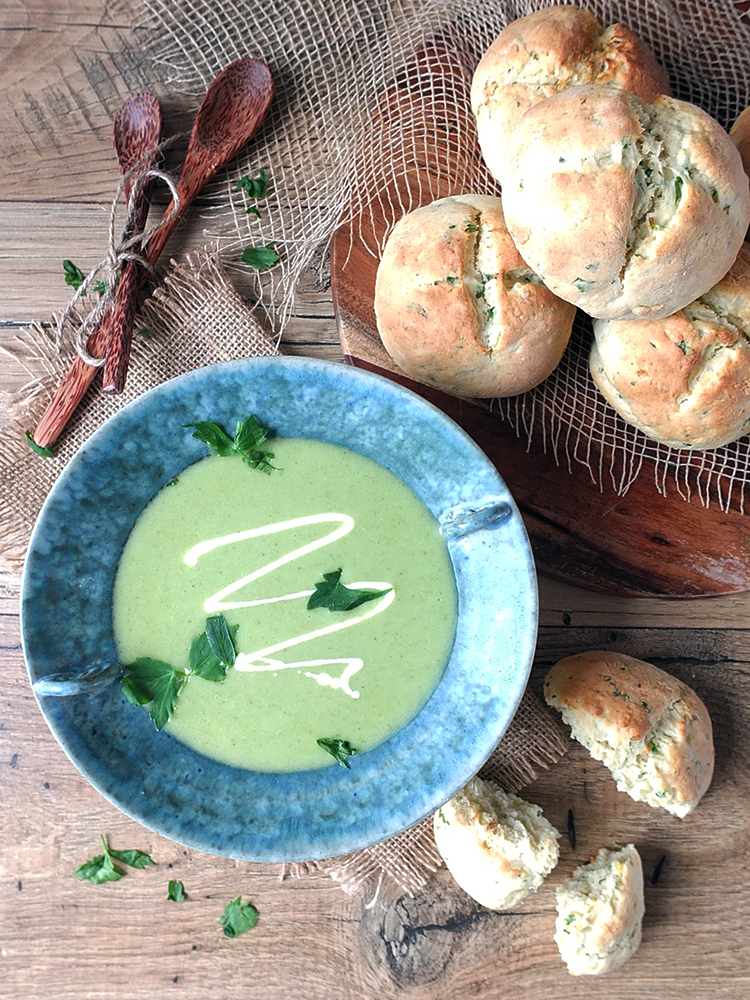 So yes, the soup – it's the perfect summer soup recipe, I think. Flavoured with a regular brown onion and a few spring onions, plenty of gorgeous freshly shelled peas and a generous handful of lovage it goes down very, very well.
You can find Albert Bartlett potatoes in your local Co-op, Morrison's, Sainsbury's, Asda, Aldi, Lidl and Waitrose. Follow them on Facebook and Twitter for more recipe inspiration. üutensil have an online shop with a wide range of unique, innovative kitchen gadgets. Prices for the items pictured above start from £7.99. You can also find them on Facebook, Twitter and Instagram.
What's your favourite summer soup recipe? Let me know in the comments!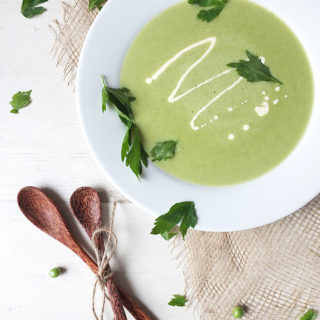 Ingredients
2

tbsp

butter

1

medium

onion

peeled and coarsely chopped

1

clove

garlic

crushed

2

large

spring onions

finely chopped

3

medium

Albert Bartlett potatoes

peeled and chopped

500

grams

fresh garden peas

1.5

litres

chicken stock

I use Essential Cuisine

30

grams

lovage

chopped

100

ml

double cream
Affiliate Links
This recipe card may contain affiliate ingredient and equipment links. As an Amazon Associate I earn from qualifying purchases.
Instructions
Heat butter in a large soup pan and gently cook the onion, garlic and spring onion until it begins to soften.

Add the cubed peeled potatoes and stir well to coat.

Add the chicken stock and leave to simmer for 10 minutes.

Meanwhile, remove the peas from their pods.

Add the fresh peas to the soup and simmer for a further 5 minutes.

Add the lovage and simmer gently for a further 5-10 minutes until all the vegetables are tender.

Transfer the soup to a high speed blender and blend until it reaches a smooth consistency.

Return to the heat and stir in the cream. Do not allow to boil.

Serve with lovage leaves scattered across the top.
Environmental Information
OTHER SUMMER POTATO SOUP RECIPES YOU MIGHT LIKE
Beetroot and Sweet Potato Soup by The Hedgecombers
Summer Green Soup with Parsley and Almond Pesto by Tin & Thyme
LINKING UP WITH SOME BLOGGING CHALLENGES
Simple & in Season by Feeding Boys
Recipe of the Week by A Mummy Too
Disclosure: this is a commissioned post. Thank you for supporting the brands who make it possible for me to do what I love – mess up my kitchen and share recipes and stories!