This flavoursome vegetarian dish is made with the new Very Lazy slow cooking paste pots for an easy weekend (or busy weekday!) meal. Jazz it up with some quick homemade cumin-spiked flatbreads and turmeric yoghurt for a complete meal. In collaboration with Very Lazy.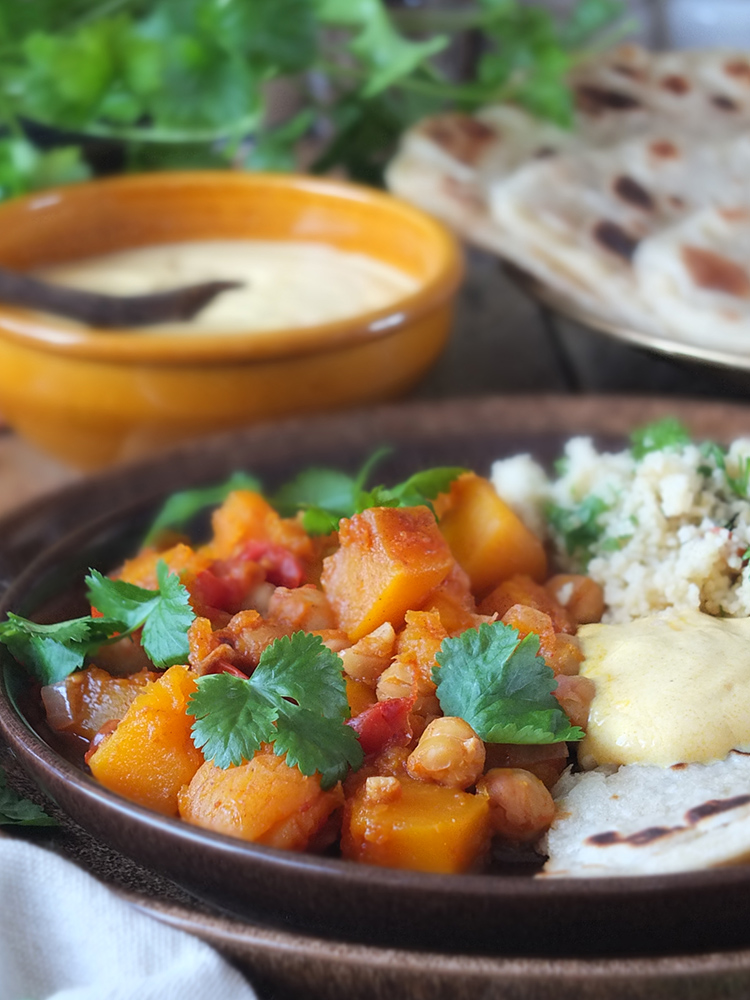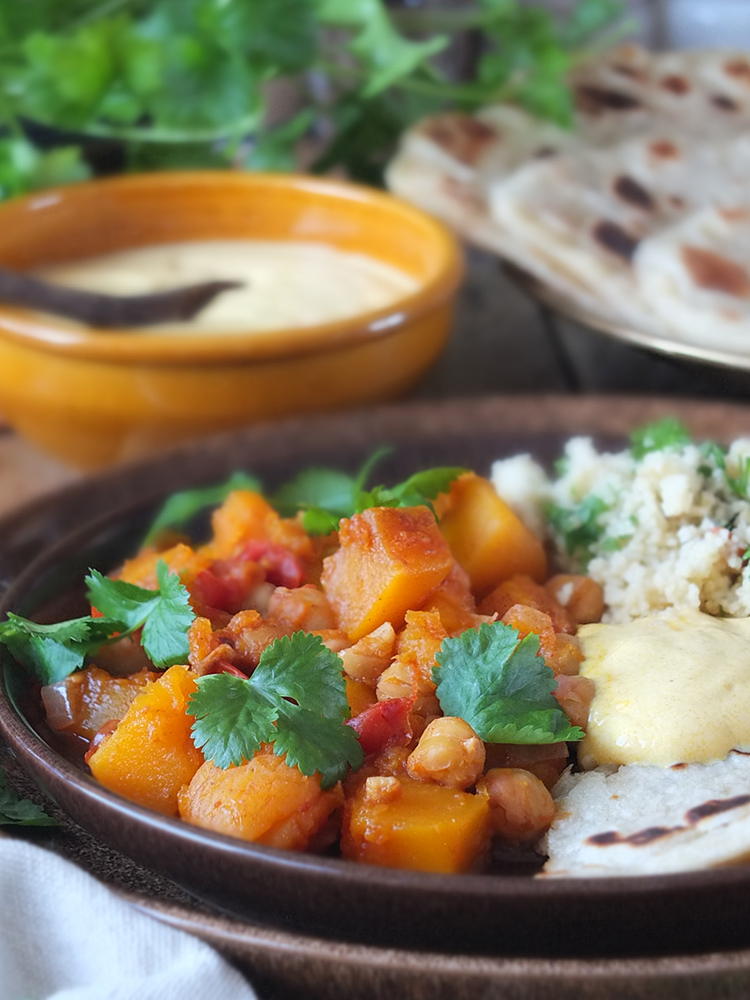 Slow Cooker Harissa Butternut Stew
I do love to cook. I love pottering about the kitchen at my leisure preparing ingredients and creating aromas that waft throughout the house. Fresh bread. Spices. Cake.
Novelist Richard Llewelyn described it best in How Green Was My Valley,
Indeed, if happiness has a smell, I know it well, for our kitchen always had it faintly, but in those days it was all over the house.
You know what though, sometimes I just want to be lazy. Sometimes there's just not enough time in the day for all that chopping, simmering, stirring and roasting. Sometimes I just want to plonk a bunch of ingredients in a slow cooker, have someone else do all the thinking about the flavourings, and then come back to a delicious meal.
Enter: the Very Lazy slow cooking paste pot range.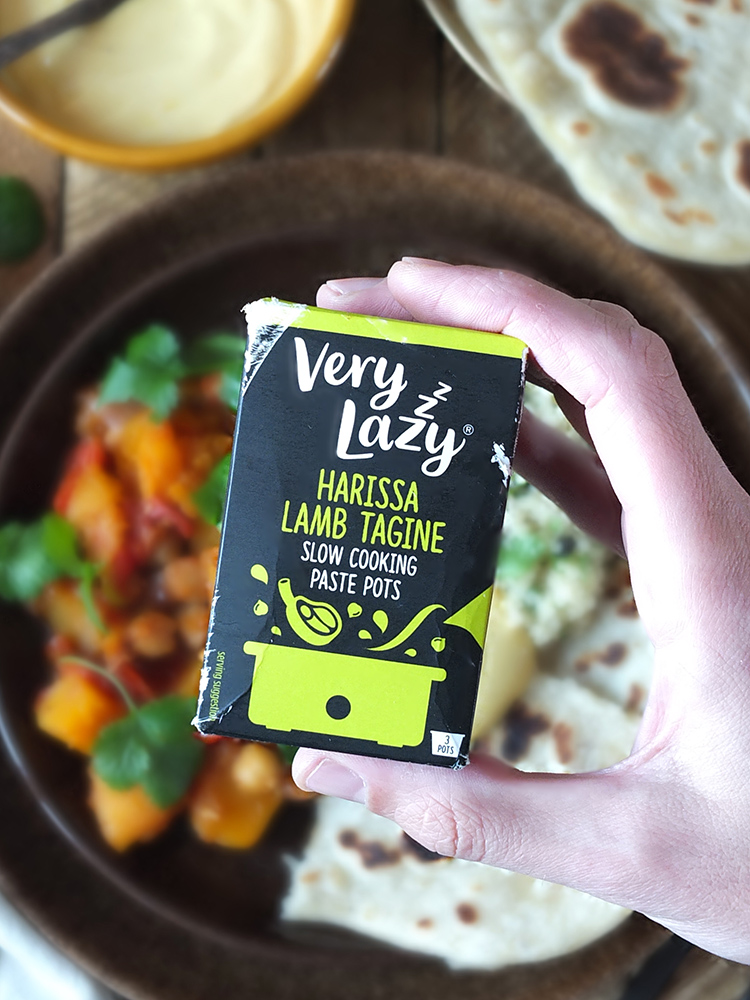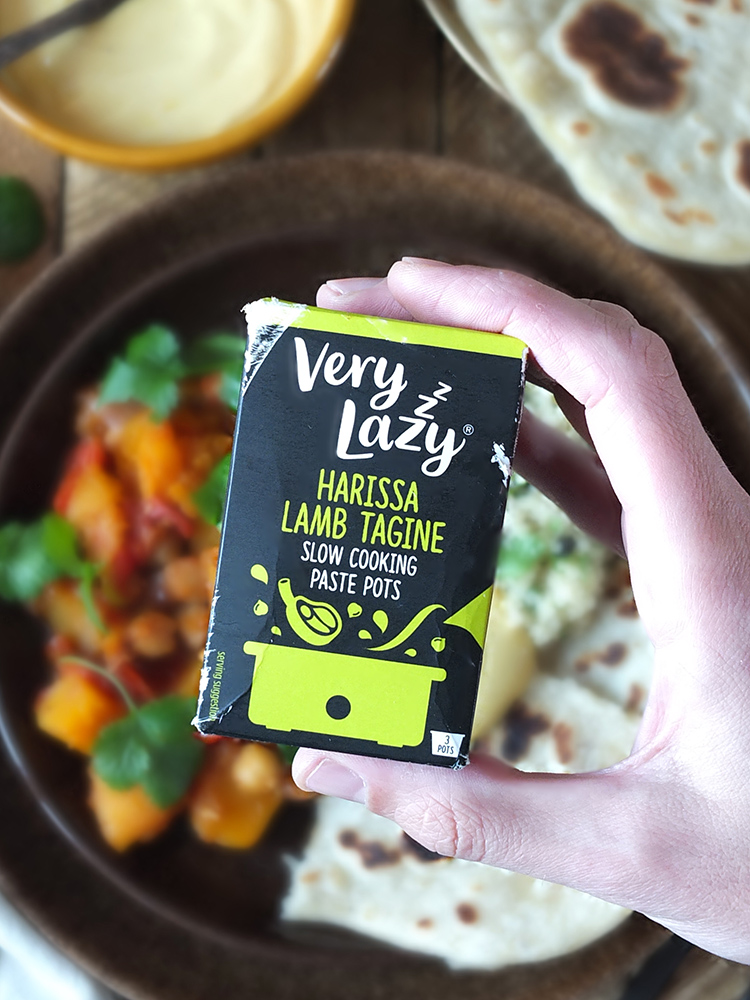 Very Lazy Slow Cooking Paste Pots
Very Lazy believe that home cooking should be an adventure – an exciting, full flavoured exploration of the wonderful variety of foods from all over the world.
Sometimes though, chopping and preparation can be time-consuming and messy and so Very Lazy peels, chops, slices and dices the very best ingredients, then captures them in all their tasty glory – in handy jars, tubes and now slow cooking paste pots.
There are four different flavours in their new slow cooking paste pots available exclusively from Tesco: Harissa Lamb Tagine, Aromatic Thai Chicken Curry, Chicken & Chorizo Stew and Sausage and Lentil Casserole.
Each box contains three slow cooking paste pots and two easy recipes – one meaty and one vegetarian. The ingredients in the pots are suitable for vegetarians and retail for £2 per pack.
I've taken their Harissa Lamb Tagine slow cooking paste pot and followed their instructions to make the vegetarian butternut squash stew. To jazz it up, I've served it with some couscous, cumin-spiked flatbreads and a dollop of cooling turmeric yoghurt.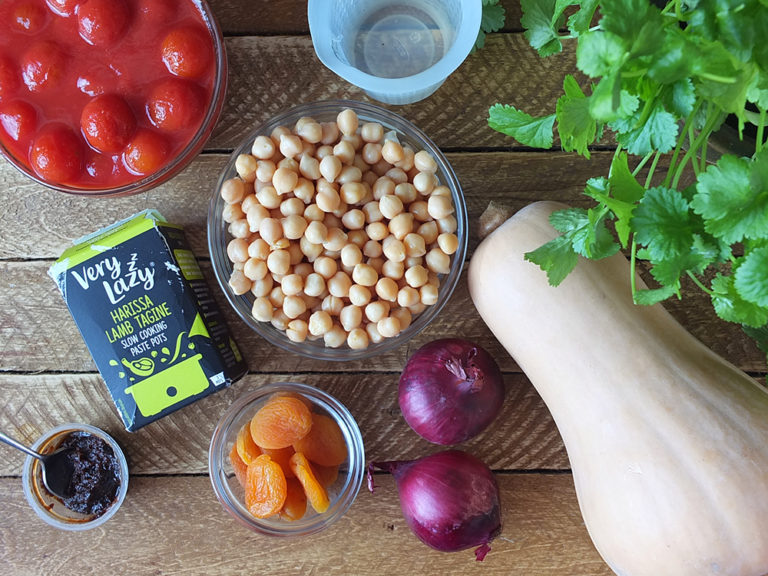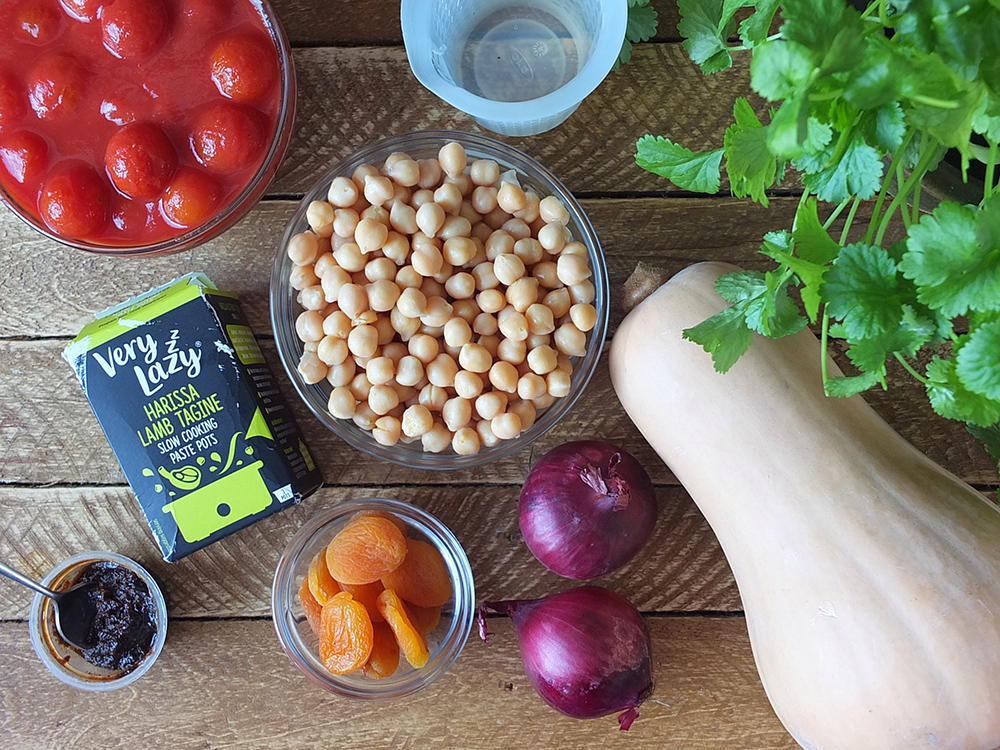 Ingredients for this Easy Slow Cooker Recipe
a large butternut squash, peeled and cut into one-inch size pieces
one large or two small red onions, diced
a handful of dried apricots
a 400-gram tin of chickpeas
a 400-gram tin of chopped tomatoes (I used cherry tomatoes in juice)
a little splash of water
fresh coriander leaves, to serve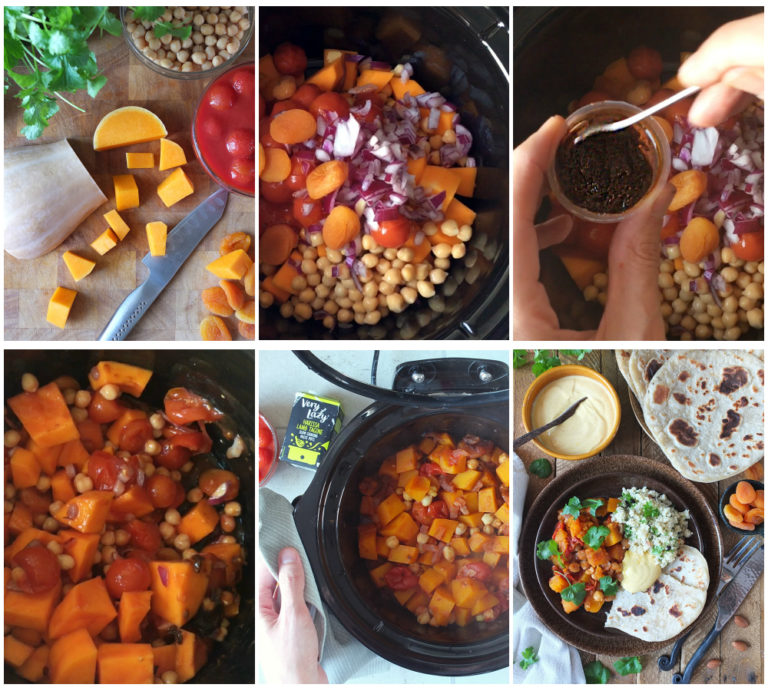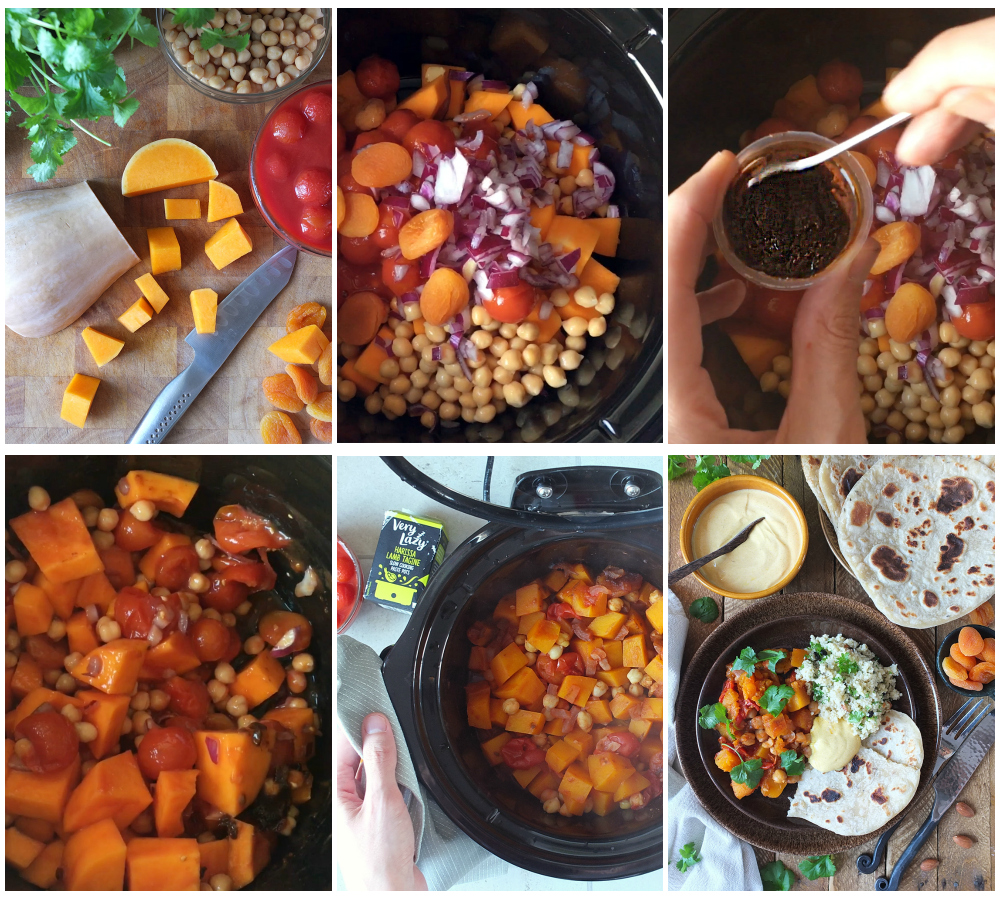 How to Make This Recipe – Step by Step Instructions
Peel and chop your butternut squash. Dice the onion and rinse and drain the chickpeas.
Pop all the vegetables and the apricots into a slow cooker.
Add the contents of one Very Lazy Harissa Lamb Tangine Slow Cooking Paste Pot along with 50 ml of water.
Stir well to mix.
Slow cook on low for 8-10 hours.
Garnish with fresh coriander leaves and serve!
Slow Cooker Harissa Butternut Stew
You can see, from the above video, how easy it is to prepare this flavoursome dish. There's very little prep other than chopping a butternut squash and an onion, and both of these could be done the day before.
In fact, you could put everything in the slow cooker pot the night before except for the paste pot and the water, keeping the ingredients in the slow cooker bowl in the fridge. The next morning before you head to work, add the contents of the paste pot, a little water and switch on the slow cooker.
Dinner will be ready when you get home!
No slow cooker? Each box also comes with slow cooked oven variations.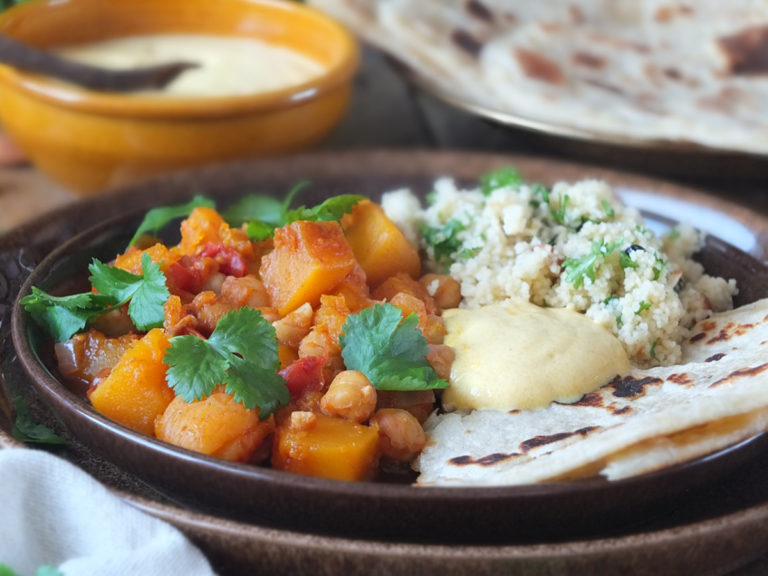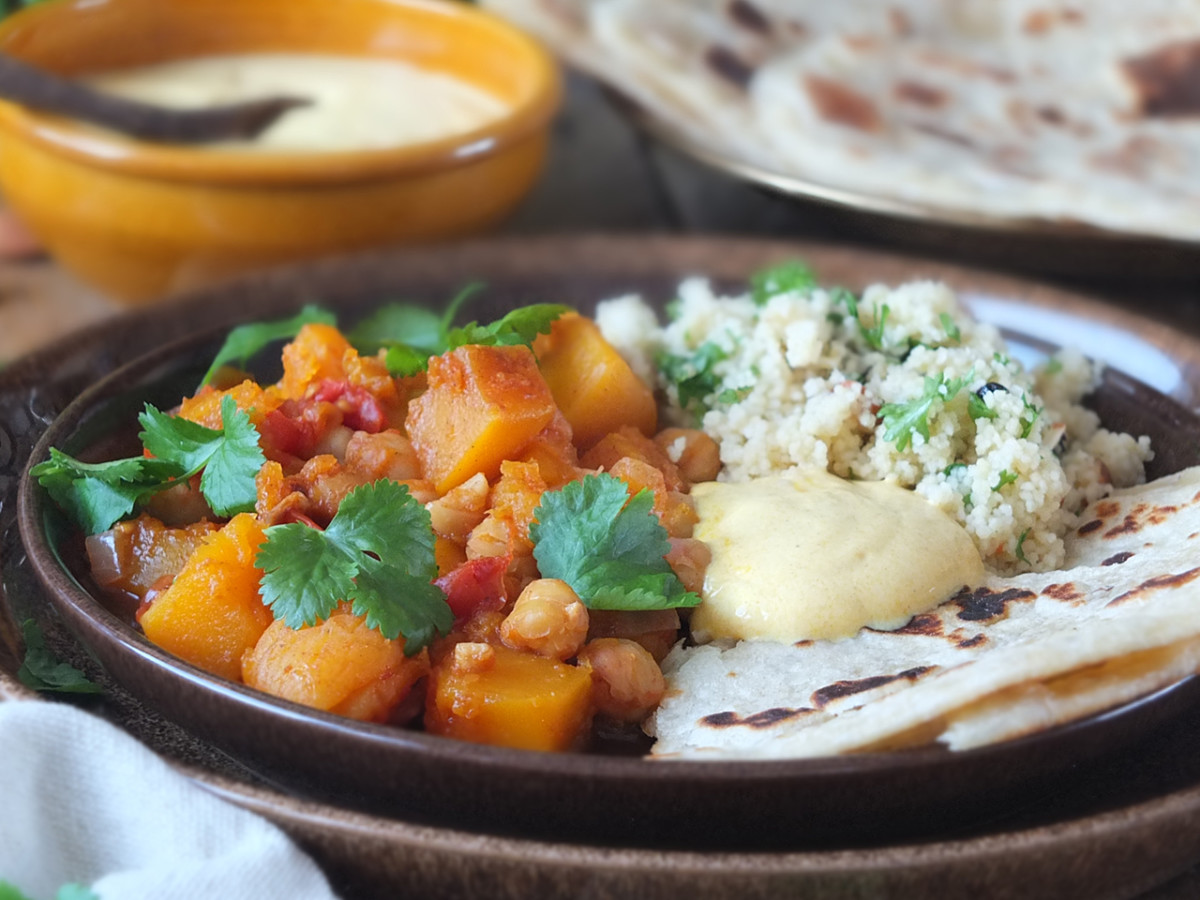 You can find more recipe inspiration on the Very Lazy website, and don't forget to keep up with Lazy news by following them on Facebook, Twitter and Instagram.
Which one of their four slow cooking paste pots would you try first? What would you make with them? Let me know in the comments!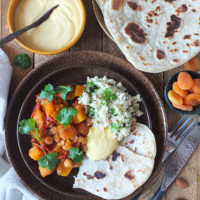 Harissa Butternut Stew with Quick Flatbreads & Turmeric Yogurt
A slow cooker vegetarian harissa butternut stew recipe with homemade cumin-spiked flatbreads and turmeric yoghurt. A perfect weekend meal.
Print
Pin
Rate
Ingredients
for the harissa butternut stew
For the cumin-spiked flatbreads
Affiliate Links
This recipe card may contain affiliate ingredient and equipment links. As an Amazon Associate I earn from qualifying purchases.
Instructions
for the harissa butternut stew
Place the butternut squash, red onion, chickpeas, apricots, tomatoes, Very Lazy paste pot and water into a slow cooker. Stir to mix together.

Place the lid on the slow cooker, turn to low and cook for 8-10 hours.

Remove lid, add coriander and serve.
for the cumin-spiked flatbreads
Place the flour, salt and toasted cumin seeds in a large bowl. Stir.

Melt butter and mix together with the milk.

Add the milk mixture to the flour mixture and stir well until it forms a soft dough.

Knead for about two minutes until smooth and stretchy. Wrap in clingfilm and leave the dough at room temperature for about a half an hour.

Divide the dough into four even pieces.

Roll each piece into a rough, flat circle about 3 mm thick.

Heat a teaspoonful of sunflower oil in a hot pan and cook the flatbread on each side for around a minute, flipping it over when it starts to brown and bubble.
for the tumeric yoghurt
Stir the ground turmeric into the yoghurt and serve!
Notes
Make a meat version of this stew by replacing the butternut squash with two lamb shanks or 300 grams of diced lamb.
Nutrition
Calories:
869
kcal
|
Carbohydrates:
146
g
|
Protein:
27
g
|
Fat:
23
g
|
Saturated Fat:
9
g
|
Cholesterol:
37
mg
|
Sodium:
579
mg
|
Potassium:
2136
mg
|
Fiber:
19
g
|
Sugar:
33
g
|
Vitamin A:
33285
IU
|
Vitamin C:
75.8
mg
|
Calcium:
376
mg
|
Iron:
8.2
mg
Environmental Information
Very Lazy Slow Cooking Paste Pots Range
There are four different flavours available exclusively from Tesco.

This is a sponsored post in collaboration with Very Lazy, although all thoughts and opinions expressed are our own. Thank you for supporting the brands who make it possible for me to do what I love: mess up my kitchen and share recipe stories. This post also contains Amazon and Tesco affiliate links – we earn from qualifying purchases.