In collaboration with #RobinsonsForGrownups.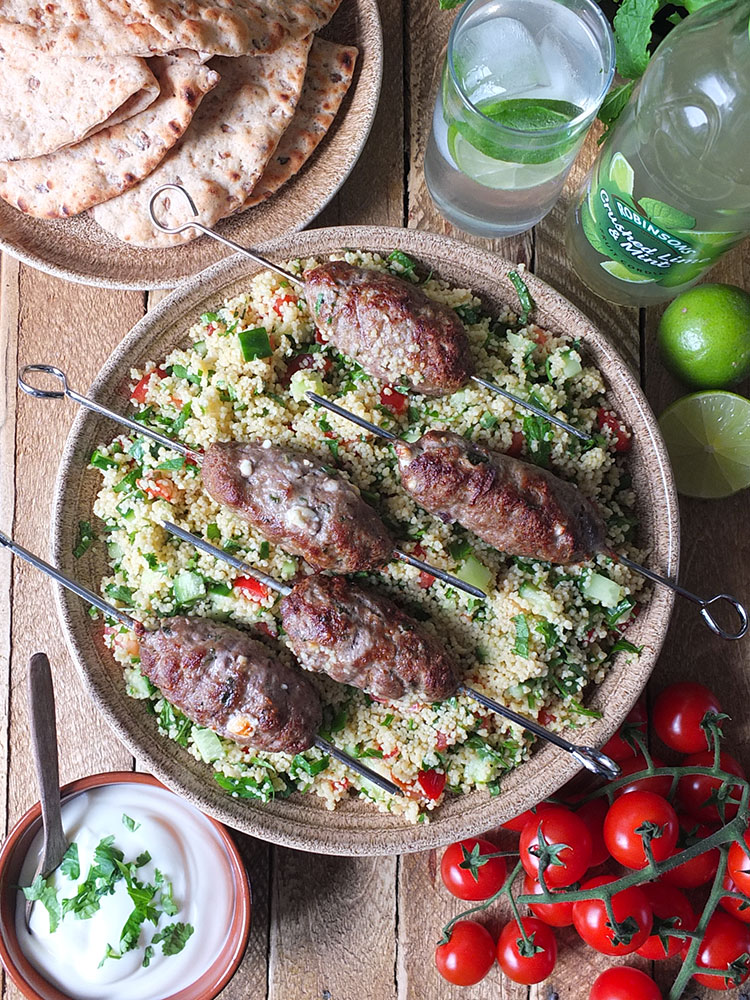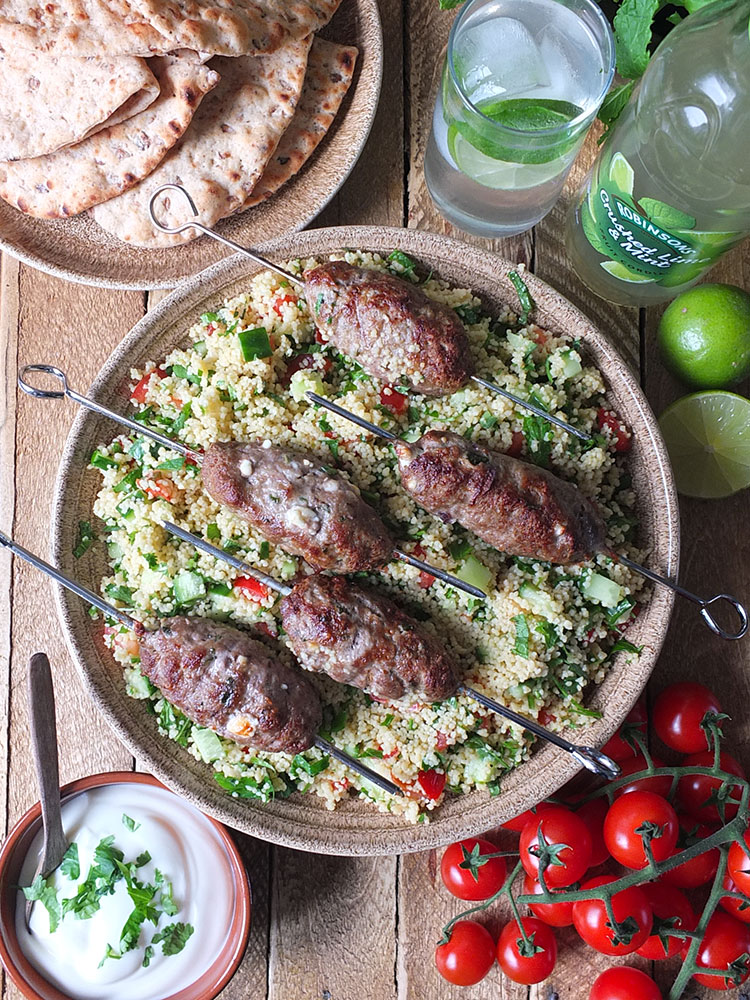 These lamb mince skewers are seasoned with toasted cumin, fresh mint and feta cheese are inspired by one of the new flavours in the Robinsons Fruit Cordial range for grown-ups, and they are perfect for a summer BBQ. I don't know if it's just me, but now that the clocks have sprung forward it really does feel like Spring. All of a sudden, in Shetland, it's not even dark yet come 8 pm. We're on the stretch to the Simmer Dim, when, come mid-summer, the sun will briefly dip beneath the horizon and we'll have long days to go out adventuring.
This also means BBQ weather! I can't wait! Beach picnics, lunch in the garden sipping cold drinks, you know the sort of thing.
One of my favourite BBQ dishes are lamb skewers – they're so easy to prep, and they, as well as a side salad, can be made in advance. This means less work during the actual BBQ. Just cooking and serving.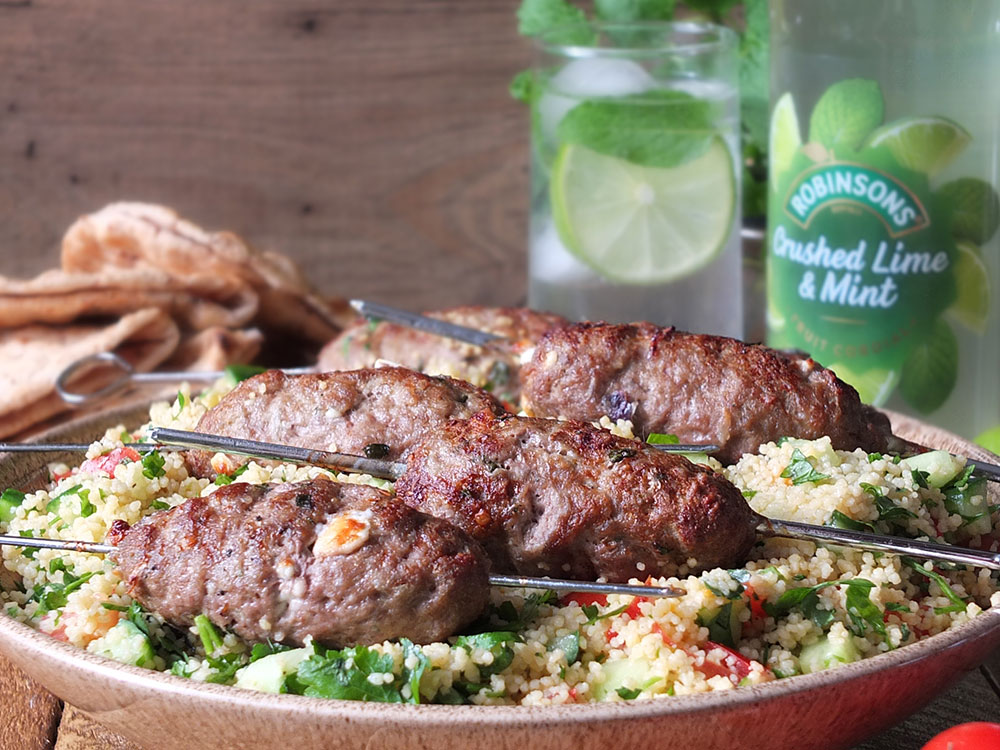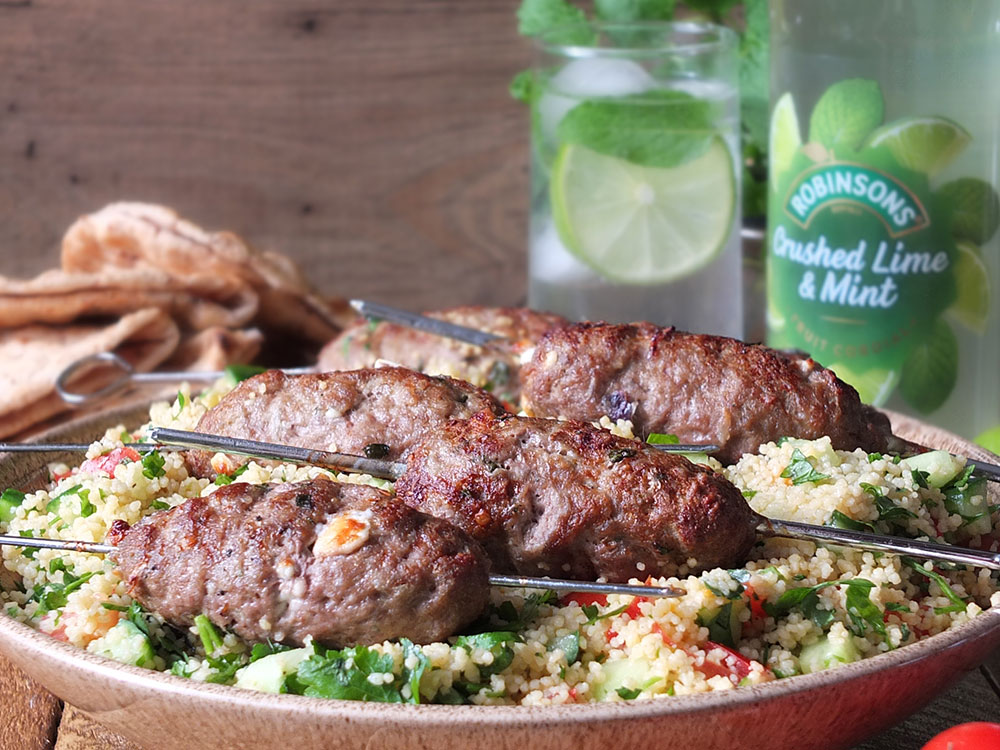 Inspired by the recently launched Crushed Mint & Lime Fruit Cordial for grownups from Robinsons, I've created these lamb, feta and mint skewers and served them with a tabbouleh side salad with a squeeze of lime.
WHAT YOU NEED TO MAKE THESE GRILLED LAMB SKEWERS
lean lamb mince
feta cheese – crumbled. Freeze any leftovers for use later
fresh mint leaves
whole cumin seeds – toast these in a dry pan and grind them in a mortar and pestle for the best flavour
red onion – grated (you might need your swimming goggles for this!)
salt and pepper – to taste
metal skewers or wooden skewers – if using wood, soak them for 20 minutes prior so they won't burn under the grill
Products from Amazon.co.uk
‹
›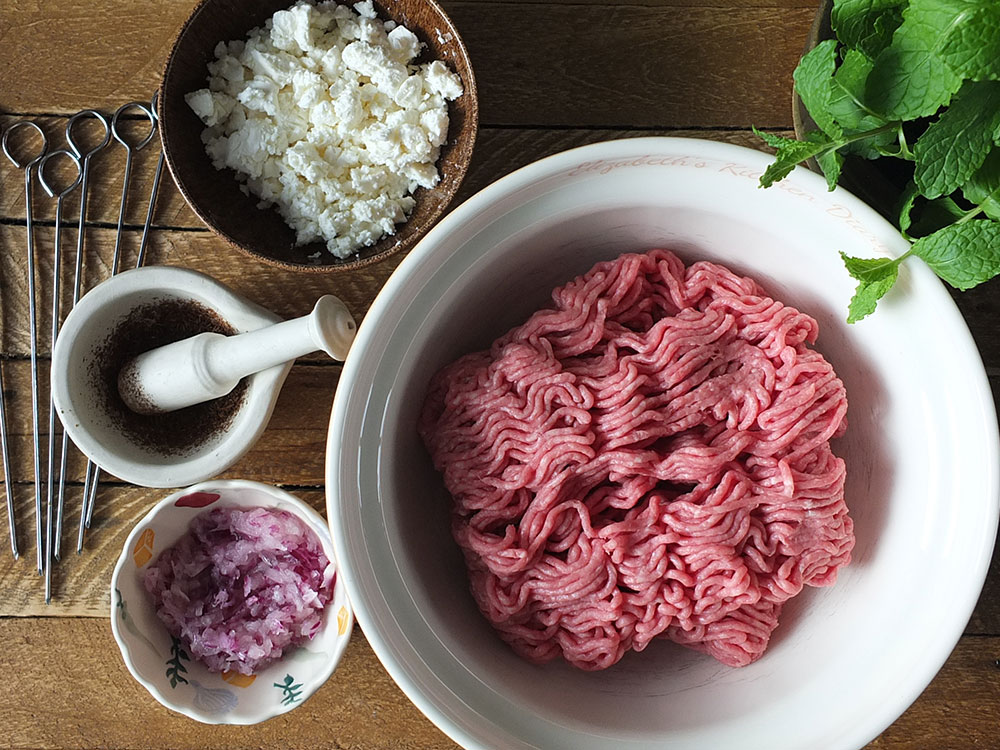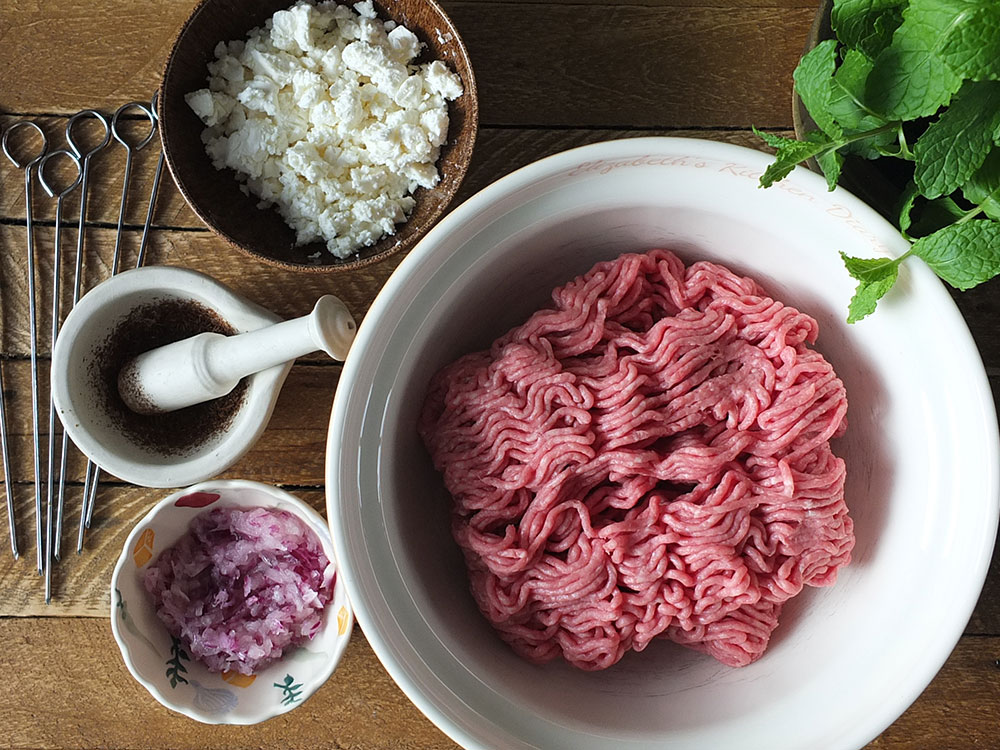 I'm not kidding about using swimming goggles when grating the onion. I had a flatmate back in Canada, way back when, who used to do the very thing when chopping onions. Grating onions is an extra tear-inducing activity. Be warned.
You could use ready ground cumin for this recipe, but I like toasting my own whole seeds and grinding them in a mini mortar and pestle. It's cheaper to buy the whole seeds in bulk, and the flavour of the toasted cumin is one of my all-time favourite spices.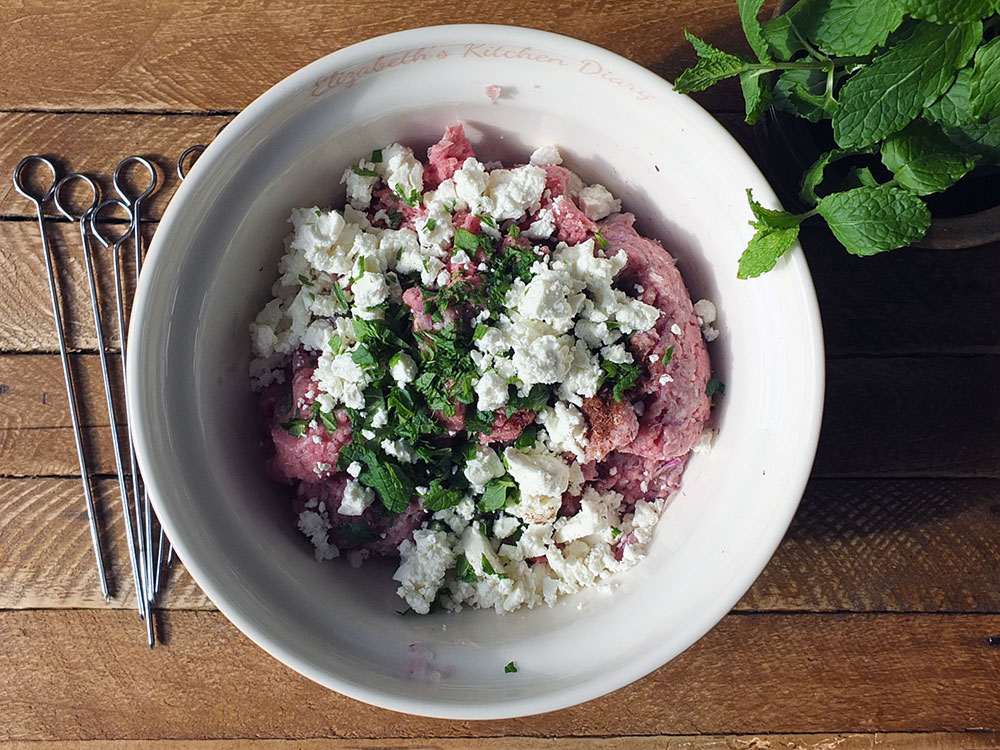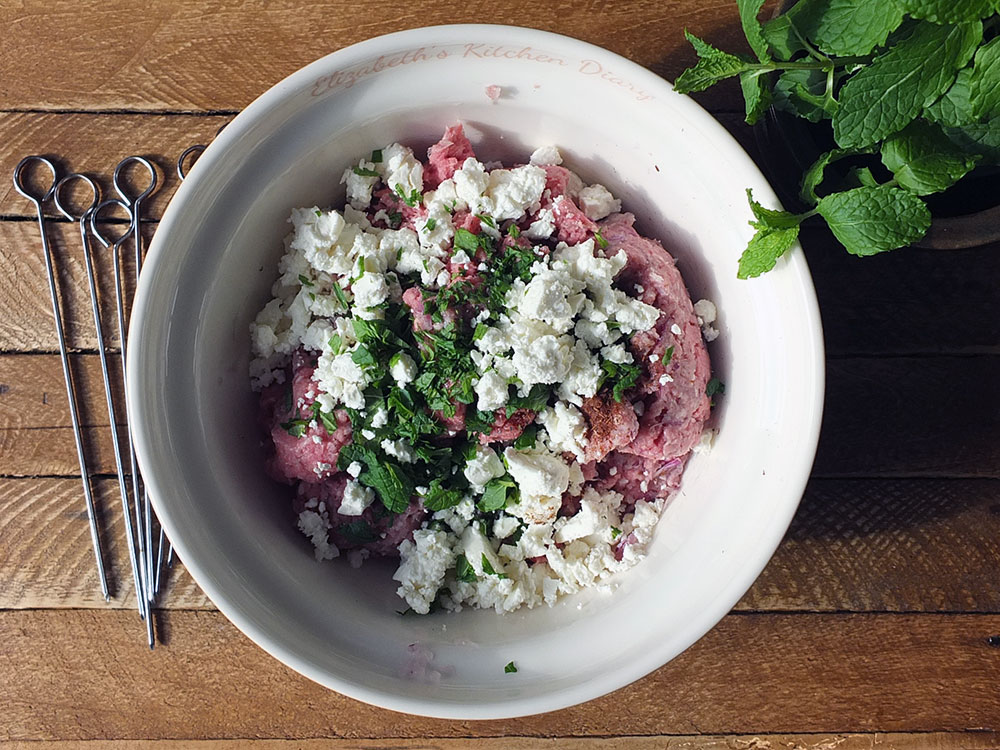 Pop everything into a bowl and, using your hands, knead it all together until it's well combined. Divide the mixture into 12 pieces and form each piece into a sausage shape. Carefully slide onto your metal or soaked wooden skewers. You can, at this stage, leave the lamb skewers to chill in the fridge until needed later on in the day.
Same goes with the tabbouleh – prepare it in advance (using couscous or bulghar wheat) and leave to chill in the fridge until needed.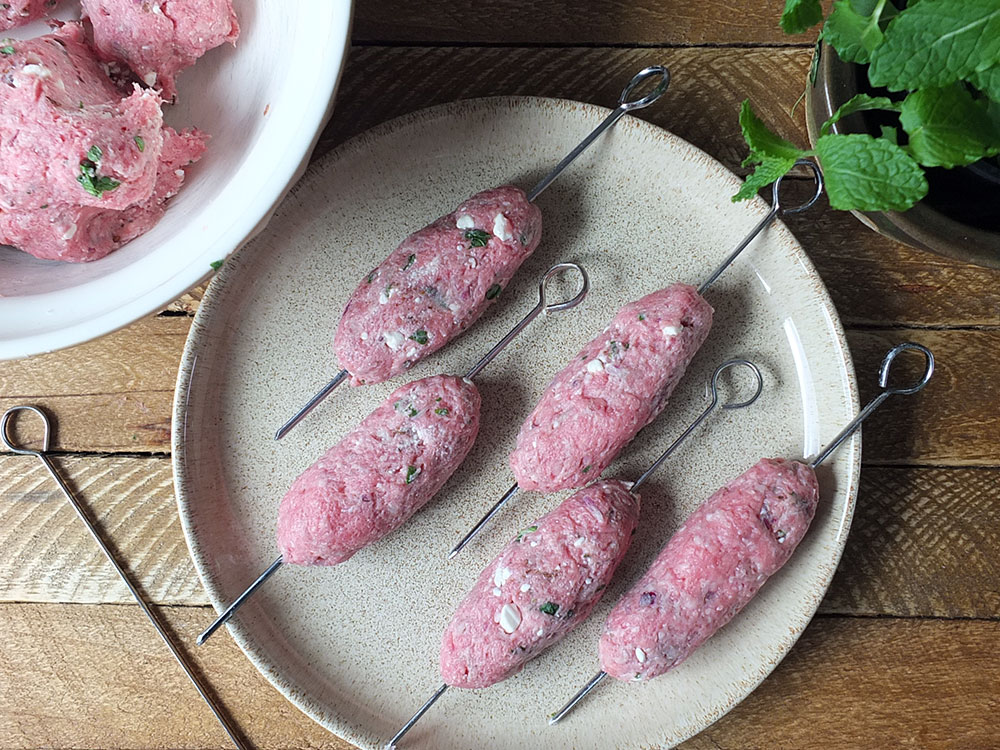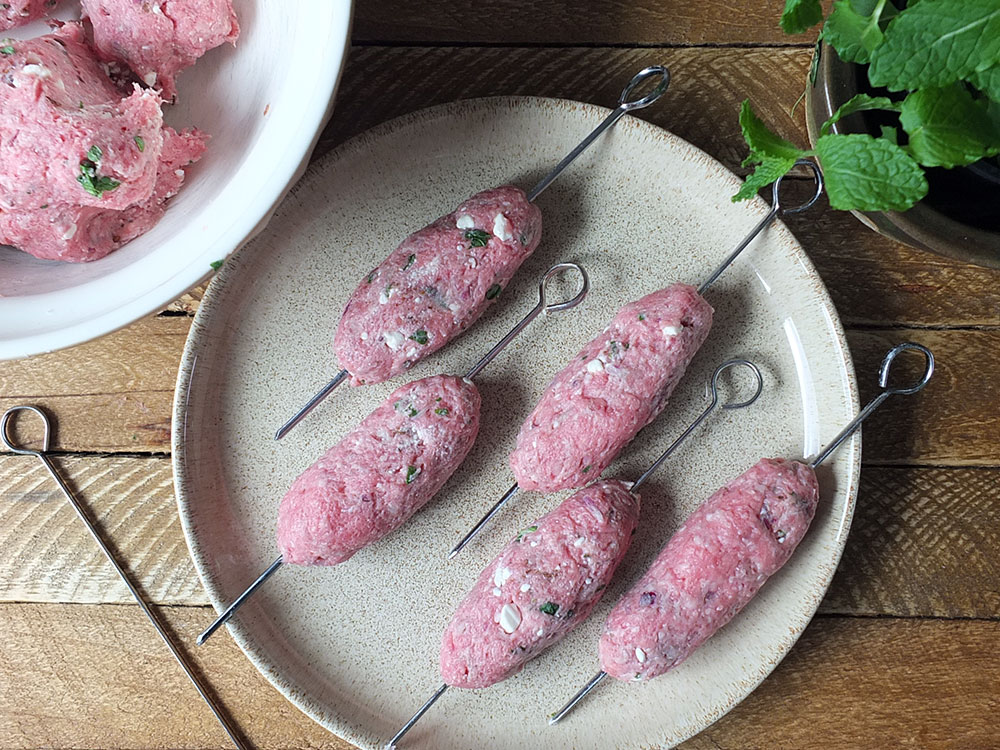 This recipe makes enough for twelve skewers, feeding 4-6 people (depending on how hungry they are!). You can halve the recipe, if needed, or freeze half for use later. Feta cheese freezes really well. I often drop frozen chunks of feta into my lunchtime shakshuka or defrost and use as if it was fresh.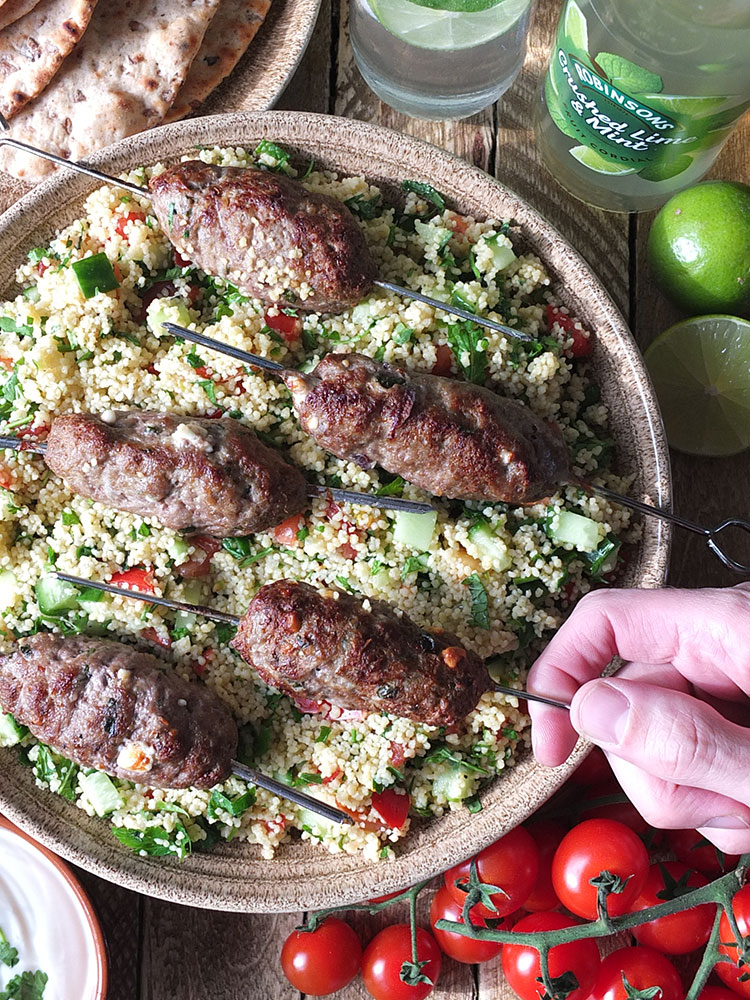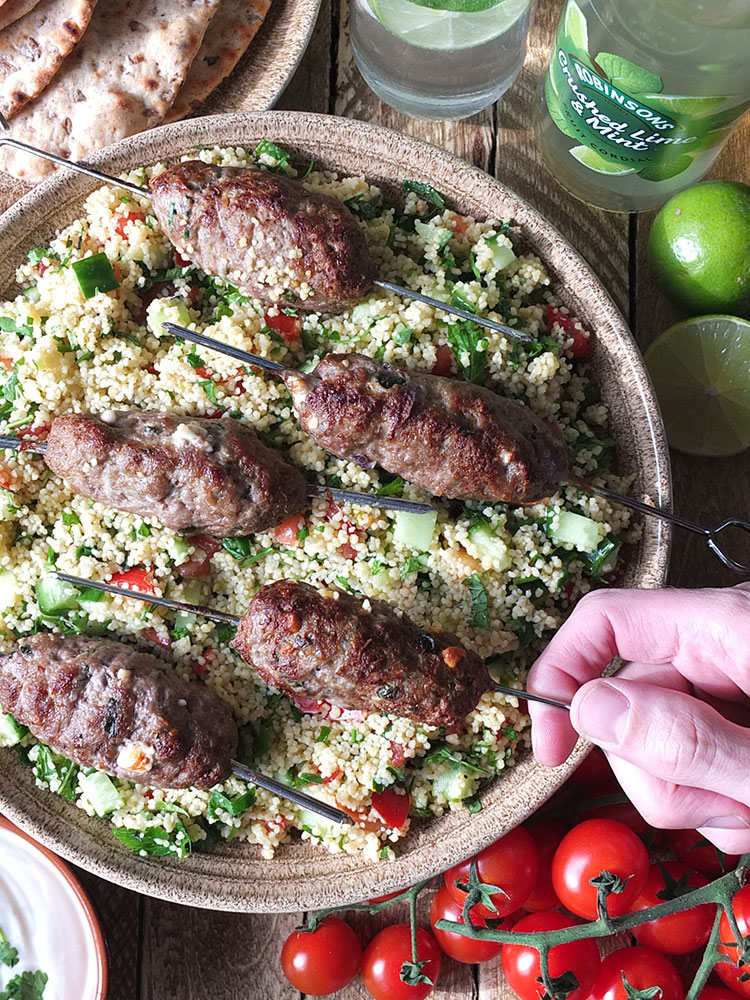 Serve your grilled lamb skewers with the tabbouleh, flatbreads, plenty of plain, natural yogurt and a glass of Robinsons Crushed Mint & Lime Fruit Cordial – summer, in a glass, this.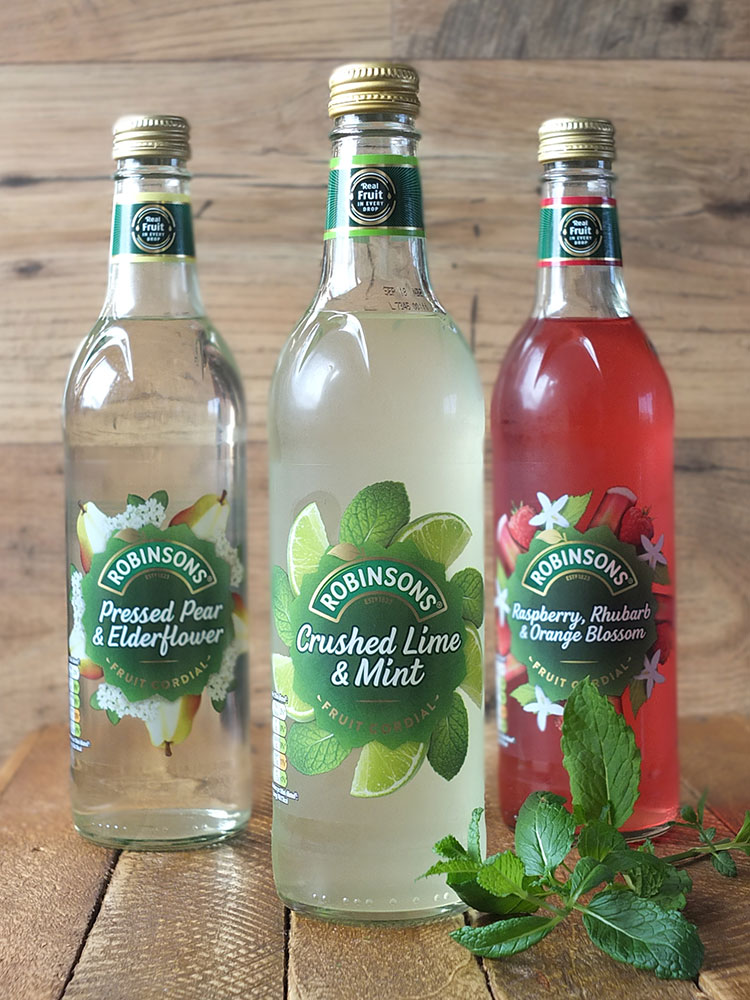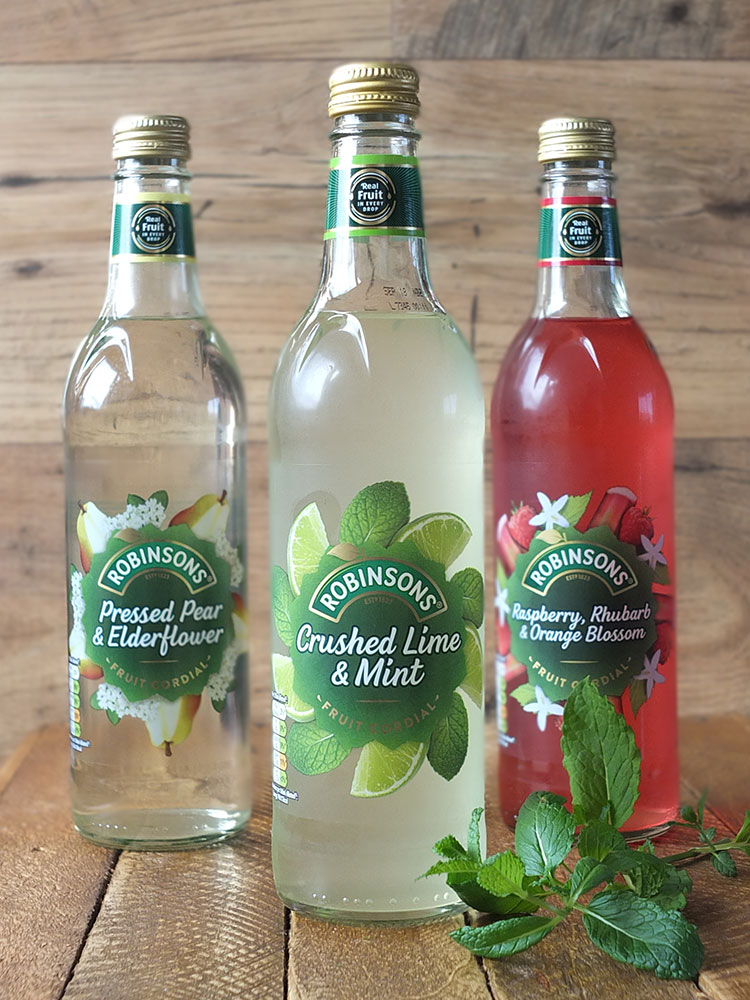 Products from Amazon.co.uk
‹
›
ROBINSONS FRUIT CORDIALS & FRUIT CREATIONS
Robinsons is growing up. They have recently introduced two new ranges for grown-ups: Fruit Creations and Fruit Cordial. The ranges have been specially created with adult taste buds in mind, with flavour combinations more suited to a grown-up palette. Fruit Cordial was created to offer a sophisticated twist to squash with combinations of real fruit and botanicals flavours. Fruit Cordial is presented in a beautiful glass bottle, each recipe is made with real fruit and contains no artificial colours or flavourings. They are available in Pressed Pear & Elderflower, Crushed Mint & Lime and Raspberry, Rhubarb & Orange Blossom.
I think they all taste fantastic; definitely dinner-party worthy. Simply dilute with plain water, or with soda water for a fizzy treat. A splash of Raspberry, Rhubarb & Orange Blossom works really well in a glass of Prosecco for a simple Bellini cocktail too.
Find your local Robinsons Fruit Cordial stockist on the Robinsons website and follow them on Facebook, Twitter and Instagram. Search for the hashtag #RobinsonsForGrownups to find out more!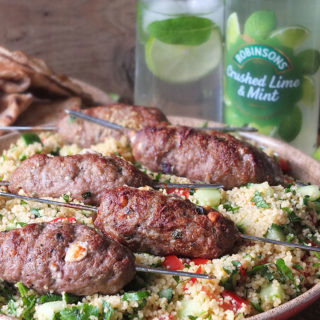 Grilled Lamb Skewers with Feta and Mint
These lamb mince skewers seasoned with toasted cumin, fresh mint and feta cheese are perfect for a summer BBQ. Serve with tabbouleh, flatbread and yoghurt.
Print
Rate
Ingredients
for the grilled lamb skewers
to serve
plain natural yoghurt

flatbreads

Robinsons crushed mint & lime fruit cordial
Instructions
Place the lamb, feta cheese, onion, mint and cumin into a bowl and season with salt and pepper.

Using your hands, combine all the ingredients together thoroughly.

Divide into 12 pieces, forming each piece into a sausage shape. Thread onto metal or soaked wooden skewers.

Preheat your grill to high. Brush the lamb with a little olive oil and grill, turning occasionally, for 10 minutes for well done or 6-8 minutes for medium. Set aside to rest for five minutes before serving.

For the tabbouleh, rinse the couscous until the water runs clear. Place into a bowl and pour over the boiling water and a teaspoonful of olive oil. Cover and leave for five minutes.

Leave the couscous to cool and add the remaining ingredients. Gently toss and serve with the grilled lamb skewers, plain natural yogurt, flatbread and a cooling glass of Robinsons crushed mint & lime fruit cordial.
Products from Amazon.co.uk
‹
›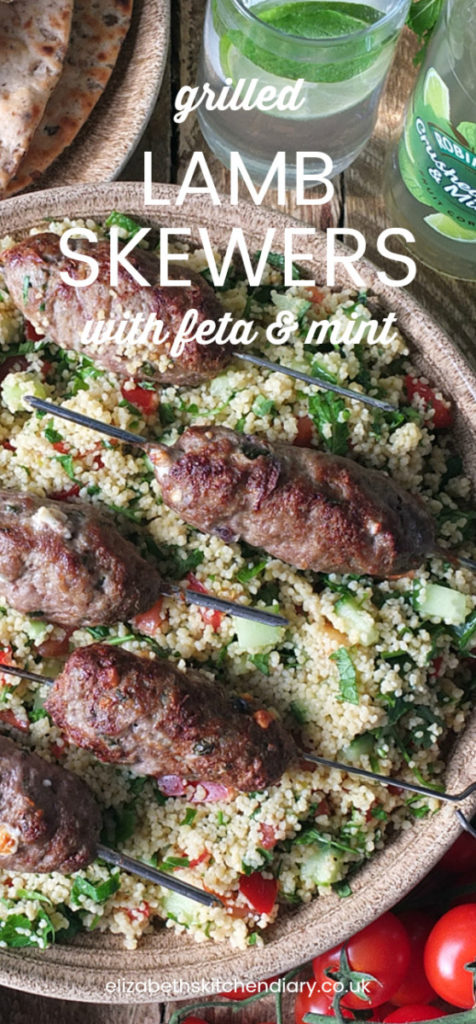 [color-box]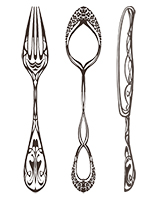 Have you made this recipe?
Take a photo and tag @tangoraindrop or use the hashtag #elizabethskitchendiary and share on Instagram and Twitter. It would make my day to see your creations!
[/color-box]
This is a sponsored recipe post in collaboration with Robinsons, although all thoughts and opinions expressed are our own. Thank you for supporting the brands who make it possible for me to do what I love: mess up my kitchen and share recipe stories.