Baby button mushrooms, garlic, white wine, thyme and cream make for a simple but delicious gluten free tagliatelle sauce. In collaboration with Schär and their new gluten free fresh pasta range. #ad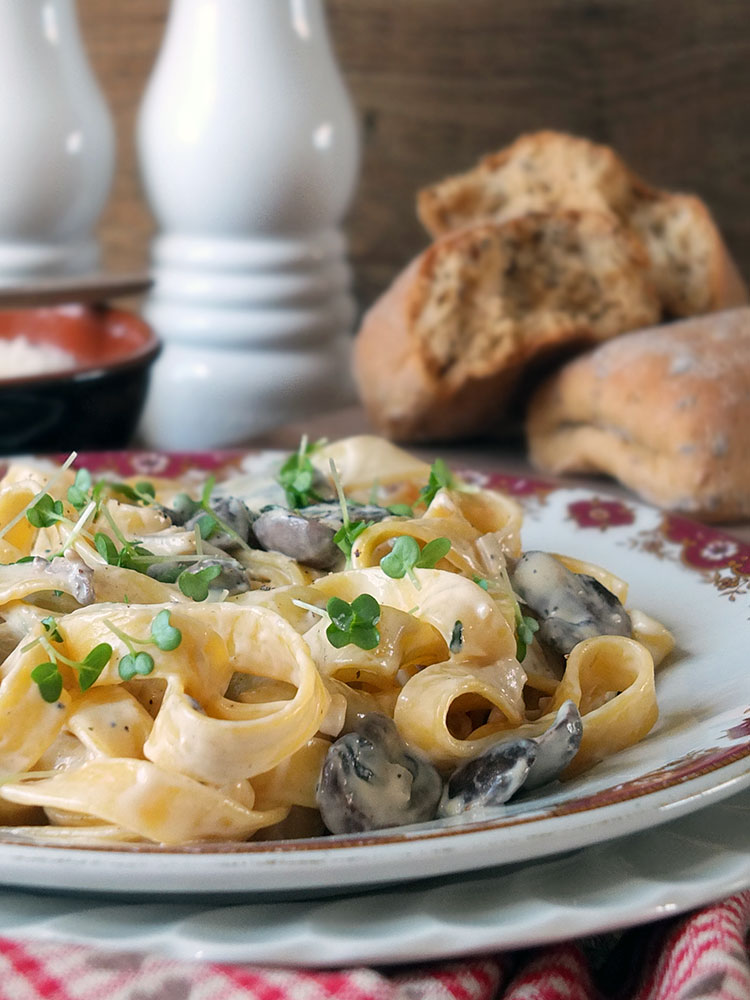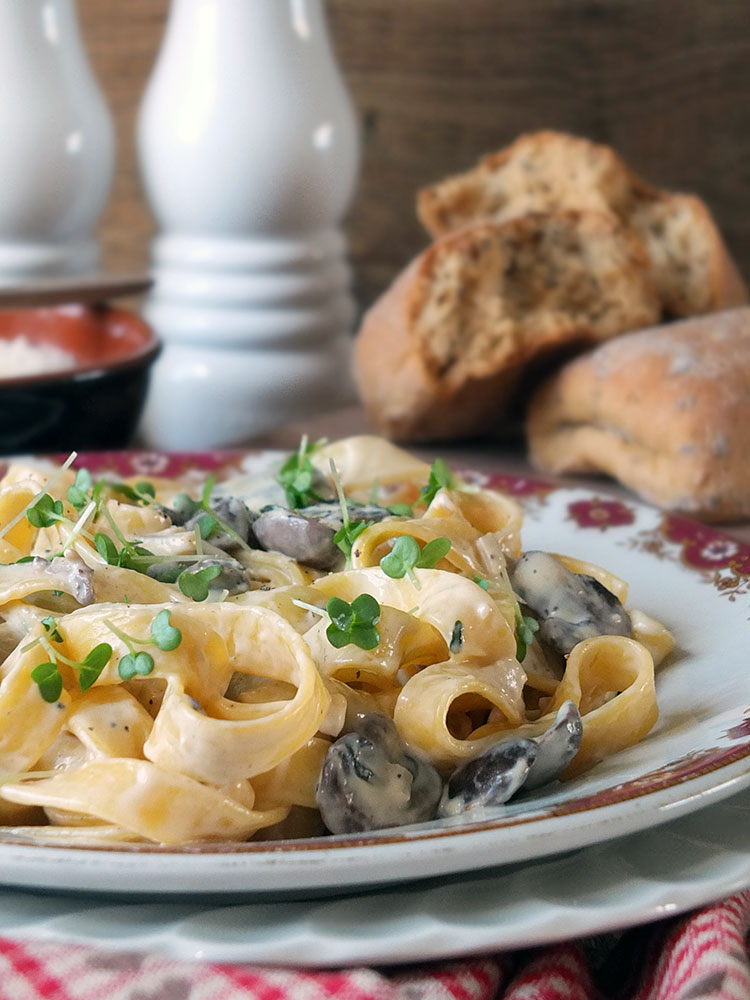 Following a gluten free diet doesn't mean you have to give up the starchy foods you love – bread, pasta, cakes, etc. Here I present to you the new Bonta D'Italia fresh gluten free tagliatelle from Schär, Europe's No.1 in gluten free.
They've created three gluten and wheat free fresh egg pastas specifically formulated for people intolerant to gluten: gluten free tagliatelle egg pasta, gluten free ravioli with ricotta cheese and spinach and gluten free tortellini filled with prosciutto.
I've created a rather delicious creamy baby button mushroom, white wine and thyme sauce to serve with the gluten free tagliatelle.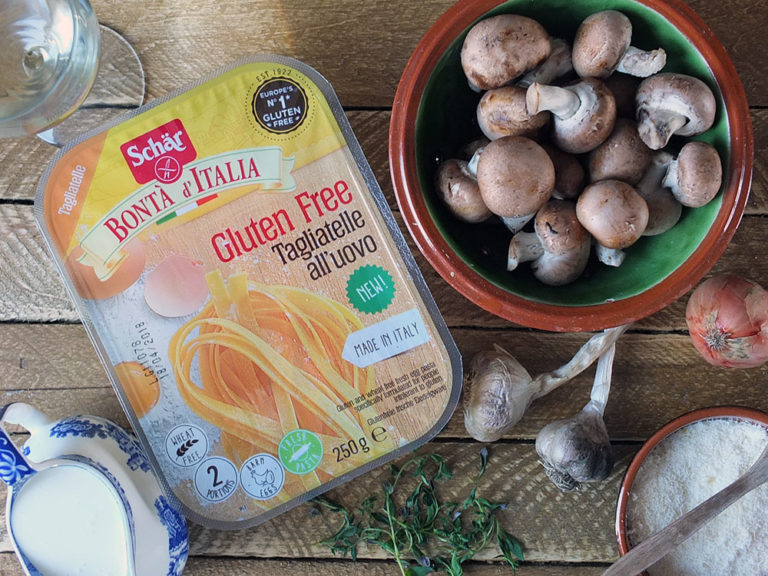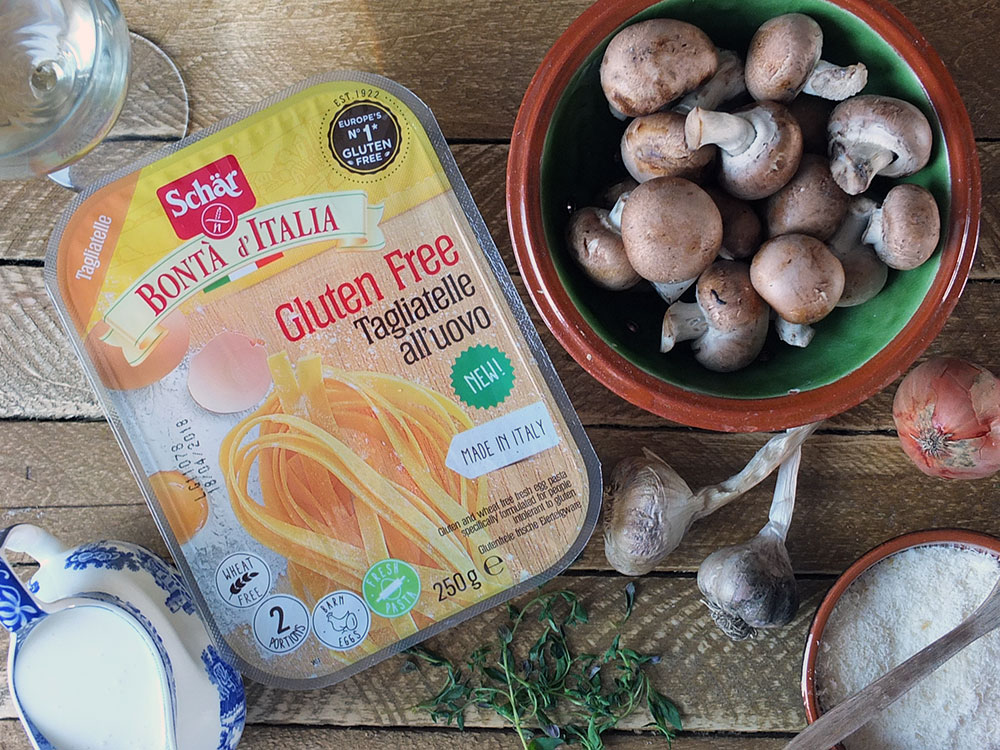 WHAT YOU NEED TO MAKE THIS GLUTEN FREE TAGLIATELLE RECIPE
butter (or olive oil, if you prefer)
shallot
baby button mushrooms
garlic
fresh thyme
dry white wine
vegetable stock – I use Knorr Vegetable Stock Pots
heavy cream
salt and pepper, to taste
cress, to garnish
Parmesan cheese, optional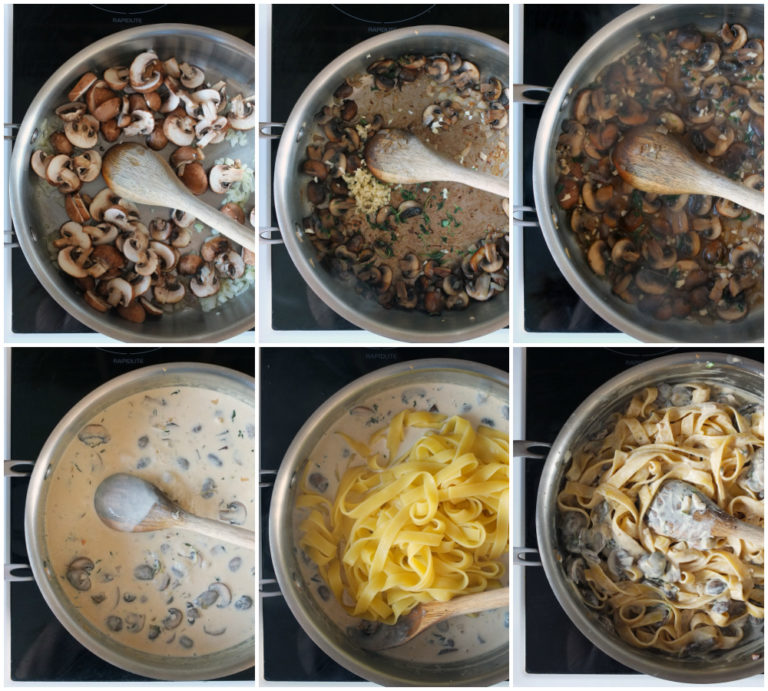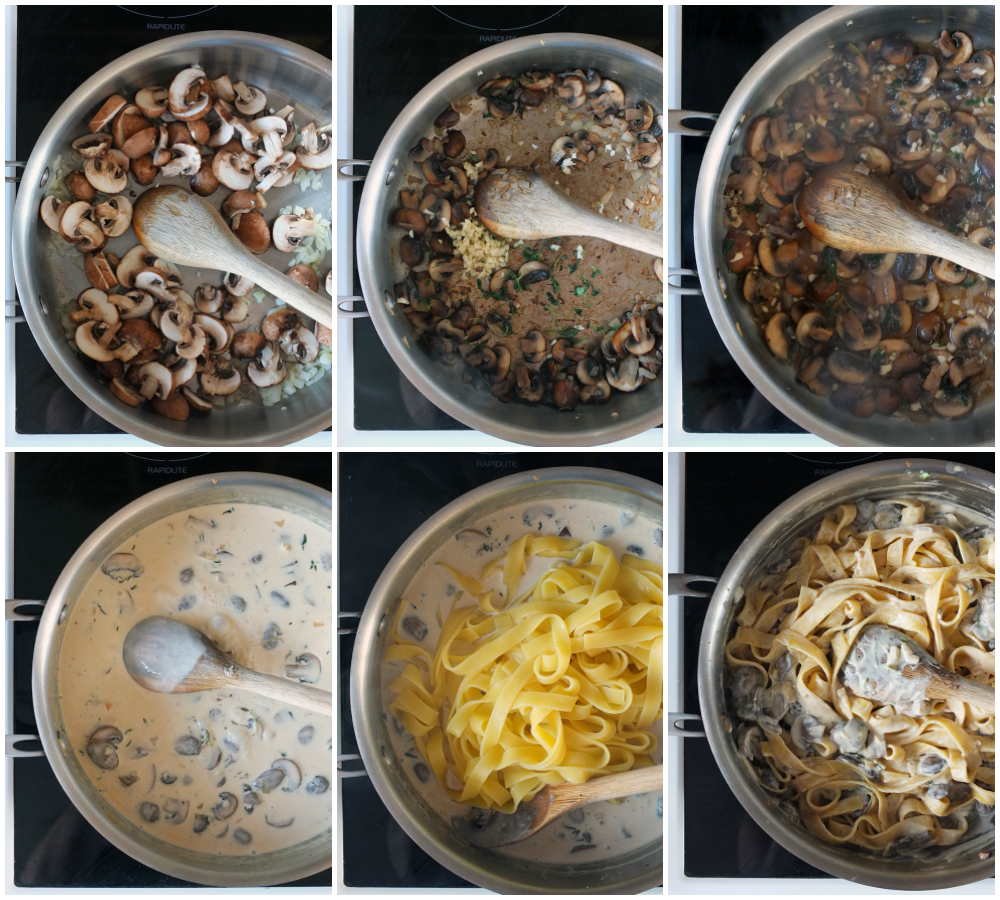 HOW TO MAKE A CREAMY MUSHROOM, WHITE WINE & THYME PASTA SAUCE FOR GLUTEN FREE TAGLIATELLE
Step 1: saute sliced mushrooms and finely chopped shallot in butter or oil until they start to brown
Step 2: add the garlic and fresh thyme, sauteing until the garlic imparts its fragrance
Step 3: deglaze the pan with a glass of dry white wine. Simmer to reduce.
Step 4: add vegetable stock and heavy cream. Reduce heat and simmer until thickened.
Step 5: add cooked, drained Schär gluten free tagliatelle, stir well and leave for a few minutes for the sauce to coat the pasta
Step 6: serve with cress and Parmesan cheese to garnish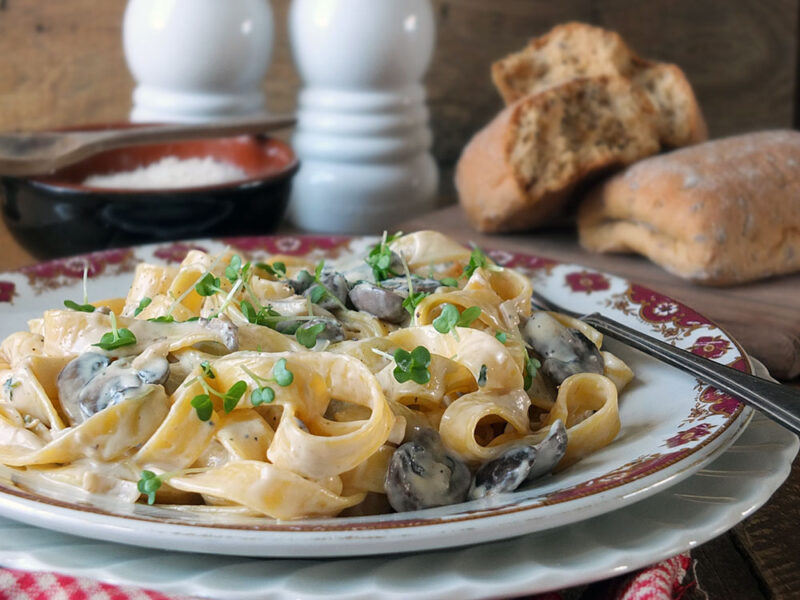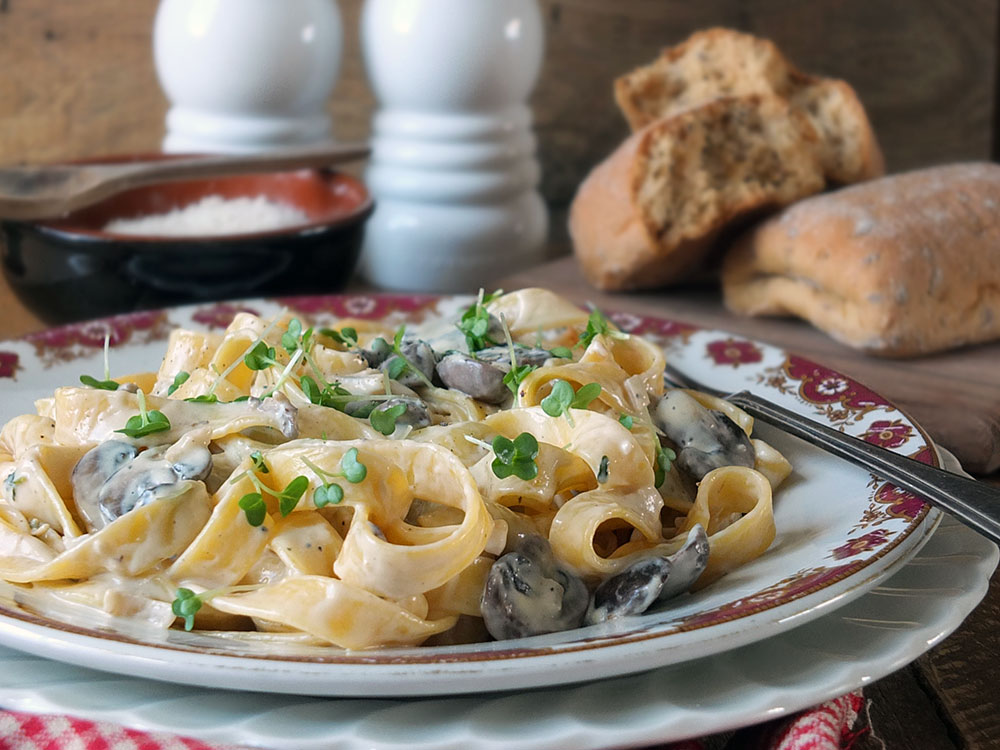 The resulting dish is incredibly rich, creamy and delicious: perfect for a quick mid-week dinner. Serve, as pictured, with some warmed Schär gluten free brown ciabatta rolls dipped in olive oil for an authentic Italian experience.
A note on step 5, above – before you add the pasta, the sauce is still quite thin. When you drain the pasta (not thoroughly) a little bit of the 'liquid gold' cooking water remains. This starchy water acts as an emulsifier, meaning your creamy sauce will stick to your pasta just the way you want it and not pool in a puddle at the bottom of your plate.
Alternatively, reserve a small ladleful of the cooking water and add it to the sauce at the end while it simmers, stirring until thickened.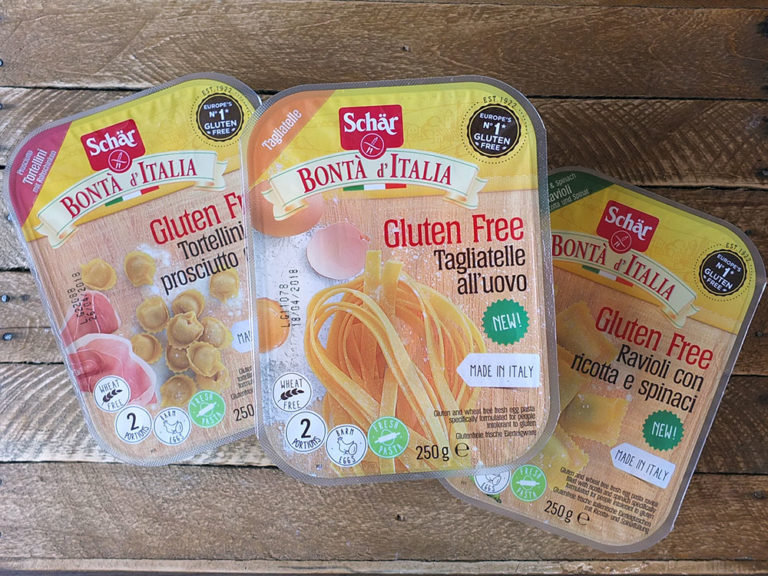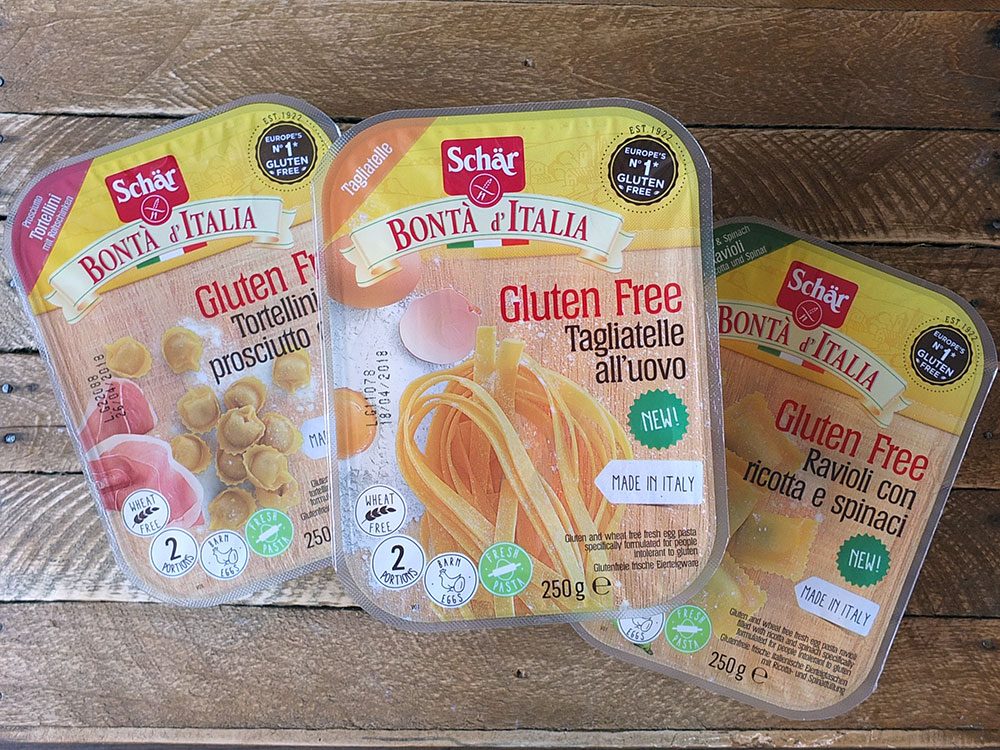 SCHÄR GLUTEN FREE FRESH PASTA
Schär, Europe's No.1 in gluten free, has launched 3 delicious new fresh pasta variants into the chilled aisle at Morrisons. Italians through and through, this pasta range has been made with all of the pleasure and passion Italians have for cooking. So good, you'll be left wondering if they're even gluten free! The new fresh Bonta D'Italia pasta range includes:
Schär Tagliatelle, 250g, £3.50 Ribbons of fresh egg pasta which make the perfect base for a flavoursome dish.
Schär Spinach and Ricotta Ravioli, 250g, £3.75 These delicious ravioli parcels are filled with spinach and ricotta. Ready in under 5 minutes this pasta makes for a delicious quick and easy mid-week meal.
Schär Tortellini with Prosciutto, 250g, £3.75 Tasty tortellini filled with Italian ham, made lovingly in their kitchen so you can enjoy a wholesome pasta dish in yours.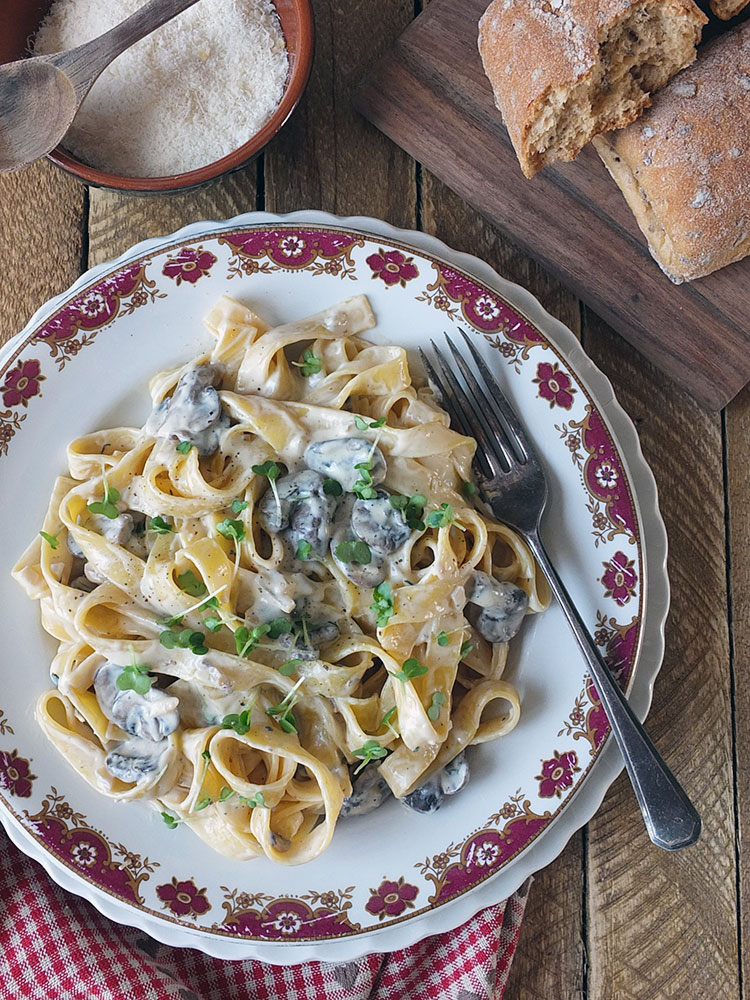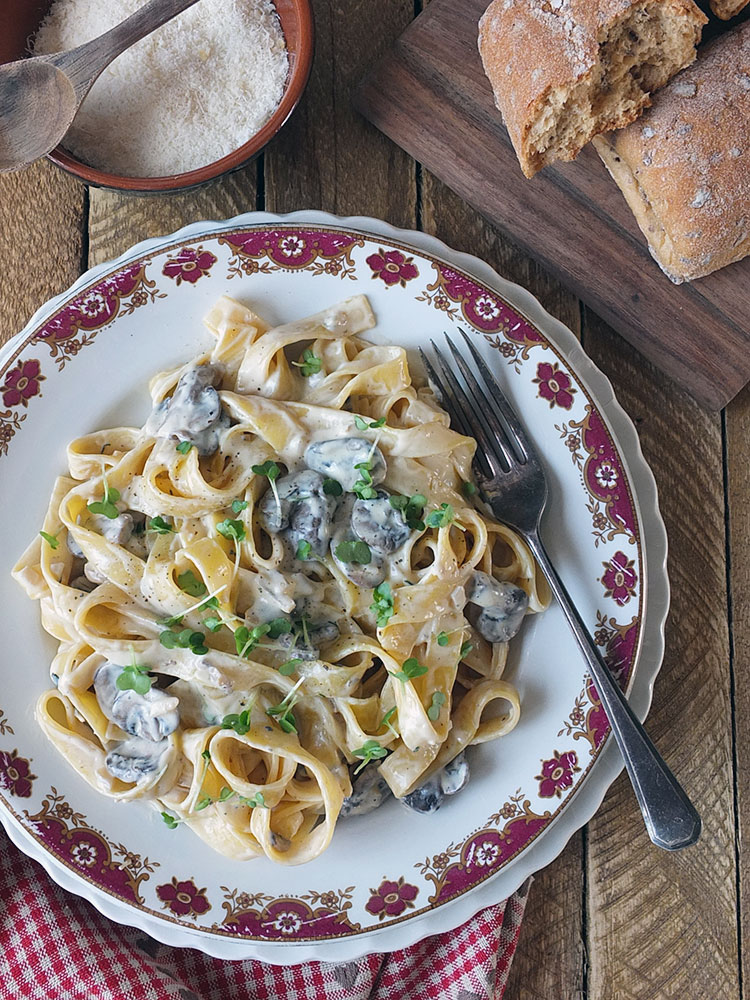 If you're looking for sauce recipe to serve with your gluten free tagliatelle and my creamy mushroom, white wine and thyme sauce doesn't quite fit the bill, you might like Kavey's King Oyster Mushroom and Cream Pasta, Choclette's Wild Garlic Pesto, Nanya's Roasted Tomato Sauce, Heidi's Italian Ragu Sauce or Camilla's Chilli, Bacon & Chickpea sauce. Alternatively, you might like my Quick & Easy Chilli Sauce or my Roasted Cherry Tomato Sauce. I've also got a creamy sauce recipe with shredded courgettes in it and a hidden cauliflower cheese pasta sauce recipe you might like.
To find out more about the new Schär gluten free pasta range, and to find out what other delicious gluten free products they produce, visit the Schär website. You can also find them on Facebook, Twitter and Instagram. Here in Shetland, the Eid Community Co-operative on the west side stocks a wide range of Schär products.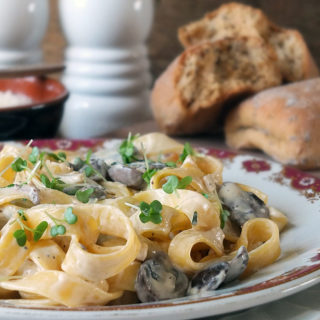 Gluten-Free Tagliatelle with a Creamy Mushroom, White Wine & Thyme Sauce
Baby button mushrooms, garlic, white wine, thyme and cream make for a simple but delicious pasta sauce. Perfect for a mid-week dinner!
Print
Rate
Affiliate Links
This recipe card may contain affiliate ingredient and equipment links. As an Amazon Associate I earn from qualifying purchases.
Instructions
Heat butter in a saute pan over a medium-high heat. Saute the shallot and mushrooms together for a few minutes until they begin to brown.

Add the garlic and thyme, and saute for another thirty seconds, until the garlic imparts its fragrance.

Add the white wine to the pan and deglaze the pan, stirring up any bits that might be stuck to the bottom.

Leave the wine and mushrooms to simmer for a few minutes until the wine reduces by half.`

Add the vegetable stock and simmer for another two minutes before adding to the cream. Turn the heat down and simmer until the sauce thickens.

Meanwhile, bring two litres of salted water to the boil. Cook the fresh Schar gluten-free tagliatelle for 3-4 minutes. Drain well.

Add the drained pasta to the mushroom and white wine sauce and stir to coat. Turn off the heat, cover and leave for a few more minutes while you set the table (and call everyone to dinner!).

Give the pasta and sauce another stir, by this time it will have thickened up nicely with the starch from the pasta.

Serve with plenty of freshly ground black pepper, a sprinkling of sea salt and Parmesan cheese, to taste. Garnish with cress leaves.
Nutrition
Calories:
820
kcal
|
Carbohydrates:
76
g
|
Protein:
18
g
|
Fat:
45
g
|
Saturated Fat:
26
g
|
Polyunsaturated Fat:
2
g
|
Monounsaturated Fat:
2
g
|
Cholesterol:
107
mg
|
Sodium:
115
mg
|
Potassium:
551
mg
|
Fiber:
1
g
|
Sugar:
4
g
|
Vitamin A:
400
IU
|
Vitamin C:
3.3
mg
|
Calcium:
40
mg
|
Iron:
4.9
mg
Environmental Information
[amazon_link asins='B01IPKKZDI,B01ASXQ6NS,B019CB5QMY,B00L885VQG,B01A5EXCK0,B01A5EXCMS,B017NA1MD8,B019CB5QXI,B00NPWKO2O,B01ASURSJC' template='ProductCarousel' store='elizskitcdiar-21′ marketplace='UK' link_id='7dc365a6-370d-11e8-9d4e-1b1c6c9adf91′]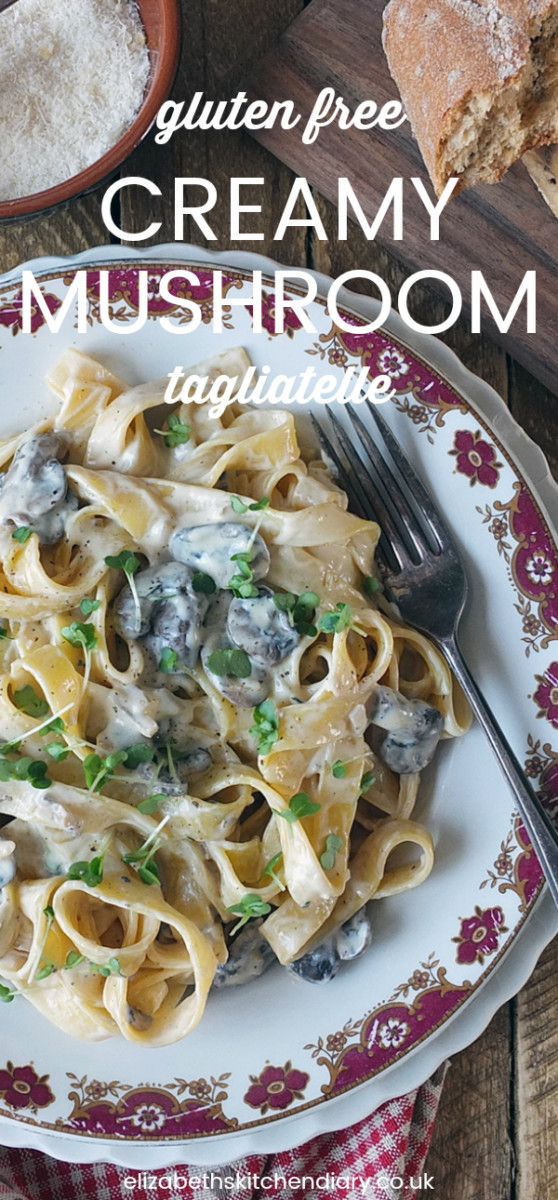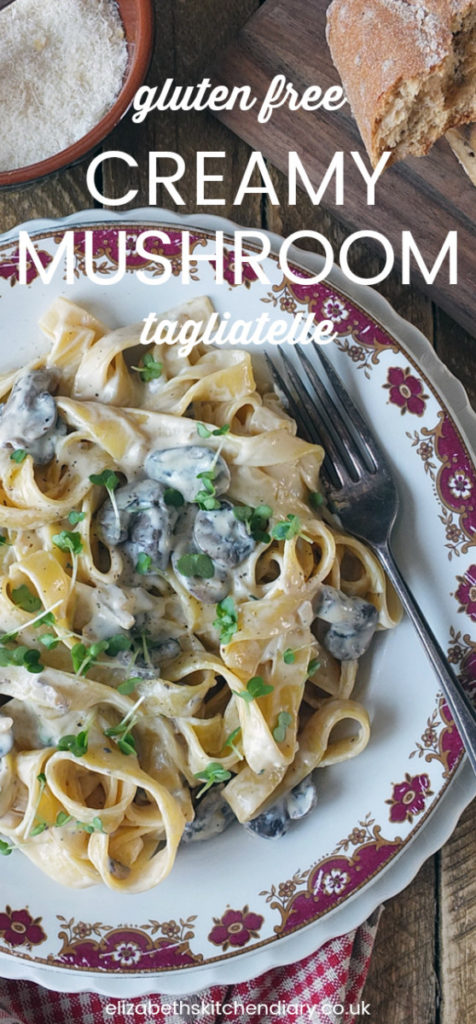 [color-box]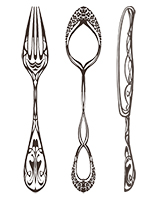 Have you made this recipe?
Take a photo and tag @tangoraindrop or use the hashtag #elizabethskitchendiary and share on Instagram and Twitter. It would make my day to see your creations!
[/color-box]
This is a sponsored recipe post in collaboration with Schär, Europe's No.1 in gluten free. Thank you for supporting the brands who make it possible for me to do what I love: mess up my kitchen and share recipe stories.