In collaboration with Nutri-Brex 5 Ways Gluten-Free Granola.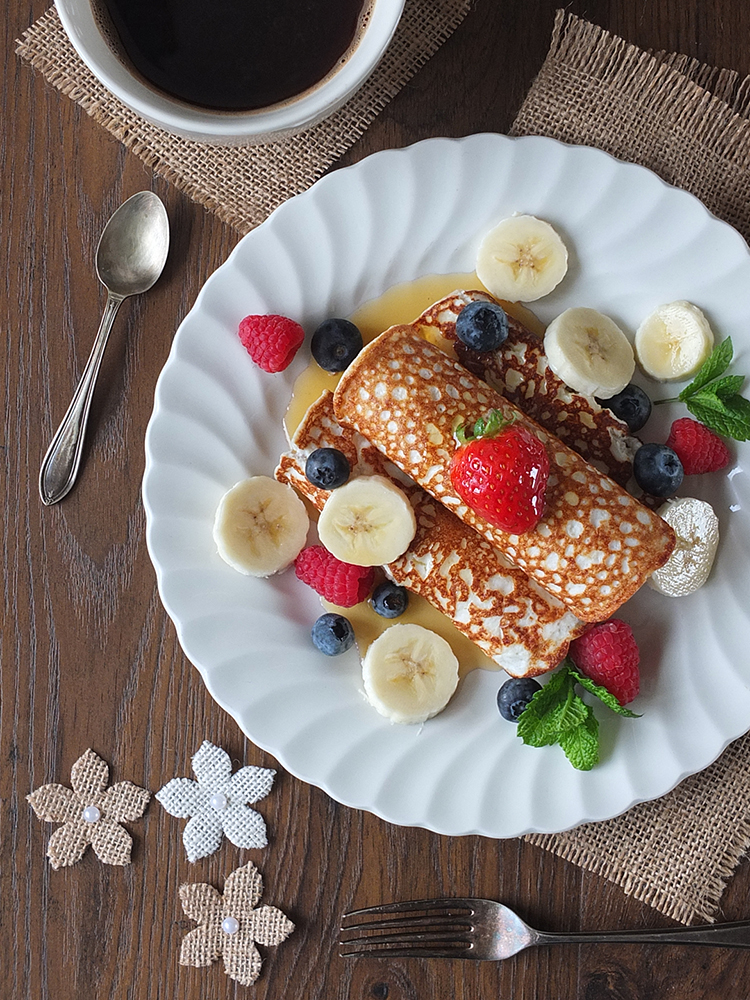 When it comes to fitness, I like to get my daily workouts done first thing in the morning before I have breakfast. That's when I'm feeling bright, fresh and energetic and I can put my all into my routine.
The thing is with a morning workout is that you end up absolutely famished and needing a quick breakfast afterwards. I quite often turn to these high protein crepes for a lower calorie breakfast that's going to provide the building blocks for muscle growth and repair, as well as keep me feeling full until lunchtime.
These crepes tick all those boxes.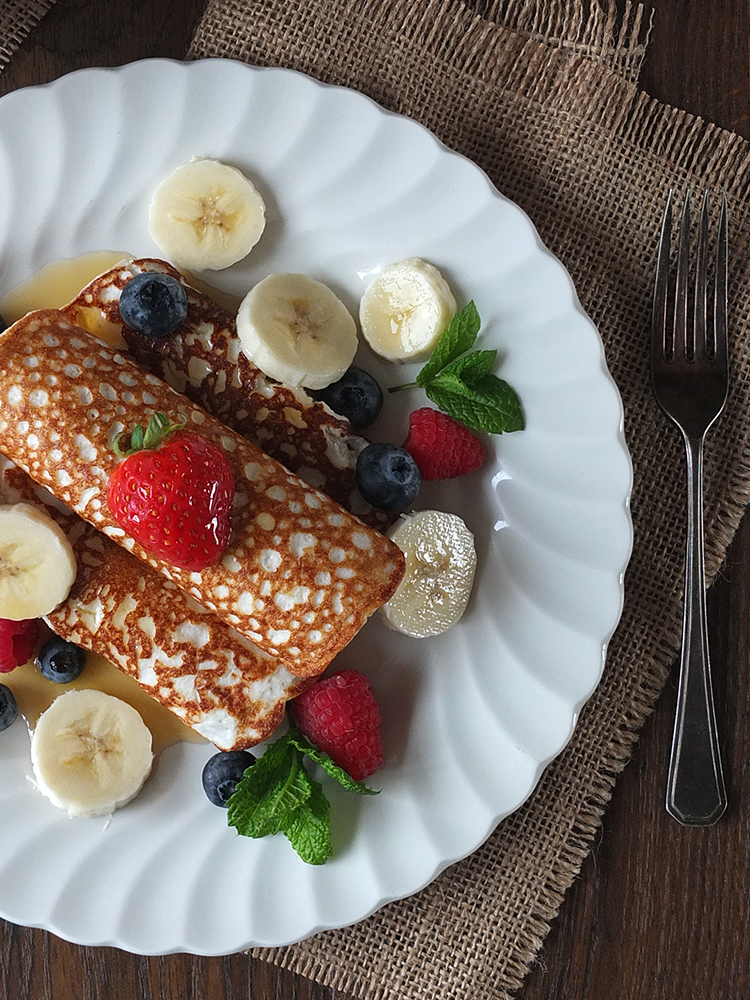 This recipe is really quick and easy to make, just three ingredients whizzed up in a blender until smooth and then cooked for a few minutes in a non-stick pan.
Sometimes I eat them with fresh berries and maple syrup, sometimes I indulge with a few slices of smoked back bacon and sometimes I just spoon some strawberry jam on them, roll, and eat on the go.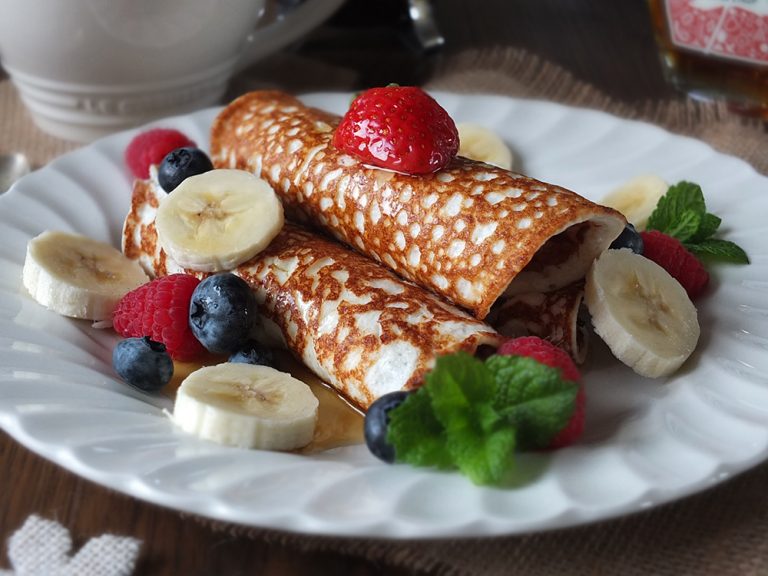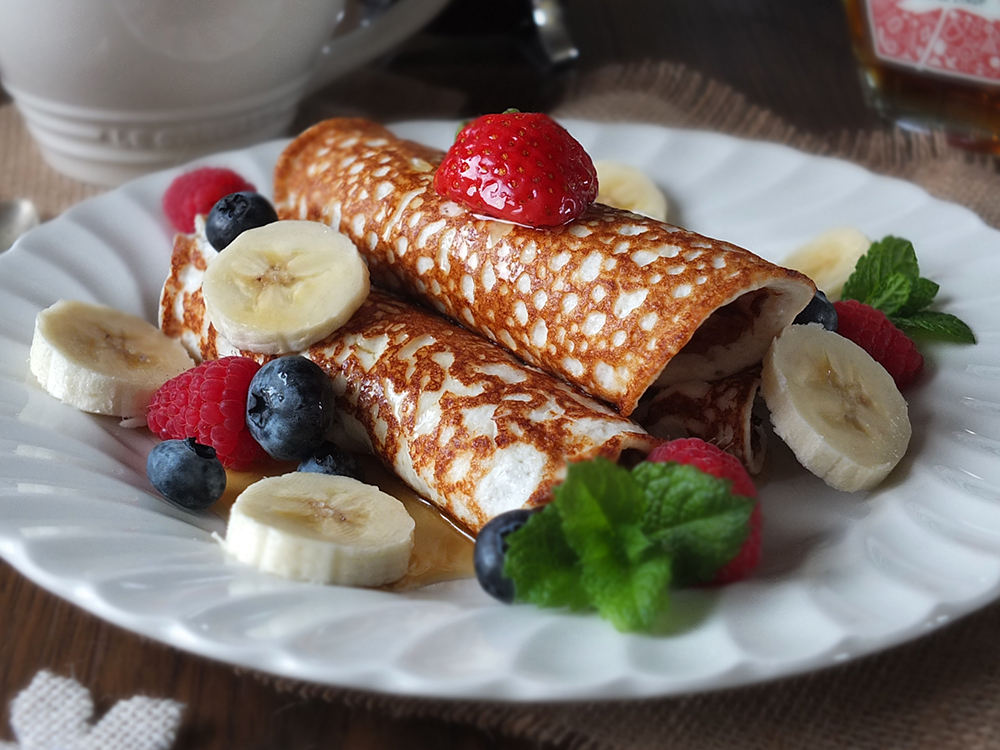 NUTRI-BREX GLUTEN-FREE GRANOLA
Nutri-Brex is an award-winning gluten-free brand who have recently expanded their range to include 5 Ways Granola. Their hazelnut, coconut and quinoa variety features hazelnut pieces, flaked quinoa and toasted coconut as well as fine-cut oats, while their honey, almond and seeds variety features fine-cut oats, honey, golden linseeds, flaked almonds and sunflower seeds. Either work really well in this gluten-free crepes recipe.
Nutri-Brex granola can be used in a minimum of five different ways:
GRANOLA: serve Nutri-Brex with milk or yoghurt for a traditional crunchy granola breakfast
PORRIDGE: simply add milk and microwave or cook on the hob for a delicious hot breakfast on these cold Autumn mornings
TOPPING: sprinkle over your favourite fruit, or even over some peanut butter and gluten-free toast
BIRCHER: mix with yoghurt, grated apple, a splash of apple juice and some milk and leave overnight for a delicious breakfast in the morning
SMOOTHIE: blend with your favourite fruit, ice and a dollop of natural yoghurt for a fast and filling start to the day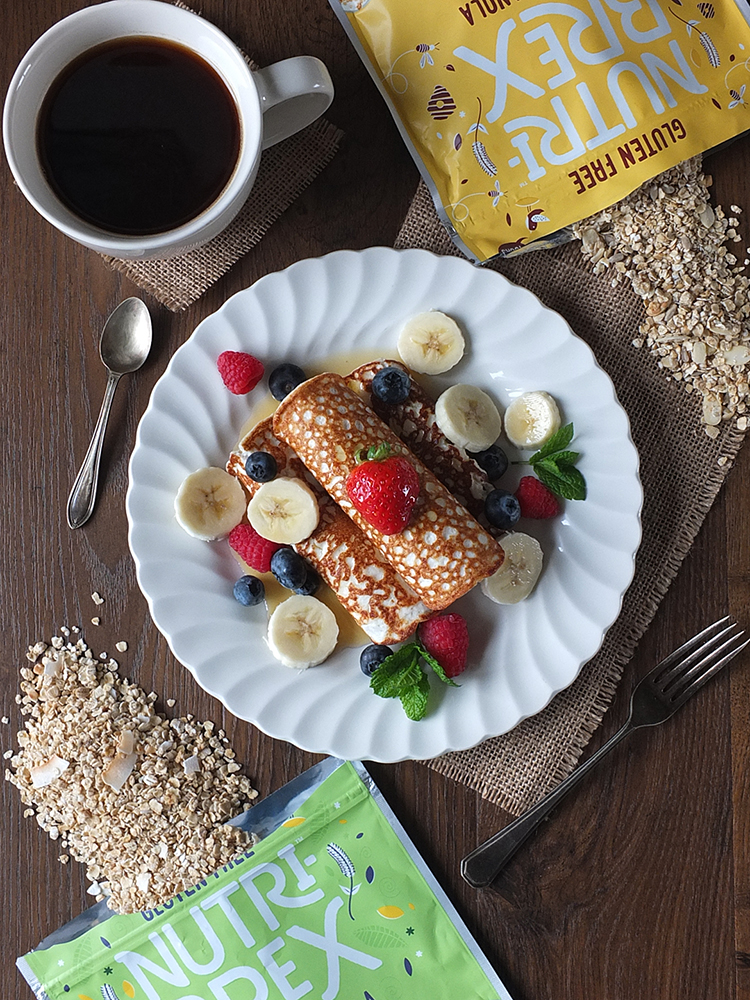 Nutri-Brex have launched a 5 Ways Challenge to see what sort of recipes folk can come up with using their gluten-free 5 Ways Granola products. So, I've come up with five different recipes I'll be sharing with you throughout this week. I hope you will be inspired! Yesterday's recipe was for a rather indulgent coconut and mango breakfast parfait! Visit us again tomorrow to see what new recipe we've created!
You can find Nutri-Brex 5 Ways Granola on their online shop for only £3.49 for 400 grams. Follow them on Facebook, Twitter and Instagram for more recipe inspiration too – a better breakfast needn't be a dull breakfast! If you've made something with one of their products let them know! Tag @NutriBrex and use the hashtag #MyNutriBrex.
How do you jazz up your breakfast granola? Let me know in the comments!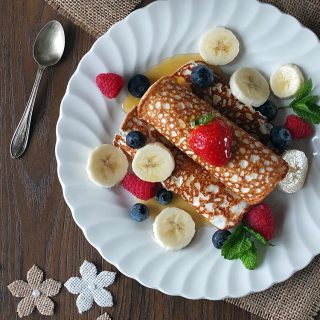 Three-Ingredient High-Protein Gluten-Free Crepes
Egg whites, low-fat cottage cheese and gluten-free granola make for a quick and easy post-workout breakfast/snack for one. Top as desired!
Print
Rate
Affiliate Links
This recipe card may contain affiliate ingredient and equipment links. As an Amazon Associate I earn from qualifying purchases.
Instructions
Place the low-fat cottage cheese, granola and egg whites into a blender and blend until it reaches a smooth consistency.

Heat a non-stick frying pan over a medium-high heat.

Add a little vegetable oil and pour 1/3 of the batter into the pan, swirling to make a thin crepe abuot five inches in diameter. Cook for 1 minute and flip to cook the other side.

Repeat with the remaining batter.

Serve immediately with maple syrup and fresh fruit, if desired.
OTHER WAYS TO JAZZ UP YOUR GRANOLA
Five Fun Ways to Use Granola
Blackberry Frozen Yogurt Granola Breakfast Pops
Chewy Trail Mix Oatmeal Cookies
Strawberry Granola Frozen Yogurt Bites
Healthy Frozen Yogurt Breakfast Pops
Blueberry Breakfast Parfait with Greek Yogurt & Lemon Curd
Berry & Mascarpone Granola Tarts
3-Ingredient Granola Chocolate Energy Balls
Apple & Granola Pancakes
Coconut & Mango Breakfast Parfait
5 Ways Challenge recipe 3 – coming soon!
5 Ways Challenge recipe 4 – coming soon!
5 Ways Challenge recipe 5 – coming soon!
SHOP THIS POST
Nutri-Brex 5 Ways Granola – Honey, Almonds & Seeds
Nutri-Brex 5 Ways Granola – Hazelnut, Coconut & Quinoa
Non-Stick Frying Pan
Canadian Maple Syrup
This is a sponsored recipe post for Nutri-Brex. Thank you for supporting the brands who make it possible for me to do what I love: mess up my kitchen and share recipe stories!
[color-box]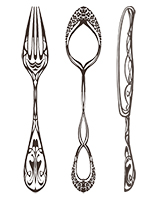 Have you made this recipe?
Take a photo and tag @tangoraindrop or use the hashtag #elizabethskitchendiary and share on Instagram and Twitter. It would make my day to see your creations!
[/color-box]