At 60 degrees North, midway between Iceland, Norway and the mainland of Scotland, you'll find the wild and remote Shetland Islands. Our archipelago might only be 80 miles from tip to tip and 35 miles at its widest, but there are 640 miles of quiet, well-maintained roads and 1679 miles of wild and rugged coastline to explore.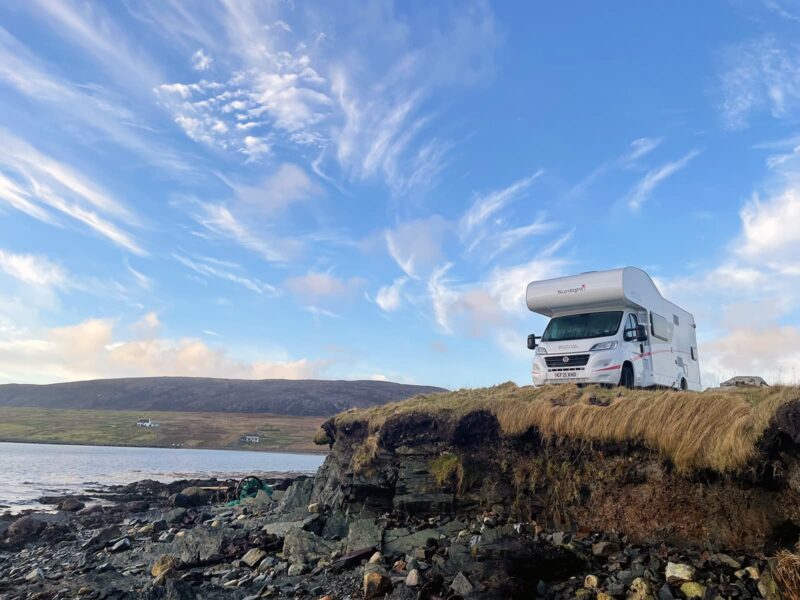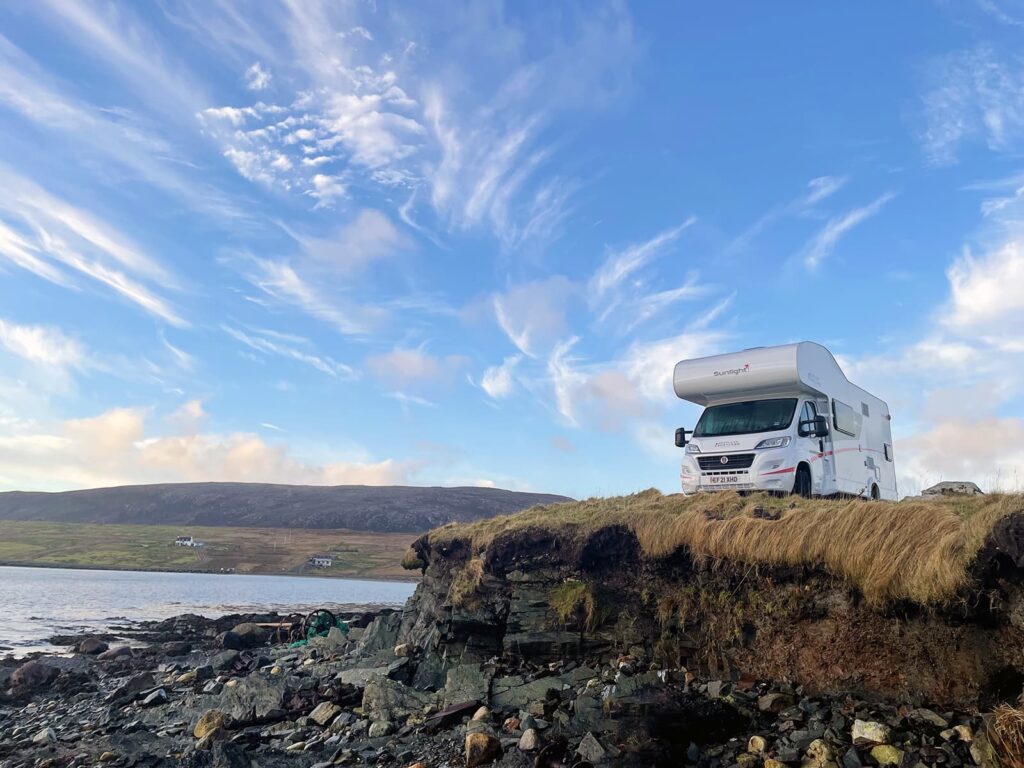 A Shetland Islands winter weekend break
The pandemic has changed the way many of us view travelling. With restrictions, quarantine, testing and the potential for picking up the virus on the mainland and bringing it back to our island home means that many of us are choosing to explore what's on our own doorsteps instead of venturing further afield.
Many of us are opting for staycations, whether it be a weekend break in town or a wild adventure out into the country.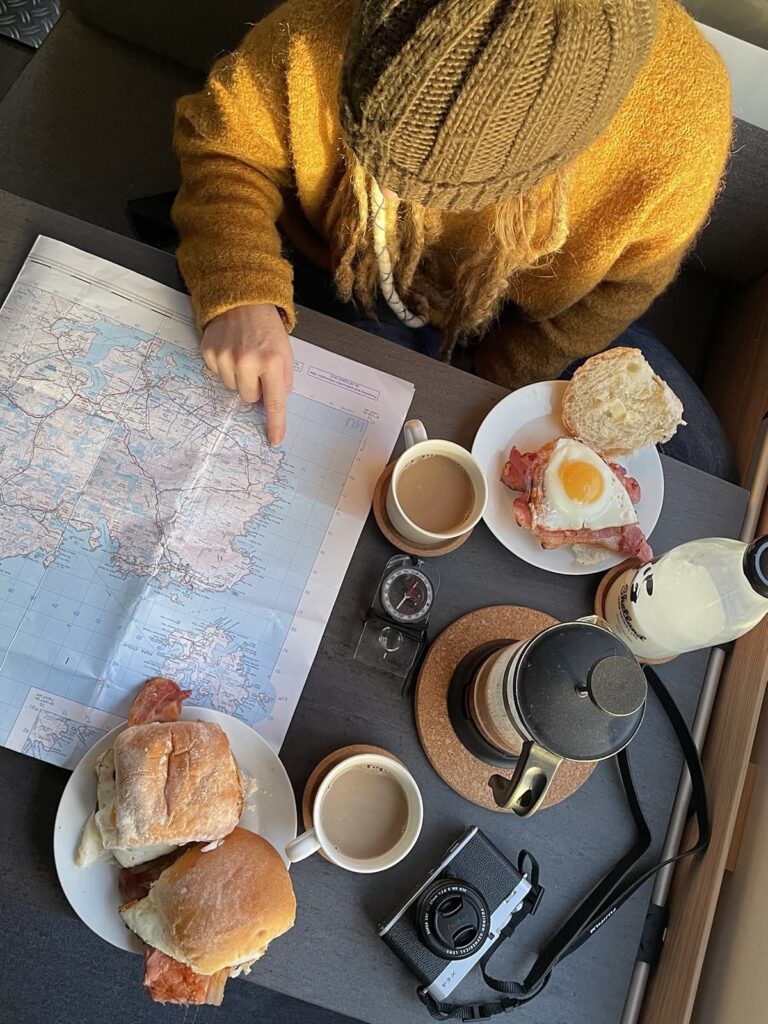 Exploring Shetland by motorhome
Even if you've lived here your whole life, there are always new and exciting places to discover.
Hiring a motorhome is not something I've ever thought of doing before.
However, friends of mine realised, during the pandemic, that a motorhome would be a perfect way to have a socially distanced staycation, to explore the many exceptional places on our doorsteps. They noticed that there were limited opportunities for families, couples and individuals in Shetland to hire out a motorhome and so Explore Shetland Motorhome Hire was born.
Why you should hire a motorhome for your Shetland staycation
After experiencing this vehicle for the weekend, I've come to realise that hiring a motorhome is a really great idea! You can travel and sleep when and where you want to, you can socially distance, you can be as messy (or clean!) as you want (make sure you return the motorhome as you found it!), and you can eat, sleep and relax to your own timetable without having to worry about any neighbours.
It's everything you need in one moving, cosy, warm, spacious home for the perfect outdoor adventure – even in January at 60 degrees North. It's like camping, but warmer and tidier with your own personal shower and toilet.
My wee adventure
After a thorough debrief from the husband and wife team at Explore Shetland, I loaded my mountain bike onto the bike rack on the back of the motorhome and headed off on my weekend staycation.
The first stop was a food stop at a local village shop before heading east. In the true spirit of adventure, I drove to the end of a road I had never been on before to watch the sunrise over the sea.
The following morning I woke to the sound of the sea gently lapping at the shore just a few metres away. As luck should have it, I was treated to a beautiful sunny, calm Shetland winter's day: perfect for enjoying breakfast while I planned our bike ride over the rugged 10-mile dirt track to Uyea and back.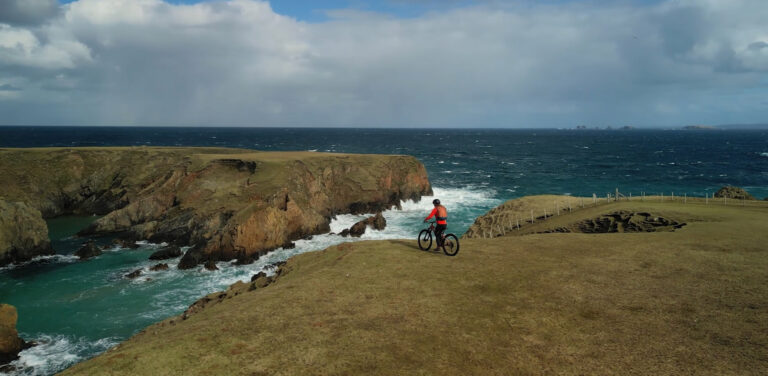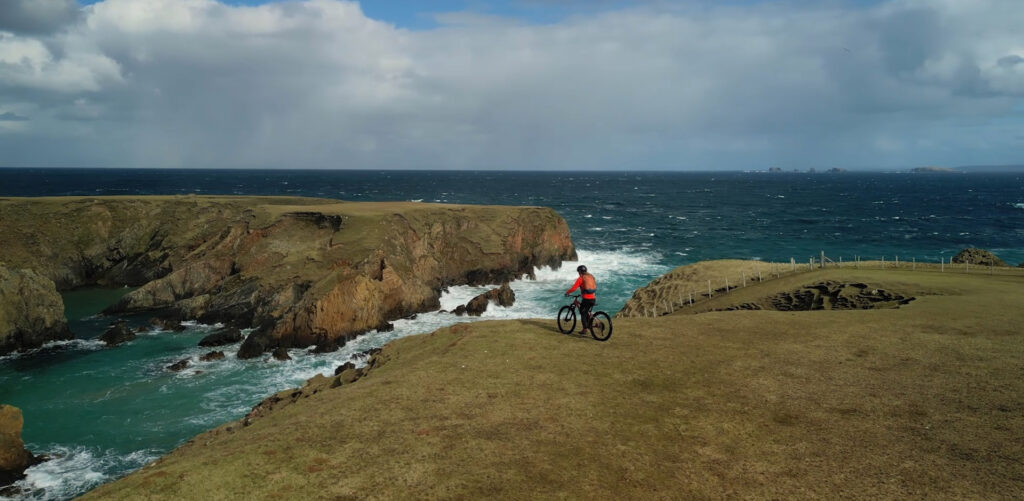 Uyea is one of my favourite places in Shetland to mountain bike, but this was the first time I'd been when the tide was completely in and Uyea was a cut off island.
It was cold, although the weather stayed dry, so I didn't stick around long before heading back to the motorhome to warm up, eat lunch, and plan my next outdoor adventure.
That afternoon I headed west to watch the sunset before finding a sheltered spot to spend the night.
The following morning I packed a lunch and followed a yet uncharted bit of coastline along the west side of Shetland. The weather was wild.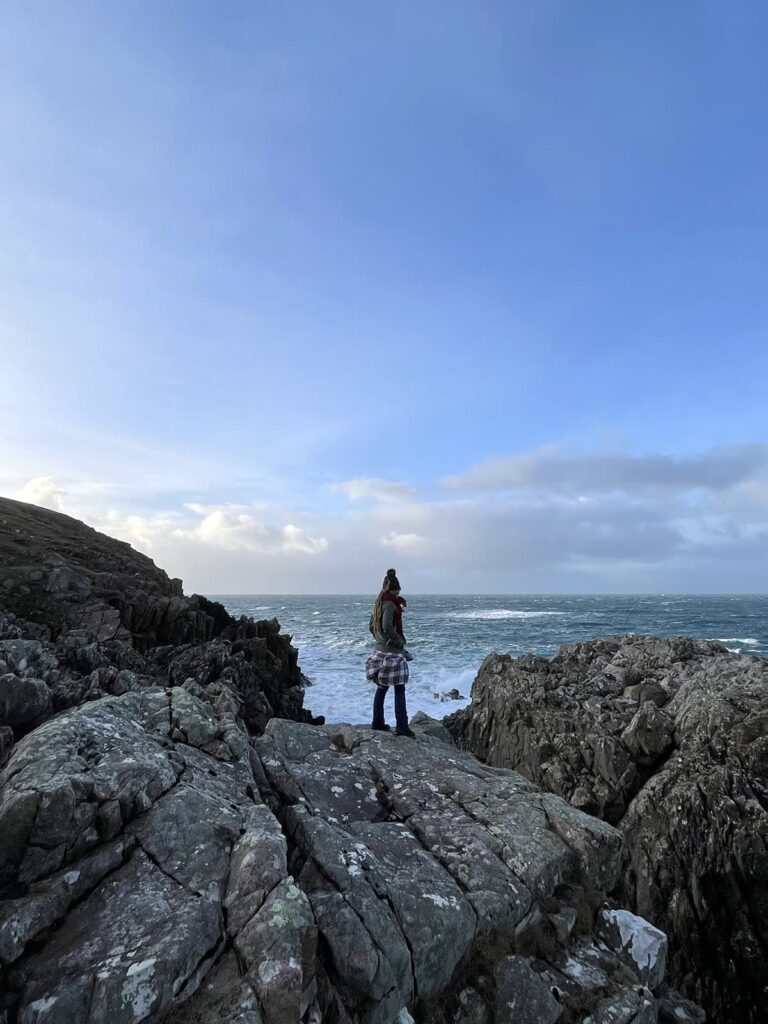 The wind picked up that night, but I was well-fed and content and cosy, safe and warm inside the motorhome. Although I was still in Shetland, I felt like I was escaping from it all with my own private little holiday.
Explore Shetland's Sunlight A72 Motorhome – FAQs
How many people does the Sunlight A72 sleep?
This incredible motorhome is massive! It'll sleep six adults, very comfortably, in two single bunks to the aft of the vehicle, a king-size bed above the driver's cab and a double bed in the dinette.
What's in the kitchen?
The kitchen and dining area of the motorhome are spacious and fully equipped with everything you might need from a coffee press, crockery, cutlery, pots and pans and cooking utensils. There is a large refrigerator and small freezer and plenty of cupboard space to store food.
There's a three ring gas hob to cook on as well as a small gas oven and the dinette itself seats six.
How many bike racks are there?
There are three bike racks on the back of the motorhome with room to fit a fourth. There's also a large garage space under the bunks, so you could always fit a few smaller bikes (or inflatable kayaks!) in there too.
What's a Sunlight A72 Motorhome like to drive?
She's a big girl, but she drives just like a van. Smooth, gets up hills fine, you just need to negotiate the car park a little differently and make sure the back end is off the road.
She's got a really tight turning circle for something that big, which is a big help.
Where can you empty the chemical toilet and grey water tank?
There are caravan sites all over Shetland with the facilities to dispose of chemical toilet and grey water waste. Many have rubbish and recycling facilities too, as well as electric hook-ups if needed.
Is the Explore Shetland Motorhome Hire pet friendly?
Yes! Explore Shetland is a family friendly business, and so that means the four-legged members of your family can come too!
How do I book with Explore Shetland?
Visit the Explore Shetland Motorhome Hire website to book your next Shetland adventure!
In midwinter, there are six hours of daylight in Shetland. Come Midsummer, it never really gets dark. The sun barely dips below the horizon creating the 'Simmer dim' and there are nineteen hours between sunrise and sunset.
Even in January, there are plenty of opportunities to explore Shetland. I would highly recommend starting your journey with Shetland Motorhome Hire – it's the perfect base for adventuring in Shetland, how ever you choose to do so!
Where will you go first?