I am a terrible mother, I am.
I have three children, one of them nearly a teenager and I have never, ever attempted to make an Easter nest before. Not out of shredded wheat, or cornflakes, or bran flakes, or whatever else they happen to be made of. I've seen them displayed on tables at Sunday Teas with their little sugar coated chocolate eggs and I've seen them plastered all over Twitter and Facebook feeds in the days leading up to Easter but I've never been tempted to make them. There has always been something more interesting to bake. I think part of being a mother is that we're supposed to make these chocolate cereal things with our children, aren't we?
It's coming up to Easter though, and the eldest suggested this morning on the way to school, that perhaps, if I was feeling up to it [insert best pleading tone of voice] that I could make some sort of Easter themed dessert tonight. I could make a nest, he suggested, with bran flakes and melted chocolate – how does he know of these things if I have never made them for him before?!
The OH had picked up a giant bag of those Pick n' Mix sweets the last time he was in town and there were 14 lonely little sugar coated chocolate eggs at the bottom. I snatched them up, muttering something about the possibility of an Easter treat for the kids at a later date, should inspiration arise. I had no excuses. Easter nests were calling out to be made.
I met halfway.  I didn't have the required cereal or any blocks of chocolate, so these Easter nests are made from a third of a batch of the traditional Cape Breton spider cookie recipe I grew up with in Canada. Cocoa powder and sugar is heated with some milk and butter and poured, quickly, into a waiting bowl of quick-cooking porridge oats and coconut. I remember the coconut of my childhood being long and stringy, which meant that the resulting cookie had 'spider legs', but these days, in the UK, desiccated coconut is short. The flavour remains the same, even though it looks different. Using buttered fingers you can mould little nests with the mixture. Pop a sugar coated chocolate egg into the centre of the nest and there you go, an Easter nest sure to please any child. Make sure you work fast though because this molten mixture starts to solidify as soon as you mix it together. Lay out a sheet of grease proof paper before you start heating up the chocolate mixture to make things go smoother at the end.
I didn't want to serve up the nests on their own so I used them to decorate Nigella Lawson's fairy cakes heavy with tinted butter cream. The recipe can be found in her book How to be a Domestic Goddess (page 40). I wish I had a grass piping nozzle – it would have been really effective for this project, I think. However, the children were utterly delighted with their Easter Nest Cupcakes and now I don't feel like such a bad mother. I've made them Easter Nests – there are photographs to prove it! Now, I never need to do it again, right?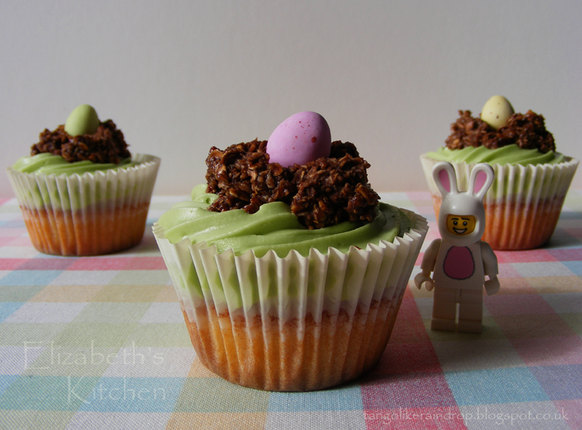 As a key part of this Easter treat is Nigella Lawson's fairy cake recipe, I have entered it into Maison Cupcake's Forever Nigella blogging event, hosted this month (March 2013) by Jen from Blue Kitchen Bakes. I am also including the recipe in Laura Loves Cakes Calendar Cakes round up which features Easter cakes this month. Calendar Cakes is alternately hosted by Dolly Bakes. Since they are inexpensive to make I've included it in Utterly Scrummy's Easy Easter & Spring baking blog hop. Scroll down to see what other folk have been up to in the kitchen!