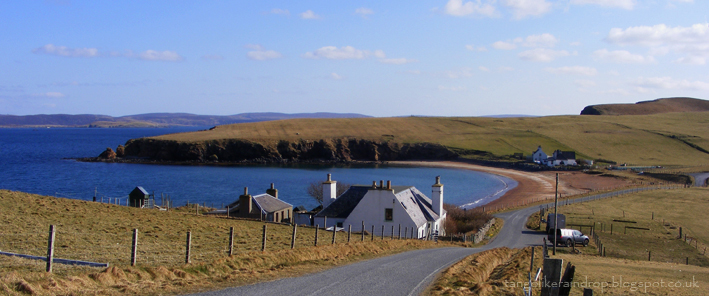 If the news is to be believed, the UK mainland is experiencing what can only be described as a real life portrayal of the film The Day After Tomorrow with snow, freezing temperatures and general all around unpleasantness of the cold variety. Meanwhile, in Shetland, way up North (often forgotten about on the mainland weather maps!) we've had sun all day! There's been the occasional flurry over the last few days, and it has been cold, but today the glorious spring sun shone down on us in all its splendor.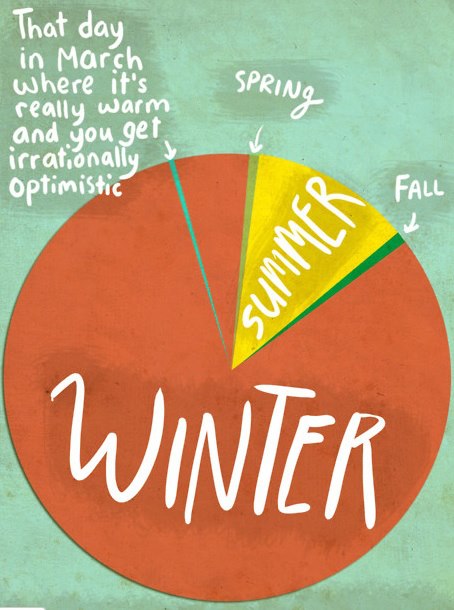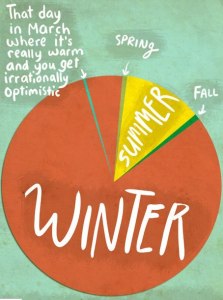 Shetland Seasons
Photo from Proud to be a Shetlander FB group
Today reminded me of an image I saw posted by Proud to be a Shetlander on Facebook. I think today was "that day in March where it's really warm and you get irrationally optimistic".  My friend Julia (Jaydee's Ramblings) said her outdoor thermometer read 8 degrees Celcius! It's going to be a good summer, it is, it is!!
Donning our wellies we took advantage of this lazy sunny Sunday to go beach walking and rock pooling at one of our favourite child-friendly haunts: Reawick Beach on the west side of Shetland. The drive to Reawick from the main road on the west side is fantastic; it follows along the coast and we spent most of the journey looking out for whales. We didn't see any whales today, but we did see a flock of seabirds huddled close together like a living raft and they were moving at some speed! Also spotted: the backside of 1 swan as it was searching for food underwater, a few ducks, some sheep, a curious Shetland pony, a few oyster catchers, some seagulls, a hooded crow, a redshank (?), some lapwings and some most displeased fulmars.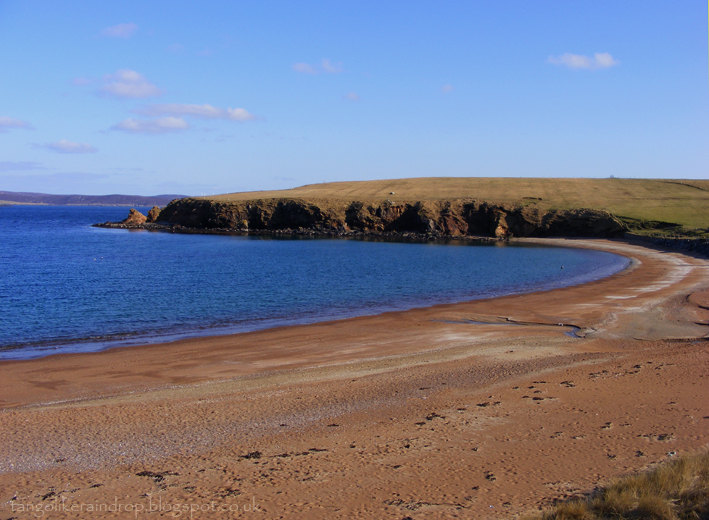 Along the south side of the beach there are some low cliffs home to several pairs of nesting fulmars. They make a very distinctive sound, a bit like disapproving gossiping old ladies. It gets louder and a bit more intimidating the closer you get to their nests, and knowing that they'll spew a vile black gunge up on you if you get too close means you stay well clear from them.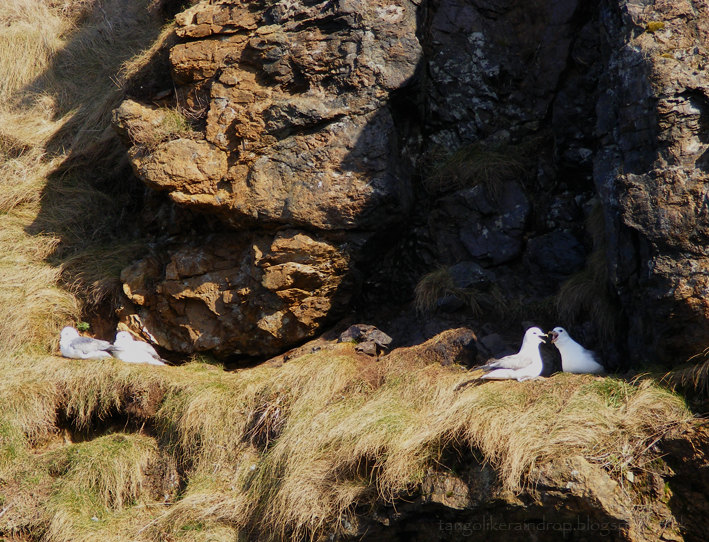 The tide was out so there were plenty of rock pools to explore. We went hunting for anemones, but alas, we did not find any. There were all sorts of different coloured seaweeds though and one curious seal.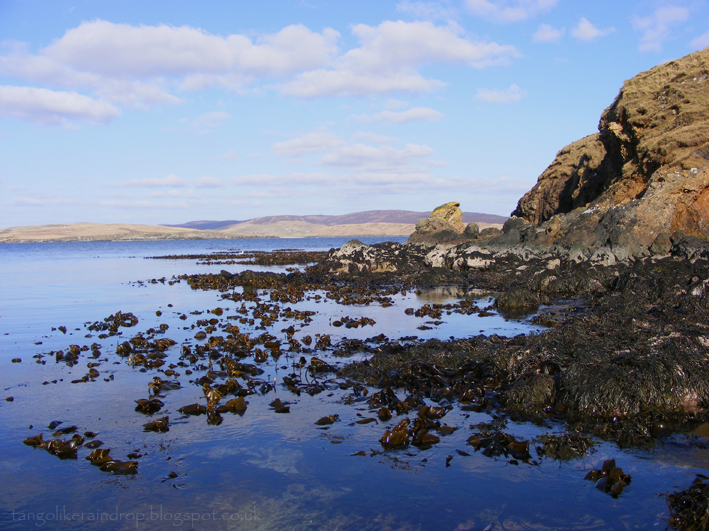 I love how, on the rocks, you can see the different microenvironments. On the very top, away from the water, are the lichens, followed by a bare area which would be too wet for the lichens and not wet enough for the barnacles which are very much crusted over the entire bottom section. Then, below that there is the seaweed. If you stand out at the very end of these rocks it drops off straight into the clear, inviting waters. One is almost tempted to go for a swim! There are a lot of strange sounds coming from the seaweed/limpets/barnacles on the rocks above the water, like they are very audibly breathing. It is almost spooky.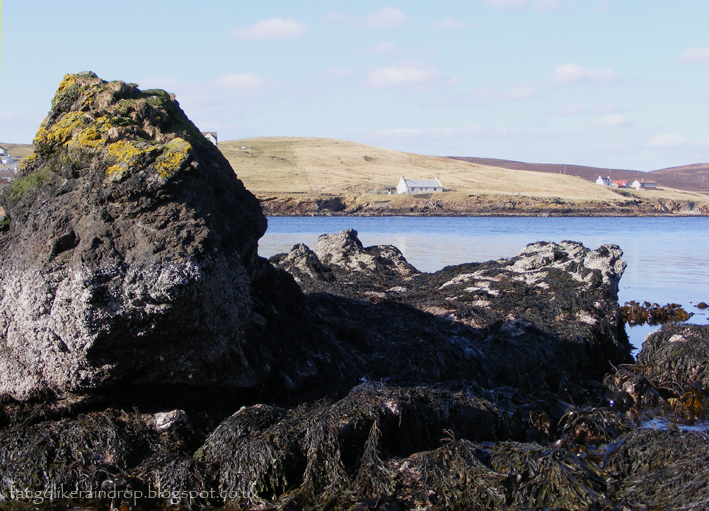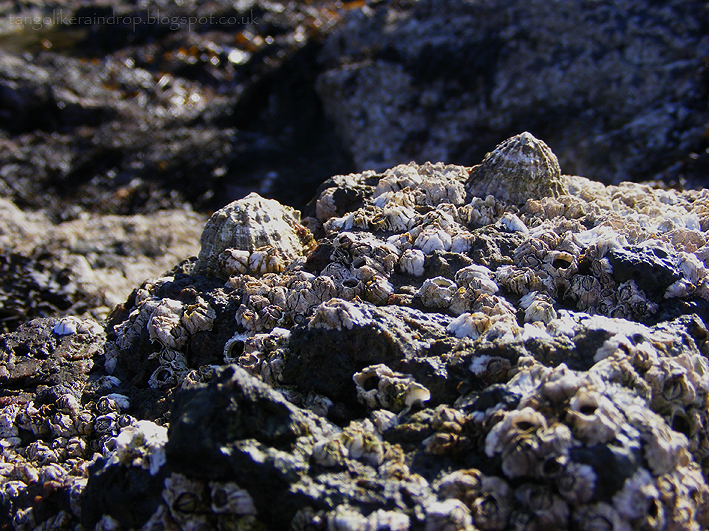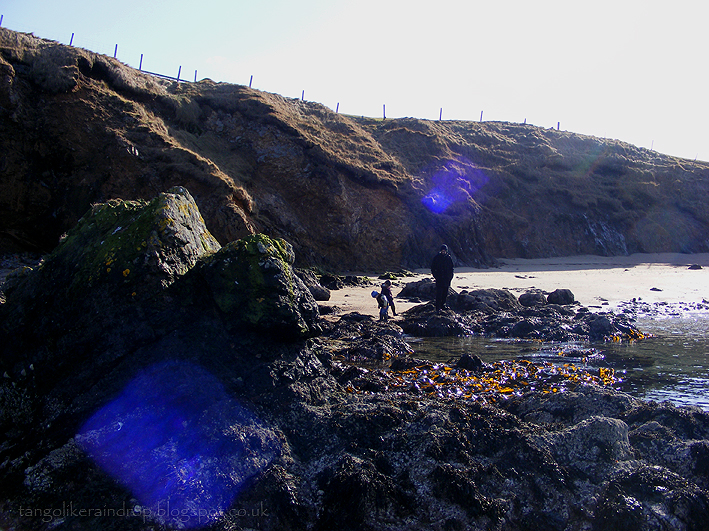 We saw all sorts of things on our exploration; purple rocks, giant clam shells, spoot shells, tall waving grass as high as a person (if you're four), a detached bird wing that looked like it had fallen off mid-flight and gone splat straight into the sand, various shades of sea-eroded glass (red, green, blue and white – I secretly want to collect these), and a few animal prints – otter, dog, bird and human. A whole stretch of beach next to a small burn was covered in these bird prints – clearly they'd had a party earlier!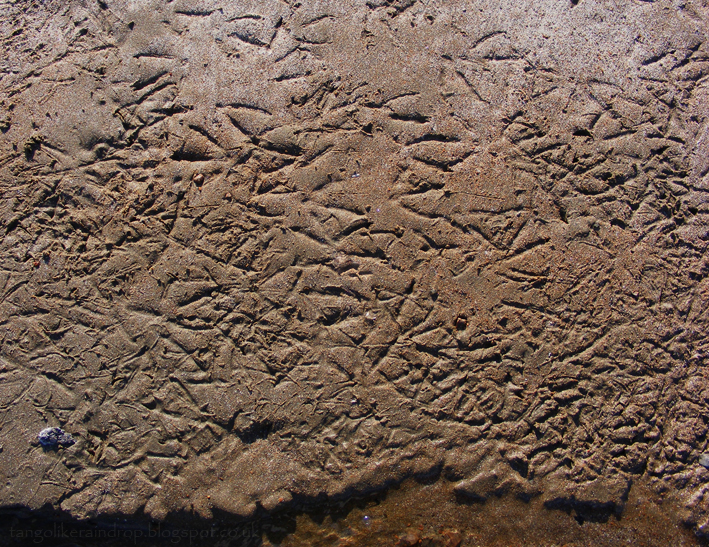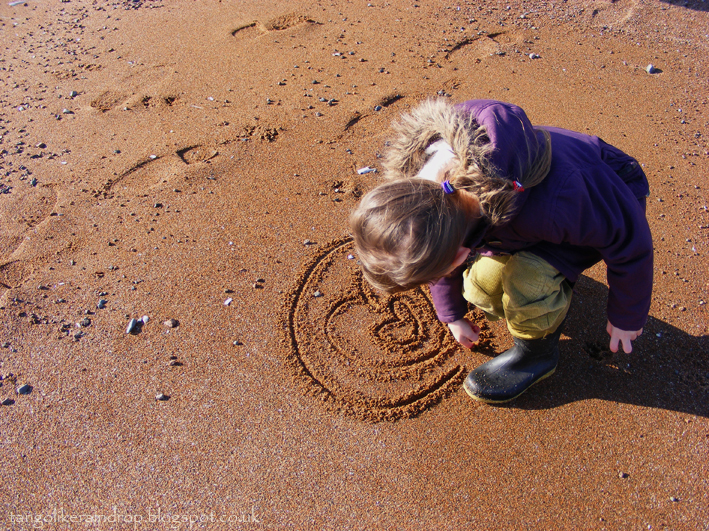 All in all it was a splendid Sunday walk. We're so fortunate to have such natural beauty right on our doorstep.