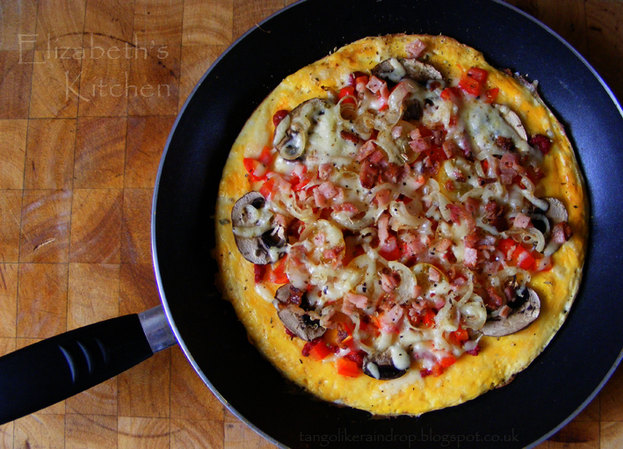 All the awesomeness of a pizza without the dreaded carbohydrates!
This is a deliciously eggy omelette loaded with all your favourite pizza toppings – a perfect quick meal for two (or four if you serve it with a substantial salad). I made mine using the ingredients I had on hand, but you can easily tailor it to include your own favourite toppings.
This recipe is my contribution to March 2013's No Waste Food Challenge, a food blogging challenge which encourages us to prevent food waste, started by Kate from Turquoise Lemons and hosted this month by myself. This month the challenge is all about using up eggs.
I have also included this recipe in the #eggmainsinminutes linky on BritMums as my entry for the Main Meals in Minutes competition sponsored by British Lion Eggs.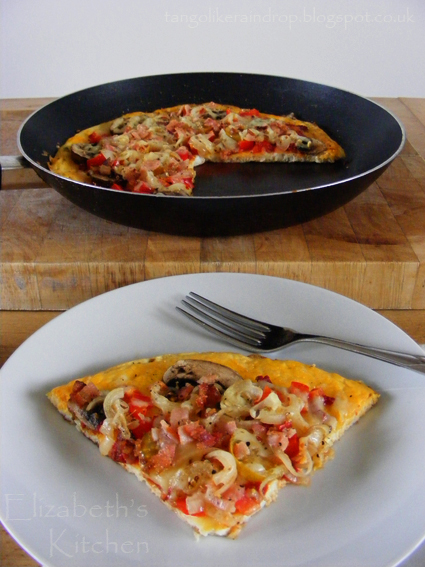 Pizza Omelette
A quick nutritious breakfast or lunch.
Ingredients
1 slice smoked back bacon, grilled & chopped
1 tbsp butter
3 shallots, halved & sliced
1/4 small red pepper, finely chopped
1 chestnut mushroom, sliced
2 cherry tomatoes, sliced
30 grams mature cheddar cheese, grated
5 eggs
30 ml milk
1 tbsp tomato puree
pinch garlic granules
1/2 tsp dried oregano
freshly ground black pepper
Instructions
1. Grill bacon under a medium heat until crispy. Set aside to cool and then chop into small pieces. Keep the grill on.
2. Heat butter in a medium non-stick frying pan.
3. Saute sliced shallots until translucent. Set aside.
4. Stir eggs and milk together and pour into the same medium non-stick frying pan.
5. Fry for 3 minutes until set on the bottom.
6. Pop the frying pan under the medium grill for 1 minute, to set the egg on the top.
7. Spread tomato puree over the top of the set egg.
8. Arrange mushrooms, tomatoes, red pepper and shallots over the top of the tomato puree.
9. Sprinkle with grated cheddar cheese and bacon.
10. Sprinkle with garlic granules and dried oregano. Season with black pepper.
11. Pop back under the grill for a few more minutes until the cheese is melted.
Details
Prep time: Cook time: Total time: Yield: Serves 2