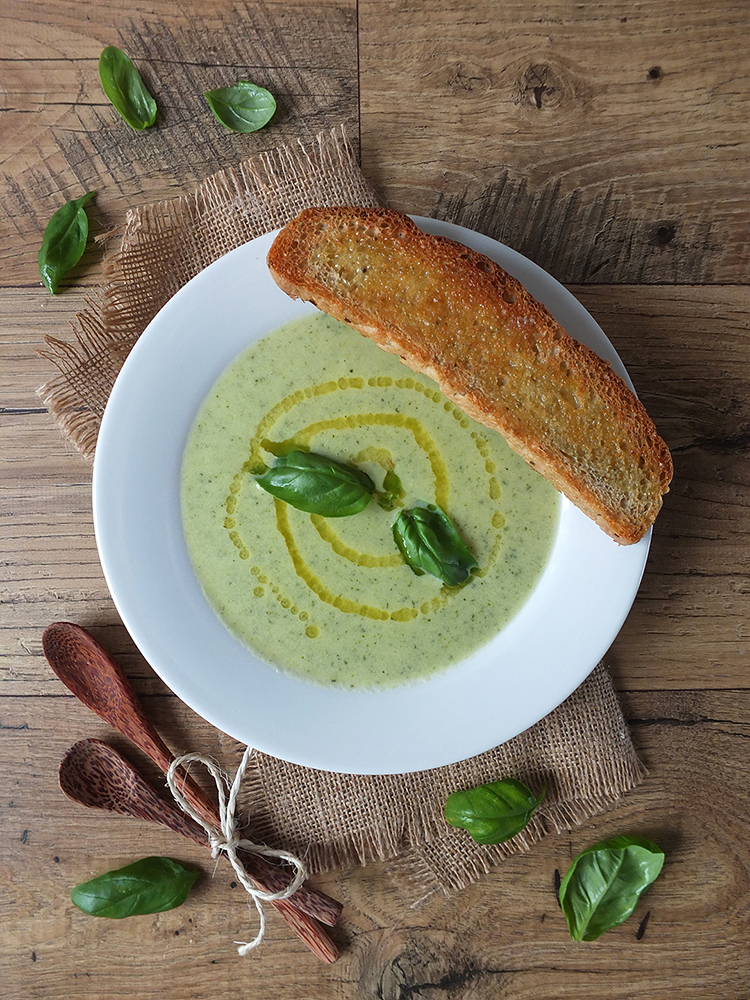 I've got a stinking cold.
I should have anticipated this and batch cooked some comfort food in advance. When the kids go back to school after every single holiday break they always bring home some new viruses from their peers; viruses picked up on holiday, new variants to our remote little island. Variants none of us are immune to. I wish there was some sort of decontamination unit at the school doors that would scan the kids and wipe out these little nasty viruses before the children take them home.
But let's rewind a bit – the day before I came down with this stinking cold it was a beautiful sunny Sunday and as our two older children were away on sleepovers our youngest, my husband and I went for a meandering Sunday coastal cliff walk.
I, of course, had to pack a picnic.
As it wasn't a planned excursion, more like a "oh look the weather's reasonably nice shall we go for a walk?", I hadn't prepared anything in advance. I had an idea for a soup banging about in my head, an adaptation of a courgette and basil soup with proscuitto tartines from Paul Gaylor's book Soup (2013). So, I whipped up a batch, poured it into a flask, grabbed a few bits and bobs and away we went to a place my husband and youngest son have never been before – a picturesque coastal clifftop walk in Silwick, on the west side of Shetland.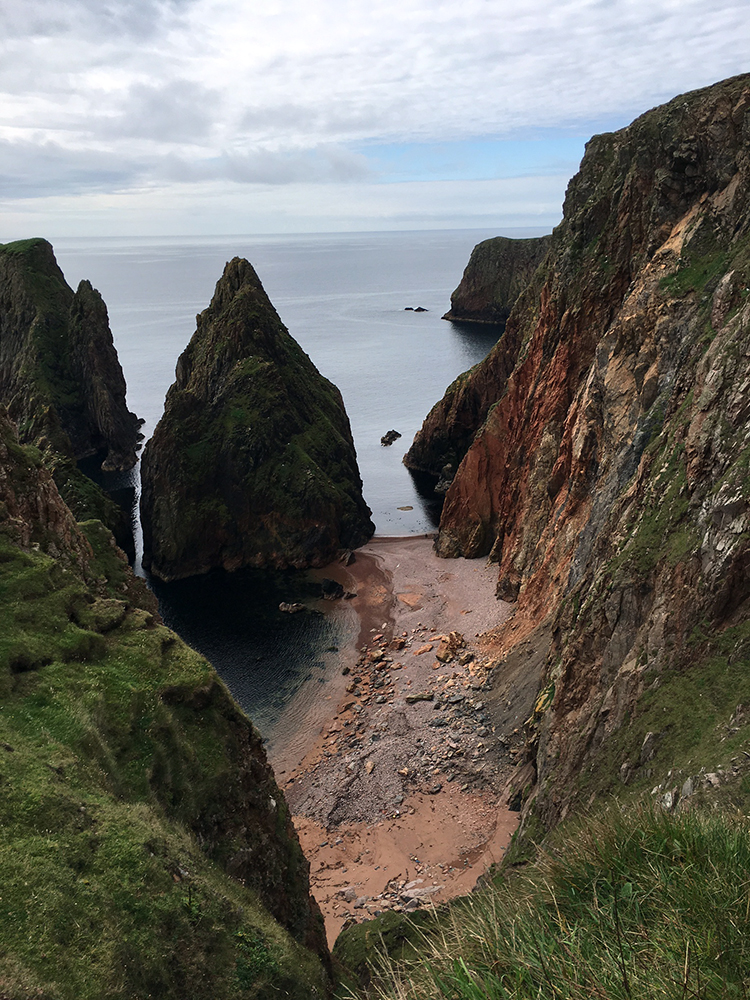 Silwick is one of Shetland's little secrets. Usually when folk come to these remote North Sea islands they head to Eshaness to soak in all the coastal cliff awesomeness, but this area is just a few minutes' walk from the end of the Silwick road, and despite its' steep cliffs it really is quite safe. There's a fence running along most of the cliff edges except for this little finger-like promontory pictured below. You can walk all the way around to Westerwick beach, and even further along the the coast if you've got the time.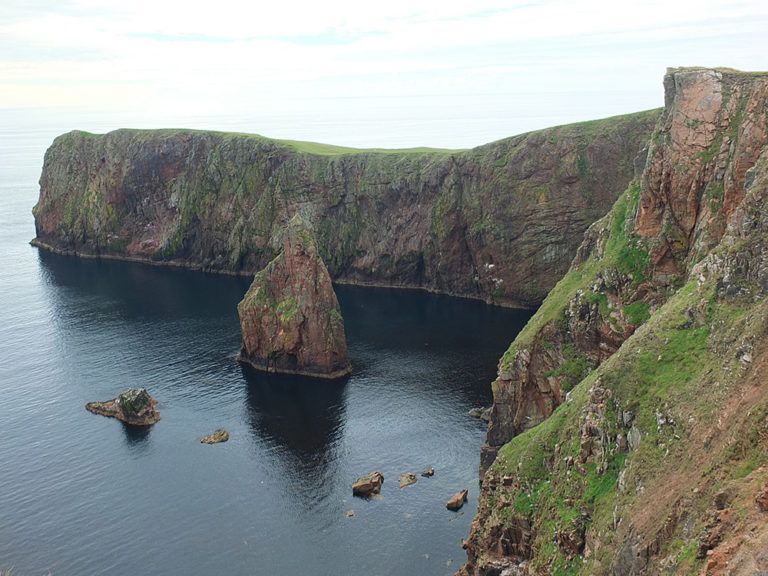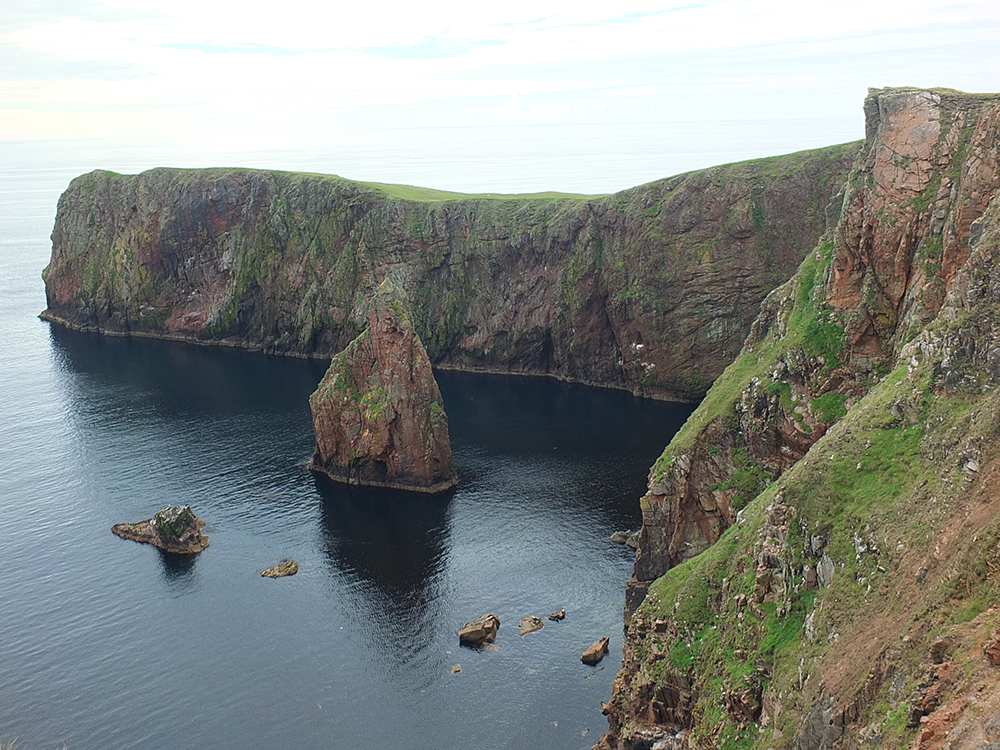 After a short walk we found a rocky outcrop to sit on and bask in the last of the summer sun that was occasionally peeping out from behind the clouds.
As far as lazy Sunday afternoons go, this ranks pretty highly, I think.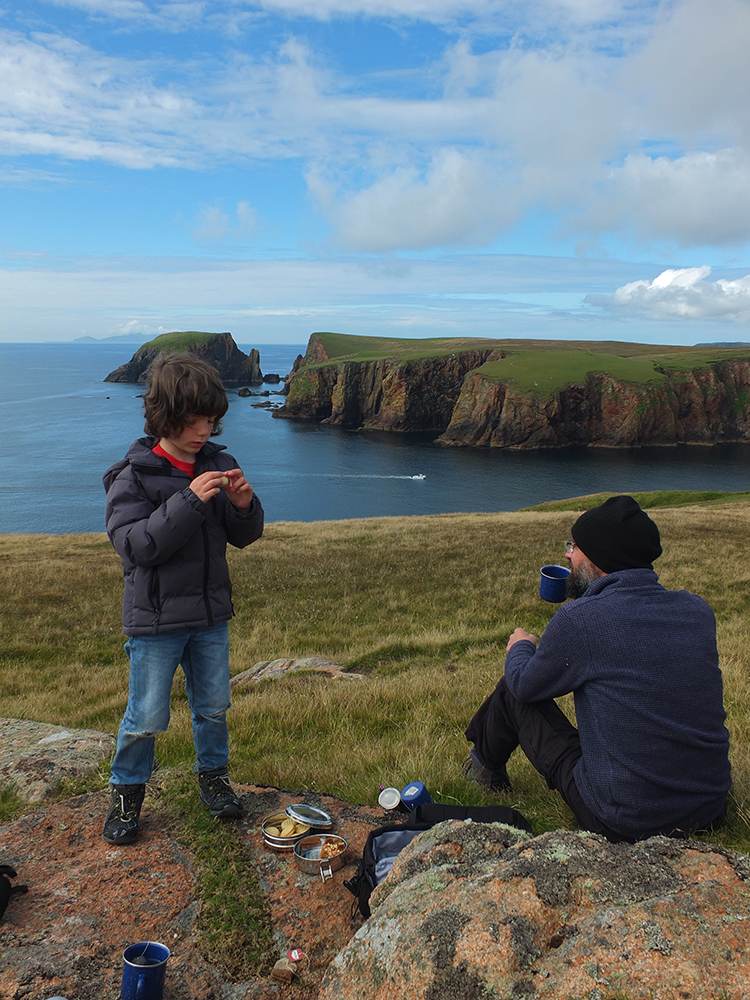 I was really pleased at how well my soup idea turned out. I used up three of those veg box courgettes lurking in the vegetable crisper (salad drawer? Only one more courgette to go!), added a few large cloves of veg box garlic, a potato to thicken and make the soup a bit more substantial, the last of the double cream in the fridge and a handful of basil.
The secret ingredient was a Parmesan rind I found in the freezer. Did you know you can freeze cheese rinds?  Parmesan or Grana Padano rinds freeze excellently and you can pop them into soup while it's cooking and it completely dissolves, adding a lovely hint of flavour to the dish.
For our picnic I served the soup with a packet of bruschetta I found in the cupboard. The dry crispy bread worked really well with the soup making for a rather satisfying hillside meal in a mug.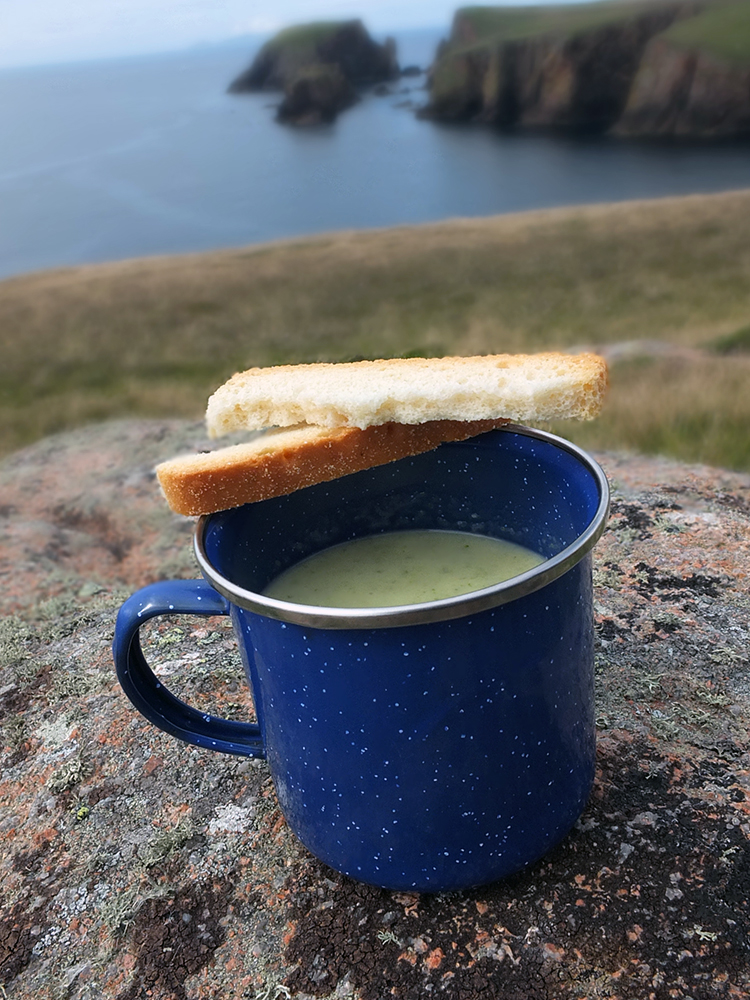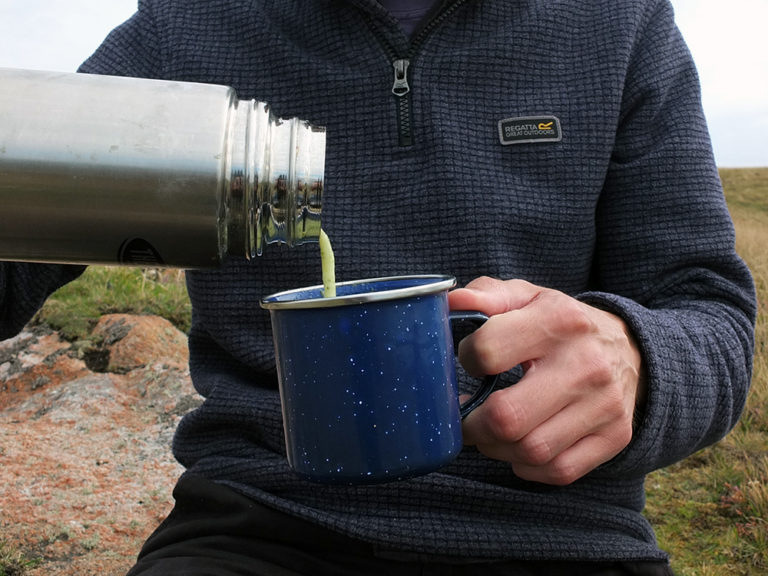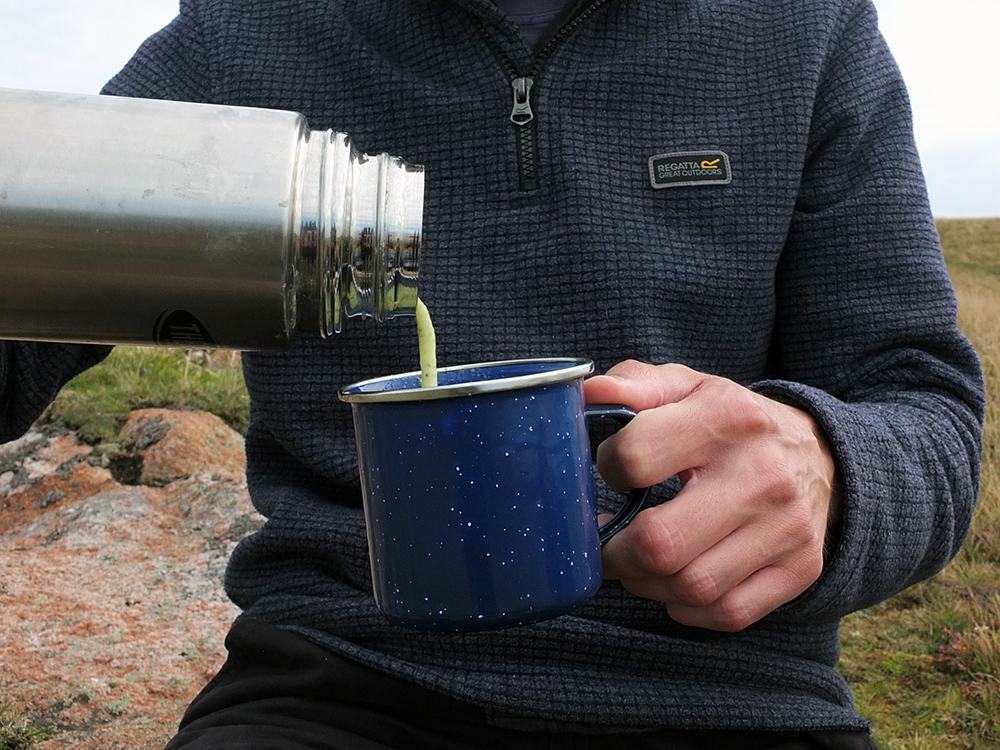 Also served with our impromptu picnic: vanilla chai melting moments and carrot halwa leftover from the Indian feast we had the night before and some new Kettle Bites we were sent to try out. I've been a big fan of Kettle Crisps for years and they've just launched a new range of Kettle Bites – wholegrain waves in Maple Barbecue (maple syrup with tomato, red pepper and paprika) or Coconut, Lime and Chilli flavours. They also make Sweet Chilli Lentil Curls, my favourite of the three flavours we were sent to try. At only 94 calories per bag and packed with loads of flavour and texture these are definitely going to appear in our shopping trolley the next time we do a shop.
Yogi Tea have also recently sent me a selection of their teas; a tea brand I have become hooked on over these last few years. I love the little quotes on the tea tags; reading them is part of the tea making ritual now.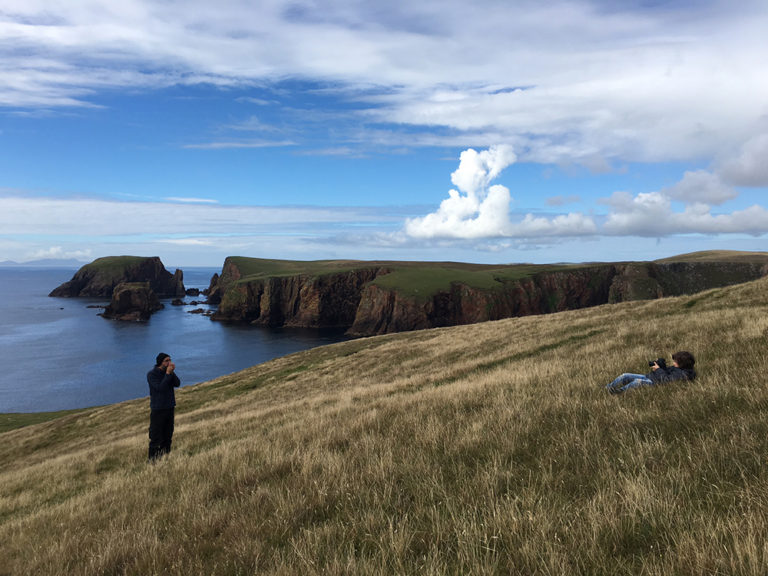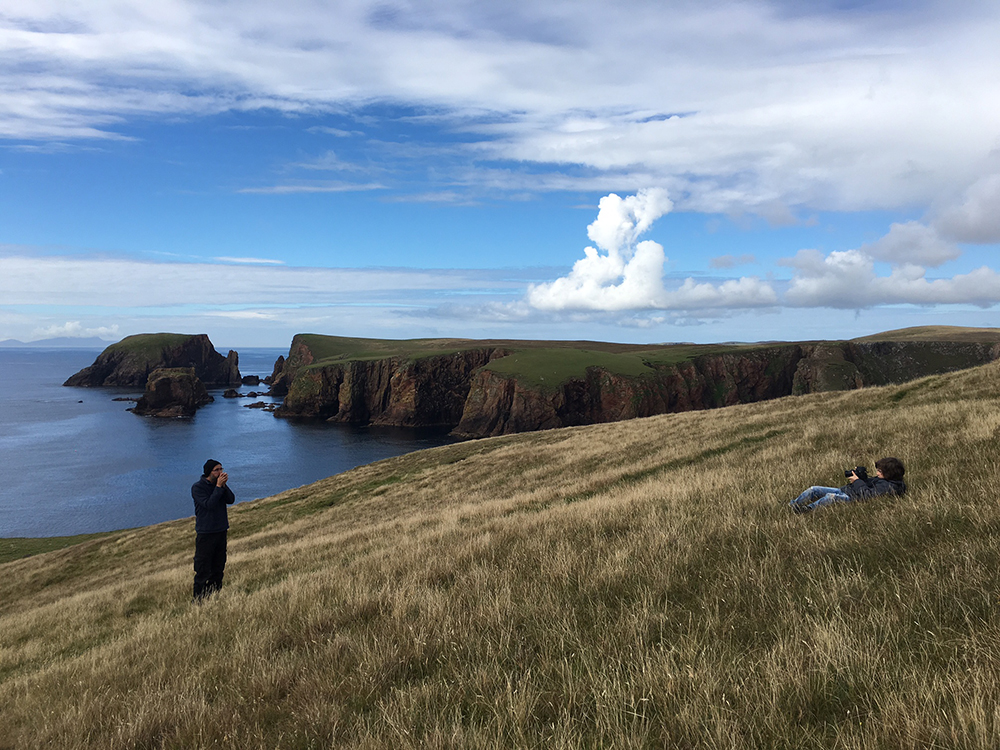 Our youngest has taken a recent interest in photography, asking, at every opportunity, if he can borrow my camera to take some photos.
He's got quite the eye for photography, and I'm keen to see if he'll maintain this interest, although he's not terribly interested in landscape shots just yet, and the pod of five dolphins that swam by in the sea just below us was not remotely photograph-worthy.
Photographing his father whistling with a blade of grass (above) and this Autumn hawkbit flower (below), though, was.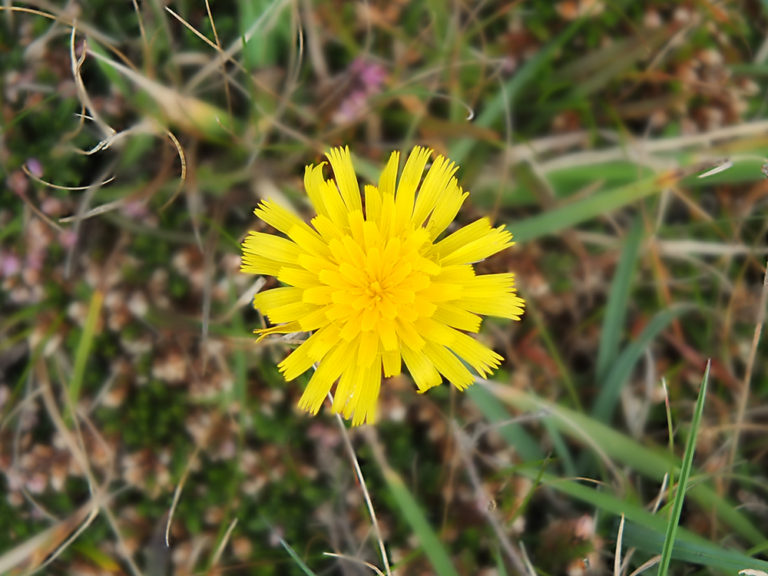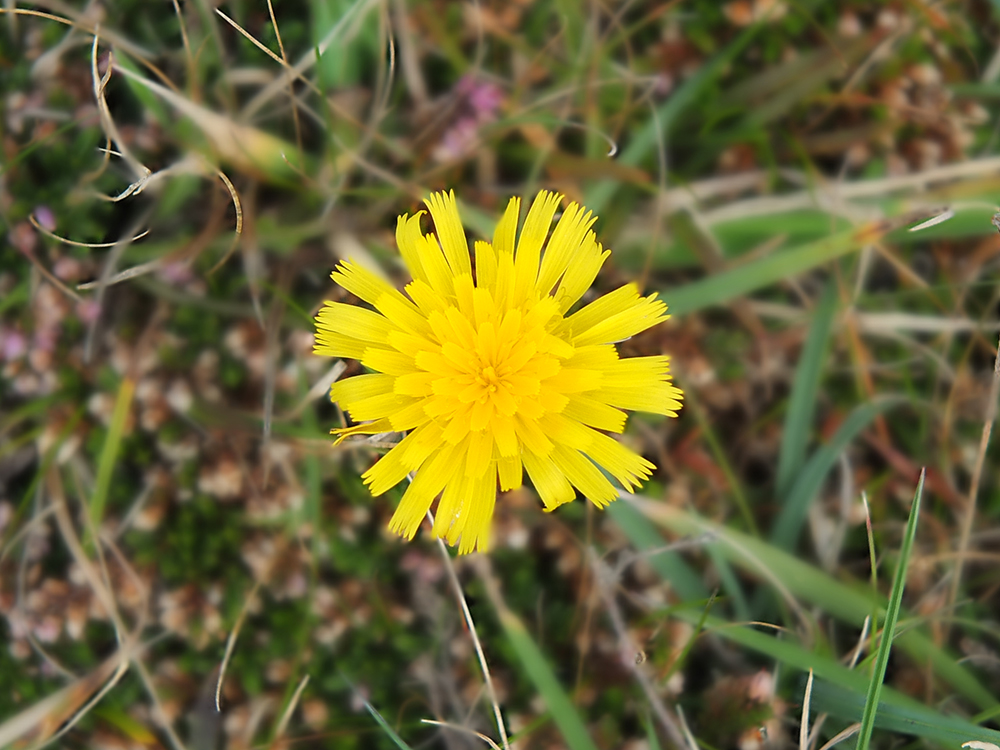 There was enough courgette and basil soup to make two lunches for us: our picnic lunch on Sunday and my husband's packed work lunch on the Monday, plus a hearty bowl for my own lunch served with a little drizzle of melted butter and a few generous slices of buttery toasted focaccia. I've got a stinking cold and I crave comfort food.
I'm currently typing this curled up on the couch under my favourite blanket, sniffling away, cup of Yogi tea brewing, day time television in the background – Coraline's about to start on Film 4. Batch cooked bolognese sauce is defrosting for tonight's easy dinner plan and I'm seriously considering asking my teenage son if he'll bake me some comfort food cake when he gets home from school.
It's not a bad life, really, is it, despite the viruses.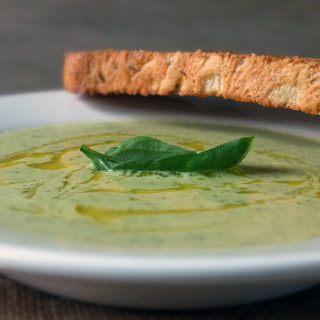 Courgette & Basil Soup with Focaccia Toast
A quick and easy soup made with courgettes, fresh basil and a hint of Parmesan.
Print
Rate
Affiliate Links
This recipe card may contain affiliate ingredient and equipment links. As an Amazon Associate I earn from qualifying purchases.
Instructions
Heat one tablespoonful of the butter in a heavy bottomed soup pan over a medium high heat.

Gently saute the onions, garlic and potato until they begin to soften.

Add the courgettes, Parmesan rind and the chicken stock.

Reduce the heat to a simmer and cook for 10-15 minutes until the vegetables are tender.

Add the basil and cook until it wilts. Transfer to a blender and blend until smooth.

Transfer to a clean pan, stir in the double cream and keep warm while you toast the focaccia (do not allow to boil).

Toast and butter the focaccia.

Melt the remaining butter and drizzle over the top of the soup. Garnish with fresh basil leaves and serve immediately with the focaccia toast.
Environmental Information
OTHER SOUP RECIPES PERFECT FOR A FLASK
Beetroot and Sweet Potato Soup from The Hedgecombers
Haggis, Neeps & Tatties Soup by Foodie Quine
Pea & Kale Soup with Mint from Veggie Desserts
Forgotten Veg Soup by Jo's Kitchen
5 Ingredient Tomato Soup by Little Sunny Kitchen
Peanut Butter Butternut Squash Soup by Recipes from a Pantry
Simple Fat Free Spinach Soup by Fab Food 4 All
Roasted Red Pepper & Tomato Soup by Citrus Spice UK
Parsnip, Kale & Stilton Soup by Supergolden Bakes
Quick Courgette & Blue Cheese Soup by Kavey Eats
Simple Butternut Squash Soup by Greedy Gourmet
Spiced Parsnip Spinach Soup with Apple & Turmeric by Tin & Thyme
LINKING UP WITH SOME BLOGGING CHALLENGES
Country Kids by Coombe Mill
Simple and in Season by Feeding Boys
[color-box]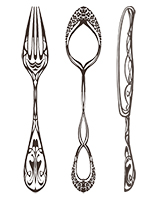 Have you made this recipe?
Take a photo and tag @tangoraindrop or use the hashtag #elizabethskitchendiary and share on Instagram and Twitter. It would make my day to see your creations!
[/color-box]