A sponsored post for Coolcookery.co.uk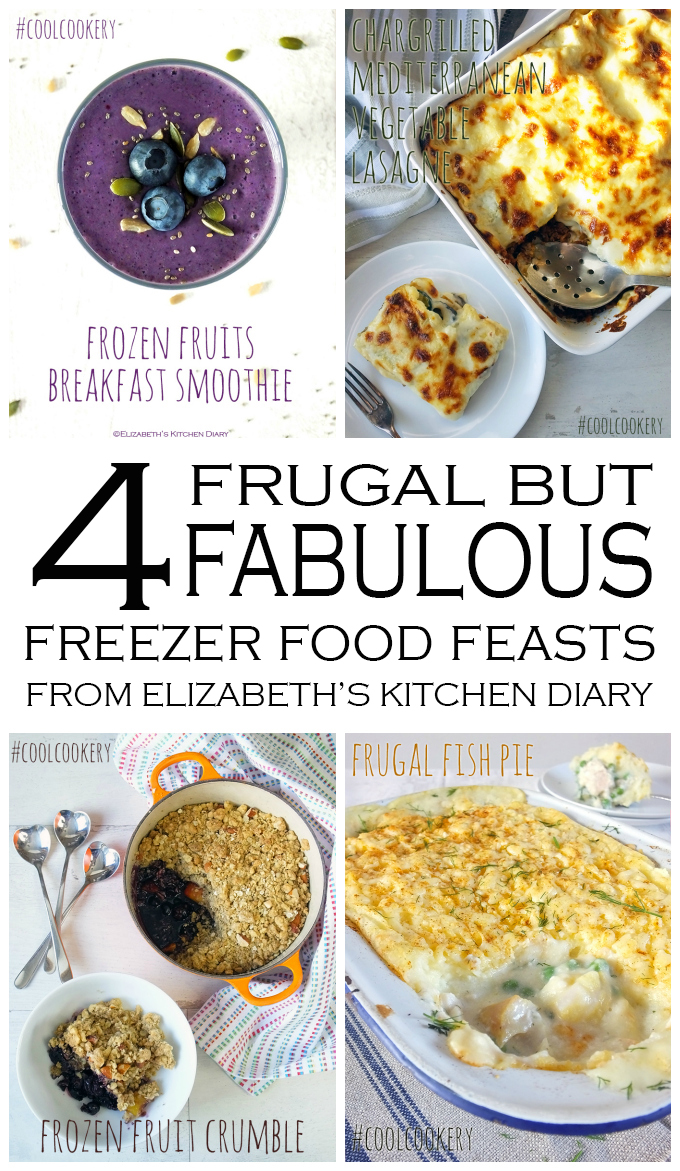 We live on a remote island in the middle of the North Sea. Our island archipelago is 200 miles north, as the crow  flies, from the Scottish city of Aberdeen, requiring an overnight ferry trip to visit.
Our island larder is a rich one. We're surrounded in pristine seas filled with the freshest fish, our hills grow the most succulent lamb, and there are butchers, bakeries and gardens up and down the isles producing the finest meat, bread and vegetables. Plus, our own home grown milk is second to none!
However, we do rely on our lifeline ferry service to supply those ingredients which can't grow in our harsh sea climate, and sometimes, especially during the winter months, this service gets disrupted. It's times like these where being prepared with a well stocked freezer comes into its own.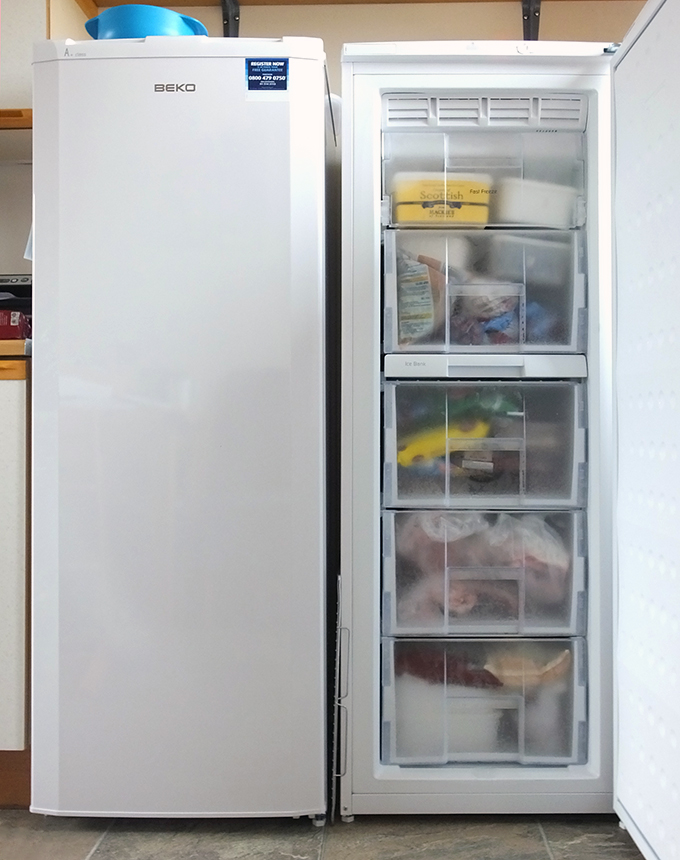 FREEZER FOOD FACTS
The Romans used to store food in compressed snow in insulated cellars.
The modern frozen food industry dates back to 1917 when Clarence Birdseye, whilst fur trading Labrador Canada, observed local inhabitants preserve fresh fish and meat by letting it freeze rapidly in Arctic temperatures.
Modern frozen food often contains no preservatives. Freezing is a natural form of preservation.
Frozen fruit and vegetables are often nutritionally more reliable than fresh. Freezing prevents sensitive vitamins and nutrients from being lost during transportation from farm to shop.
Freezing allows you to choose from a vast selection of otherwise seasonal ingredients all year round.
Frozen food also helps reduce food waste as you use only what you need – which means it's good for your pocket and can be better for the environment.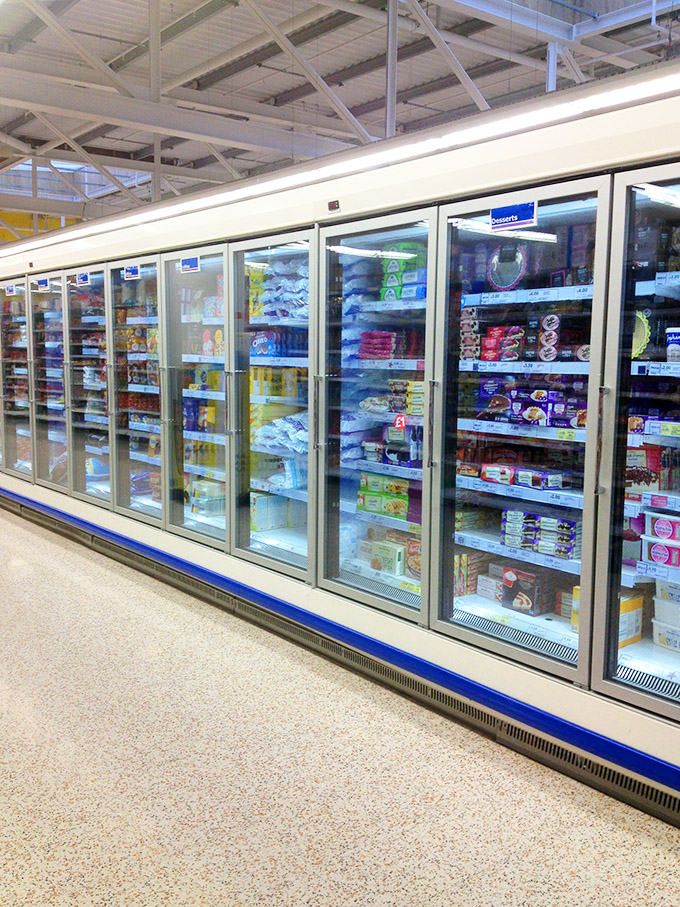 The freezer section in your local shop contains so much more than just chips, fish fingers and peas. There is often a wealth of very affordable produce available. As part of the Cool Cookery campaign highlighting the versatility, economy and nutritional benefits of frozen foods, I was sent a £20 voucher for my local supermarket and challenged to come up with some recipes using the ingredients I purchased.
I've deliberately kept these recipes simple, using freezer and common, affordable store cupboard ingredients.
MY FREEZER FOODS PURCHASES
400 grams fish pie mix £3.25
650 grams mashed potato £1.00
800 grams frozen peas £2.19
500 grams mango chunks £2.00
350 grams pitted dark sweet cherries £2.00
350 grams blueberries £2.00
500 grams chopped onion £1.00
800 grams Mediterranean char-grilled vegetables £2.00
500 grams 10% fat minced beef steak £3.30
Total cost: £18.74
THE RECIPES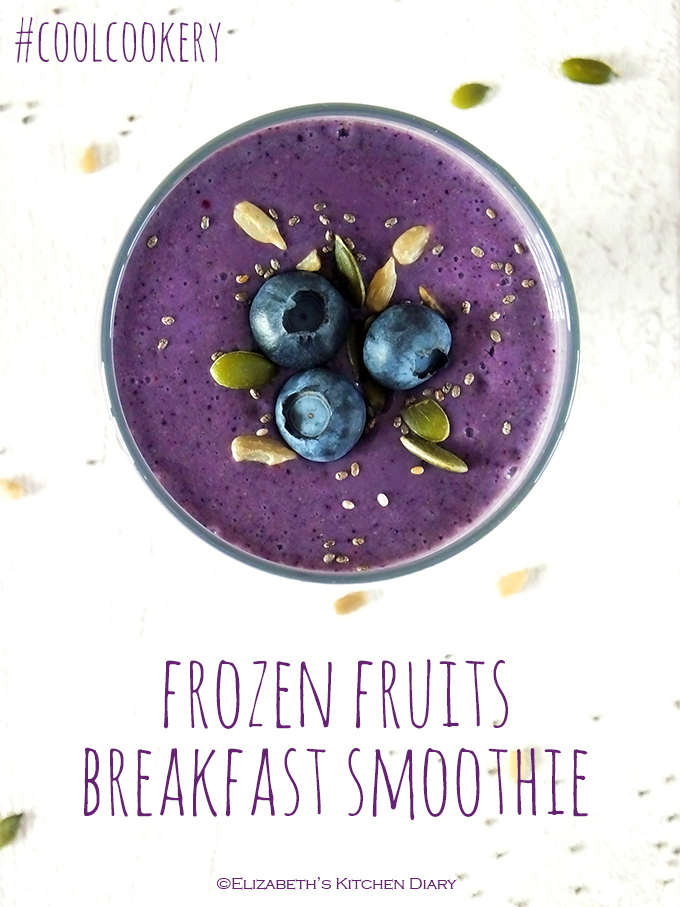 First up, a delicious fruit-loaded breakfast smoothie. The mango, cherries and blueberries in this smoothie were are all freshly frozen just after harvest and they cost considerably less than their fresh counterparts, especially since you're not paying for the weight of the pits and stones. This makes for less waste at home too. Freezing fruits shortly after harvesting tends to lock in nutrients, meaning there's probably more vitamins in the frozen variety than those which have been shipped, fresh, across the globe.
I've included a banana in my recipe, something which I frequently peel and freeze in chunks when they've gone too brown to be appetizing for the children. Store cupboard UHT or non-dairy milk (I used unsweetened soya) is used as I always keep a supply of both in the pantry, just in case, and a spoonful of mixed seeds for added nutrients brings this breakfast smoothie to a whole new level.
Freezing tips:
Bananas can be frozen. Peel and chop into segments and store in a container or freezer bag until needed. Whiz up the frozen banana in smoothies, or defrost and use in your favourite banana bread recipe.
---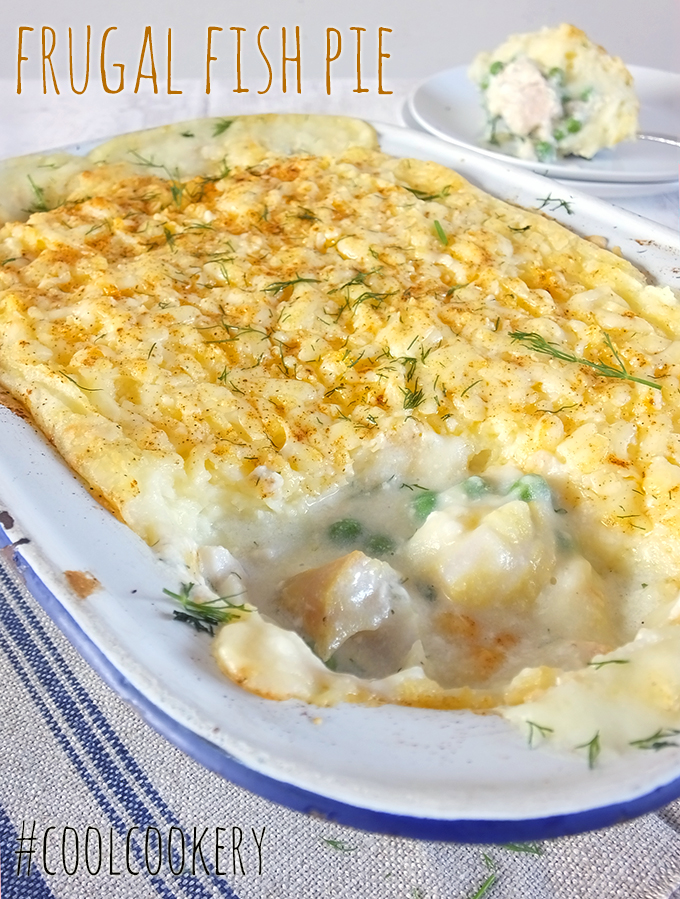 Nothing says comfort food like a home made fish pie, especially during these cold winter months. For this frozen fish pie I tried some freezer ingredients I'd never used before. I prefer to buy sustainable MSC-certified fish from our local fishmongers and although the fish pie mix I bought (containing a mix of smoked cod and cod from the North East Atlantic and pink salmon from the Pacific) was labelled as responsibly sourced, the website they refer to is vague on their sourcing ethics. I suppose I've become spoiled here in Shetland, knowing exactly where (and sometimes even by whom!) my fish was caught! Nonetheless, the mix made a lovely fish pie which my husband was delighted to have served to him after a day of working out in the cold and rain.
I've never used pre-made frozen mashed potatoes before either and was surprised at how quick they were to prepare, and how nice they tasted. The pre-chopped frozen onions were quite handy too – I fried them from frozen just like I would have using fresh.
Freezing tips:
Fresh herbs can be frozen. Watch out for packs reduced on offer in the supermarket and pop them into the freezer. Use as you would fresh (the dill in the images shown was frozen).
Grated cheddar cheese can also be frozen. Sprinkle frozen grated cheddar over the top of fish pie or lasagne.
Butter can be frozen too! Store in a freezer bag in its original packaging and take out and defrost what you need when you need it.
Although this recipe wasn't nearly as nice as my usual recipe using fresh local sustainable fish and Shetland tatties, it was a very reasonable (and much friendlier on the pocket book!) alternative.
---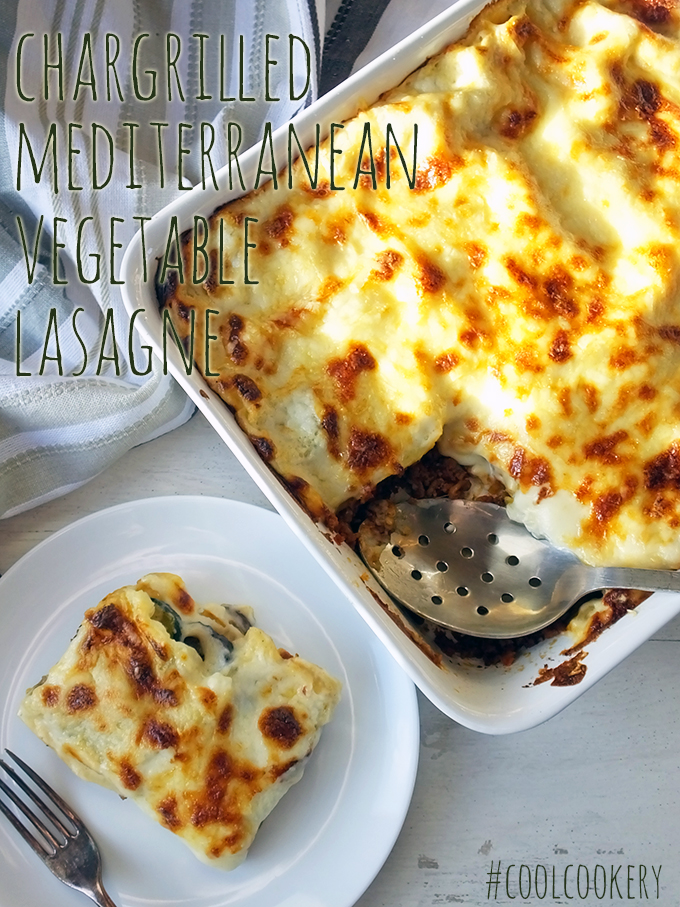 While scanning through the frozen vegetable section at the supermarket I stumbled upon a bag of sliced and ready chargrilled Mediterranean vegetables – and my first thought was lasagne, so I went hunting for some beef mince to make a proper cheesy and hearty dish with.
I am really pleased at how well this dish turned out – a rich, tomato and beef sauce pairs with a simple cheese sauce to make a family friendly meal serving eight!
Serve with a fresh leafy green salad and some garlic bread.
Freezing tips:
Leftover lasagne portions can be frozen individually. I tend to make a double batch of lasagne, freezing the leftovers for those days where I really can't be bothered to cook. Defrost in the fridge and reheat in the oven!
---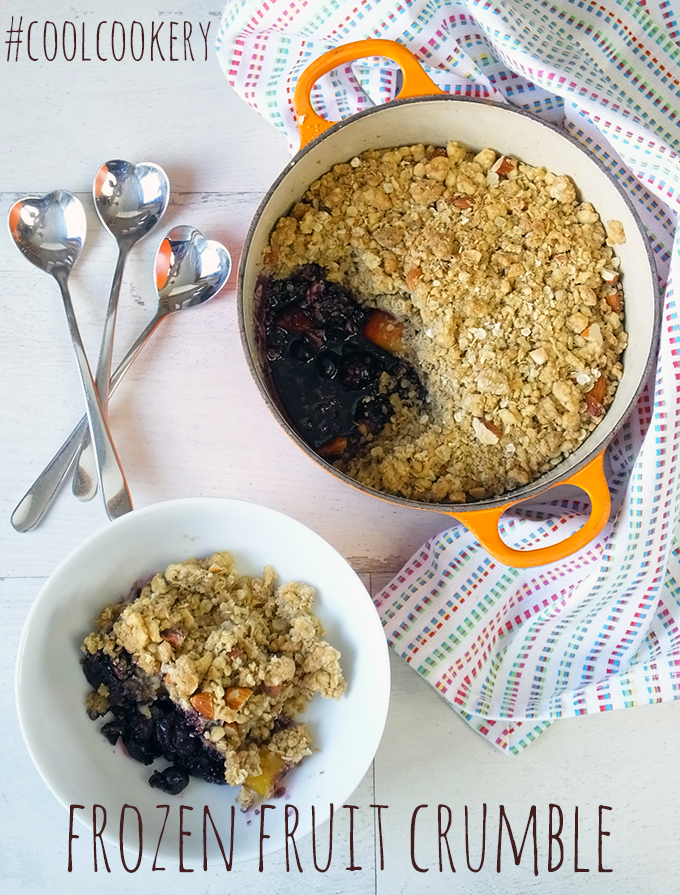 Now for afters! A something a little sweet… a frozen fruit crumble! I've recently discovered that cooking fruit from frozen in the base of a fruit crumble makes for a gorgeous filling where the fruit retains some of its texture (not turning completely to mush during the cooking process!) and the liquid makes a nice sauce.
This frozen fruit crumble is made from equal weights of frozen mango chunks, sweet red cherries and blueberries, with a lightly spiced oaty, buttery crumbly topping. Ideal served warm with a generous scoop of ice cream or lashings of double cream!
Freezing tips:
Fresh fruit freezes really well. Keep an eye out for reduced bargains in your local shop, store in freezer bag or container until needed. Use from frozen or defrost first if required.
Make extra crumble topping and store it in the freezer until needed! Spoon over frozen fruit and bake for a no-effort quick fruit crumble!

For more freezer food recipe inspiration visit CoolCookery.co.uk, or follow them on Facebook and Twitter for  regular updates.
If you want to be kept up to date on my recipes, occasional craft tutorials, adventure stories and giveaways then please subscribe to my weekly newsletter; it gets sent out every Monday morning if there is new content. Your email address won't be passed on to anyone, you will never be spammed and you are free to unsubscribe at any time, no questions asked. Make sure you confirm your subscription or you won't receive the newsletter – if it hasn't arrived check your junk mail folder.
[wysija_form id="1″]
Disclosure: I'm working with BritMums and Coolcookery.co.uk highlighting the versatility, economy and nutritional benefits of cooking with frozen food. All opinions are my own. For recipes and ideas visit http://bit.ly/coolcookery. This is a paid post.