A revolutionary new masticating whole fruit slow juicer!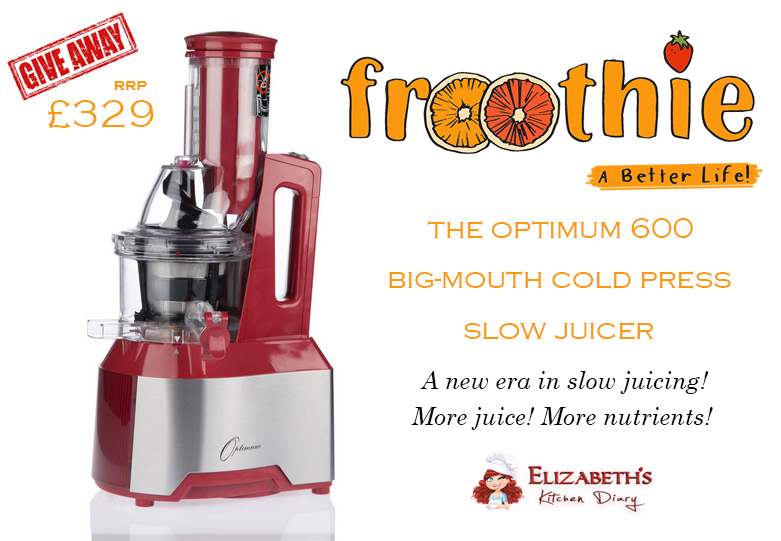 WHAT IS THE OPTIMUM 600 SLOW JUICER?
The Optimum 600 is the latest slow-juicing sensation from Australian-born company Froothie. Over the last few years, slow juicers have become extremely popular around the world, replacing traditional centrifugal juicers as the appliance of choice for fresh quality, home made juice.
Until now, slow juicers have had one big drawback: a small feeding chute, meaning you had to chop your fruit and vegetables in advance. The Optimum 600 slow juicer has a wide mouth, meaning fruits and vegetables can go in whole without any food preparation, saving you valuable time. The powerful auger in this machine masticates whole fruit and vegetables in a matter of seconds!
Slow juicers produce a greater yield, less oxidization and better quality juice making traditional centrifugal juicers a thing of the past.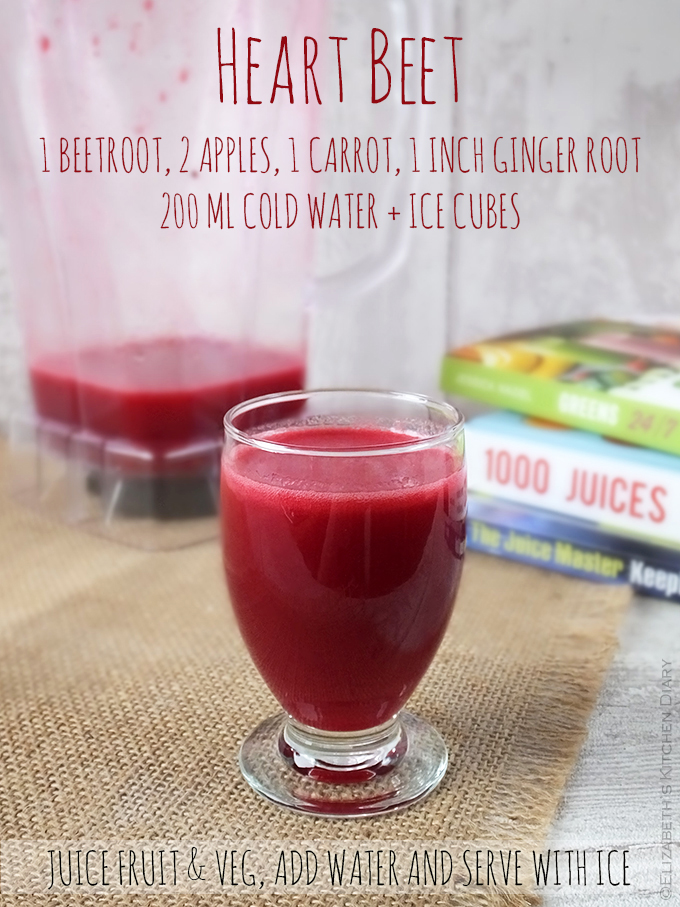 WHY JUICE?
We've had it drilled into us that we should all be eating more fresh fruits and vegetables. Sometimes it's really hard to do this, especially if you want all the nutrients from fresh produce but don't particularly like the taste of certain ingredients, or you just don't want to eat a larger quantity. Combining different fruits and vegetables into a single juice can mask the more unpleasant flavours – for example, fresh beetroot when combined with apples, broccoli, celery, cucumber, pineapple and lime tastes just like a delicious and rich red berry juice (see the recipe from Jason Vale here).
When it comes to veggie-phobic kids this is a great way for them to boost their nutrient intake without the need for packaged vitamins.
Health benefits! Green juices are said to be highly alkalizing, with regular juicers experiencing improved energy, digestion and mental clarity. Juicing alkaline foods may also help to maintain the bodies natural pH allowing clearer skin, overall health and well being.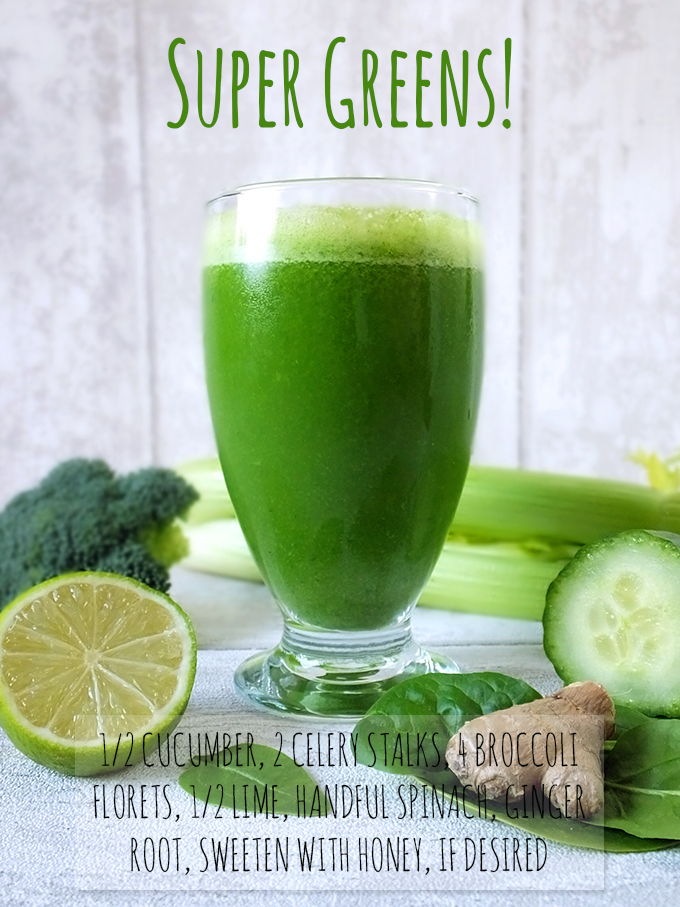 BENEFITS OF SLOW JUICING
Traditional centrifugal juicers quickly (and loudly!) shred and grate fruit and vegetables, breaking open the plant cells, damaging their contents and pushing air into the mixture. This leads to quicker oxidization and loss of nutrition. Less heat is produced by a masticating juicer, meaning cell integrity is maintained and vital enzyme and nutrient content is retained as they are not denatured.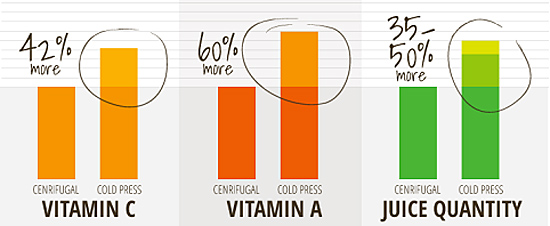 Slow juicers produce a higher yield of nutrient rich juice compared to centrifugal juicers. Because the plant cells haven't been broken open the juice keeps for longer too, maintaining enzyme integrity for up to 72 hours. So, if you've got leftovers, just pop it in the fridge and save it for later!
Slow juicers are able to handle juicing leafy greens much easier than centrifugal ones – fancy some juiced wheat grass, spinach, kale and herbs? No problem!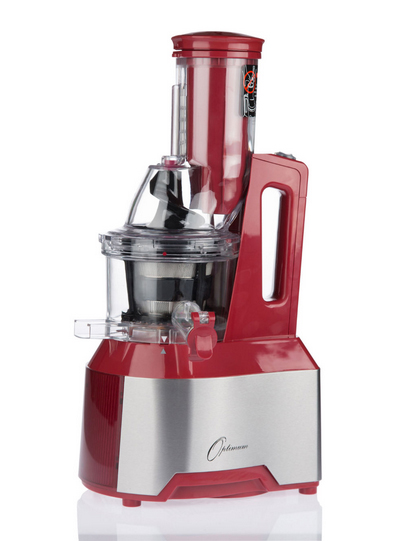 OPTIMUM 600 FEATURES
Can juice whole fruits and vegetables with no food prep required!
Slow speed – Only 65rpm!
Designed to last, high-quality SGS approved parts
Induction Motor designed to last, 10 Years Comprehensive Warranty
User friendly
Easy to clean – a special cleaning brush is included to help you get the more fiddly bits.
Low noise, as low as 40dB
Ingredient flavour preserved, due to the slow speed of only 65rpm
More nutrients, vitamins, minerals and enzymes
Less separation & 35% more juice than centrifugal juicers
Safety sensor
CE and SGS approved
In addition to fresh juice, the Optimum 600 slow juicer can allow you to easily make ice cream, sorbets, nut butters, nut milks, smoothies, baby food and more!
SO WHAT DO I THINK OF MY OPTIMUM 600 SLOW JUICER?
I love it!
I've had two different juicers over the last fifteen years – both loud centrifugal ones and although they did make tasty juice this masticating slow juicer is a whole other experience entirely. Watching the fresh fruits and vegetables get chewed by the heavy juicing screw is really hypnotic!
It's really easy to assemble – lining up red dots on each of the components makes this a breeze, and it's fairly easy to clean too.
Its streamline. Its narrow size means it has a permanent location on my kitchen counter top, unlike my previous juicers which needed to be stored elsewhere as they were so bulky. Having the juicer on the counter top ready to go means I'm more likely to use it – all I need to do is grab some fruit and veg from the fridge, wash them and pop them in the juicer – easy peasy!
It is also helping me with my weight loss goals. I try and include a daily fresh fruit juice or smoothie for breakfast and a vegetable juice with lunch or dinner. At the start of this year a group of us food bloggers joined together to launch Jumpstart 2015 – a pledge to include more vegetable loaded juices, soups and smoothies in our diet. To find out what we've all been up to search for the #Jumpstart15 hashtag on twitter! Eating more vegetables means less room for the less healthy foods, and so I'm pleased to report that I'm down one stone (14 lbs) so far!
SEE THE OPTIMUM 600 IN ACTION
If you like what you see, you'll be delighted to hear that Froothie offer a 30 day guarantee on their appliances*! Buy one and try it for 30 days, and if it hasn't reached your expectations they will refund your money, including the cost to ship the juicer back to them! Read more about this pledge and for more information on the Optimum 600 slow juicer visit their website.
*Offer correct at the time of writing this post on the 5th of February 2015 – check their website to confirm.
Find Froothie on Facebook, Twitter and Instagram for regular recipe updates and offers!
GIVEAWAY!!!
I am delighted to announce that Froothie UK have offered my UK readers the chance to win one of their Optimum 600 slow juicers! Enter via the Rafflecopter widget below. UK entries only.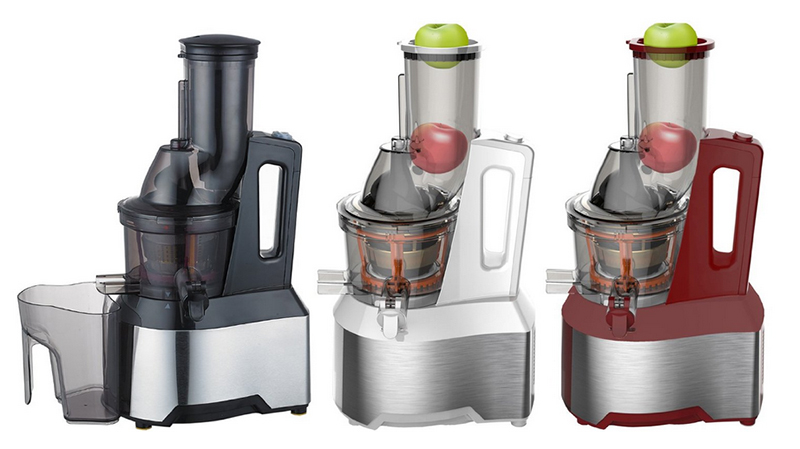 HOW TO ENTER
For your chance to win an Optimum 600 slow juicer from Froothie RRP £329 enter using the Rafflecopter form below. Come back and tweet about the giveaway every day for more chances to win!
TERMS & CONDITIONS
This giveaway is open to UK entries only. Entrants must be age 18 or over. The winner will need to respond within 72 hours of being contacted; failure to do this may result in another winner being selected.
The prize is offered and provided by Froothie UK. The prize is an Optimum 600 slow juicer from Froothie RRP £329. There is no cash alternative and the prize is not transferable.
There is no entry fee and no purchase necessary to enter this giveaway. The promoter (Elizabeth's Kitchen Diary) reserves the right to  cancel or amend the giveaway and these terms and conditions without notice.
Entry into our giveaways will be deemed as acceptance of these terms and conditions.
If you need some help using Rafflecopter, here's a quick clip to show you how. Rafflecopter will pick the winner at random from all the entries received. I will be verifying entries and any automated entries or those who have claimed they have made the mandatory blog post comment and really haven't will be disqualified. It's mandatory!
Closing date is midnight on Monday 30 March 2015 (GMT) and the winner will be announced that day.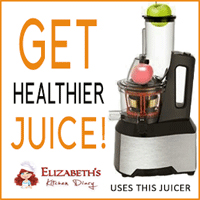 If you want to be kept up to date on my recipes, occasional craft tutorials, adventure stories and giveaways then please subscribe to my weekly newsletter; it gets sent out every Monday morning if there is new content. Your email address won't be passed on to anyone, you will never be spammed and you are free to unsubscribe at any time, no questions asked. Make sure you confirm your subscription or you won't receive the newsletter – if it hasn't arrived check your junk mail folder.
[wysija_form id="1″]
Elizabeth's Kitchen Diary uses the Froothie Optimum 9400 blender, and the Froothie Optimum 600 slow juicer to make her juices, soups and smoothies. These are affiliate links, meaning if you buy a blender or juicer through them we will earn a small commission. This is not a paid post and all thoughts and opinions are our own.