In collaboration with Albert Bartlett Potatoes & Üutensil.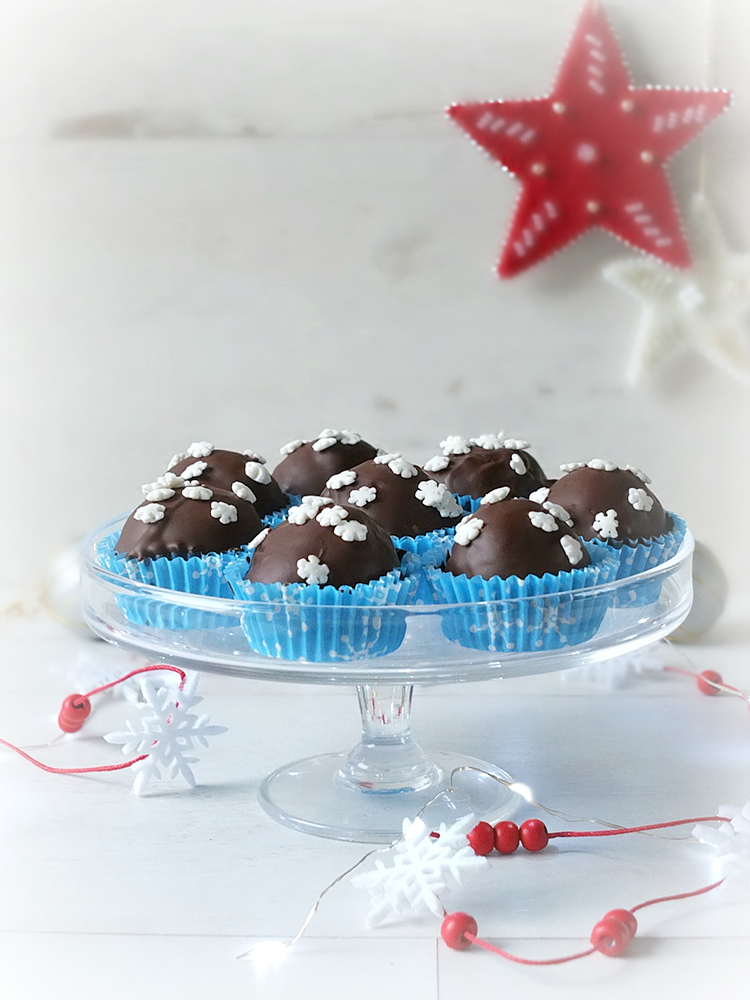 So who else put up their Christmas tree this weekend?
We usually don't put up our tree until the 12th of December, but this year my best friend surprised us and delivered a tree to us on Saturday afternoon. She'd picked up a five foot real Christmas tree in a pot but her sons didn't like it and they wanted a bigger one, so she gifted the unloved tree to us. A belated 40th birthday present.
I spent a very pleasant Sunday afternoon pottering about decorating said tree. Ok, when I say pottering about I actually mean clearing out one of the bedroom closets of rubbish on a hunt to find the blue LED Christmas lights that hadn't been returned to the Christmas decoration boxes last year. We (I enlisted my husband with this task) eventually found the lights buried among years of clutter and our closet is now seven bags of rubbish and two trips to the charity shop lighter. How is it that closets can fill up with so much stuff over the years?!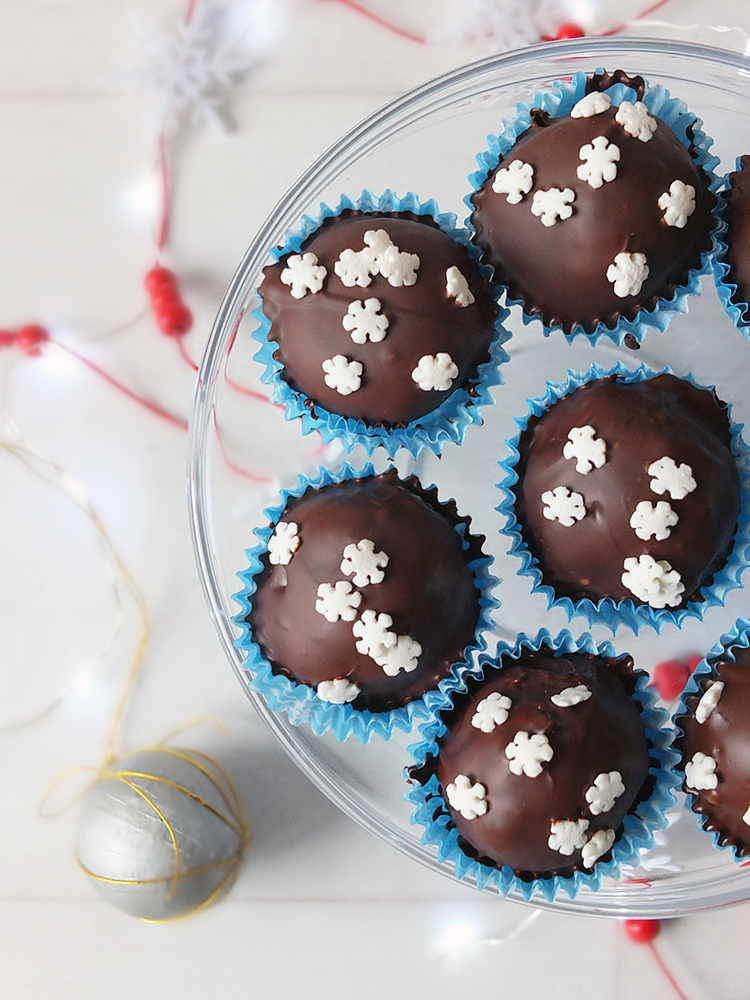 I always like to make a nice little treat for nibbling on while decorating the Christmas tree and the subsequent present wrapping session.
This year I made some coconut mint Christmas chocolates with…. and you'll never believe this…. mashed potatoes!
When I was a little girl I remember my grandmother serving some gorgeous handmade coconut chocolates to my brother and I straight from the freezer. They were delicious, and upon enquiring about their ingredients she replied, with a twinkle in her eye: "Mashed potatoes."
I thought she was taking the mickey, so I insisted. I wanted to know what ingredients were in those chocolates (which is a really remarkable thing for a ten year old to ask, I think?!), and she kept laughing and saying mashed potatoes.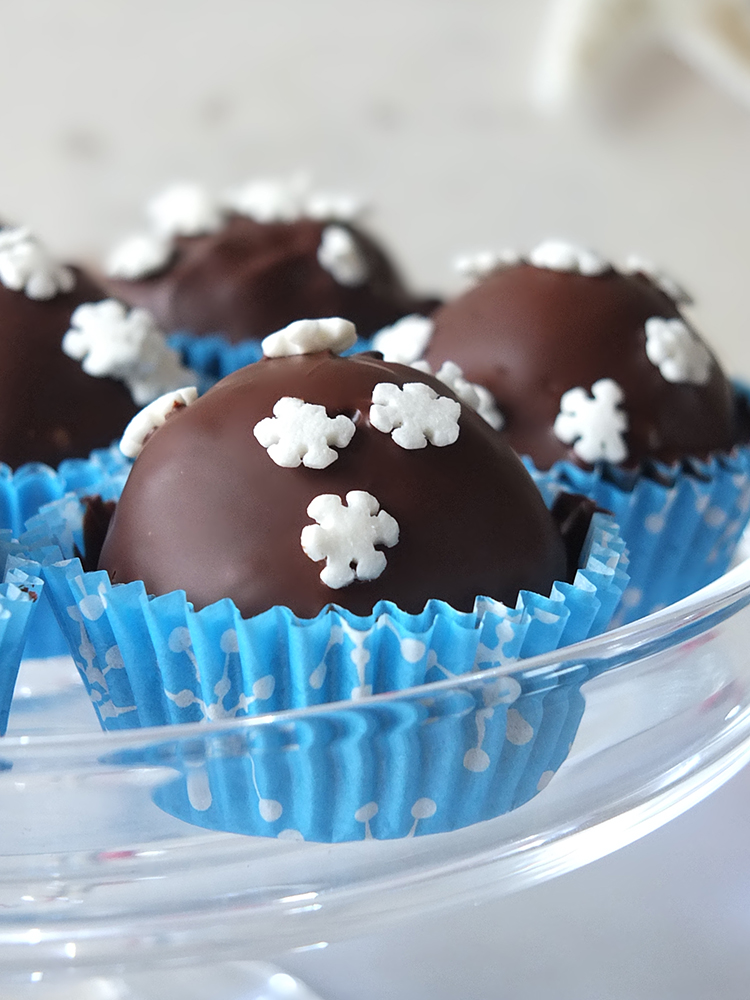 For years I thought she was having a fun with me. It wasn't until I moved to Scotland and attended a toddler group party that I learned about the Scottish Macaroon – a sickly sweet icing sugar and mashed potato sweet – that I remembered those mashed potato chocolates of my grandmothers.
Perhaps she wasn't kidding after all!
My grandmother sadly passed away when I was only 16, so I don't have her original recipe, but I've tried, over the years, to recreate her recipe from taste memory. These little chocolates taste like little homemade Bounty Bars, but for this festive version I've added a drop of peppermint extract for that cool Christmas vibe.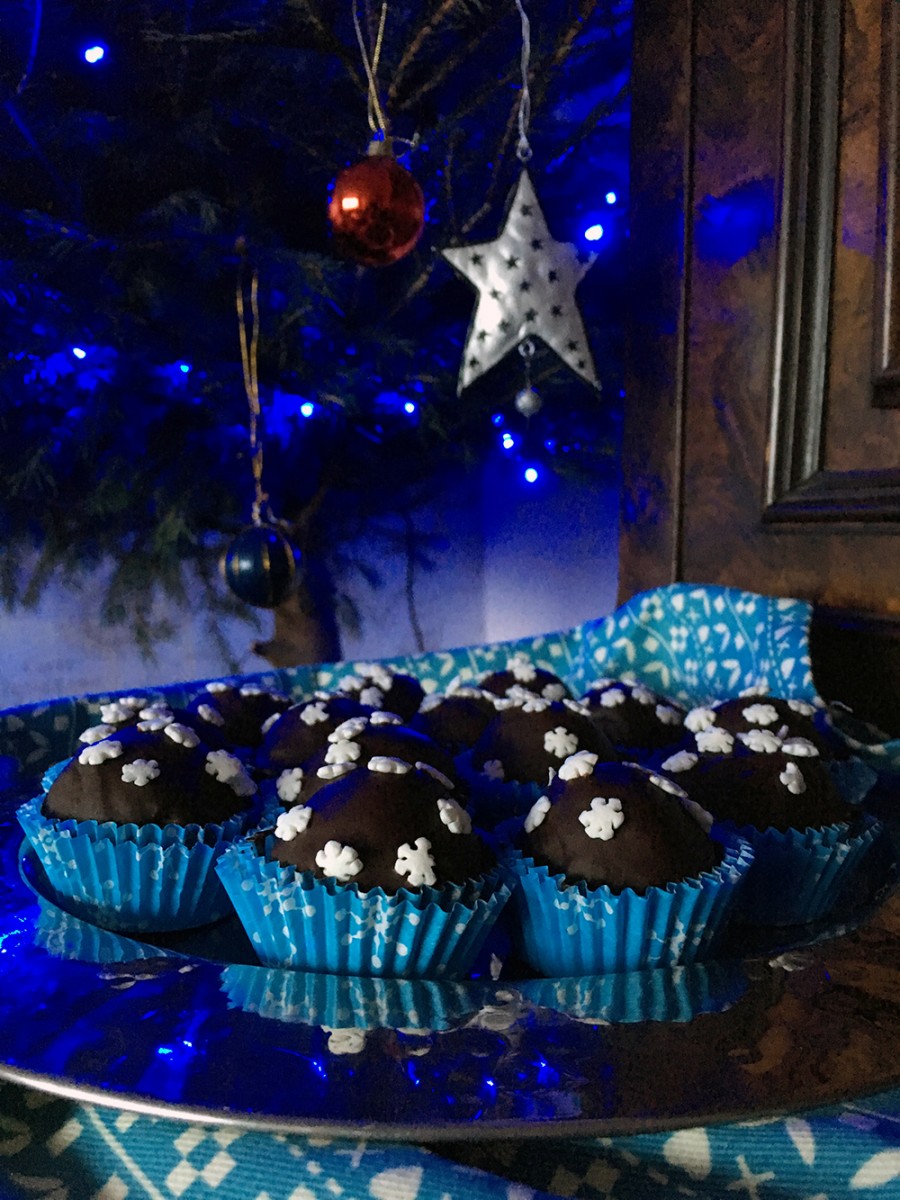 These chocolates are so, so very good, if I do say so myself! I really like how the mashed potatoes adds a flavourless body to the soft coconut filling, while the dark chocolate (I like the really dark stuff – like 85% cocoa solids) pairs with the cooling peppermint flavour. It's like eating a chocolate coated coconut icy snowball.
I've used Albert Barlett rooster potatoes purchased from my village shop for these chocolates. Rooster potatoes have a gorgeous red skin and a yellow flesh and they're great for boiling, mashing and roasting (they make wicked Christmas roasties!). Look out for them while doing your supermarket shop in your local Co-op.
These chocolates need to be kept cool (which is probably why my grandmother kept them in the freezer), as it's the hardened coconut oil that keeps them at the right consistency. They get really soft if kept in a warm room for too long.
I reckon they'd make great edible gifts too, as long as you let the recipient know they should be kept cool.
Do you have any unusual recipes using mashed potatoes as a secret ingredient? Let me know in the comments!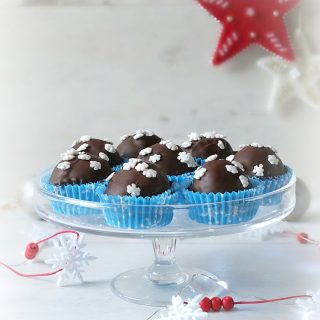 Coconut Mint Christmas Chocolates
A mint flavoured coconut chocolate coated in dark chocolate and sprinkled with Christmas snowflakes.
Print
Rate
Affiliate Links
This recipe card may contain affiliate ingredient and equipment links. As an Amazon Associate I earn from qualifying purchases.
Instructions
Peel potatoes and cut into small cubes. Place in a pan of unsalted water and bring to a simmer, cooking for 15 minutes or so until tender.

Drain and return the pan to the heat to evaporate as much of the moisture off as you can.

Mash the potatoes and then press through a fine sieve or a potato ricer, twice, so that they are very fine.

Combine the potatoes with the icing sugar, coconut, coconut oil and peppermint extract.

Place in the fridge to cool for an hour.

Roll the mixture into small balls the size of a small walnut and keep in the fridge while you melt the dark chocolate.

To melt the chocolate, break the chocolate into pieces in a small heatproof bowl. Suspend the bowl over a pan of barely simmering water and leave it to melt.

Coat the coconut/potato balls in the melted chocolate. Use a fork and a spoon to roll them in the chocolate and let the excess drip away. Place the chocolates a silicone baking mat or into small decorative paper cases. Decorate with snowflake sprinkles and leave the chocolates in a cool place to chill.

These chocolates will keep for several days in a cool place. They taste fine if kept in the fridge although they will develop condensation when brought out into room temperature.
Environmental Information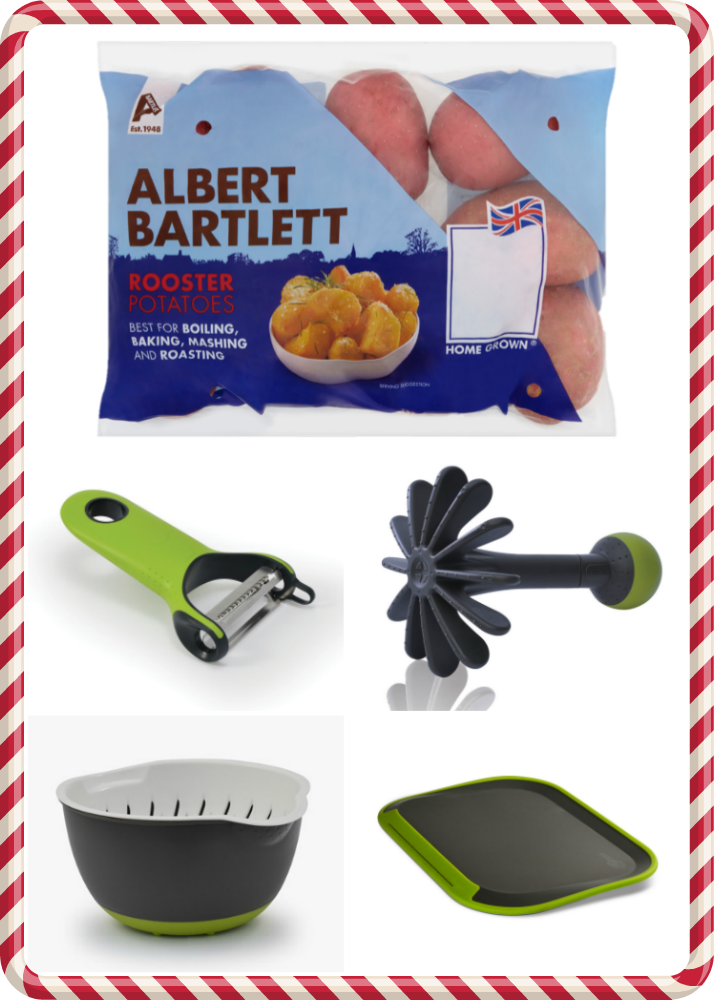 To prepare my homemade chocolate recipe I used several üutensil products in addition to the Albert Bartlett potatoes. Üutensil is a British design company who are committed to creating exciting and innovative kitchen products. Some of these products include:
Strip² – This multi – functional tool makes veg prep a breeze. One side holds an oversized peeler blade for faster peeling with no clogging while the other holds a clever blade that creates perfect julienne vegetables in one effortless stroke. RRP £7.99
The Spudnik – The unique flower shape is designed to be rotated in the bowl rather than pounded. The result – perfect fluffy mash with less effort and in less time. Plus it's easier to clean and there's no clogging. RRP £7.99
The Swoosh & Böl Set – The colander in this set is designed to create a natural vortex, helping water drain off food faster. The bowl is constructed in heavy duty plastic and is light enough to be carried easily yet tough enough to mix the heaviest batters. But with a clever twist, these two kitchen classics work even better together. RRP £18.99
Tilt – This angled chopping board keeps both sides hygienically clear from the worktop so you can flip the board during food preparation and use both sides. The slant on the board helps the food fall away from the knife to keep the cutting area clear and the corners can be used to pour the prepped food into bowls or pans. It's dishwasher safe too. RRP £18.99
GIVEAWAY
Üutensil and Albert Bartlett Potatoes have teamed up to offer one of my lucky UK readers the chance to win everything pictured in the photograph above (plus a lot more potatoes – 15 kg, to be precise!). That's the Christmas roast potatoes and vegetable prep sorted! To enter, simply fill out the Rafflecopter form below!
TERMS & CONDITIONS
This giveaway is open to UK entries only. Entrants must be age 18 or over. The winner will need to respond within 30 days of being contacted; failure to do this may result in another winner being selected. Note, that if you want delivery before Christmas you must reply by the 22nd of December at the very latest.
The prize is offered and provided by Üutensil and Albert Bartlett Potatoes. The prize is to win an Albert Bartlett & Üutensil Bundle worth £75! here is no cash alternative and the prize is not transferable.
There is no entry fee and no purchase is necessary to enter this giveaway.
The promoter (Elizabeth's Kitchen Diary) reserves the right to cancel or amend the giveaway and these terms and conditions without notice.
Entry into our giveaways will be deemed as acceptance of these terms and conditions.
If you need some help using Rafflecopter, here's a quick clip to show you how. Rafflecopter will pick the winner at random from all the entries received. I will be verifying entries. Any automated entries or those who have claimed they have made the mandatory blog post comment and really haven't will be disqualified. It's mandatory! Please make sure your comment is eight words or longer or Google views it as spam. All entries with comments fewer than the mandatory 8 words will be disqualified. 
Closing date is midnight (that's 00:00 hours, 12 am on Sunday night/Monday morning) on Monday 19 December 2016 (GMT). The winner will be announced shortly afterwards.
OTHER SWEET RECIPES WITH MASHED POTATOES AS AN INGREDIENT
Chocolate Mashed Potato Cake with Tahini Drizzle by Veggie Desserts
Blueberry & Almond Traybake by Supergolden Bakes
Scottish Macaroon Snowballs by Tinned Tomatoes
SHARING WITH SOME BLOGGING LINKIES
We Should Cocoa by Tin & Thyme
Treat Petite from CakeyBoi and The Baking Explorer (host)
This is a paid recipe commission in collaboration with Albert Bartlett potatoes and uutensil. However, as always, all thoughts and opinions expressed are our own. Thank you for supporting the brands who make it possible for me to do what I love: mess up my kitchen and share recipe stories.
[color-box]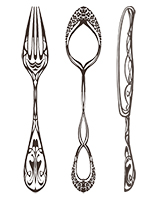 Have you made this recipe?
Take a photo and tag @tangoraindrop or use the hashtag #elizabethskitchendiary and share on Instagram and Twitter. It would make my day to see your creations!
[/color-box]