The October/November 2016 No Waste Food Challenge Round Up.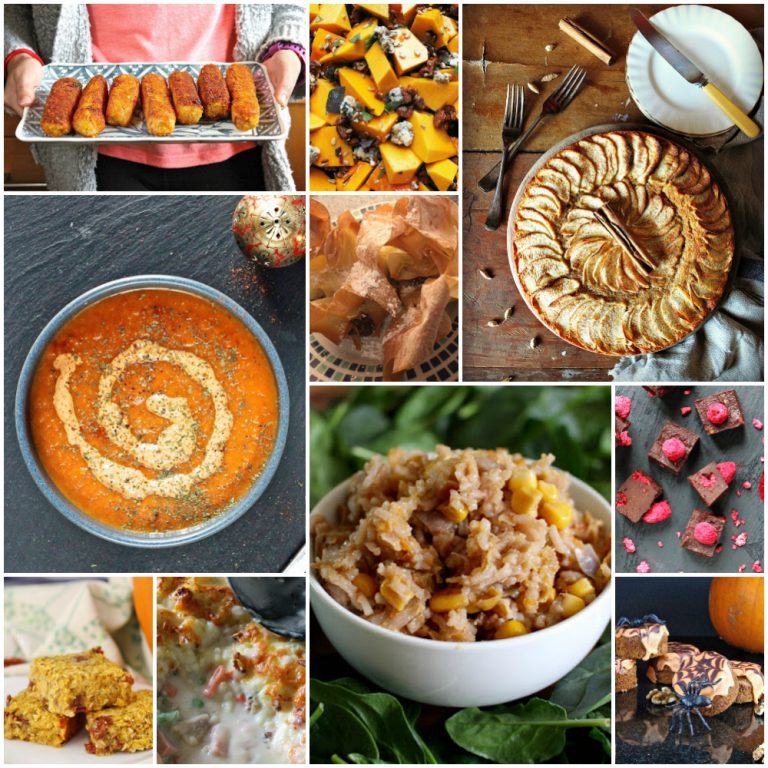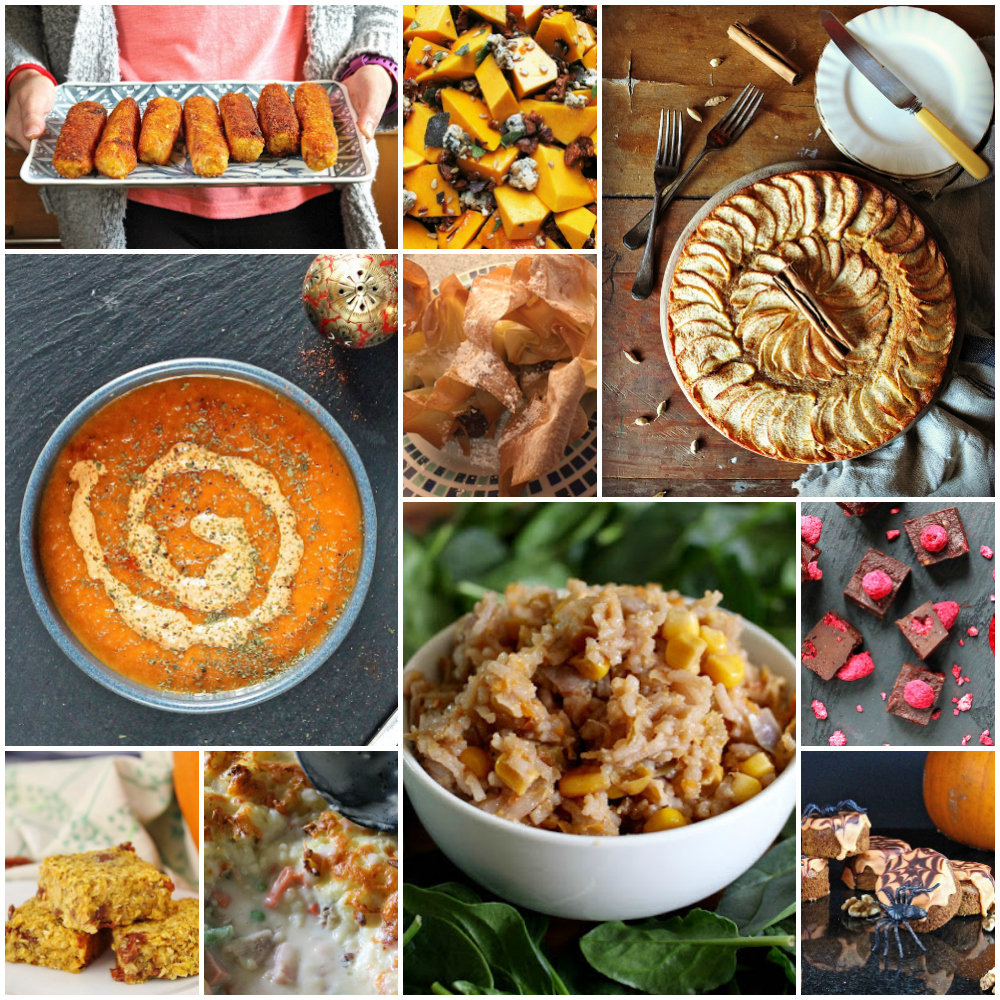 It's hard to believe that next month the No Waste Food Challenge blogging linky will have been running for five full years! This round up features ten gorgeous Autumnal inspired recipes from all around the world. With thanks to everyone who has shared a recipe over the years – I am, as always, inspired by your culinary creativity! Thank you for helping to prevent food waste, one recipe at a time!
So, without further adieu, here is the latest No Waste Food Challenge round up!
Gluten Free Ham & Potato Croquettes from The Gluten Free Alchemist's daughter, Miss GF. This mouth watering recipe is made from leftover pieces of Cherry Coke boiled ham found in the depths of the freezer from… last Christmas! Miss GF also used up some larder-loitering Crunchy Crumbs to make these, but it is also a perfect dish for using up excess mashed potato.
Roasted Butternut Squash with Blue Cheese, Dates & Sunflower Seeds by De Tout Coeur de Limosin. This is a tasty autumnal mix of flavours and textures and a great way to use up seasonal butternut squash, or pumpkin. Ema writes: "The dates add a sweetness that contrasts with the salty blue cheese & earthiness of the butternut squash, and the crunch of the sunflower seeds."
Autumnal Spiced Pumpkin & Walnut Cakes from The Gluten Free Alchemist. According to the latest research, last year the UK threw out a staggering 18,000 tonnes of pumpkin after the Halloween period. When pumpkins are carved at GF HQ, they spend ages making sure they remove as much flesh out as they can. The seeds are  usually washed ready for roasting and all the flesh is saved for soups, roasted veg and delicious bakes like this one.
Spiced Apple Cake from Elizabeth's Kitchen Diary. This deliciously warming spiced cake is adapted from a recipe found in Signe Johannsen's Scandilicious cookbook, using up bits and bobs in the store cupboard. It also uses up some Bramley apples which had been lying in the fridge for a little bit too long.
Asian Rice with Cabbage, Corn & Celery by Green Gourmet Giraffe. This rice started as a mistake.  Joanna was browsing a magazine in the supermarket and was inspired by an Asian coleslaw recipe she saw.  It was time to try out a new blade in her recently purchased food processor but unfortunately her veggies turned to mush. Reluctant to throw out the slaw she added some more veggies, tweaked the recipe and this rice dish was born.
Roasted Pumpkin, Ramiro Pepper & Leek Soup from The Gluten Free Alchemist. This recipe is made with left-over pumpkin from Halloween; a perfect winter warmer. It is cheap and healthy and with a hint of ginger and smoked paprika, it will leave you feeling like you have been internally hugged better. Just what we need on these cold Autumn days.
Shortcut Chicken & Ham Pie by Jibber Jabber UK. What's the best bit about a roast dinner? The leftovers! This recipe is dead simple, Ness explains. "The most you will need to do is make some mashed potato unless of course you already have some leftover or you use some ready made. I've used frozen mixed vegetables in this but you could use anything like carrots, beans and leeks leftover from your Sunday dinner as well."
Molten Chocolate Filo Parcels by Caroline Makes. Caroline had some filo pastry left from making a pie and so she decided to use it up in a dessert. She found a recipe for molten chocolate parcels on the Good Housekeeping website and decided to give them a go. Caroline says that they did taste nice but were very messy!
Raw Chocolate Raspberry Fudge from The Gluten Free Alchemist. This gluten, dairy, refined sugar, soya free and vegan recipe has a smooth texture, flavoured with deep cacao notes, set against a strong hint of banana and interspersed with tangy berry. Kate explains, "When you pop a piece into your mouth, there is a happy sense of decadence mixed with virtuosity…… and that feels like a good place to be!"
Chocolate Chip Pumpkin Cereal Bars from Searching for Spice.  Corina writes, "You won't find many cereal bars healthier than these nutty chocolate chip pumpkin cereal bars. Packed with oats, pumpkin, coconut and healthy chia seeds, this is a snack you won't feel guilty about eating!" If you can't get pumpkin, butternut squash or any other orange squash will work too.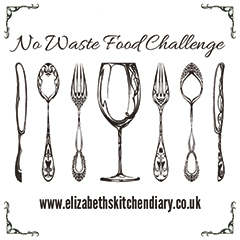 If you are feeling inspired to join in with our food waste reducing community, blog your recipe and add your link to the linky below. I'd love to see some non-blogging entries too – all you need to do is share a photo of your creation that uses up an ingredient which might otherwise have ended up in the bin on Twitter, Instagram or Facebook, tag me @TangoRaindrop and add the #NoWasteFoodChallenge hashtag, or email me elizabeth (at) elizabethskitchendiary.co.uk with your recipe and photo and I'll add it to the next round up! All blog recipe entries are given all sorts of social media love. They are pinned to the No Waste Food Challenge Pinterest board which has over 3.1k followers, as well as being flipped, stumbled, yummed and tweeted. I include all entries in a full round up.