In collaboration with Brioche Pasquier.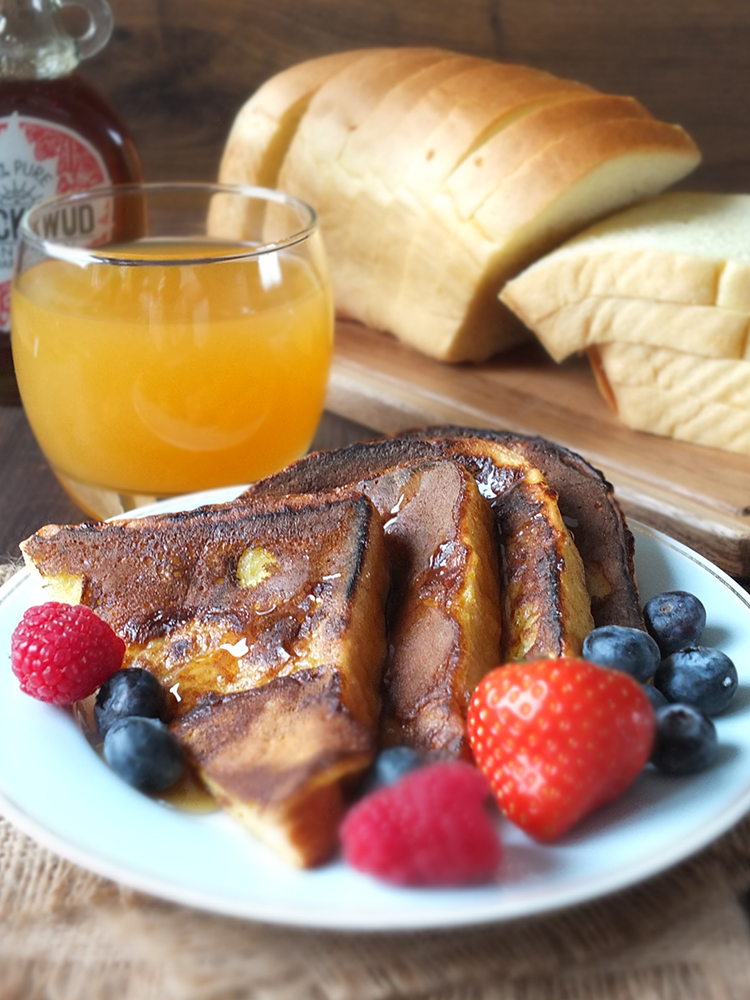 It's my blogaversary today! Well, at least, I think it's today… I know it was the end of November, a few days before my own birthday, when I first set up a private food blog on Blogger. Fast forward five years and my little space of the internet is thriving, and I earn enough from the commissioned recipes I make (this like this one), to be a stay at home Mum and to call myself my own boss.
I love it, and I wouldn't have it any other way.
This morning, to celebrate, I made my children a batch of cinnamon brioche French toast for breakfast. Ok, no, I fib. I wanted to make them a batch of cinnamon brioche French toast for breakfast, but this time of year in Shetland it's still pitch black when the kids get up in the morning. The sun's only rising when they head off for school, which means I actually made the cinnamon brioche French toast pictured here for my lunch, when I have a two hour window of decent natural light for food photography. They weren't allowed to touch the brioche until I'd photographed it, something the children of food bloggers are well versed with.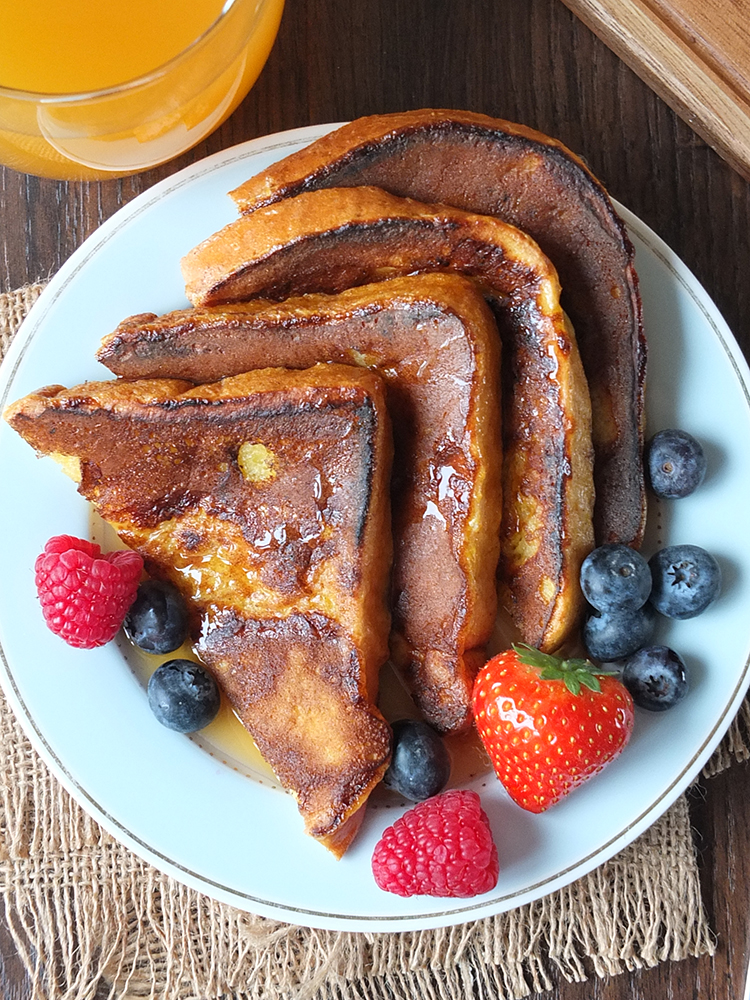 Yes, I totally ate the contents of these photographs. Real food, this.
I have no idea when I started making French toast, over two decades ago, definitely, but every now and then when I want to make breakfast a little extra special, like for birthdays or blogaversaries (or just because I want it), I make it with some Brioche Pasquier sliced brioche loaf.
Their sliced brioche loaf makes the best French toast ever!
I never use a recipe when I make it though – I whisk up a couple of eggs (five eggs when all five of us are eating together) with a splash of milk and sprinkle this eggy mixture liberally with a good coating of ground cinnamon straight from the spice jar. Buttered bread (both sides) gets soaked in the cinnamon eggy mixture and then it's fried in a non-stick pan for a few minutes on either side.
To serve: bacon & maple syrup or (and this is my secret extra-special favourite way) lashings of golden syrup and a generous sprinkling of icing sugar. Extra sugar, if you know what I mean. It's like pudding, for breakfast. Yum.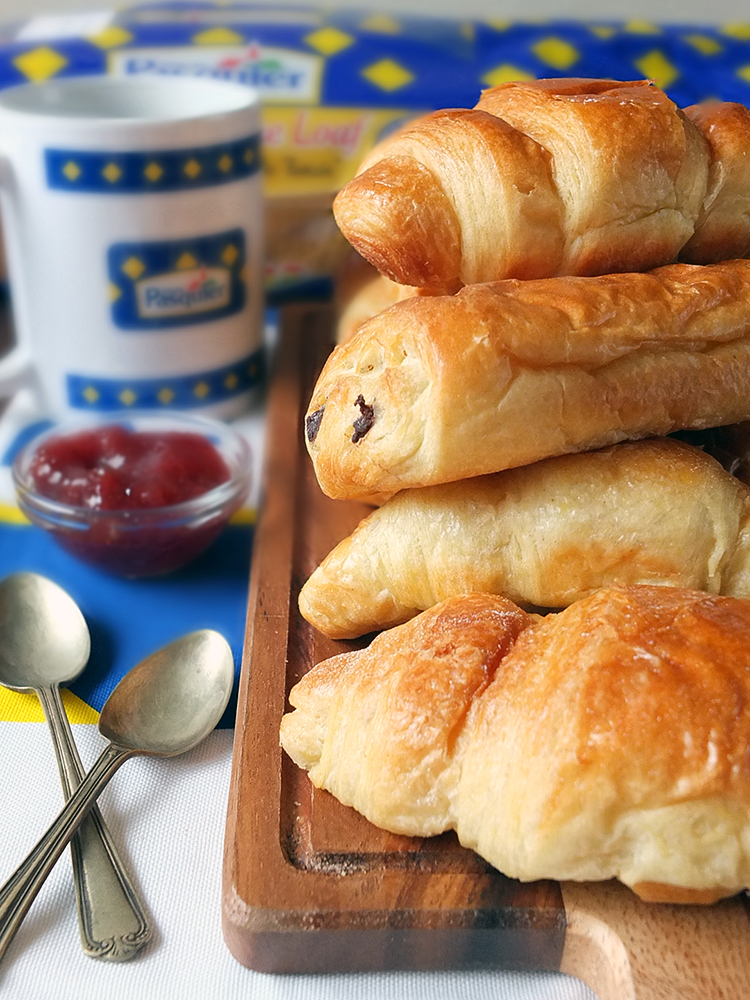 Brioche Pasquier was founded in 1936 by Gabriel Pasquier [pronounced Pah-ski-ey] in the small French village of Les Cerqueux. In 1974 his sons turned it into the family business of Brioche Pasquier that we now know, and they now they employ over 3000 people worldwide (and occasionally commission us food bloggers too!).
They raise their own dough using their own traditional 'levain', a natural raising agent that adds to the unique flavour and consistency of their dough. All of their recipes are free from artificial colours, flavours and hydrogenated fats. Look out for their pains au chocolat, pains au lait, croissants and sliced brioche loaf in Tesco, Sainsbury's, Morrisons, the Co-op, Budgens and Ocado.
My children will be treated to this cinnamon brioche French toast recipe this week though, on my birthday! In addition to my blog being 5 this week I am turning the big 4-0. This afternoon, after school, I've promised them they can have at with the pain au chocolat (my favourite) with a mug of hot chocolate.
With thanks to Brioche Pasquier for the product samples for their #shareamoment campaign – you've made my children very, very happy! (Or they will be once they get home from school and are allowed to eat them!).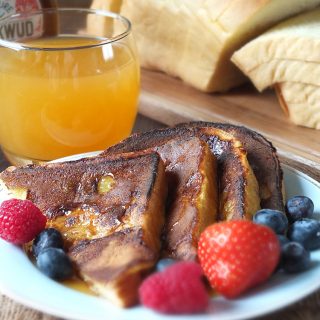 Cinnamon Brioche French Toast
This is a jazzed up version of the French toast recipe I've been making now for over two decades, and it never fails to hit the spot!
Print
Rate
Affiliate Links
This recipe card may contain affiliate ingredient and equipment links. As an Amazon Associate I earn from qualifying purchases.
Instructions
Place the eggs in a wide, shallow dish (I find a cake tin or a quiche dish works well) and whisk with the milk.

Pop a non-stick frying pan on a medium heat to preheat while you butter both sides of the sliced brioche.

Sprinkle the top of the eggy mixture with a generous amount of cinnamon, and place one buttered brioche slice in it to soak for a minute or so. Flip over and leave to soak another minute.

Fry in the preheated pan until browned, flipping once.

Repeat with the remaining brioche, adding more ground cinnamon to the top of the eggy mixture for each slice. I like lots of cinnamon.

Serve warm with maple syrup and bacon, or golden syrup and a liberal dusting of icing sugar. Oh, and fresh fruit too.
Environmental Information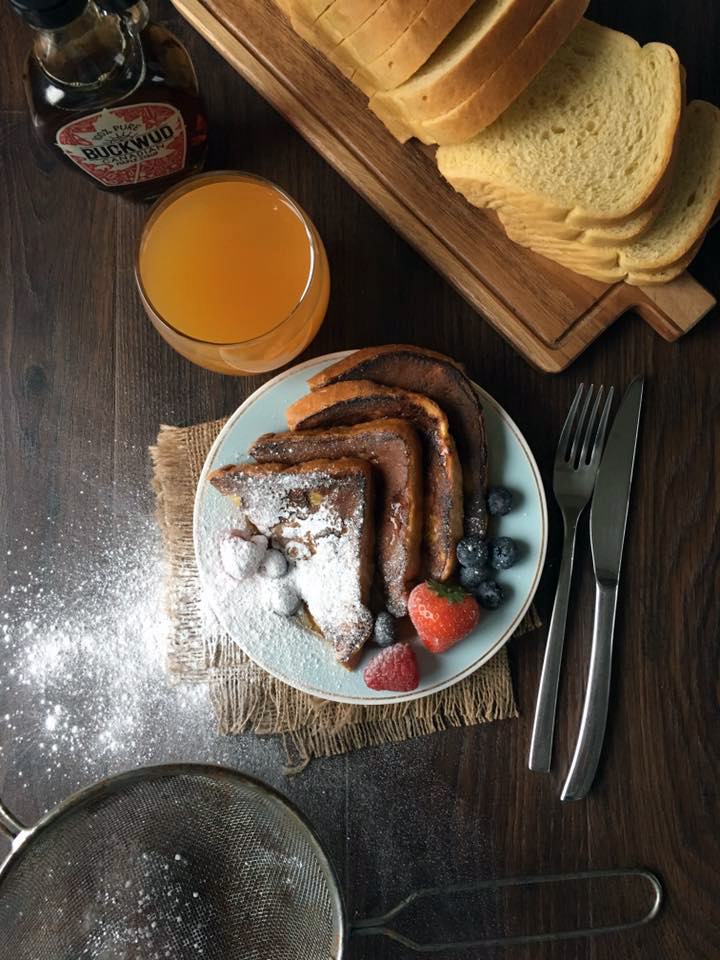 This is a commissioned post for Brioche Pasquier. However, all thoughts and opinions expressed are my own. Thank you for supporting the brands who make it possible for me to do what I love: mess up my kitchen (seriously, how can I trash the kitchen making French toast?!) and share recipe stories.
[color-box]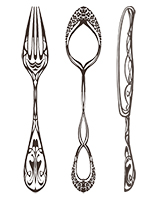 Have you made this recipe?
Take a photo and tag @tangoraindrop or use the hashtag #elizabethskitchendiary and share on Instagram and Twitter. It would make my day to see your creations!
[/color-box]